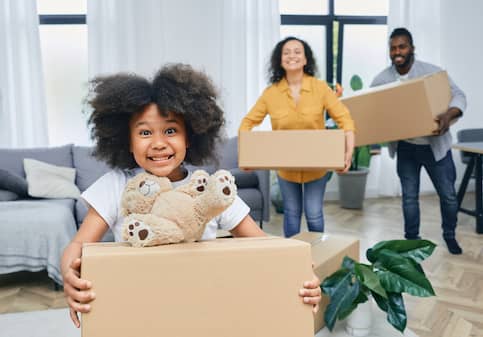 Moving Tips: 9 Things To Know Before You Pack And Move
Published on April 11, 2022
There are two schools of thought when it comes to moving: it can be an exciting time for change, or it can be one of the most stressful experiences in existence. No matter how you feel about moving, leveraging a thoughtful plan and strategic moving tips can help moving day – and the days before and after– run much smoother.
And even if you're not contemplating a move anytime soon, never say never. Amid a global pandemic, a reported 27 million Americans still moved in 2021. This was the lowest percentage of movers in decades, which may mean as the housing market stabilizes and life continues to return to a pre-pandemic norm, even more Americans could be moving households in the years ahead.
The Best Moving Advice: Being Prepared
The Boy Scouts had it right – life really is better when you're always prepared. Moving becomes easier and less stressful when you prepare substantially in advance. We really cannot emphasize the advance planning part enough.
It is possible for those facing a potential move to both strategically and methodically move through their home and prepare for moving day. Utilizing the moving tips below, anyone can prepare their budget, organize their items, skillfully pack and limit the headache associated with a major move.
Take the first step toward buying a house.
Get approved to see what you qualify for.
Start My Approval
1. Get Rid Of Unwanted Items
The best opportunity anyone has to thin down their belongings is during a move. Why? Because you're already going through every single item during the packing process, so the motivation is there. This makes it easy to sort items by what you want to keep, donate, or sell.
There are big benefits to getting rid of unwanted items before the moving truck arrives: less to pack, less to physically move to a new location, and less to find a home for once you arrive at your new place. Don't limit yourself to getting rid of smaller items, either; moving is the perfect time to rehome or donate large furniture items that may not fit well into your new space.
2. Keep All Moving Documents In One Place
Not every piece of paper in your filing cabinet is going to be needed during your move, or even in the weeks afterward as you settle into your new home. It is important, however, to keep all of the documents necessary for your move such as address and utility information (or a laptop with this information) in one place and easily accessible on moving day itself. Don't pack it away in a box; rather, find a safe place for it in the kitchen by your purse or in the glove box of your car.
Taking this one step further, if utilizing professional movers, it is best practice to keep all your sensitive documents (passports, Social Security cards, marriage certificates, etc.) in a safe place and move this yourself as well. This way, you minimize the risk of it getting lost in the move or compromised in transit, and you're able to ensure these important, hard-to-replace items stay safe.
3. Start As Early As Possible
One of the silver linings of a move, particularly if you are moving after buying a new home, is that you rarely have to move at a moment's notice. Since the home buying process can take 60 – 90 days, this leaves ample time to get organized and prepare. Moving is often touted as one of the most stressful experiences, but one of the primary ways to alleviate this stress is to start as early as possible and not wait until the last second.
Begin a few weeks out to give yourself ample time to go through your items, pare down what you do or don't need, and then pack thoughtfully and carefully.
4. Find A Moving Truck With A Ramp
For individuals who are moving themselves, there are a number of ways to make the moving job itself mentally and physically easier. Renting a moving truck, especially one with a ramp, will make loading and unloading easier and save time as well. Instead of taking multiple loads of furniture and belonging in cars or a pickup truck, a moving truck that best fits your size of home can transport everything all at once.
The ramp will also make an immense difference in how much time and effort it takes to load and unload large, heavy items plus save strain on your arms, knees and back.
5. Use The Right Size Boxes
If you want to save money on a move, it's easy to cut costs by reusing old boxes or taking recycled boxes from friends and neighbors. Savvy packers (or people who have moved a lot in one lifetime) know that it isn't great to simply throw multiple items into the nearest box, but that the properly sized box for what you're packing makes all the difference.
Wardrobe boxes can make moving lots of clothing a breeze.
Heavier items are best packed in multiple, small boxes.
Smaller, lighter items such as linens or kitchen utensils can be packed in large boxes and moved with ease.
6. Save The Essentials For Last
As the weeks to moving day count down, pack away more and more until finally all that is left to pack are the essentials: only the items you truly use and touch every single day. Think about your bathroom essentials, shower curtain, the bedding on your bed, dishes and utensils, maybe the most heavily utilized pot and pan.
By saving your essentials for last, you can ensure what you need to immediately function in your new home is packed away together and ready to unbox quickly upon arrival.
7. Label Your Boxes With Detail
Packing by room and labeling appropriately is a smart move, but level up your efforts by doing a quick inventory of what is in each box and writing it on the side. After the level of effort it takes to physically move spaces, sometimes it can take a while to unpack every item.
A box labeled "Kitchen" could mean many things. You know what room it goes in, but what is really inside? Is it cookware? Spatulas? Small appliances? Kitchen towels? Labeling your boxes with detail will make finding what you need a breeze, saving time and eliminating stress in those all-important days and weeks as you get settled in.
8. Pack One Room At A Time
It may be tempting, particularly if you are feeling productive, to try and pack all you can in one sitting. This is a mistake! What makes moving particularly stressful is how overwhelming all of the "to dos" related to moving can feel, especially if you try to do it all at once.
Starting a few weeks out, pack just one room at a time. Start packing away the items that aren't used on a daily basis, such as extra towels and back stock of toiletry supplies in the bathroom, or books on the living room shelves, for example. Do the bathroom on a Monday, the living room on a Tuesday, and so on. Set aside just one hour and play fun music and see what you can get through in that time.
The purpose is to spend time packing away occasionally used items, so you have less to put in boxes as moving day approaches. The pain with moving is that you will need certain items right up until the minute you move, so it's best to first pack the items you don't use as often.
9. Prepare A Moving Checklist
A moving checklist that contains a written reminder of every task that needs to be completed before the move can be particularly helpful for staying organized. Within a move there are so many variable parts that can make it stressful and complex: the preparation, packing, and items associated with preparing the home you're moving to and the one you're moving from for both arrival and departure – it's a lot to take in!
A good moving checklist should include:
Action items related to the move itself: hiring movers, acquiring moving boxes and supplies
Action items related to the new home: turning on utilities, getting the new home cleaned, painted or re-keyed
Action items related to packing
A list of what you may need to buy for the new home
Action items related to the house you're leaving: such as cleaning, small household repairs, making keys for new owners, etc.
It may also be helpful to inventory all of your belongings, starting with the big furniture items. This will help professional movers prepare an accurate quote and give them a better idea of all they'll need to bring to get your furniture out of your home and onto the truck.
Budgeting For Your Move
Between the movers, the fuel and the supplies, the costs can add up. According to recent data from Angi, the national average for a short distance move is $1,400, and can be significantly more if you're moving out of state.
Whether you decide to handle the move yourself or outsource to professional movers, there are also many unexpected expenses that can arise during a move, which is why it is a financially sound move to prepare a moving budget.
Below are the important items to factor into your budget, depending on how you and your family plan to complete your move. As a starting point, it may also be beneficial to check out a moving cost calculator for a very broad and basic estimate of what a move in your zip code could cost.
Professional movers
Utilizing professional movers, whether your move is local or out of state, will be the most expensive option. While costly, professional movers do take a lot of the stress and headache out of a move as they physically handle the loading and unloading of boxes, assembly and disassembly of furniture, and can even help pack for an additional fee.
Below are some of the most common costs that come baked into professional movers fees.
The cost for labor (usually billed per hour)
Cost of truck rental (usually billed as a flat fee plus fuel charges)
Moving insurance
Specialty item fees: certain items like pianos, expensive artwork, oversized items like pool tables and safes are sometimes subject to a specialty fee, depending on the mover
Specialty packaging such as mattress bags, TV boxes, and furniture wrap
Cash for tipping the movers themselves at the end of the day
Self-move
Even if you're not paying for labor with a professional mover, most self-moves do require the rental of a truck, along with other expenses:
Specialty moving equipment like carts and dollies (these come for free with professional movers)
Boxes and packing supplies
Cost of truck rental itself
Gas for the truck
Food and beverage for anyone donating their time to help you move
Out-of-state move
An out-of-state move requires additional planning and (likely) cost. Whether you are utilizing professional movers or doing a self-move and renting a truck on your own, out-of-state movers should budget for the items listed above as well as additional considerations, such as:
Overnight lodging (if required)
Travel costs for multiple days (such as food, gas for your car)
Additional fuel charges (if utilizing a professional mover)
Short-term housing if you can't move immediately into a new place
Additional Costs
Regardless of the way you choose to move, there are also additional costs that may vary depending on your certain set of circumstances. These costs should all be considered and factored into your budget in order to get the most accurate estimate of moving costs. Items such as:
Childcare
Pet care
Professional cleanings for either the house you're leaving or moving into
Storage fees and costs, if you need to move some items into a storage unit for example.
The Bottom Line
Like most large undertakings, the only way to get through it is by taking the project and breaking it down into small, manageable pieces. Planning your move, budgeting for it, and packing over time will go a long way toward minimizing the chaos that accompanies such a stressful endeavor.
Preparing for a move is one of the very last steps in the home buying process; even though it can be stressful, it is also a very exciting time. Thinking of making a move soon? The first step in any home buying journey is to get preapproved for a mortgage. For those ready to begin the process, it's easy to get started with Rocket Mortgage®.
Take the first step toward buying a house.
Get approved to see what you qualify for.
Start My Approval