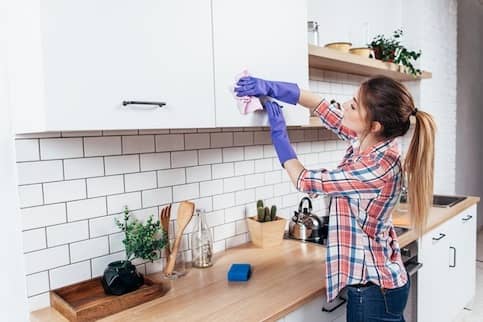 Clean Sweep: Your Guide To A "Move-Out" Clean That Will Make The Next Residents Swoon
Published on January 2, 2019
Your boxes are packed, and you're outta there and on to your new home. But, not so fast! You might be forgetting something. And if you live in an apartment, it's going to cost you. No, we're not talking about leaving the keys. We're talking about the move out clean of your former place.
Whether you're a renter hoping to get that security deposit back, or a homeowner who just doesn't want to be that guy or girl, leaving your place spotless is both good karma toward the next resident and potentially lucrative when there's a security deposit involved.
While we assume you know the basics, here are some steps that many people overlook in a move-out clean.
Find A Mortgage Today and Lock In Your Rate!
Get matched with a lender that will work for your financial situation.
Get Started
Ask What Is Considered "Clean"
This would seem obvious, but it turns out that many renters don't even ask what they are expected to do, says Janice Stewart, owner of Castle Keepers House Cleaning Service. "Ask for a punch list from the landlord or apartment office; it's so much easier to clean when you know what they're looking for." And in a perfect world, it might even save you some time if they have minimal expectations. Who wants to do more than they need to?
Have a Plan of Attack
A move-out cleaning can appear to be an overwhelming project, so it's best not to leave it until the last minute—when you're bound to already be stressed about packing and other last-minute moving tasks, says Ron Holt, CEO and founder of Two Maids & A Mop. He recommends cleaning in spurts and taking care of early tasks, such as patching holes or painting, far in advance. Then when you get right down to the final clean, start from the top of the home, then proceed to the back of the room and clean from left to right. "This process allows you to clean efficiently without worrying about missing anything," he says.
Assemble All Your Supplies
Another thing that can derail your move-out clean is not being prepared with adequate cleaning supplies. "Those back-and-forth trips to the big box or hardware store can become very costly in terms of time," says Holt. His basic cleaning kit for a move-out cleaning is comprised of a mop, bucket, cleaning cloths, microfiber cloths, stainless steel cleaner, glass cleaner, oven cleaner, polish, disinfectant, all-purpose cleaner, vinegar, rubber gloves, garbage bags, toilet brush and a vacuum.
Wipe Down Cabinet Shelves and Drawers
According to Kristy Sanchez of Regency Management, Inc., this an overlooked task, but can really gross out the new resident when they arrive ready to give their items a home. And don't forget the hidden spaces between the appliances and the cabinets. "These get really disgusting over time but can be easy to miss because they are hidden from the light." Another hot spot Stewart often sees neglected is the floor under the drawer beneath the stove.
Clean the Stove Drip Pans
You're probably scouring the counters and sinks, but this is easy to accidentally skip – yet also is an easy item for a landlord to ding you on, says Allen Michael, editor of HomeViable.com. "If they are too dirty to get clean, you can pick up new drip pans for cheap at a local home improvement store," he advises.
Check the Smoke Alarms
While the landlord or new resident is bound to double-check these, it's a courtesy to make sure smoke and carbon monoxide detectors are clean and functional, says Jessica Samson, spokesperson at The Maids. Replace the batteries if needed.
Take the first step toward buying a house.
Get approved to see what you qualify for.
Start My Approval
Look High and Low
Getting rid of cobwebs on the ceiling is easy but often overlooked, says Dustyn Ferguson, co-founder of Cleaning Zoom. "Get out a vacuum cleaner with an extension and suck them up, but beware – some vacuum cleaners will leave marks on walls and ceilings if you rub them against each other." To avoid marking any marks, make sure the vacuum extender doesn't touch any ceilings or walls. While you're up there, dust the light fixtures and replace any burned-out bulbs.
And then consider ground level. While you're likely planning to vacuum and mop, don't overlook the baseboards, says Stewart.
Wipe Down Door Knobs and Light Switches
These two areas build up a lot of dirt over time so take a few minutes to shine them up before you move out, Ferguson says.
Clean Out The Refrigerator and Freezer
No one wants to find old food or even condiments when they open the fridge. Remove all food, then wipe it down. Defrost the freezer if needed.
Don't Forget Outside
Unless the new owners negotiated to keep your outdoor furniture, make sure to remove everything from patios, decks, terraces and balconies, says Samson. Then give them a good once-over – removing any trash and making sure to sweep.
Do One Last Walk-Through by Yourself
Stewart finds that people are apt to miss one cabinet or drawer, so open every single closet and drawer to make sure they're empty. Don't leave any trash or recycling.
Then Do A Final with Your Landlord or Real Estate Agent
Don't wait until you're gone and it's too late to fix any issues. A final walkthrough will point out any areas you might have inadvertently neglected so you can really make sure the place shines. And hopefully someone is doing the same for you so you can enter your new home breathing in the smell of clean.
Paying it forward is always in style, but not everyone does it. Do you have a move-in clean horror story? We'd love to hear below.
Find A Mortgage Today and Lock In Your Rate!
Get matched with a lender that will work for your financial situation.
Get Started