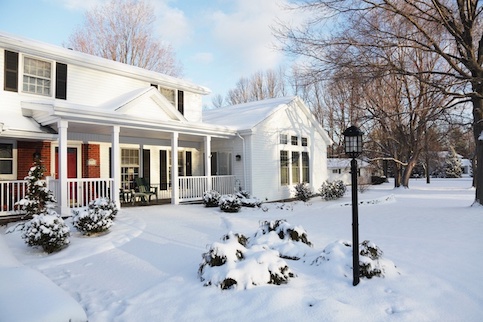 10 Tips For Moving In The Winter
Published on December 21, 2018
Moving can be a stressful time for any new homeowner. Add below-freezing temperatures and hazardous road conditions to the mix, not to mention limited daylight hours, and you've got a perfect storm.
Whether you specifically chose to move during the winter, or it just worked out that way with your closing, here are 10 tips from professional movers to help make your winter move safe, efficient and even cost-effective!
See What You Qualify For
You can get a real, customizable mortgage solution based on your unique financial situation.
Get Started
Stay Updated on the Weather Forecast
During the week leading up to your move, make sure you check the weather forecast at least once a day to get an idea of what the weather conditions will be like on the day of your move. Weather changes constantly, so if you find that a storm is headed your way, you can get ahead of it and reschedule your move.
"While no one can control the weather, you can be as prepared as possible ahead of your move," says Melissa Pollock, PODS lifestyle and organization expert. "Be sure to check the weather forecast and if there's a big storm coming or the roads are bad, allow time for flexibility and consider shifting your moving schedule by a few days."
You don't want to compromise the safety of your move by trying to brave hazardous road conditions. When scheduling your movers, ask what their policy is on last-minute cancellations or rescheduling a move. Most movers will work around the weather without requiring a fee to reschedule last minute.
Schedule an Early Morning Move
If you can, schedule an early morning move. One of the challenges of moving during the winter is the limited amount of daylight. Since the clocks fall back during the winter, the sun sets sooner (typically between 5:00 p.m. and 6:00 p.m.) making your move more challenging.
"It is typically darker longer in the winter," says Al Scobell, COO of Caring Transitions, a senior relocation, estate sale and online auction company. "Schedule your move to start early in the day to optimize sunlight hours."
If you can't schedule an early morning move, or poor road conditions delay your moving schedule, make sure the home you're moving into has decent outdoor and indoor lighting to avoid tripping or damaging moving items.
Ask About Discounts from Your Mover
Since most new homeowners might avoid moving in the winter if they can help it, you may find that some professional movers offer discounted rates for winter moves.
"Movers are available at discounted rates and are more likely to have openings on the books for short-notice moves," says Scobell. "Peak season for moving starts back up in April and rates begin to climb, so why not make the move to save money?"
If you're looking to save a little money, and you can control the schedule of your move, moving during the winter might be cheaper than moving during any other season. Ask your professional mover if they offer any discounts during the winter months.
Make Sure the Utilities Are Turned On
Depending on the occupancy of the previous homeowners, you might find that the utilities in your new home have been turned off. This is normal for most moving situations, however, unlike in the summer season, you don't want to be caught without utility access in the winter.
"Check, double check and triple check that the utilities are turned on at your new home," Pollock asserts. "No one wants to move into a home with no heat or warm water!"
If you know the heat has been off in your new home for a long period of time, you might also want to call a licensed plumber to check if the pipes have frozen before you go to turn on any water.
While you want to make sure that you have access to your utilities, hold off on turning the heat on until your move is complete. Since movers will be going in and out of your home, you don't want to waste the heat in the home, as it could cause your utility bill to skyrocket.
Clear Your Driveway and Sidewalk
Even though you're moving into a new home, you still need to care for your current home. That means shoveling or blowing snow from your driveway, sidewalks and street parking. You might also want to consider salting your outdoor walkways as an extra safety measure. This will allow your movers to safely transport your items without slipping and falling.
"It's best to clear sidewalks, driveways and street areas the movers might be using to keep pathways safe for the movers and your precious belongings," says Scobell. "Additionally, make sure your new location has a clear path to relocate your furniture and other valuable items."
It's also a best practice to clear off your driveway for the moving truck – especially if there's a decent amount of snow. If there's a chance a snow plow might make its way down your new neighborhood, you don't want your movers to be closed in by a massive snow pile.
Service Your Car Before Driving in the Winter
If you plan on driving to your new home, Lior Rachmany, CEO and founder of NYC-based Dumbo Moving and Storage, recommends taking your car into your local auto shop to have it serviced. With unpredictable weather conditions, you should make sure your car is ready for anything, like icy roads, mounds of snow and below-freezing weather conditions.
"Driving under difficult conditions may be very risky, which is why you are expected to take necessary safety measures. Service your car and have the battery, fluids, oils and brakes checked," Rachmany suggests.
In the case of a snowstorm, Rachmany recommends keeping the following emergency items stored in your car:
Emergency kit
Tire chains
Tow rope
Ice scrapers
Extra window wipers
Snow shovel
Salt
Extra warm clothes
Blankets
Money
Check the condition of your tires as worn tread, combined with icy roads, could cause your car to lose control. Make sure to also check your tires' air pressure, as cold weather can cause low air pressure in tires.
Store Your Belongings in Weatherproof Materials
Outdoor conditions during the winter can vary from ice to melted snow, but either way, your belongings could potentially become damp if not properly packaged. Pack your belongings is plastic or weatherproof materials when moving in the winter.
Additionally, Scobell suggests transporting any electronics in either a personal vehicle or a temperature controlled moving truck, since electronic devices do not fare well in cold weather.
"Most trucks are not heat controlled and are equally as cold as the outside," explains Scobell. "It's smart to double pack fragile items to protect from breakage."
Lastly, make sure you contact a licensed plumber to transport your appliances – particularly those that contain water, says Chris Blanchette, franchise owner of Mr. Appliance. Appliances like washing machines, dishwashers and refrigerators need to be professionally winterized and stored for moving.
"Properly storing and winterizing your appliances helps keep them in the best possible condition," says Blanchette. "Failure to winterize while transporting can result in costly repairs and can potentially void your warranty as well."
Guard Your Floors Against Snow and Salt
Whether you're moving out of your old home or into your new home, Pollock recommends protecting the integrity of your floor or carpet by laying down a tarp or unfolded cardboard boxes to keep snow and salt off of your flooring.
This is especially important if you have wood floors. Water and salt, if left unattended, can seep into the wood or the cracks of the wood and warp or discolor the wood floor. Additionally, salt could potentially leave stains on your carpet that would be difficult to deal with when you're first moving in.
If you do track in snow and salt, make sure you have a small cleaning kit prepared with a mop, towels and floor or carpet cleaner and take care of it as soon as possible. This will also help avoid slips from wet surfaces on your floors.
If You Have Kids, Find a New School ASAP
Moving in the winter is also moving in the middle of the school year, reminds Pollock, so make sure if you have kids in primary or secondary school to find a new school for them to attend as soon as possible.
If you're moving to your new home, you've most likely looked into the local school system and know where your child will potentially be attending next semester. If you haven't picked a school yet, make sure you make it a priority to contact the school and enroll your child.
"This is important no matter the time you're moving, and with the winter being the middle of the school year, you have limited time to find a new school and get settled in," Pollock explains. "You also need to coordinate your move to ensure you're in your new home by the start of the second semester."
Use Your Time Wisely
If your move is close to the holidays, it's time to get organized. Since you're moving, you're most likely not going to volunteer your home as a gathering place, but you'll still need to budget your time.
"With holiday parties and traveling to see family and friends, there is very little time to squeeze in a move," says Pollock. "There may also be financial constraints to consider, as coordinating a move and buying holiday gifts at the same time can lead to limited funds and added anxiety."
Pollock suggests making an inventory of the household goods that you want moved to your new home and a separate pile for the things you wish to throw away or donate. If you have a busy schedule around the holidays and know you're pressed for time, start packing ahead of your move so you're not rushing the day before.
Moving in the winter can save you money, but it can also come with a few unique challenges compared to moving during any other time of year. But if you plan ahead and communicate with your movers, you can have a safe and efficient move.
Have you braved the cold to move during the winter season? Share your experience in the comments section below!
See What You Qualify For
You can get a real, customizable mortgage solution based on your unique financial situation.
Get Started