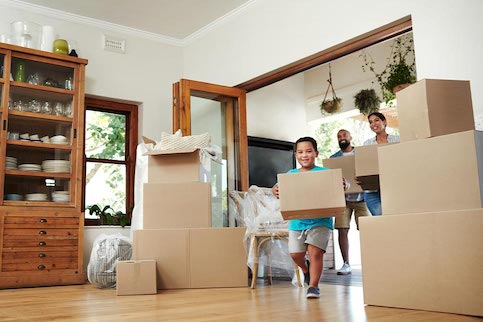 53 Things To Buy For A New House: The Essential Move-In Checklist
Published on August 17, 2023
If you just bought a house, you're likely wondering what you need to buy, especially if it's your first. To make the moving process easier, we've created a comprehensive guide of items to buy for a new house – from the absolute essentials to extras you might want to have on hand.
Let's take a look at the move-in must-haves and explore some bonus items you might want to make your new home comfortable.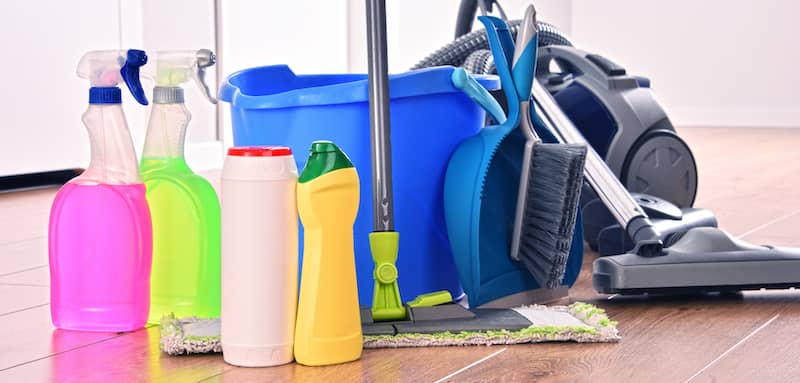 Cleaning Supplies
Your first step to moving into your new home will likely be to clean every nook and crevice. Let's take a look at some of the items you may want to have on hand.
Home Essentials
1. Cleaning products and wipes: Purchase a couple of bottles of cleaning spray and disinfectant wipes or paper towels to wipe down dirty surfaces. Even if your home is newly constructed, you'll need to clean up after the movers leave.
2. Vacuum cleaner: A vacuum will keep dust and dirt under control and can be crucial for maintaining a tidy home. If you have wood floors, make sure you buy a vacuum that runs over wood flooring without scratching it.
3. Toilet brush and cleaner: Keep your commodes clean with toilet cleaner and a new brush. While you're in the bathroom aisle, you can also grab some extra toilet paper.
4. Garbage and recycling cans: You might want to place the cans under your kitchen sink or in an unused cabinet. Buy smaller trash cans for the rest of the rooms in your home and large bins for the curb on garbage pick-up day if your area doesn't provide them.
5. Trash bags: Don't forget to buy different-sized trash bags for your trash cans and to dispose of packing materials.
Extras
6. Duster: A duster with an extension pole is great for those hard-to-reach corners to keep the cobwebs away.
7. Wood cleaner: If you have wood floors in your new home, you may want to shine them before moving in furniture. Purchase a liquid wood cleaner and a mop to wipe over the flooring.
8. Cleaning gloves: To keep your hands clean and safe from chemicals, invest in a pair of rubber cleaning gloves. These are great for cleaning throughout the house and for washing dishes.
9. Robot vacuum: A robot vacuum can make this chore as effortless as possible. This cordless option can save you time, especially for a household with pets.
Tip: To make homemade all-purpose cleaner, fill a spray bottle with equal parts white vinegar and water. If you wish to add a scent, squirt some lemon juice into the mixture or add a sprig of rosemary into the bottle.
Safety Supplies
Next on your list of items should be safety tools and appliances. Do you know if your detectors are working? Do you already have a fire extinguisher? Take an inventory to make sure you have all the items below and they are in good working order.
Let's take a look at what you'll need.
Home Essentials
10. Smoke detector and carbon monoxide detector: Detectors are easy to install and require little maintenance. If you're using existing smoke and carbon monoxide detectors, check each one to make sure it works and replace the battery with a new one. If your home is heated by gas, you might want to consider a natural gas detector as well.
11. Fire extinguisher: Look for a multipurpose fire extinguisher that covers the three classes of in-home fires: electrical, grease and wood/cloth. If you already own one, make sure to check the expiration date to make sure it doesn't need to be replaced.
12. First-aid kit: Be prepared for unexpected small injuries. Your kit should include antibiotic ointment, bandages, gauze pads, latex gloves, antiseptic wipes, cold compresses, over-the-counter medicines and other common medical supplies.
13. New door lock: To keep your home as safe as possible, it's a good idea to swap out your current door lock for a new one.
Extras
14. Home security system: There are smart home security systems available to help you and your family feel safe in your new home. These systems can include surveillance cameras and secure door locks.
15. Smart doorbell: If you don't want to spring for an entire home security system, try a smart doorbell. These devices connect to your Wi-Fi and can show you a live view of your front door.
16. Lockbox or small safe: To keep important documents and treasured items secure and in one location during your move, invest in a small lockbox or safe. Some options will have features like fire-resistant coatings.
17. Flashlights: Consider purchasing a few flashlights so you're ready for any future power outages. They can be handy if your home doesn't have much overhead lighting and you still need to set up your lamps.
18. Extra key: Getting locked out of your home is a big hassle, especially during the move-in process. Make an extra key and keep it in a safe place with a trusted friend or family member.
Tip: Create a binder that contains your most important info. Check out our example emergency checklist as a starting point. Include information like your emergency contacts, doctor's contact information, a medication list, insurance information and other essentials. If there is a natural disaster or other reason you might need to leave in a hurry, you will have your paperwork ready.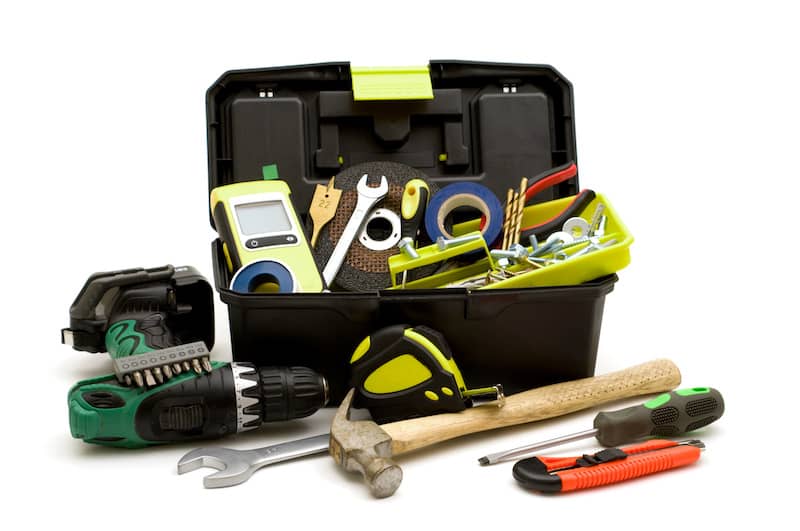 Maintenance Supplies
Home Essentials
19. Tool kit: Having a tool kit is helpful for setting up furniture and general home maintenance. You can buy a tool kit with essential tools for homeowners like a hammer, screwdrivers, measuring tape and pliers.
20. Light bulbs: Keeping spare light bulbs on hand in case any lights need to be replaced can help prevent future issues. Try to buy LED light bulbs for efficiency and to cut down on your energy usage.
21. Batteries: Along with light bulbs, purchase a variety of common batteries for various electronics.
Extras
22. Ladder: To reach places like your ceiling or roof, a ladder is handy to have. You can also find extendable ladders that adjust to different heights.
Tip: Remember to check your HVAC filters to see if they need to be changed out. Your HVAC filters help prevent debris and dust from entering your cooling and heating system.
1-inch and 2-inch filters: Changed every 1 – 3 months

3-inch and 4-inch filters: Changed after 6 months

5-inch and 6-inch filters: Changed after 9 months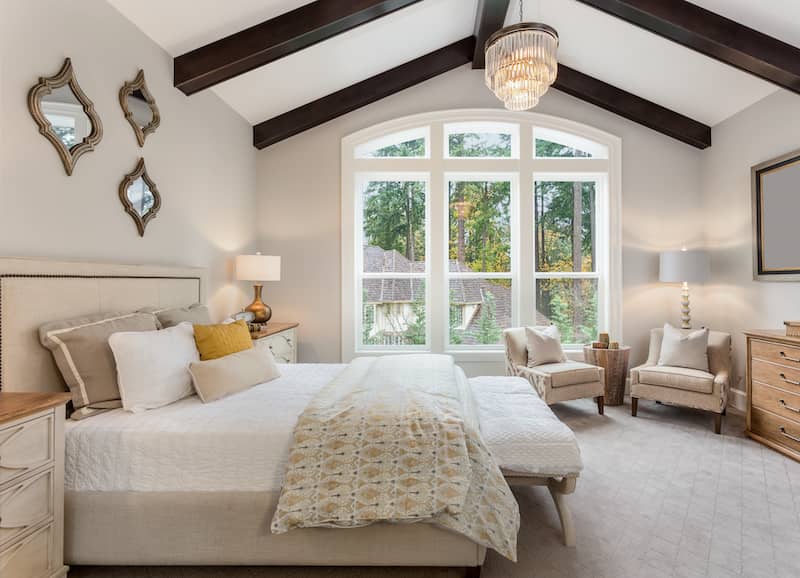 Bedroom Essentials
Let's take a look at the essential items to help get you started on your dream bedroom.
Home Essentials
23. Bedding: A new set of linens can bring fresh energy to your bedroom. A new duvet and some fresh pillowcases can go a long way toward making your bedroom look polished. Purchase throw pillows and soft blankets for extra comfort.
24. Hangers: Don't forget hangers if you have a closet available. Consider purchasing thin matching clothing hangers to help maximize space in your new closets.
25. Bed frame: A bed frame will offer mattress support and can even allow for extra under-bed storage.
26. Nightstands: Your bedroom isn't complete without a pair of nightstands. Buy nightstands that match your bed frame or DIY a new paint job for your old nightstands to add a pop of color and brighten up the room.
Extras
27. Iron and ironing board: Keep your clothes crisp by investing in an iron and ironing board. A small steamer is another tool you can use to keep your clothes wrinkle-free.
28. Bedside lamps: Pick out a couple of simple lamps to place on your nightstands to bring more light into the room.
29. Mattress topper: A mattress topper can make your bed feel more comfortable and luxurious.
Tip: To make moving into your bedroom easier, consider keeping your clothes on their hangers. Use a wardrobe box or consider plastic coverings to wrap around your clothes. You can then transport your clothing straight onto the rack without needing to rehang each item.
Living Room Essentials
Let's take a look at a few home items to help make your new living room feel comfortable and complete.
Home Essentials
30. Sofa or other seating: You'll want to have enough seating for your family and a few guests so everyone can relax and recharge. A large sofa accompanied by a comfy chair or two will do the trick.
31. Window coverings: There may be blinds or drapes already installed throughout your new home, but they might need to be updated or repaired. Add sheer curtains to window blinds for privacy and to allow natural light to shine through.
32. Modem and router: If you have internet service set up at your new home, you'll want to have your modem and router ready to go on move-in day. This will depend on your provider, as some cable/internet companies will bring these items when they set up your service.
Extras
33. Extension cords: Having some extension cords on hand will be helpful for rooms that don't have many outlets.
34. Coffee table: A central coffee table can make the living area feel more complete. Add your favorite cozy candle and books to finish the look.
35. TV: For entertainment, a TV is most likely on your mind. Configure your couches and chairs to have an optimal view.
36. Rug: If your living room has hardwood floors or scratchy carpeting, a large rug will help make the space feel homier.
Tip: When buying new furniture for your living space, take notes on possible obstacles, such as hanging light fixtures, narrow hallways and tight stairways. A good rule of thumb is to purchase furniture 4 – 5 inches less in width than your doors and hallways.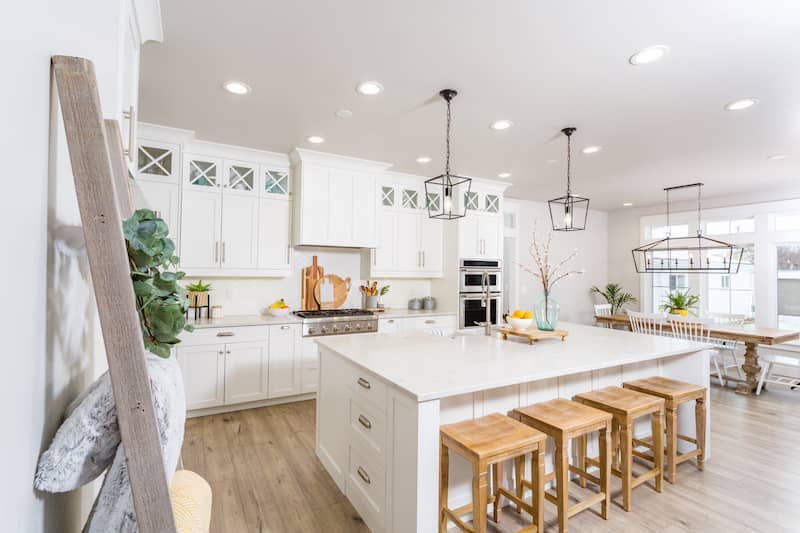 Kitchen Essentials
As the heart of the home, the kitchen can contain endless accessories, but we kept our list to the most important basics. Let's take a look at what you'll need to get started in your new kitchen.
Home Essentials
37. Plates and silverware: You don't need to go overboard with an extensive set of dishware and utensils. Just purchase enough to cover your household plus an extra set or two for guests.
38. Appliances and cookware: Similarly, you only need to invest in essential cookware, like a few pots and pans. You'll know before moving in if your kitchen has all the typical appliances installed, such as a refrigerator, oven and dishwasher.
39. Dish soap and sponge: Grab a large bottle of dish soap and sponges to store underneath your kitchen sink. If you have a dishwasher, remember to purchase dishwasher soap or pods.
Extras
40. Knives: It can be a good idea to invest in a set of quality knives. Remember to purchase honing steel or a knife sharpener to keep your knives in good condition.
41. Cabinet liners: You can purchase liners to place on the bottom of your drawers and cabinets to keep them cleaner.
Tip: For an aesthetically pleasing kitchen, use clear containers to organize your food items. You can even group similar items in the same container, like spices or baking supplies.
Bathroom Essentials
Here are a few items that'll help make your bathrooms feel spa-like and guest-ready.
Home Essentials
42. Shower curtain and liner: It's easy to forget your new home won't come with these, so purchase a new shower curtain and fresh liner for each full bath. Don't forget a curtain rod to hang your new liners.
43. Bath mat and towels: Get a bath mat to decrease the amount of water that falls on the floor after showering and to help avoid mold. Towels and washcloths will also be needed.
44. Plunger: Accidents happen, so having a plunger will be helpful when a toilet becomes clogged.
Extras
45. New shower head: If the original shower head looks dated or doesn't have good water pressure, invest in a new one.
46. Shower mat: Grab a nonslip shower mat to place inside your shower to help avoid falls.
47. Guest towels: Your everyday towels can easily become stained or worn, so it's a good idea to have a separate set for guests if you plan on hosting.
Tip: Purchase a nice shower caddy that can hang off your shower arm or in the corner of your shower to keep bath products organized.
Outdoor Essentials
If you're lucky enough to have a great outdoor space, here are some fun items to think about investing in for your first house.
Home Essentials
48. Doormat: Pick out a new welcome mat that matches your home's aesthetic while keeping dirt and mud out of your house.
Extras
49. Barbecue: A grill set is great for hosting gatherings and cooking your favorite meals on warm evenings.
50. Patio set: If you're planning to host guests for your summer BBQs, you'll want some good seating. A few chairs for lounging plus an outdoor dining table will complete your new outdoor space.
51. Lawnmower and garden supplies: If your new home has a yard, you'll most likely need to purchase a lawnmower to keep the grass trimmed. If you're hoping to start a garden, be sure to buy supplies for this as well.
Tip: If your outdoor space is lacking floral accents and you moved in during the spring or summertime, plant some flowers around the outside of your home in flowerpots or beds. This will add a touch of color and life to your home.
Other Essentials To Buy For A New House
Before moving into your new home, there are a few other essentials that you'll need to ensure you have ready to go:
Homeowners insurance:

Homeowners insurance will cover you when disaster strikes – from water damage to mold damage. We recommend discussing with your insurance provider about the best standard homeowners policy for you.

Utilities:

Before you move into your new home, be sure to call your local utility companies to ensure your electric, water, gas, cable, internet and any other essential utilities will be ready to go.
Stay Organized With Our Essential Move-In Checklist
Check our ultimate new household checklist below to easily track which items you have and which you'll need to buy.
Ready to get started? Download our New Homeowner Checklist now.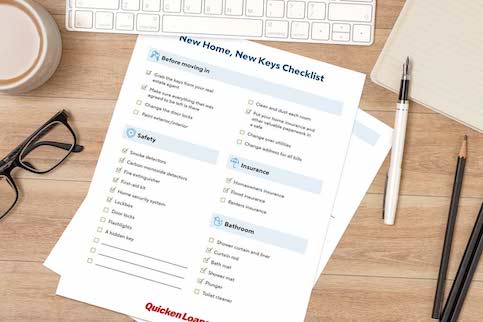 Celebrate Your New Home
Pop open the bubbly! Now that you're comfortable in your new home, it's time to celebrate your new life with friends and family. A housewarming party can also be a great way to meet your neighbors. Use the customizable housewarming invitation below to get the party started.
Download Housewarming Party Invitation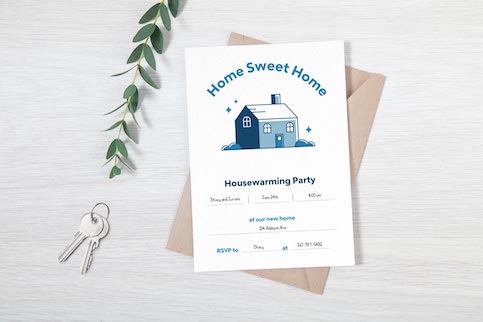 The Bottom Line
Whether you're a first-time homeowner or a seasoned mover, there are always things you'll need to buy when moving into a new house. Keep our checklist handy during your move so you have everything you need to be comfortable in your new home.
When you're making your to-do list for your new home, make sure to include protecting your new home with homeowners insurance. Wondering what to expect? Find out how much homeowners insurance will cost.
Take the first step toward buying a house.
Get approved to see what you qualify for.
Start My Approval