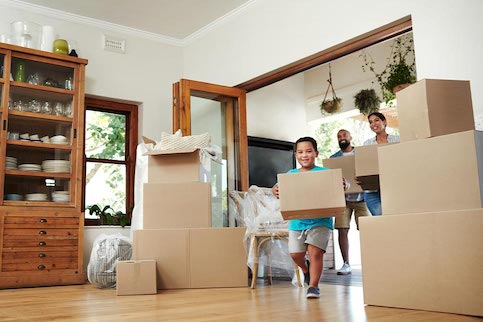 50 Things You Need For Your First House + The Essential Move-In Checklist
Published on April 14, 2022
If you just bought your first home, you may be wondering about the things you need for your first house. To make the moving process easier, we've created a comprehensive guide of things you should buy for your new house, including items that aren't essential but would be nice to have.
We've grouped these items by categories to make searching easier, so you can feel fully prepared when move-in time finally arrives.
Cleaning Supplies
Your first step to moving into your first home will most likely be cleaning every nook and crevice, so here are some items you should grab beforehand.
House Necessities:
Cleaning wipes and spray:

Purchase a couple bottles of cleaning spray and disinfectant wipes to wipe down dirty surfaces. Even if it's a new home, it's nice to give it a clean, fresh start.

Vacuum:

A well-working vacuum cleaner will be a necessity when addressing the aftermath of moving day. If you have wood floors, make sure to purchase a vacuum that can run over wood flooring without causing scratches.

Toilet cleaner:

Make the toilets squeaky clean with toilet cleaner and a new brush.

Garbage and recycling cans:

Have two cans to place under your sink or in an unused cabinet. Purchase extra cans to place in bathrooms and other rooms.

Trash bags:

Don't forget to buy a package of trash bags to use for your cans.
Nice-To-Haves:
Duster

: A duster with an extension pole is great for those hard-to-reach corners to keep the dust and cobwebs at bay.

Wood cleaner:

If you have wood floors in your new home, you may want to shine them up before moving in furniture. Purchase a liquid wood cleaner and a rag to wipe over the flooring.

Cleaning gloves:

To keep your hands clean and safe from chemicals, invest in a pair of rubber cleaning gloves. These are great for cleaning throughout the house and when you need to wash your dishes.

Robot vacuum: If you're someone who dislikes having to vacuum constantly, a robot vacuum can make this chore as effortless as possible

.
Tip: To make homemade all-purpose cleaner, fill a spray bottle with a combination of 1 cup of hot water, 1 teaspoon of Borax, ¼ cup of white vinegar and just a squirt of dish soap.
Safety Supplies
Next on your list of items should be safety tools and appliances. Do you know if your detectors are working? Do you have a fire extinguisher already on hand? Take your time making sure all of the items below are in order.
House Necessities:
Smoke detector and carbon monoxide detector:

Your new home should have been inspected for up-to-date detectors, but you should double-check to see if they each contain working batteries. Detectors are easy to install and require little maintenance.

Fire extinguisher:

Look for a multipurpose fire extinguisher that covers the three classes of in-home fires: electrical, grease and wood/cloth.

First-aid kit:

Be prepared for unexpected small injuries to occur, like when you're sanding surfaces or hanging up picture frames. Your kit should include things like antibiotic ointment, bandages, gauze pads, latex gloves, antiseptic wipes and cold compresses.

New door lock:

To keep your home as safe as possible, it's a good idea to swap out your current door lock for a new one. If you don't want to keep track of a physical key, you can purchase a smart keyless lock that requires a passcode instead.
Nice-To-Haves:
Home security system:

There are smart home security systems available to help you and your family feel safe in your new home. These systems can include surveillance cameras and secure door locks.

Smart doorbell: If you don't want to spring for an entire home security system, a smart doorbell could be a good place to start. These devices connect to your Wi-Fi and can show you a live view of your front door.

Lockbox or small vault:

To keep important documents and treasured items secure during your move, invest in a small lockbox or vault. You can get versions that are fireproof.

Flashlights:

Along with batteries and light bulbs, you might also consider purchasing a few flashlights so you're ready for any future power outages. They can be handy if your home doesn't have much overhead lighting and you've yet to set up any lamps.

A hidden key:

It can be useful to have a hidden key outside of your home in case you lose your original key.
Tip: Create a binder that contains emergency contact information, such as your doctor's information, plus a list of medications you currently take to go along with your first-aid kit.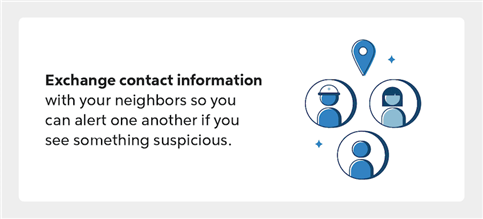 Maintenance Supplies
To keep your new home running smoothly, here are some must-haves for all your home maintenance needs.
House Necessities:
Tool kit:

Having a tool kit will be helpful when setting up furniture or for future maintenance tasks. Some essential tools for homeowners are hammers, drills, screwdrivers, measuring tape and pliers.

Light bulbs

: Have spare light bulbs on hand in case any lights need to be switched out. Purchase LED light bulbs that not only run efficiently but will cut down on your energy usage.

Batteries:

Along with light bulbs, purchase an array of batteries that can be used for various electronics.
Nice-To-Haves:
Ladder:

To reach places like your ceiling or roof, a ladder is handy to have. You can also find extendable ladders that adjust to different heights.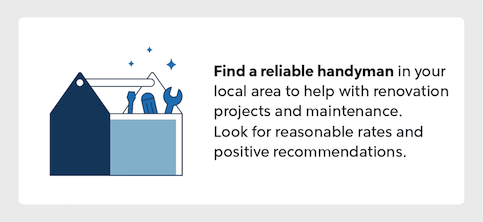 Tip: Remember to check your HVAC filters to see if they need to be changed out. Your HVAC filters help prevent debris and dust from entering your cooling and heating system.
1-inch and 2-inch filters:

Changed every 1 – 3 months

3-inch and 4-inch filters:

Changed after 6 months

5-inch and 6-inch filters:

Changed after 9 months
Bedroom Essentials
Here are a few essential items to help get you started on your dream bedroom setup.
House Necessities:
Bedding:

A new set of bedding can bring fresh energy to your bedroom space. Purchase throw pillows and soft throw blankets for extra comfort.

Hangers:

Remember hangers if you have a closet available to use. Purchase several sets of new hangers in case any of them break during your move.

Bed frame:

A bed frame will offer mattress support and can even allow for storage space underneath.

Nightstands:

Your bedroom isn't complete without a pair of nightstands. Find two that match your bed frame or paint your old nightstands with a pop of color to brighten up the room.
Nice-To-Haves:
Iron and ironing board:

To keep your clothes crisp and in the best condition, invest in an iron and ironing board and store it in a hallway or your bedroom closet. If you don't prefer to iron your clothes, a small steamer is another tool you can use to keep your clothes wrinkle-free.

Bedside lamps:

Pick out a couple of simple lamps to place on your nightstands to bring more light into the room.

Mattress topper: A mattress topper can make your bed feel more comfortable and luxurious.
Tip: To make the process of moving into your bedroom closet easier, keep your clothes on hangers. Use a trash bag or cover to wrap around the clothes. You can then transport your clothing straight onto the rack without needing to hang them up individually again.
Living Room Essentials
Here are a few home items that'll help make your living room feel comfortable and more complete.
House Necessities:
Seating:

You should have some seating in your living space for guests and for when you want to relax and recharge. A large sofa accompanied by a comfy chair or two with plenty of lighting will do the trick.

Window coverings:

There could be previously installed blinds or drapes throughout your new home, but they may need to be updated if parts are missing or don't function properly. Add sheer curtains along with new coverings for extra privacy and to allow natural light to shine through.

Modem and router:

If you have internet service set up at your new home, you'll want to have your modem and router ready to go on move-in day. It'll be helpful to have the internet at your hands for any miscellaneous questions that pop up.
Nice-To-Haves:
Extension cords:

Having some extension cords on hand will be helpful if a room doesn't have many outlets.

Coffee table:

A central coffee table can make the living area feel more complete. Add your favorite cozy candle and books to finish the look.

TV:

For entertainment, a TV is most likely on your mind. Configure your couches and chairs to have an optimal view.

Rug:

If your living room has hardwood floors or scratchy carpeting, a large rug will help make the space feel homier. Pick one with neutral tones to match your furniture or with splashes of color to stand out.
Tip: When buying new furniture for your living space, take notes on possible obstacles, such as hanging light fixtures, narrow hallways and tight stairways. A good rule of thumb is to purchase furniture 4 – 5 inches less in width than a passageway.
Kitchen Essentials
As the heart of the home, the kitchen can contain endless items, but we kept our list to the most important basics.
House Necessities:
Plates and silverware:

You don't need to go overboard with an extensive set of dishware and utensils. However, purchase enough to cover everyone in your household plus an extra set or two for guests.

Appliances and cookware:

Similarly, you only need to invest in the essential cookware tools, like a few pans and pots. You'll know before moving in if your kitchen has all the typical appliances installed, such as a refrigerator, oven and dishwasher.

Dish soap:

Grab a large bottle of dish soap to store underneath your kitchen sink. If you have a dishwasher, remember to purchase dishwasher soap or pods.
Nice-To-Haves:
Knives:

It can be a good idea to invest in a quality set of cutting knives. Remember to purchase a honing steel or sharpener to keep your knives nice and sharp.

Cabinet liners:

You can purchase liners to place on the bottom of your drawers and cabinets to keep them cleaner.
Tip: For an aesthetically pleasing kitchen, use clear containers to organize your food items. You can even group similar items in the same container, like spices or mix packets.
Bathroom Essentials
Here are a few items that'll help make your bathrooms feel spa-like and guest-ready.
House Necessities:
Shower curtain and liner:

New homes typically don't come with these items, so purchase a new shower curtain and fresh liner for each full bathroom. Don't forget a curtain rod to hang your new liners.

Bath mat:

Get a bath mat to decrease the amount of water that falls on the floor after showering to avoid mold.

Plunger:

Accidents happen, so having a plunger on hand in your maintenance closet will be helpful when a toilet becomes clogged.
Nice-To-Haves:
New showerhead:

If the original showerhead looks dated or doesn't have good water pressure, invest in a new showerhead that fits the shower arm.

Shower mat:

To avoid any slipping accidents, grab a non-slip shower mat to place inside your shower.

Guest towels: Your everyday towels can easily become stained or worn, so it may be a good idea to have a special set of towels reserved for guests if you plan on hosting regularly.
Tip: Purchase a nice shower caddy that can hang off your shower arm or in the corner of your shower to keep bath products organized.
Outdoor Essentials
If you're lucky enough to have a great outdoor space, here are some fun items to think about investing in for your first house.
House Necessities:
Doormat:

Pick out a new welcome mat that matches your home's aesthetic while keeping out dirt and mud.
Nice-To-Haves:
Barbecue:

A grill set is great for hosting gatherings and cooking your favorite meals on warm evenings.

Patio set:

If you're planning to host guests for your summer BBQs, you'll want some good seating. A few colorful Adirondack chairs for lounging, plus an outdoor dining table and additional seating will complete your new outdoor space.

Lawnmower:

If your new home has a yard, you'll most likely need to purchase a lawnmower to keep the grass tamed.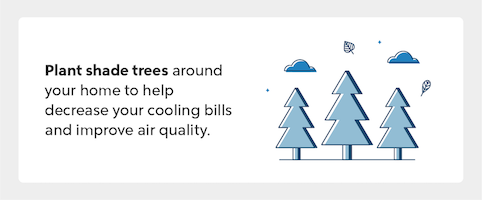 Tip: If your outdoor space is lacking floral accents and you moved in during the spring or summertime, plant some flowers around the outside of your home in flower pots or beds. This will add a touch of color and life to your home.
Other Essentials To Buy For A New House
Before moving into your new home, there are a few other essentials that you'll need to ensure you have ready to go:.
Homeowners insurance:

Homeowners insurance will cover you when disaster strikes – from water damage to mold damage. We recommend discussing with your insurance provider about the best standard homeowners policy for you.
Utilities: Before you move into your new home, be sure to call your local utility companies to ensure your electric, water, cable, internet and any other essential utilities will be ready to go.
Stay Organized With Our Essential Move-In Checklist
Check our ultimate new household supply list below to make it easier to track which items you have and which items you still need to get.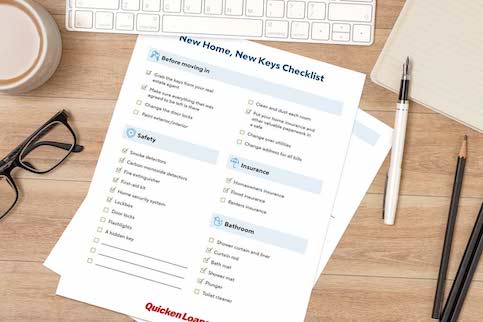 How To Celebrate Your New Home
Pop open the bubbly! Here are a few ways to celebrate your new life in your new abode.
Housewarming party:

Celebrate your new house with close friends and family. This can also be a great way to meet your new neighbors. Use the customizable housewarming invitation below to get the party started.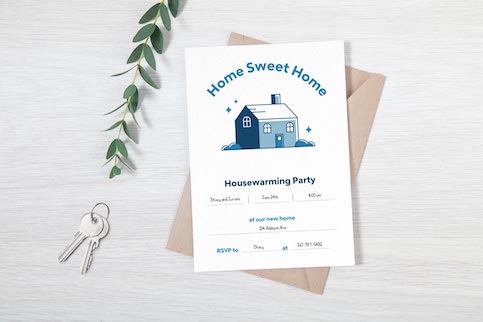 Intention-setting worksheet:

Your new home marks a new beginning or chapter in your life. Check out the worksheet below to help you break down your true intentions for your new living space.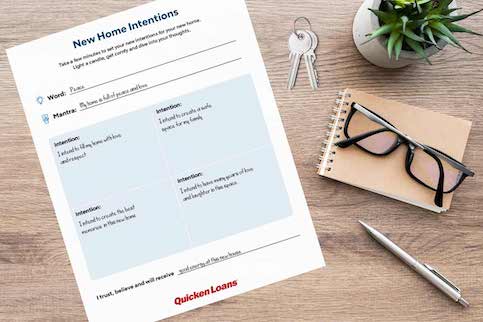 The Bottom Line
Whether you're a first-time homeowner or a seasoned mover, there are always things you'll need to buy when moving into a new house. While purchasing things for your new house is important, it can push the budget, especially after making a large purchase like a home.
One way to minimize your home buying expenses is to start the approval process early in your home buying journey so that you're ready to lock in your interest rate as soon as you find your new home. If you're just starting down the path to homeownership, start your mortgage approval online today. You can also give us a call at (888) 452-0335.
Take the first step toward buying a house.
Get approved to see what you qualify for.
Start My Approval