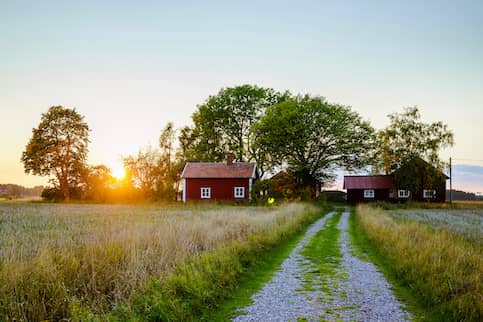 Buying A House Online: How It Works And What To Expect
Published on June 3, 2022
In the last decade especially, Americans have been conditioned to do more of the transactions that we used to handle in person online. Grocery and pharmaceutical deliveries may seem like small steps, but people buy cars over the internet. It's not a big leap from there to the infrastructure necessary to buy a house online.
Take the first step toward buying a house.
Get approved to see what you qualify for.
Start My Approval
Can I Buy A House Online?
It's possible to buy a house online. Whether you can complete the full process without leaving your couch and/or wet signing physical documents often depends on local regulations and the policies of your mortgage lender. But more and more of the process can be handled without the usual trudging to 15 open houses and in-person negotiations.
This has its benefits and drawbacks. Let's go over these. First, the benefits:
Convenience:

You don't have to get in the car and spend all day going to open houses. The photos are online and increasingly, there are entire virtual tours. When it comes to the signing of contracts and closing, many documents can often be signed online.

More secure:

It can be easier to combat fraud when more is done electronically rather than dealing with physical documents.
There are also some downsides:
No in-person tour:

One of the big pros of buying a house online can also be one of the bigger cons. Because you're not going through the house physically, you don't get as good of a feel for what it's like to be in the space. You may not pick up on problems because of a deceptively-framed picture. Additionally, you don't have access to ask the listing agent questions while you're looking at a particular aspect of the house in real time. Everything is email.

More care required:

it's a good idea to do this kind of thing anyway, but you'll want to take extra caution when buying a house online to get it inspected thoroughly. You don't want to go from thinking you're buying your dream home to frittering all your resources into a money pit.
Where To Buy Houses Online
It's easier to buy a house online now than it ever has been before. Many sites even have huge iBuying programs. IBuying is when online real estate sites will buy listings from sellers to then offer it for sale themselves to home buyers who come to their site.
Major players in the iBuying space include Rocket HomesSM, Zillow and Trulia.1,2 In addition to their iBuying efforts, prospective home buyers can use these sites to peruse traditional listings placed by real estate agents and homeowners. They're also tied into local multiple listing services (MLSs).
The internet is also a great place for bargain hunters. The Department of Housing and Urban Development maintains a directory of sites with available foreclosures.
Before committing to this option, realize that these homes are sold as is. Often times, foreclosures may be in rough shape because owners lack the funds or motivation to maintain them. But if you're willing to deal with what could be a fixer-upper, you may be able to find a deal.
Apply Online with Rocket Mortgage
Get approved with Rocket Mortgage® – and do it all online. You can get a real, customizable mortgage solution based on your unique financial situation.
Apply Online
How To Buy A House Online
There are many ways in which buying a house online is just like the traditional home buying process, but it can differ in some important ways. Let's take a look at the steps.
1. Find A Lender Who Offers Online Mortgage Services
If you plan on buying a house online, it helps to have a lender that specializes in getting the mortgage process done online as well. When you qualify with Rocket Mortgage®, they look at your credit and get documentation from you regarding income and assets so you know exactly how much you can afford. In real estate, this is commonly referred to as mortgage preapproval.
One of the things that sets us apart is that we do all of this online, so it's very easy to share information digitally without having to go four different places to hunt down paperwork. We'll simplify the process for you.
2. Choose An Experienced Real Estate Agent
If you're buying a house online, you might think you can find a house on your own and you don't need to use a real estate agent or REALTOR®, but an agent with experience in virtual home buying can be extremely valuable.
Someone who has made offers and negotiated for online listings before can help you evaluate how much to offer. They might also be able to help you spot things that are and aren't being shown in the pictures that could tell you what kind of shape the house is in.
Once you've found a house and want to make an offer, it's important to have an experienced advocate in your corner negotiating on your behalf. You might only buy a house once a decade if that, but real estate agents are out there in the current market every day. They know what homes are going for and what a good offer looks like. They can advise you to give you the best chance of getting the home without being taken for a ride on the price.
Are you looking for an agent who can align on your budget as well as your goals? Our friends at Rocket HomesSM would be happy to connect you with one of their Verified Partner Agents.
3. Begin Your Online House Hunt
This is the part of the process that people often find both the most exciting and overwhelming. It's time to actually find a house you want. Before you take a look at any of the sites we mentioned above, we recommend making a list of what you really need in a house and what would be nice to have.
Across much of the country, it's a seller's market. Given that, you should at least be prepared for the possibility that you won't be able to find a home that has everything you want and also fits within your price range. However, if you can find a house that takes care of all of your needs and most of your wants, you'll be in good shape.
Once you're on the websites or in the house hunting apps, one of the really nice things is that there are almost always very robust filtering capabilities that let you tailor your search to the homes you want to see in a given area in seconds. After that, it's up to you and your real estate agent to scrutinize.
In addition to paying close attention to photos, oftentimes, there will be virtual tours that allow you to simulate the experience of an open house without having to leave home. This can ease your search and give you a feel for the space.
4. Make An Offer
Now that you've found a house, it's time to make an offer. The site you found the home on will have contact information for the listing agent. From there, you can work with your agent on putting together the offer.
Any offer you can make in person can also be made online including cash offers and those backed by a mortgage. Your offer should also include any contingencies you would like, such as those for inspection and appraisal.
Your agent will be able to give you guidance, but it's important not to take these lightly. Contingencies are typically the only way you can get your earnest money deposit back if something goes wrong.
After a seller receives your offer, they can accept it, reject it or counter. If they make a counteroffer, it's not unusual to go back-and-forth a few times. Sometimes the sticking point is not the price, but the move-in date or the timing for various contingencies. Rely on your agent for guidance.
5. Start The Closing Process
If you get your offer accepted, it's now time to get everything ready so you can move forward with the closing process. In order to make this happen, several things have to happen in a short timeframe.
Underwriting:

During the underwriting process, your lender does final checks on your income, assets and credit to make sure you qualify for your mortgage. It's important to not take out any new credit or make any major purchases requiring financing. This way your credit score and debt-to-income ratio remain stable. Your lender will also do a verification of employment at this time.

Appraisal:

In an appraisal, your home is given a value. This is based on comparable properties. As an example, two-bedroom houses with pools are judged against other two-bedroom houses with pools. This value is crucial because the house is serving as collateral for your mortgage. The lender can only make the loan based on what the home is worth. If the appraisal comes in too low, you may have to bring extra money to close, renegotiate or walk away. The appraiser also makes sure there's nothing wrong with the home that would pose a health or safety hazard to anyone moving in.

Inspection:

While an appraiser does a basic health and safety evaluation, a home inspection involves going through the home with a trained inspector who can point out current issues with the home as well as what to look out for in the future. While some home buyers are tempted to skip this in competitive markets, a good inspection can keep you from buying a home with major issues. It can also provide you with evidence you can use to negotiate to either have the repairs made or the price lowered so you can make the repairs yourself.
6. Close On Your New Home
Now that you've had final underwriting checks, received an appraisal and inspection, it's closing day. How does this work if you're buying online and not meeting in person? There are several ways of doing this, but today we'll discuss eClosing.
Within eClosings, there are a few different types, but the one most readily available for home buyers is a hybrid eClosing. In this process, some documents are signed digitally, and others are done by putting pen to paper. These are signed in the presence of a notary and sent off.
Beyond that, your closing process works much the same way a traditional closing might. Prior to your closing date, you'll have 3 business days to review your Closing Disclosure. You'll want to make sure this hasn't changed substantially from your Loan Estimate. Your down payment and closing costs are wired instead of bringing a physical check.
The Bottom Line: Online House Buying Offers Convenience For Aspiring Homeowners
You can do many things online, and buying a house is no different. Sites including Rocket HomesSM offer not only pictures, but even virtual tours. It's possible to do negotiation and even portions of the closing online.
If you're ready to get started, you can apply online. If all this talk of buying over the internet seems a little much for you, you can also give one of our Home Loan Experts a call at (833) 230-4553.
1 Rocket Homes℠ is a registered trademark licensed to Rocket Homes Real Estate LLC. The Rocket Homes℠ logo is a service mark licensed to Rocket Homes Real Estate LLC. Rocket Homes Real Estate LLC fully supports the principles of the Fair Housing Act.
For Rocket Homes Real Estate LLC license numbers, visit RocketHomes.com/license-numbers.
California DRE #01804478
2 Rocket Mortgage, LLC and Rocket Homes Real Estate LLC are separate operating subsidiaries of Rocket Companies, Inc. (NYSE: RKT). Each company is a separate legal entity operated and managed through its own management and governance structure as required by its state of incorporation and applicable legal and regulatory requirements.
We were unable to determine the home price you can afford with the numbers you entered. Try adjusting your numbers, or contact a Home Loan Expert at (800) 983-1344 to see what you can afford.
Please enter an annual income amount (cannot exceed 7 digits).
This is your income before taxes. Include income from any co-borrowers.
Please enter a monthly debt amount (cannot exceed 7 digits).
Include all required minimum monthly debt payments.
Please enter a down payment amount (cannot exceed 7 digits).
We will figure out the best down payment and additional closing costs.
Please enter a valid zip code.
If you don't have a home picked out yet, your best guess is fine.