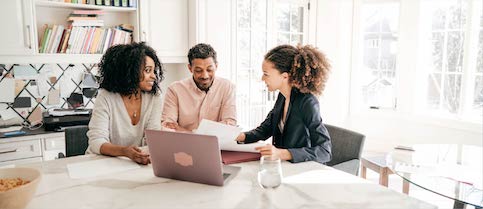 How To Beat A Cash Offer On A House
Published on August 27, 2021
If you're one of the millions of Americans who purchased a home during the pandemic, you were most likely beaten out by a cash offer at some point. But a cash offer on a house is nothing new – they have been a mainstay in the real estate market since the 2008–2009 recession.
During this particularly competitive market we find ourselves in, cash offers set buyers apart. And they've been rising in popularity in recent months. In fact, a fixer-upper in Washington, D.C.,¹ received 76 all-cash offers in the first 4 days it was listed.
Fewer properties on the market plus people eager to buy a home equals bidding wars, soaring home prices and endless headaches for people looking to buy. Cash offers are particularly alluring to sellers. Cash buyers can immediately verify they have the funds for purchase, which speeds up the closing process and some of the hang-ups that come with financing.
If you're going up against cash offers, it's important to understand how these offers differ from traditional loan-backed offers. We break down what exactly a cash sale is and offer tips for beating a cash offer below.
What Is A Cash Offer?
Before we explore further, it's helpful to understand what exactly a cash offer is and how it sets a buyer apart. A cash offer is one made by someone with the money that's already in their bank account, meaning they don't need any financing because they don't require a mortgage.
See What You Qualify For
Congratulations! Based on the information you have provided, you are eligible to continue your home loan process online with Rocket Mortgage.
If a sign-in page does not automatically pop up in a new tab, click here
How Does The Home Buying Process Differ With A Cash Offer On A House?
For the seller, accepting a cash offer or a financed offer doesn't make much of a difference – they will be paid at the end of the sale regardless. However, cash offers set a buyer apart because the home buying process is typically faster for cash buyers. For example, cash buyers don't need to go through the financing process that allows them to skip the mortgage application, documentation, underwriting and appraisal.
When it comes to cash sales, there are typically fewer contingencies. Contingencies are clauses in a formal real estate contract that state there are certain conditions that must be met by either the buyer or the seller in order to continue to the next step in the contract. Cash buyers can skip the financing contingency as they aren't using a mortgage loan.
Cash buyers can often skip appraisals, as well. Those are typically required by lenders, so a buyer using all cash will have no need. The closing process is also speedier without financing – the paperwork load is lighter and closing costs may be lower because there aren't any lender fees.
Pros Of A Cash Offer
No risk of buyer financing falling through
A faster closing process
There typically won't be an appraisal
You might avoid some contingencies
Cons Of A Cash Offer
It might be lower than other offers
The buyer may not be vetted as thoroughly
Tax implications
Less available cash for homeownership
How Common Are Cash Offers For A House?
The National Association of REALTORS®² found that all-cash sales accounted for 23% of transactions in March 2021, a boost from 22% in February 2021 and 19% in March 2020. In previous years, cash buyers could often offer a lower price solely because they could offer money on the spot.
Now, cash offers are becoming increasingly common. It may seem baffling that someone could offer cash for a home when others are struggling to save up for a down payment. CNN reported that in a state like California, some of this money is coming from sales of companies, IPOs and cryptocurrency gains. Another report³ from the NAR found that cash sales are on the rise for non-first-time home buyers, primary residence buyers and vacation home buyers, showing that all-cash offers are more common among those with existing real estate.
How To Beat A Cash Offer
If you're going up against a cash offer for a home, there are certain steps you can take to keep yourself and your offer attractive to the seller. We break down a few tips to keep in mind as you navigate the real estate landscape.
Submit A Preapproval Letter
Before you make your offer, getting preapproved for a loan† can save you time during the buying process and show buyers that you're a capable buyer. These preapprovals mean that your credit and finances have been checked, essentially giving you the green light for your mortgage loan for when you find the perfect home. Preapprovals give sellers confidence that you're a safe bet.
Reduce Loan And Appraisal Contingency Time
In order to speed up this part of the home buying process, you can ask your lender to quickly send an appraiser to the property and measure how long the loan turnaround would take.
Schedule An Inspection Quickly
A quick home inspection shows that you're a serious buyer. Try to do this within the first days of having your offer accepted to show the seller you're doing all you can to finish the sale.
Prepare To Pay More
Cash buyers often expect a discount because they're paying with cash. For non-cash buyers, you can increase your chances by topping a cash offer.
"My best tip for beating a cash offer on a home is to offer to pay extra," says Matt Bigach, co-founder at Nexus Homebuyers."Cash buyers always expect a little discount on their offers, simply because they think they're doing sellers a favor by paying in cash. Consequently, they tend to make lower offers, giving you the chance to beat them. Raise your original offer to meet the seller's expectations and you'll surely come out on top. Alternatively, you could offer to pay the closing costs of the seller, on top of your original offer."
Make It Personal
The home buying process isn't always the most personal. Make yourself known to the seller and develop a connection by introducing yourself to them.
"When we put an offer in on a house, we're basically writing a love letter," says John Gluch, owner at Gluch Group. "We love the house, this is why, and this is what we're willing to pay for it. So why not write an actual love letter (email, text message, an actual letter, or even a video) and send it to the current homeowners. It may connect with them and push them toward selling to you, rather than the next person."
Let the seller know who you are and what your hopes are for the home. Maybe it's your first home, or maybe it's the home where you want your family to grow. This can help set you apart from the competition and give the seller an idea of who you are and what you plan to do with the home.
As you're deciding whether to write a note to a seller, it's important to know that some states like Oregon⁸ are outlawing love letters to sellers. Be sure to check with your state's guidelines or your real estate agent before writing one.
3 Tips for Writing A Letter To A Seller
Don't mention remodeling. The feature you're excited to change may be the seller's favorite part about the home. Be mindful of their feelings by omitting any renovation plans.
Be specific. Don't just say that you love an aspect of the home. For example, don't say that you love the backyard. Mention that you can't wait to host your family for an annual holiday celebration.
Stay positive. Don't dwell on how difficult the home buying process has been. Keep things positive and light, while also making it as sincere as possible.
Increase Your Earnest Deposit
So you've found your dream house and you're willing to make your offer competitive in order to call it home. One way you can do this is by increasing your earnest money. Earnest money is money that's put down before closing on a house to show you're serious about purchasing. This money is then held in escrow as a good faith deposit. This isn't always a requirement, but it's common in a competitive market like the one we find ourselves in now.
"Earnest deposit is a small percentage of the actual price of the house, usually 1 to 3%, that goes on to show your interest in the property," says Bigach. "Increasing your earnest deposit will go on to show good faith to the seller, and how willing you are to go the extra mile in order to get your offer accepted. The deposit adds into the down payment, so you don't have to worry about losing money."
Agree To The Seller's Timeline
Understand what the seller's goals are for the closing process — then prioritize your contingencies and align your closing timeline with the seller's. This is where being adaptable and amenable can really set you apart from other buyers.
"Make their transaction with you as straightforward as possible," says Kris Lippi, licensed real estate broker and business owner at I Sold My House. "Determine the sellers' needs and incorporate them in your offer. Do they have to leave the property right now because they're relocating to another country and have already booked their flights? If that's the case, make sure that you forego some formalities with your transaction to make the process faster so they won't miss their flight. Things like these are important since, in addition to the financial gains, sellers are looking for convenience as well."
Waive Contingencies
There are many contingencies to consider when buying a home, such as financing and inspection contingencies. Waiving these contingencies makes the selling process easier for the seller, but does pose a risk for the buyer. It's important to talk with your agent about the risks and rewards of waiving contingencies before you decide how you want to proceed.
If you choose to waive the financing contingency, this means that you wouldn't be able to back out of the sale even if your mortgage loan falls through. Waiving the inspection contingency would mean you wouldn't have the home inspected before buying.
You could also choose to waive sale and settlement contingency. This contingency is dependent on the buyer selling their home. It allows the seller to continue to market their home to buyers and the buyer has the opportunity to remove this contingency within a specific timeframe if the seller receives another offer.
If the buyer cannot remove the contingency, the contract is terminated and the seller can accept another offer. If you're in a place to remove this contingency, it can greatly speed up the closing process and make you more attractive to the seller.
Consider A Different Type Of Home
Fixer-uppers often receive all-cash offers whereas newly constructed or remodeled homes receive fewer all-cash offers. It may be helpful to look at newly constructed or remodeled homes to avoid all-cash offers.
Include An Appraisal Gap Guarantee
An appraisal gap is the difference between the appraised value of a home and the purchase price in the sales contract. An appraisal gap clause can be used to ensure that the home buyer will cover this gap.
This is a particularly smart move to make as a buyer in a seller's market, as home buyers often make offers way above the original listing price. This can skew the actual market value of the home. An appraisal gap guarantee can be used to reduce the risk of the seller losing money from a low appraisal.
Though cash offers can make an already competitive market even more so, by using some of the tips above, you can set yourself apart from other potential home buyers and secure the home of your dreams.
Methodology
To determine how many homes were bought in cash during March of 2021, we multiplied the total number of homes sold in each state by 23% (the percentage of cash sales during the month per the National Association of REALTORS®). We sourced the total number of homes sold in each state in the month of March from individual state association REALTORS® boards. We then used that data to determine the total number of cash sales per state.
† Participation in the Verified Approval program is based on an underwriter's comprehensive analysis of your credit, income, employment status, debt, property, insurance and appraisal as well as a satisfactory title report/search. If new information materially changes the underwriting decision resulting in a denial of your credit request, if the loan fails to close for a reason outside of Rocket Mortgage's control, or if you no longer want to proceed with the loan, your participation in the program will be discontinued. If your eligibility in the program does not change and your mortgage loan does not close, you will receive $1,000. This offer does not apply to new purchase loans submitted to Rocket Mortgage through a mortgage broker. This offer is not valid for self-employed clients. Rocket Mortgage reserves the right to cancel this offer at any time. Acceptance of this offer constitutes the acceptance of these terms and conditions, which are subject to change at the sole discretion of Rocket Mortgage. Additional conditions or exclusions may apply.