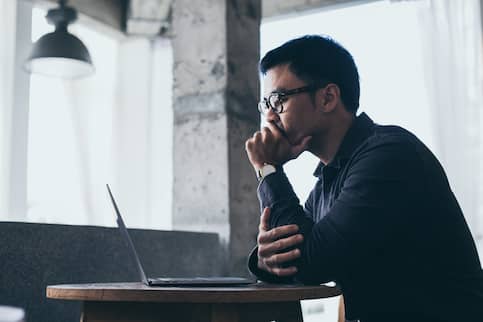 What Is Real Estate Wire Fraud And How Can Home Buyers Protect Themselves?
Published on January 18, 2023
The home closing process is stressful, and scammers are all too eager to take advantage of unaware buyers. Real estate wire fraud is one of the fastest-growing cybercrimes in the U.S., and if you aren't careful, you could lose your down payment and closing costs and even delay your closing.
Scams aren't always obvious, but there are steps you can take to prevent falling for mortgage wire fraud and keep your closing funds safe.
What Is Real Estate Wire Fraud?
Real estate wire fraud is a type of mortgage scam that affects real estate transactions. It occurs when a cybercriminal contacts a home buyer through phishing and tricks them into wiring their closing cash – including their down payment – to an account under the hacker's control. Home buyers are at the greatest risk of being scammed in the days before they close on their new home, at the very end of the home buying process.
These schemes are complex and appear as valid conversations with your real estate agent or mortgage lender. Real estate wire fraud can be committed by a wide range of individuals or groups, including individual fraudsters and organized cybercriminals.
How Does Real Estate Wire Fraud Work?
In a typical real estate wire fraud scam, a cybercriminal will gain access to an email account or phone number involved in a home sale – usually a real estate agent, lender, title agent or buyer – through a phishing scam. Phishing is a type of online scam where a hacker uses fake emails, phone numbers or websites to impersonate a well-known source. Phishing scams are used to trick individuals into giving out their personal information or by clicking a link that gives the criminal access to login and password information. Once the criminal has access to personal information, they can monitor emails and use a phone number similar to the one your real estate agent or lender uses.
In a real estate wire fraud scam, scammers target someone on the brink of a house closing with an email made to look like those received from trusted partners that includes an urgent message and new wiring instructions. Texts and emails can seem legitimate and may even contain your personal information. Scammers may even use "spoofing" software which mimics a real estate agent's or lender's email or phone number.
Once the fraudster has your money, it's very difficult to get it back. It can leave you thousands of dollars in debt and even delay your closing.
The Cost Of Real Estate Wire Fraud
Mortgage wire fraud is fairly common. In fact, it continues to be one of the most prevalent cybercrimes in the U.S. According to the Federal Bureau of Investigation, 11,578 people were victims of real estate wire fraud in 2021. While these numbers are down by more than 16% compared to 2020, losses went up to over $350 million, more than 60% compared to the previous year.
One of the most highly reported crimes was Business Email Compromise (BEC)/Email Account Compromise (EAC), which target businesses and individuals performing transfers of funds. While this scheme typically involves hacking or spoofing of email accounts and a request to send wire payments to fake bank accounts, the FBI noted that this scheme has evolved. Now, scammers are using virtual meeting platforms like Zoom to hack emails and spoof credentials.
The FBI's Internet Crime Complaint Center (IC3) provides a direct outlet to report cybercrime to the FBI. Reports are analyzed and investigated to track trends and threats from cybercriminals. This data is then shared with the FBI's intelligence and law enforcement partners. By reporting online criminal activity, you can help prevent additional crimes and ensure consequences are imposed on those continuing these attacks.
How Can You Prevent Falling For A Mortgage Loan Scam?
There are steps you can take to prevent falling for a mortgage loan scam.
Understand Well In Advance How You'll Be Making Payments At Closing
You can reduce the likelihood of becoming a real estate wire fraud victim by understanding the closing process thoroughly and paying particular attention to how exactly you will be paying the down payment and other closing costs.
Speak with your real estate agent or lender in person or over the phone about the closing process and what to expect. Ask about payment methods and how you should wire funds on closing day. You can also use this opportunity to set up a password with trusted parties as a secure way to confirm their identities in the future.
Avoid talking about this over email, as scammers can use this information against you.
Keep An Offline Or Off-Site Record Of Your Real Estate Partners And Their Contact Information
Write down contact information and only trust contacts that originate with the numbers on that list. You can also store that information off-site with the Consumer Finance Protection Bureau's Mortgage Closing Checklist.
It's easy for hackers to clone email addresses, so be extremely wary of any information received via email. Also, don't rely on contact information contained in emails. Hackers can obtain any information in emails through phishing scams.
Choose A Trusted Lender
Ask lenders how they protect financial information provided by applicants and verify what procedures they'll use to notify you about changes to previously delivered information. For example, Rocket Mortgage® takes cybersecurity measures to protect client information. Rocket Mortgage is an online direct-lending platform, which is a secure online portal that requires a password and login information to submit personal information and copies of important documents.
Don't Send Your Financial Information Via Email
You should never send your financial information via unencrypted email. This could expose you to data hacking, which could allow a cybercriminal to gain access to your bank account number. With this information, money can be taken directly from your bank account.
Call Before You Click On Attachments
Before you click on any email attachments, first confirm it actually came from a trusted source. Scammers can mimic the email address, phone number and format of an exchange from your real estate agent or mortgage lender.
Never Wire Funds Without Verifying The Instructions Orally With Two Trusted Partners
Do not follow directions to wire funds via email. Verify closing instructions, including the account name and number where you will be wiring your down payment and closing costs, with your trusted representatives in person or over the phone.
What Should You Do If You've Been A Victim Of Mortgage Wire Fraud?
If you've been a victim of mortgage wire fraud, take immediate action by following the below steps.
Contact The Wire Transfer Company Immediately
Contact the wire transfer company immediately and tell the company that it was a fraudulent transfer. Ask them to reverse your transfer to get your money back. Keep in mind that transfers happen quickly, and, in most cases, recovery prospects are dim.
Contact Law Enforcement Authorities
Contact the Federal Trade Commission (FTC) or the Internet Crime Complaint Center to report real estate wire fraud. You can also report it to the FBI Fraud Tip Line.
According to the FTC, your report is shared with more than 3,000 law enforcers. When you report a scam, the FTC and FBI can use this information to build a case, spot trends, inform the public and share data about what's happening.
The Bottom Line: Protect Yourself From Real Estate Wire Fraud
Real estate wire fraud can happen to anyone, so it's important to take precautions to prevent yourself from being the victim of phishing and fraud. Mortgage wire fraud puts your closing costs at risk and can even delay the closing on your new home. Once you send the money in a fraudulent transfer, it's very difficult to get it back.
Knowing how to spot fraud and what to do makes you better prepared for when you purchase a home. If you're getting ready to buy a home, choose Rocket Mortgage as your trusted partner in lending. Apply online now and lock in your interest rate.
Find A Mortgage Today and Lock In Your Rate!
Get matched with a lender that will work for your financial situation.
Get Started