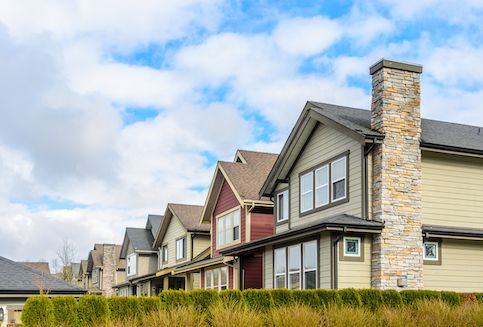 Home Warranty Facts & The Best Home Warranty Companies In 2021
Published on January 6, 2021
Disclosure: This post contains affiliate links, which means we receive a commission if you click a link and purchase something that we have recommended. Please check out our disclosure policy for more details.
As a renter, you could call your landlord or property manager if your air conditioner, water heater or dishwasher went on the fritz. Now that you're a new homeowner, though, you're the one responsible for home repairs – including any ailing appliances and systems.
All home appliances need to be replaced eventually, and it can be costly. A home warranty policy will cover electrical systems, HVACs and plumbing systems and can also provide an essential peace of mind.
We've created our list of the five best home warranty companies in 2021. Our evaluation criteria is outlined later in this article.
Home Warranty Companies

Best For

Pricing

Servicing Fee*

Quote

Service

Basic Plan: $44/month

Total Plan: $50/month

Service Fee: $75 – $125

Overall

Typical Plan: $30 – $45/month

Service Fee: $75 – $125

Low Deductibles

Basic Plan: $38/month

Service Fee: $45 – $75

Flexibility

Basic Plan: $28/month

Premier Plan $45.50/month

Service Fee: $75 – $100

Customization

Platinum Plan: $50/month

Service Fee: $75 - $125
*Note: The pricing of premiums tends to vary based on plan, location and service fee selected.
What Is A Home Warranty
What is a home warranty? Whether you're a first-time home buyer or a veteran of the process, it's important to understand what a home warranty offers.
A home warranty is an annual service contract that pays for the replacement or repair of major appliances. These household items include appliances (like dishwashers) and home systems (like an HVAC system).
One condition of a home warranty is that covered appliances and systems must be on a regular maintenance schedule. This type of coverage is different from home insurance, which pays for damage and loss caused by natural disasters.
How Does A Home Warranty Work?
Home warranty coverage extends for a specified contract term, generally a year or two. After that, the new owner can renew or cancel the service contract.
A home warranty works like this:
Instead of making a service call to your local repairman if a major system or appliance breaks, you'd contact the warranty provider.
The provider would then request a repair through a third-party service provider with whom they have a business agreement.
That service company would contact you to schedule an appointment for inspection and repair.
Keep in mind that some home warranty companies may have a service call fee for any repairs. This fee isn't included in the actual cost of the repair.
How Do You Know If You Need A Home Warranty Plan?
When considering a home warranty, it's important to review the items in your home and determine if adding a warranty would add value. For example, if your HVAC system is nearing the end of its life, a home warranty plan may come in handy and save you from extra costs.
Your home is one of the largest purchases you'll make, so any extra precautions you can take to save your investment are beneficial. When deciding if a home warranty plan is right for you, here are some basic questions to ask before purchasing a plan:
Can you afford to buy a home warranty?

A small upfront cost can save you from a massive financial headache later. If a plan fits into your budget, it may be a worthwhile investment in order to avoid financial stress in the future.

Are you a first-time home buyer?

Many first-time home buyers will purchase a plan during the closing of their new home. Spending a little bit more each month will help them save thousands of dollars in the long run.

Buying a home

is stressful enough, so invest in your peace of mind.

Do you own or plan to purchase an older home?

Purchasing a plan on the 10-year anniversary of your home is a wise investment to assist you with future costs.

Are you a "DIYer"?

If you don't want to spend money on appliance repairs, it may behoove you to invest in a home warranty. Completing repairs is a task that requires skill and knowledge. Without training, repairs can be very dangerous to the average homeowner. Do yourself a favor and save yourself from future trepidation.

Do you own a mobile or tiny home?

Home warranty policies also apply to

tiny homes

or mobile houses. Even if you've put forth a minimal investment, it's still wise to protect it.

Are you planning to sell your home?

If you've put hard work into

preparing your home to sell

, you don't want anything to go awry in your final days. A home warranty plan will help you keep your home afloat until you move. Additionally, it can be a great marketing tool because you can transfer the contract to the new buyer.

Do you own a rental property?

You can lump the cost of the plan into your tenants' monthly rental fee. This is a wise decision if you have renters like college students. If you rent out multiple properties, some home warranty companies may expedite your service claim when you call their 800 number.
There are some circumstances where you may not need a home warranty.
If you have 1% of the purchase price of your home set aside for

unexpected expenses

like repairs, you may be able to afford the extra cost without purchasing a plan.

If you've purchased a new build or your appliances still have a manufacturer's warranty, you may want to forgo the extra monthly cost of a plan.
When it comes to major repairs, there's never a good time financially. That's why having the best home warranty can be a real lifesaver.
"I recommend them with just about every home I sell," says Sharilyn Weber, a REALTOR® with Lion Real Estate in Fresno, California.
Choosing The Best Home Warranty For Your Needs
There are three basic kinds of home warranty plans, each escalating in cost and coverage.
The first covers one particular appliance, such as a refrigerator.

The second covers multiple appliances, such as your refrigerator, washing machine and dishwasher.

The third covers major appliances and systems, such as HVAC and electrical.
Even the most expensive home warranty plans might not cover all your home appliances or systems. A second refrigerator in the garage or equipment for an outdoor pool might not have coverage under the warranty contract. If you want items outside of the original policy covered, you'll have to negotiate with the insurance company.
"They're very specific in what they do and don't cover," says Weber.
Negotiating could pay off. Weber includes her pool's cellular-powered chlorination system in her own $670 home warranty.
"We've lived in our home 6 years and our cell has gone out three times – that would have cost $1,000 each time to replace. So, in our case, the warranty has more than paid for itself," she says.
5 Best Home Warranty Companies In 2021
Finding the best home warranty company to fit your personal needs can be a bit of a challenge. We did our own research to come up with a list of some of the best warranty companies available.
Choice Home Warranty
Choice Home Warranty offers competitive pricing, regular promotions and a 90-day repair guarantee. With a Choice Home Warranty plan, you can cater your warranty to your specific needs and the budget you're working within.
While their basic plan allows you to cover major appliances and home systems, their total plan covers major as well as several minor appliances and systems. In addition, their optional coverage allows you to add specific items that aren't available through the previous options.
American Home Shield
You can select from three different plans that cover 11 systems and 10 appliances from American Home Shield. We like this company because they give customers the option to customize their own plans. Flexibility may be what you need when selecting a home warranty company.
In addition to their coverage options, American Home Shield also offers the insight of skilled technicians. They'll advise you on the best option for your repairs, whether it's repair or replacement. Their plans combined with excellent customer service make American Home Shield one of our top picks for your warranty needs.
Select Home Warranty
When dealing with repairs, the hardest part is finding the right company to assist. It's difficult to find a technician who has availability and expertise in the specific area you need.
From a homeowner's perspective, Select Home Warranty most effectively alleviates the hardest aspect of home repairs: They find and send professional technicians to assist with repairs. By exceeding expectations with this area of their service, Select Home Warranty sets their company apart.
Once the professional arrives, you're only charged a minimal service fee for the repair or replacement of your system or appliance. It's as easy as picking up the phone and initiating the claim.
First American Home Warranty
Much like our other top home warranty companies, First American Home Warranty offers similar amenities. Several custom plan options and licensed technicians are some of the commonalities you'll encounter. However, you're also promised repairs 24 hours a day and 7 days a week with First American Home Warranty.
Your air conditioning died at 7 p.m.? Don't worry, they've got you covered. With a promise like that, First American Home Warranty is well worth a second glance as a warranty option.
America's 1st Choice Home Club
America's 1st Choice Home Club matches its competitors and takes their service offerings to the next level. With the option of three separate plans and an additional coverage option, they have homeowners covered in a variety of ways. However, there's a benefit that sets them apart from the pack: This company provides licensed real estate agents who offer their home buyers the opportunity to tap into their policies.
With a knowledgeable America's 1st Choice Home Club representative, it's easy to have instant answers to any questions you may have.
A Home Warranty Is Not The Same As Homeowners Insurance
Many first-time homeowners get home warranties and homeowners insurance confused. The difference between them is very important to understand.
Homeowners insurance covers accidental damage to your home or belongings caused by theft or natural disaster.
A homeowners insurance policy covers four primary areas: the interior and exterior of the home, personal property and general liabilities.
Personal property coverage is important if theft, loss or damage occurs to your home.

General liability coverage is your safeguard if someone becomes injured on your property.
If you buy a home with a mortgage, homeowners insurance is a requirement. For more information, read our guide on homeowners insurance and the benefits.
A home warranty helps cover the repair or replacement of an appliance or system component due to wear and tear.
A home warranty may help protect components of your HVAC, electrical and plumbing systems as well as your appliances. You're not required to purchase a home warranty.
Home Warranty Costs, Service Fees And Other Expenses
When evaluating a home warranty, make sure you completely understand how much it will cost. This includes taking into account the initial cost, service fees and any other expenses.
The exact price of a home warranty depends on the coverage level you choose. A typical annual cost might be $200 for major appliances and $800 for a policy covering HVAC, plumbing and electrical systems.
If you're buying a home, the warranty premium is part of the closing costs. However, the question of which party pays the premium is open to negotiation. Responsibility for payment can be relegated wholly to the seller or shared between the seller, buyer and realtor.
Some home warranty policies have a deductible of about $100 or the repair cost, whichever is less. If your warranty carries a deductible, that fee would apply to each repair. And while you won't be paying the actual repair or replacement costs, you may be responsible for paying a trade service fee of $65 – $125 for each repair. This fee, outlined in your agreement, will cover the service provider coming to your home to diagnose the problem.
Limitations Of Home Warranties
Depending on your plan, there may be an annual limit on how much the provider will pay. For plans covering one item, the limit might be $1,000 – $2,000 each year, whereas more expensive plans will have a higher limit. Be sure to read your policy to determine your exact coverage.
Providers can also decline to make payments under certain conditions. This may be the circumstance if they deem a repair to be too expensive. When that happens, the provider might offer to replace the item or pay the depreciated value.
The home warranty provider may deny payment for a few other reasons. If you haven't performed needed maintenance, you may receive a denial.
They may also deny you if the appliance or system wasn't installed properly or if there are code violations.
Lastly, you can also receive a denial if there's excessive wear and tear or if there was a preexisting condition.
Questions You Should Ask
While you may have gotten most of your home warranty questions answered, there may still be a few you're unsure about. Here are some of the most common questions we come across:
Is the home warranty I want redundant?

With

new construction

, adding coverage may be redundant. Home builders often include warranties for new builds. These cover structural defects, systems and appliances for varying periods of time.

Will I have to complete a home inspection before I buy a policy?

Every home warranty company has different requirements. Some won't require a

home inspection

or maintenance records.

How does the claim process work?

If your HVAC goes out, you most likely won't want to wait very long to have it repaired. If a company doesn't offer 24/7 customer service and assistance, you need to understand how long it will take for repairs.

Will there be a for charge repeat visits if the problem recurs?

If you continue to face the same problem, you shouldn't incur additional fees. Make sure you verify this information with the warranty company. You don't want to end up spending more than you have to for the same problem.

Can I cancel my policy at any time?

A lot of companies will allow you to cancel your policy at any time. They may even refund your remaining premium amount that you didn't use. Check with your warranty company to verify whether there would be any fees if you decide to cancel. Some fees can range from $50 – $75.
Managing Risk
A home warranty can provide a lot of value, especially if you're buying an older home.
"Things are so expensive now to get repaired – just having a repairman out costs $75. In comparison, home warranties are not that expensive," says Weber.
Some buyers may not think they're needed, especially if they've gone for years without issues.
"If nothing breaks during the coverage period, the customer may, in hindsight, feel the fee was a waste of money, but that's what managing risk is all about," says Angie Hicks of Angi.
"But are you financially prepared to replace major components as they are needed, or would you rather pay a set amount per year whether something breaks or not?"
The best idea is to get several quotes from providers to compare prices and coverage. Then decide which, if any, the best home warranty company for you is.
Our Ranking Criteria For Best Home Warranty Companies
Each home warranty company above underwent evaluation by a predetermined set of criteria.
The following criteria helped determine the best home warranty companies:
Exclusions and limitations

Sample contracts if they were available

Substantial coverage gaps

Premiums below $600 a year

Responsive customer service

Good Better Business Bureau rating

Ease of filing a claim

Turnaround time

Positive customer perception
The Bottom Line
To ensure you're accessing the best home warranty plan, your home warranty should have a clear contract that you can easily read and understand. You should have the option to choose from a variety of plans and find one that fits your specific needs and budget. Finally, your coverage should be comprehensive.
Looking for more tips like these? Visit the Quicken Loans® Learning Center to find a wealth of articles written about homeownership and the mortgage process.