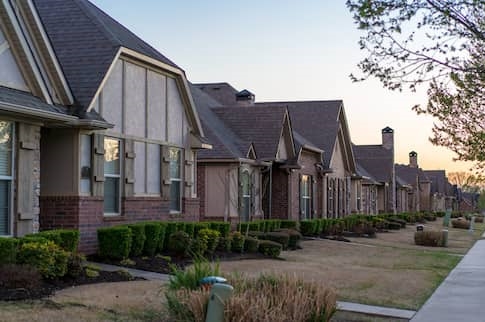 Types Of VA Loans: Which One Should You Choose?
Published on August 8, 2022
It's no secret that buying a home is a complex process entailing several steps. It can be challenging to get a low interest rate or come up with the money for a down payment, which is why VA loans appeal to some borrowers. The Department of Veteran Affairs created this type of loan to help veterans enjoy affordable housing.
In this article, we'll discuss the different types of VA loans available to those who are eligible and how to determine which one is the best option for you.
Guide to VA Loans
Discover a more affordable loan option for United States Veterans, Service Members and spouses.
Read the Guide to VA Loans
What Is A VA Loan?: A Brief Overview
A VA loan is a mortgage program offered by the Department of Veteran Affairs (VA) as a benefit of military service to help veterans, military members and qualified surviving spouses purchase a house. The program is provided through private lenders, such as banks, online lenders and credit unions. There is no requirement for a down payment in most cases, and VA loans offer competitive interest rates and have easier loan approvals than conventional loans. VA loans also never require private mortgage insurance, but you must pay a VA funding fee (unless you are exempt).
With a VA loan, the VA promises to cover part of the loan through an entitlement. Essentially, this is the amount of money they'll pay if you can't make payments for whatever reason. Having these provisions can reduce the risk for lenders, making them more likely to offer better loan terms. You can get a VA loan without making any down payment, for example.
What Types Of Loans Does The VA Offer?
When it's time to apply for a VA loan, there are various options available to you. To apply for any VA loan, you must have a valid certificate of eligibility, also known as a COE. A COE shows lenders that you meet the requirements to get the loan.
Before making a decision on which VA loan to apply for, it's a good idea to understand each loan type and what they offer. Let's take a look at the different VA loans.
VA Purchase Loan
A VA purchase loan is offered by a financial institution offers, but backed by the VA. As noted, the VA promises to cover some of your costs if you fail to make payments. Because the VA backs this loan, it's less of a risk; therefore, there's no down payment, plus fewer closing costs, no private mortgage insurance, better terms and lower interest rates than loans for non-veteran borrowers. By not having to pay for private mortgage insurance, you can also reduce the amount of your monthly payment.
However, you should know that your lender will determine your loan terms and if you can even apply for this loan. Also, not every lender offers this loan, so you'll need to check with yours before applying. Some common uses for this loan include the purchase of:
Single-family homes

Condominiums

Manufactured homes

Multi-unit properties
15-Year Vs. 30-Year VA Loan
Like other types of mortgages, when you apply for a VA loan, you can choose the length of the term. Most homeowners use either 15 or 30 years. Determining which one you should choose will depend on your financial situation.
15-year mortgages are beneficial because they offer lower interest rates. This feature means you can expect to pay less in interest over the life of your VA loan. Unfortunately, a shorter term means you'll have a higher monthly payment. Instead, if you want a lower payment amount, a 30-year loan might be your better option. Although, your rate will be higher, and you'll pay more interest over time.
Fixed-Rate Vs. Adjustable-Rate VA Loan
Besides deciding on a loan term, you can also choose if your VA loan uses a fixed or adjustable interest rate. The VA offers both options to qualifying borrowers, but you should thoroughly consider your future plans before deciding.
Fixed-rate VA loans use a single interest rate over their entire term. This option means your monthly payment will never change, making it easier to budget for. Unlike a fixed-rate loan, adjustable-rate mortgages (ARMs) have interest rates that change periodically over the loan's term. Of course, most ARMs use an initial fixed period with a low interest rate for the first few years.
If you plan to move or refinance your VA loan in the future, an ARM may be the right option. On the other hand, if you want to buy your forever home and don't plan on relocating or downsizing, a fixed-rate loan may be better.
Standard Vs. Jumbo VA Loan
Finally, the last choice you'll need to make about your VA purchase loan is what the loan amount will be. Most standard VA purchase loans have a limit of $647,200 (unless you live in a high-cost area, like Hawaii or Alaska). If you want to purchase a home for more than that dollar amount, you'll need to apply for a Jumbo VA loan.
Jumbo VA loans work like other types of VA loans. You still need to meet your lender's credit score and service time requirements. The only difference is that you'll need to make a down payment if you borrow more than $1.5 million. There's also no mortgage insurance or prepayment penalties.
Let Our Experts Do the Work
Quicken Loans is a VA-approved lender. Our Home Loan Experts do most of the work so you don't have to when it comes to getting your Certificate of Eligibility.
Speak with a Home Loan Expert
VA Cash-Out Refinance Loan
A VA cash-out refinance allows you to borrow money against up to 100% of your home equity. No other loan offers the ability to borrow against as much equity in your home. You can use this loan to fund a number of projects, including:
Consolidating and/or paying off your debts to help improve your credit score

Refinancing your current home loan to reduce the interest rate and monthly payment

Using the money from your home equity to pay for renovations
Interest Rate Reduction Refinance Loan (IRRRL)
An Interest Rate Reduction Refinance Loan, or an IRRRL for short, allows a borrower to refinance a VA loan. In some cases, it's also known as a VA Streamline because the loan process is simplified and doesn't always require credit checks, income verifications or an appraisal – though closing costs can still be applied. Switching to an IRRRL from an adjustable-rate mortgage to a fixed-rate can be helpful because it allows you to save money and stabilize long-term expenses by lowering your monthly mortgage payments and interest rate.
To qualify for this loan, you must show the lender that you currently have a VA loan and live in the house you want to refinance. Before getting approved for a loan, you'll need to meet the specific eligibility requirements. This loan requires the new rate to be lower than your current one, and you'll have a limit on the amount of time it takes to recoup the costs.
How Many Times Can You Use A VA Loan?
There are no limitations on the number of times you can take out a VA loan for a home. In other words, it's a lifetime benefit. A lender will permit you to use your benefits as much as possible, as long as you meet their required qualifications. However, there are some constraints and restrictions to be aware of, so that you understand what is and isn't allowed.
You can only use a VA loan to purchase a primary residence. For example, lenders won't allow you to take out a VA loan on a secondary home or rental property. However, you can use different VA loans for the same property or temporarily have two VA loans at once for two separate primary residences. For example, you can use a VA purchase loan, and then, later, a VA cash out refinance loan. The key takeaway is that the property has to be your main home for you to get approved.
Who Qualifies For A VA Loan?
To be eligible for a VA loan, there are a few qualifications you must meet. Eligible borrowers have:
Served 90 consecutive days of active duty during wartime

Served 181 days of active duty during peacetime

6 years of service for the National Guard or Reserve
If you're the spouse of a service member who has died in the line of duty or as a result of a service-related injury, you also qualify.
How To Determine How Much You Can Borrow With A VA Loan
Determining the amount of money you can borrow for a VA loan depends on your situation. For instance, there is no loan limit for borrowers with a full entitlement; they can therefore borrow the highest amount the lender will approve. However, there is a VA loan limit in some cases wherein a person may have numerous active loans or defaulted on a previous one. It's important to understand that the limit doesn't restrict the amount you can borrow – just what you can borrow with no down payment.
As of 2022, the standard VA loan limit is $647,200 – a significant increase from 2021.
The Bottom Line: Be Sure To Understand The Different Types Of VA Loan Programs Before Applying
A VA loan can benefit veterans and service members by getting them better mortgage terms for their mortgage, including zero down payments and lower interest rates.
Before applying for a loan, it's necessary to understand the various types of VA loans. Understanding each VA loan's purpose will help you make the right financial decision.
Ready to begin your home buying journey? Contact a Home Loan Expert to get started today.