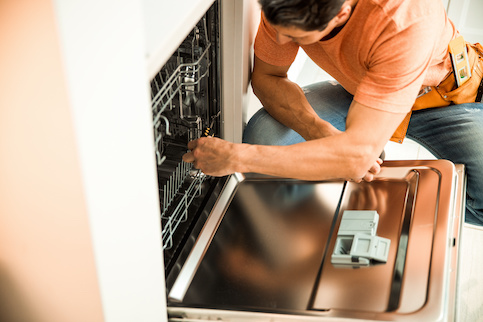 Home Warranty Cost: What To Expect
Published on April 2, 2022
Disclosure: This post contains affiliate links, which means we receive a commission if you click a link and purchase something that we have recommended. Please check out our disclosure policy for more details.
The financial responsibilities that come with being a homeowner don't end your monthly mortgage payment. You'll also have to pick up the tab if something breaks. Instead of waiting for the worst to happen to your budget, covering the cost of a home warranty up front could be the right move.
What Is A Home Warranty?
A home warranty is a contract that covers the repair or replacement of critical home systems and major appliances. The specifics of this annually renewed contract vary. But there are three common types:
System plans: A system plan includes coverage for specific systems in your home. A few common systems covered include HVAC, air conditioning unit or furnace.
Appliance plans: A appliance plan includes coverage for specific major appliances. A few covered might include the oven, refrigerator, washer, water heater or built-in microwaves.
Combination plans: A combination plan can cover both appliances and your home systems.
When shopping around for a home warranty, you can request add-ons for specific systems in your home. For example, you might opt to get additional coverage for a well pump or pool that's not always offered in the standard coverage plans.
How Much Does A Home Warranty Cost?
Home warranty cost is made up of the monthly fee and the service fee. A service fee is only charged if you have to use the coverage.
Depending on your location and coverage preferences, the cost of a home warranty varies widely. A home warranty will usually cost you $25 – $50 per month.
Here's a closer look at the potential costs:
| | | |
| --- | --- | --- |
| Home Warranty Company | Typical Home Warranty Cost (Varies based on location) | Service Fees |
| | $40 – $80 per month (varies) | $75 –$125 |
| | $40 – $50 per month (varies) | $85 |
| | $35 – $50 per month (varies) | $75 |
| | $30– $40 per month (varies) | $46 – $75 |
Homeowners considering a home warranty may be wary of adding another monthly fee to their budget. But as a home buyer, this extra expense can provide the peace of mind you need. Although you'll have to pay a service fee if something goes wrong, you won't be on the hook for a brand new appliance that could run you thousands of dollars.
Is A Home Warranty Worth It?
A home warranty comes with plenty of advantages. First and foremost, paying for a coverage plan gives you invaluable peace of mind knowing that your budget won't be on the hook when a home system or appliance breaks.
Although you have to factor in the cost of a home warranty into your budget, the overall cost of a home warranty is likely less than the cost to repair and hire contractors for certain appliances without coverage.
With this home warranty in place, you can work allocate more funds to some of the other expenses associated with buying a house. For example, you might decide to work on that kitchen upgrade or replace the flooring, knowing that if a major appliance breaks, you won't have to reach too far into your pocket to cover the costs.
If you decide to move forward with a home warranty, take the time to shop around. A little bit of comparison shopping can go a long way toward finding the most affordable plan that suits your needs.
Home Warranty Cost FAQs
Is there a service fee with home warranties?
Yes, home warranties come with a service fee. If you need to use your home warranty, you'll pay a service fee to have a contractor come out and diagnose the issue. For covered problems, the service fee is the only cost you'll incur.
Can I get a quote to see pricing for a home warranty plan?
Yes, most home warranty companies are happy to provide you with a quote. If you find a coverage plan you like, reach out to the company for a quote.
How long does the home warranty contract last?
In most cases, a home warranty contract lasts for one year. When the year is up, you'll have the option to renew the contract.
How do I pay for my home warranty coverage?
The payment options for a home warranty vary based on the company. In most cases, you can pay for the full year or make a monthly payment. Most companies accept debit cards, credit cards, checks and bank transfers.
Make sure that the company you are working with will accept your preferred form of payment.
What is the best home warranty plan for me?
The right home warranty plan for your situation will vary. If you have a relatively newer home with brand new appliances, you might opt for a systems coverage plan. But if you have an older home with lots of quirks, you might go for the combination plan.
Take a look around your home to see what you'd like covered. If you don't see a combination plan that offers everything you want, consider your add-on options. Many companies are willing to provide add-on coverage. But be prepared to pay a higher premium.
The Bottom Line
A home warranty can be the perfect way to protect your budget against unexpected home repairs. Although not every item in your home will be covered, knowing that your major home systems are protected offers great peace of mind.
Ready to sign up for a home warranty? Explore your options with Consumer Affairs today.