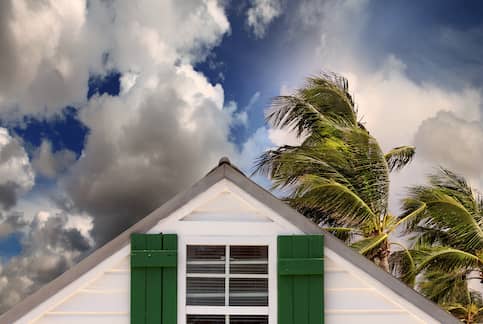 Guide To Hazard Insurance For Homeowners
Published on July 7, 2021
If you're relatively new to the world of homeownership, you may have come across a few terms that you don't quite understand. Moreover, you may have encountered concepts that sound similar but that actually serve completely different purposes.
One confusing topic of discussion is insurance. What exactly is hazard insurance, and how is it different from homeowners insurance?
Hazard insurance protects you, the homeowner, against structural damage caused by natural disasters; homeowners insurance is a financial protection against theft and damage to your home and belongings sustained in more mundane ways.
The goal of hazard and homeowners insurance is to make sure that your house and belongings are covered in the event of an incident, whether it's a kitchen fire that causes smoke damage or one of those ever-increasing forest fires that burns down your home.
Let's take a closer look at the difference between hazard and homeowners insurance and how you know you're getting the right insurance policy to cover you in an emergency.
What Is Hazard Insurance?
Hazard insurance covers the damage caused by a natural disaster and may only cover the actual structure of your home, not any of your personal items inside the house. Sometimes separate coverage for the contents inside your home is offered.
What Does Hazard Insurance Cover?
Most hazard insurance policies cover damages caused by the following common types of perils:
Hurricane

Tornado

Hail

Smoke

Snowstorms

Ice and sleet

Falling debris

Vehicles, including cars and aircraft
Note that hazard insurance does not include flood coverage. Depending on your flood risk, your mortgage lender may require you to get flood insurance. The Federal Emergency Management Agency (FEMA) offers a Flood Map Service Center tool that allows you to find out if an address is in a FEMA-designated flood zone.
To recap, if an out-of-control vehicle or tornado damages your home, the hazard insurance policy would pay for the cost to repair or rebuild your home. However, if a fire blazed through your bedroom and you were left with only the clothes on your back, the hazard insurance would not be enough to cover the cost of replacing your clothes and personal effects.
That's where a homeowners insurance policy takes over.
What's The Difference Between Hazard And Homeowners Insurance?
Homeowners insurance protects you financially from various types of damage, as specified in your policy, as well as theft, if you have contents coverage. It also covers medical bills if someone is injured at your house and any legal costs if they decide to sue you, in addition to damage caused by:
Fire

Windstorms

Hail

Lightning

Vandalism
An insurance agent will typically offer a homeowners policy designed to cover the cost of your personal property, liability and other basic coverage, as well as protection against certain hazards.
In other words, many people have just one policy – homeowners insurance – that covers basic liability, as well as the option to include hazard coverage.
However, some mortgage lenders require that you have supplemental hazard insurance based on where you live. For example, if you live in the "tornado alley" area of the Midwest, chances are your mortgage lender will require you to have tornado coverage on your home. Other supplemental hazard coverages worth looking into include earthquake, flood and sewer insurances.
How Much Is Hazard Insurance?
There are several factors that go into determining the monthly premium for hazard insurance. The more your home is worth and the older your home, the higher the cost of the insurance. If your home is in a flood zone, or regularly experiences a fire or hurricane season, the cost of hazard insurance may be significantly cheaper than the cost of catastrophe.
Deductibles also influence the amount homeowners pay in monthly premiums for their hazard insurance. Lower deductibles mean that you'll pay less out of pocket in the event of a hazard-related crisis, but that often comes at the cost of a higher monthly premium. Any additional coverage you opt for, which includes raising the limits of your coverage, will result in higher overall insurance costs.
What's Hazard Escrow?
The term "escrow" refers to an account used to pay real estate taxes, mortgage insurance (if applicable) and homeowners insurance that is split into monthly installments and included in a client's mortgage payments along with principal and interest.
Mortgage lenders may automatically add an escrow account to their policies or give clients a choice in the matter. Many loans require an escrow account by default, but depending on your situation, under the right circumstances, your lender may not require one or you may be able to get it removed after closing. Speak to your servicer.
The advantage of an escrow account is that the payments are split by 12 across the span of 12 months. The amount is calculated on a yearly basis according to the actual amount of the insurance premiums. Since the premiums fluctuate, the amount has to be recalculated every year.
Hazard Insurance FAQs
Below, we answer some of the most frequently asked questions about hazard insurance.
Do you have to have hazard insurance and homeowners insurance?
Unless you're able to pay for a home with cash upfront, you'll be beholden to your mortgage lender's requirements. Virtually every mortgage lender will require you to take out homeowners insurance. Depending on the risk factors associated with the particular home, you may be required to add hazard insurance as well. Your mortgage lender will make it clear if you need to do this.
Why would hazard insurance go up?
Insurance rates regularly increase to keep up with inflation in order to cover the cost of repairing your home. Your rates may also go up after an insurance inspection that may determine your home needs upgrades. If your neighborhood has felt the effects of climate change-driven storms and fires, your hazard insurance premiums may increase to cover the rising costs of repair.
What does hazard insurance not cover?
Shop around. Compare and contrast the varying list of hazards covered by different insurance companies. Generally speaking, hazard insurance will cover the structures on your property and the personal property within it if natural disaster strikes. Most will not cover floods or earthquakes. So, if the earth shifts beneath your home, which causes a pipe burst and minor flood, hazard or flood insurance will not cover it.
The Bottom Line: Which Insurance Coverage Is Right for You?
Before you buy a house, make sure you find an insurance company you trust and feel comfortable with, so you know you're getting the right hazard insurance policy to cover you in an emergency. Finding the best level of coverage to protect your assets is equally important. Make sure you consider the size of your deductible, the risk of certain hazards in your area and a premium amount that accommodates your personal budget.
Not sure what costs beyond hazard insurance that you should anticipate as a homeowner? Check out our guide to the full cost of homeownership.