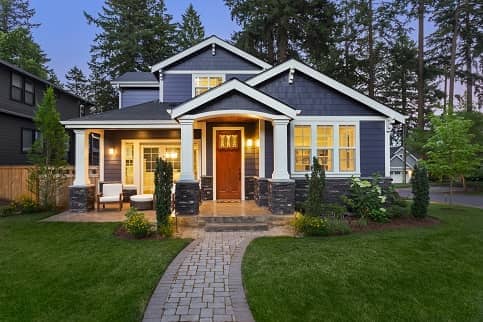 Home Warranty Vs. Home Insurance: What's The Difference?
Published on November 16, 2020
Your home is likely one of the biggest purchases you'll make in your life, but the expenses don't stop after you buy it. Home maintenance costs can range from small to major, so it's important to be prepared. If not, a broken appliance or leaking roof can be a big blow to your finances.
Luckily, there are ways to protect not only your home and the items inside it, but also your wallet and financial future. When it comes to protecting your home, it's not home warranty vs. home insurance. Home insurance is a given, so you don't need to decide between the two.
What you do need to decide is if you want to get a home warranty in addition to your insurance. Knowing the difference between the two can help you decide.
The Main Differences At A Glance
The terms home insurance and home warranty are not interchangeable. There are important distinctions between the two. For example, if you're purchasing a home with a mortgage, you'll be required to get home insurance. Home warranties are optional, whether using a mortgage or not.
Of course, there's another key difference between a home warranty and home insurance – what they cover.
Home insurance covers damage to the structure or loss of property due to factors out of the homeowner's control, such as natural disaster, fire or theft.

Home warranties cover appliances and systems that need replacement or repair due to age or normal wear and tear.
Let's take a deeper look into coverage and why it matters.
Apply for a Mortgage with Quicken Loans®
Call our Home Loans Experts at (800) 251-9080 to begin your mortgage application, or apply online to review your loan options.
Start Your Application
How Coverage Differs
While home insurance covers the home itself and personal property from unexpected events, home warranties cover systems and appliances inside the home from events that one could expect to happen, eventually.
Home Warranty
A home warranty is a service contract that offers coverage for the repair or replacement of major appliances and home systems. Those with home warranties pay a certain amount of money per month for coverage, in addition to a service fee for each issue. When a covered appliance or system breaks down, the warranty company will work with a third-party service provider to complete the work.
Home warranty coverage will depend on the type of plan you get. Different home warranty companies will offer different coverage plans, including plans that only cover appliances or only cover systems, tiered plans and build-your-own plans. You may also be able to add-ons to any plan.
Here are some appliances and systems that are commonly covered, depending on the plan:
Major home appliances like refrigerators, ovens and washers and dryers

Major home systems, including HVAC, electrical and plumbing
Warranties often cover repair or replacement needs caused by:
Normal wear and tear

Common malfunctions

Age
Most home warranties come with limitations and exclusions. You can find these in your service contract. Some things that may not be covered include:
Certain appliances and systems

Certain parts of appliances that are covered

Appliances or systems that were installed incorrectly

Work completed by out-of-network providers

Any cost over the annual limit of what the warranty provider will pay
Home Insurance
Home insurance offers coverage against loss or damage to property caused by certain – often uncontrollable – events and covers liability to homeowners should an accident occur on the property. If insurance is used to repair, rebuild or replace something, the homeowner will pay a deductible and the rest will be paid for by the insurance agency.
What's covered and from what cause will depend on your insurance policy and where you live. Here's what may be covered:
Your home

Other structures on your property, including a garage, guest house or shed

Personal property, including furniture, electronics and clothing

Personal liability
Insurance offers protection from such events as:
Fire and smoke

Accidental damage

Theft or vandalism

Natural Disasters

Accidental injury
Insurance policies have their limits and they won't cover everything in the home. Certain things may require additional insurance, like earthquake or flood insurance. A few things that may not be covered by home insurance:
Expensive items like jewelry, artwork and furs

Flood damage

Earthquake damage

Pest damage
Regular wear and tear
Finding The Coverage You Need
While you're not required to have a home warranty, it could provide additional peace of mind because it adds a financial safety net for more expensive things in the home that can be costly to repair. To help you decide whether you should get a home warranty along with home insurance, review this table to see how you can get the coverage you need. Remember, specific coverage will depend on the type of plan you get.
| | | |
| --- | --- | --- |
| Coverage | Insurance | Warranty |
| Theft | YES | NO |
| System wear-and-tear | NO | YES |
| Damage caused by plumbing | YES | NO |
| Fire Damage | YES | NO |
| Storm Damage | YES | NO |
| Appliance Repair | NO | YES |
| System Repair | NO | YES |
Keep in mind, if a system or appliance that's covered by a home warranty fails, the warranty will cover the appliance, but not any damage caused by the failure. However, home insurance may cover it. For example, if your plumbing system breaks down, the home warranty will cover the repair, but not the water damage caused. Home insurance may cover that.
It's important to remember that there are exceptions and limitations when it comes to what items and causes are covered under both insurance policies and home warranty service contracts. It is imperative you read the fine print to make sure you have the coverage you want and need.
Apply for a Mortgage with Quicken Loans®
Call our Home Loans Experts at (800) 251-9080 to begin your mortgage application, or apply online to review your loan options.
Start Your Application