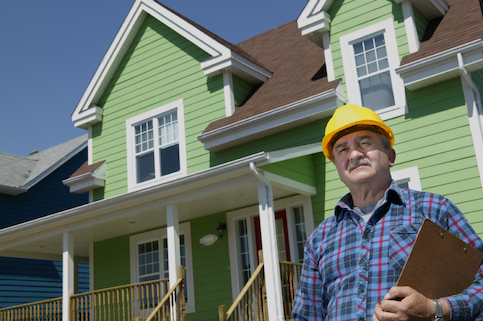 What Is LEED Certification And Is It Right For Your Home?
Published on March 15, 2023
Green buildings and sustainable design are becoming increasingly popular as homeowners recognize the long-term cost-saving and environmental benefits of energy-efficient living.
Did you know there's a specific certification for resource efficient buildings, including homes? It's called a LEED certification.
What Is LEED?
The Leadership in Energy and Environmental Design (LEED) certification is a globally used process that evaluates a building project's sustainability efforts. Using detailed rating and points systems, LEED certification gauges sustainable building design for new construction, commercial interiors, existing buildings and single-family homes.
In the 1990s, a group of engineers, architects and builders established standards for building new green-rated structures. By 1998, this group developed a points scale recognized by the U.S. Green Building Council (USGBC) for energy-efficient homes.
What Is LEED Certification?
LEED certification is a way of recognizing the sustainability of construction projects. LEED-certified buildings are designed and built to reduce energy and water consumption, minimize waste, improve indoor air quality and use environmentally friendly materials. Builders using sustainable methods value the LEED rating system and certification.
A LEED certification is a valuable recognition for homeowners and buyers interested in reducing their carbon footprint by living in a sustainable home. Homeowners and buyers can benefit from LEED certification by enjoying lower utility bills, healthier living spaces and reduced impact on the environment.
How Does The LEED Certification Process Work?
The LEED review process takes a holistic view of new construction projects, assessing sustainable sites for energy efficiency and energy use, accessibility, emissions and indoor environmental quality, among other sustainable design factors. Depending on the type of project, LEED uses different rating systems.
Generally, the LEED certification process is contingent on a points-based rating system. The certification level a LEED project earns will depend on its point total. The four levels of LEED-certified buildings are green, silver, gold and platinum. Each of these levels corresponds with a number of points that a building is awarded based on these major components:
Using sustainable building materials
Minimizing energy consumption
Reducing emissions into the atmosphere
Using sustainable landscaping
Improving water efficiency
Improving air and indoor environmental quality
Building in neighborhoods with high walkability
What Are The Goals Of The LEED Program?
The LEED green building program is constantly evolving to ensure that it remains a relevant and effective tool for promoting sustainable design and construction practices.
LEED v4.1 is the latest iteration of the LEED green building program. Several changes were made to the LEED certification process following the launch of LEED v4.1, including:
Increased emphasis on performance: LEED v4.1 places more emphasis on performance, requiring building owners to submit actual data on energy and water usage to achieve certification.
Greater flexibility: LEED v4.1 offers more flexibility in the certification process, allowing project teams to select the credits that are most relevant to their project and region.
New credit categories: LEED v4.1 introduces new credit categories, such as "Social Equity within the Community" and "Access to Quality Transit," to address emerging sustainability issues.
Updated reference standards: LEED v4.1 updates reference standards that reflect the latest codes and standards in the industry.
What Are The LEED Certification Requirements?
For a building to achieve LEED certification, it must meet certain requirements during construction. The number of requirements a building meets will correspond with the building's level of LEED certification. For example, if a building meets all seven requirements and is awarded the full 110 points, it'll be identified with the platinum level of LEED certification.
The seven requirement categories and their corresponding points are:
Sustainable site (up to 26 points)
Water efficiency (up to 10 points)
Energy and atmosphere (up to 35 points)
Materials and resources (up to 14 points)
Indoor environmental quality (up to 15 points)
Innovation in design (6 points)
Regional priority (4 points)
Additionally, each level has its own point range.
Certified
LEED-certified buildings are the lowest level of LEED certification, known as the green level of LEED certification. Buildings must earn between 40 and 49 points to achieve this certification.
Silver
Buildings at the silver level of LEED certification must earn between 50 and 59 points for certification.
Gold
Buildings that earn between 60 and 79 points receive the gold-level LEED certification.
Platinum
Platinum is the highest level of LEED certification. Buildings at the platinum level must earn between 80 and 110 points.
How Much Does LEED Certification Cost Homeowners?
The cost of LEED includes registration and certification fees, and can vary depending on the builder you're working with and the size of your home. The USGBC provides a full list of up-to-date LEED registration and certification fees.
As you consider the financial impact of a LEED certification, remember that the opportunity to save on energy bills with energy-efficient upgrades can help justify the cost of certifying. In fact, a LEED certification can quickly pay for itself over the course of a few years.
How Can I Pay For The Upgrades Needed To Meet LEED Standards?
The first step to getting a LEED certification is figuring out which energy-efficient improvements you want to make to your current home or if you want to completely design an energy-efficient home from scratch. The second step to getting a LEED certification is determining how you'll pay for these upgrades.
New Construction
Homeowners who want their sustainable design dreams to come true can pursue a construction loan to build a sustainable site from the ground up. When construction is complete, they can refinance to a traditional mortgage loan.
Existing Homes
Homeowners who want to make updates to their existing home have a few financing options to consider.
Cash-Out Refinance
If you're interested in upgrading your existing home, you can consider a cash-out refinance to pay for improvements to the home.
A cash-out refinance is a type of mortgage refinancing that allows homeowners to access the equity in their home by taking out a new mortgage for more than the existing loan balance. The difference between the two loans is given to the borrower as cash, which can be used for home improvements.
This refinance process involves shopping for a lender, submitting an application with financial documentation, underwriting to determine creditworthiness and closing on the new loan by signing documents and paying closing costs.
Home Equity Loan or Line Of Credit
A home equity loan or home equity line of credit (HELOC) can also be used to cover the cost of home improvements.
A home equity loan is a lump-sum loan that is secured by the borrower's home equity. It's a second mortgage that typically has a fixed interest rate and a set repayment term.
A HELOC, on the other hand, is a revolving line of credit that is secured by the borrower's home equity. It works like a credit card, with the borrower able to draw on the line of credit as needed, up to a predetermined limit. HELOCs usually have variable interest rates and flexible repayment terms.
Both allow homeowners to borrow against the equity in their homes, allowing access to funds at a potentially lower interest rate than other types of loans, and the interest paid may be tax-deductible.
Pros And Cons Of LEED Certification For Homeowners
The LEED certification process is a significant commitment. Consider the following pros and cons of LEED certification before deciding if it's necessary for your home.
Pros
Getting a LEED award will cost a bit of money upfront and can take several months, so why go through the process? Here are just a few benefits you can expect:
Greater Satisfaction With The Home
When homeowners complete projects that increase the energy-efficiency of their homes, they often report feeling greater satisfaction with their property. This can be attributed to the fact that energy-efficient upgrades help maintain a consistent temperature and reduce drafts, which can lead to improved indoor air quality and overall comfort. Additionally, homeowners can also feel good about reducing their impact on the environment and contributing to a more sustainable future.
Savings On The Cost Of Utilities
The amount of energy savings that LEED homeowners can expect will depend on a variety of factors, including the local climate, the size and design of the home and the efficiency of the appliances and systems used in the home. On average, according to the USGBC, LEED-certified homes use up to 20% – 30% less energy than a traditional home built to code, with some homes reporting up to 60% savings. Using fewer resources means lower utility bills each month.
Possible Rebates And Property Tax Discounts
Homeowners can take advantage of the following incentives with a LEED certification:
Federal incentives: There are

federal tax credits

and programs that offer

rebates and other incentives

for energy-efficient upgrades. However, there aren't any credits specifically linked to LEED certification.
State and local incentives: Depending on where you live, there are state and local government incentives available to homeowners, including rebates for costs and reduced property taxes for LEED homes. To find out the incentives your state offers, visit the

Database of State Incentives for Renewables & Efficiency®

(DSIRE

®)

maintained by the N.C. Clean Energy Technology Center at N.C. State University.
Increased Resale Value
When you sell your LEED-certified home, you may get more money. Many home buyers are looking for eco-friendly home features, boosting the resale value of your property.
Cons
Before starting a project and pursuing a LEED certification, consider the drawbacks you might experience:
Increased Construction Costs
Whether you plan to build a sustainable site from scratch or make energy-efficient upgrades to your home, be prepared for increased construction costs. However, remember that, while LEED construction costs are higher, they're often offset by energy cost savings and increases in a home's value.
Certification Costs
As we've previously mentioned, it's an investment to get a new or existing home LEED-certified, so be prepared for the costs. If a LEED certification is right for your home, it will make every penny spent on preparation worth it.
LEED FAQs
We have the answers to the most commonly asked questions about LEED certifications.
What does LEED stand for?
LEED stands for Leadership in Energy and Environmental Design, which is a rating system used for green building methods. LEED certification verifies the sustainability of a building project.
Who handles the LEED certification process?
A LEED Accredited Professional (AP) is an individual who plays a critical role in the LEED certification process, providing expertise and guidance to project teams seeking LEED certification. To become a LEED AP, an individual must pass an exam that tests their knowledge of green building principles, LEED rating systems and the certification process.
LEED for Homes is the designation applicable to the residential certification process. This certification program is designed to promote sustainable and energy-efficient design and construction practices for new homes and major renovations.
If you're interested in building a new home or renovating an existing home to LEED standards, find a LEED AP.
What is a LEED residential rating?
A LEED residential rating is the score a home receives based the USGBC's LEED for Homes criteria.
What's the best way to get LEED certified?
The USGBC is ready to help you get your home LEED certified. Check out their resources to help home planners and homeowners get started with the certification process.
The Bottom Line: LEED Certification Demonstrates Your Home's Sustainability
A LEED certification distinguishes a home and adds value, in addition to other significant long-term savings and health benefits.
If you're ready to get a mortgage on your newly constructed home, or want to refinance and renovate your current home, apply online now to get the process started and become one step closer to LEED certification.
Ready to refinance?
See recommended refinance options and customize them to fit your budget.
Get Started