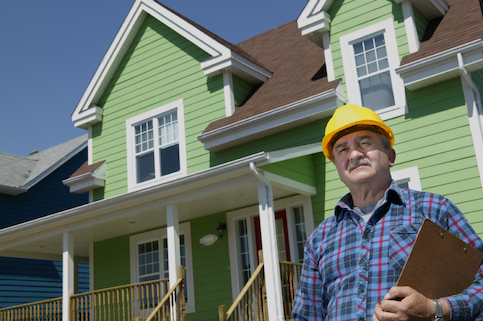 LEED Certification: What Is It And Is It Worth The Effort?
Published on July 6, 2021
Utilities are expensive. It's important to know that water and electricity use have costs beyond your regular bill. Many people want their home to be as energy efficient as possible. Real estate agents all over the United States boast that green homes may sell faster and for a higher price than traditional homes.
Did you know there's a specific certification for resource efficient buildings, including homes? It's called a LEED certification. Let's break down what a LEED certification is and how you can get one.
What Is LEED?
The Leadership in Energy and Environmental Design (LEED) certification is a globally used process that evaluates a building project's sustainability efforts. Using detailed rating and points systems, LEED certification gauges sustainable building design for new construction, commercial interiors, existing buildings, single-family homes and more.
In the 1990s, a group of engineers, architects and builders established standards for building new green-rated structures. By 1998, this group developed a points scale recognized by the U.S. Green Building Council (USGBC) for energy efficient homes.
What Are The LEED Building Requirements?
For a building to achieve LEED certification, it must meet certain requirements during construction. Depending on the type of project, LEED uses different rating systems. If you're curious about what rating system fits your situation, use the Discover LEED tool.
Here are some of the major components of getting LEED certification:
Using sustainable building materials
Minimizing energy consumption
Reducing emissions into the atmosphere
Using sustainable landscaping
Improving water efficiency
Improving air and indoor environmental quality
Building in neighborhoods with high walkability
What Are The Four Levels Of LEED-Certified Buildings?
There are four levels of LEED-certified buildings: Green, silver, gold and platinum. Each of these levels corresponds with a number of points that a building is awarded based on seven categories:
Sustainable site (up to 26 points)
Water efficiency (up to 10 points)
Energy and atmosphere (up to 35 points)
Materials and resources (up to 14 points)
Indoor environmental quality (up to 15 points)
Innovation in design (6 points)
Regional priority (4 points)
The four levels have their own point range:
Green: 40 – 49 points
Silver: 50 – 59 points
Gold: 60 – 79 points
Platinum: 80 – 110 points
How Do You Get Your Home LEED Certified?
The first step to getting a LEED certification is figuring out which energy-efficient improvements you want to make to your current home, or, if you want to completely design an energy-efficient home from scratch.
Once you have your project outlined, you can sign up on the USGBC website and talk to a LEED representative about your project. They'll put you in touch with a builder and get the necessary paperwork together.
Next, you can make the upgrades or build the home based on the requirements established by the program. Your LEED representative and builder will ensure that your plans reach the standards set.
Finally, a LEED inspector will visit your home and evaluate it. Once they complete the evaluation, they'll tally up the points, award a home rating and add it to the national database of official LEED homes.
What Are The Benefits Of LEED Certification?
Getting a LEED award will cost a bit of money upfront and can take several months, so why go through the process? Here are just a few benefits you can expect:
Federal and state tax credits for making energy efficient upgrades. To find out the incentives your state offers, visit the Database of State Incentives for Renewables and Efficiency.
Reap the benefits of cost savings on monthly energy bills.
Renewable energy and energy efficient upgrades such as solar panels use little-to-no energy created by burning fossil fuels – reducing your carbon footprint.
When you sell, you may get more money. Many home buyers are looking for eco-friendly home features.
Other Considerations
Before starting a project and pursuing a LEED certification, there are additional factors to consider. Account for these before deciding to pursue a certification.
The Cost Of LEED Certification
According to the GreenHome Institute, the minimum average cost for a LEED-certified home is around $3,000. The cost can vary depending on the builder you're working with and the size of your home.
Note that the opportunity to save on energy bills with energy-efficient upgrades helps justify the cost of certifying. A LEED certification can quickly pay for itself over the course of a couple years.
Fake LEED Organizations
Be leery of organizations posing as LEED experts. Only use approved agencies provided by the USGBC. Getting a LEED certification isn't cheap, and ensuring that you have an approved professional will save you from getting ripped off.
A younger generation of home buyers who want to live more sustainably enter the housing market daily. Adding these modifications to your home now may increase its value later. Furthermore, making energy efficient upgrades to your home will help reduce your energy consumption, saving you money on your monthly bills.
LEED's Reputation
The LEED certification is a widely recognized benchmark. That does not mean it is free from criticism. Some environmentalists and builders have criticized the program due to its practices. For instance, LEED certification has several loopholes and the points are based on computed estimates, not actual energy saved.
If building an energy-efficient and environmentally friendly home is important to you, iterate to your builder that you want to uphold the spirit of the certification more than the letter. Despite criticisms, LEED is the best program for measuring a property's environmental impact and it's moving the sustainability needle in the right direction.
The Bottom Line: Is A LEED Certification Worth It?
If you're undertaking a large remodel or building a home from the ground up, a LEED certification could be a worthwhile investment. The energy savings you will receive from it could pay off the certification costs quickly. On top of that, a LEED certification could mean you'll receive more money for your home when you sell it down the road.
Want to learn how to make your home energy-efficient? Learn more about energy-efficient homes.
Apply for a mortgage today!
Apply online for expert recommendations with real interest rates and payments.
Start Your Application