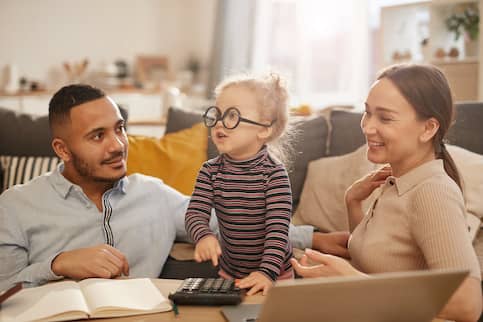 7 Questions To Ask When Refinancing Your Mortgage
Published on November 2, 2022
Just like taking out a mortgage, one of the first steps in the refinancing process is choosing a mortgage lender. Your lender can help you determine the best refinance option to achieve your personal and financial goals both right now and in the years to come.
When deciding on a lender – and whether you should refinance your mortgage at all – there are a number of questions worth asking. Let's take a look at some of the most important refinance questions to ask yourself and your lender so you'll know what to expect.
1. What Are My Goals With Refinancing?
One of the first questions you'll want to ask yourself when deciding whether to refinance is, "What am I trying to accomplish by refinancing?" Determining your goals can guide you on what to look for in a new mortgage – like smaller monthly payments or a shorter loan term – so you can plan for the future. Understanding your motivations for refinancing can also help you determine which loan type is best for you.
Homeowners may choose to refinance for any number of reasons, which include:
Lowering your interest rate:

Refinancing can help you seize upon mortgage interest rates that might be lower than when you agreed to your initial mortgage. Because interest rates affect the amount you'll ultimately pay on the loan, refinancing to a lower rate can decrease the amount of your monthly payments and ultimately save you money on interest.

Changing your loan term:

Refinancing can also give you the opportunity to change the length of your loan term. If you want to pay off your mortgage faster, you might refinance to a shorter term. Refinancing to a longer term means it'll take more time to pay off your loan, but it may be a good option if you're looking to decrease the size of your monthly payment.

Tapping into your home equity:

If you're looking to convert your home equity into cash, you might consider refinancing with a cash-out refinance. If you qualify, you may be able to use the equity you've built in your home to consolidate debt, pad a college or retirement fund, or make any number of otherwise beneficial investments.
2. What Types Of Refinance Options Do You Offer?
If you've decided to refinance, it's paramount to find the refinance method that's right for you. Compare mortgage lenders and the types of refinance products they offer. Keep in mind that one refinance option may be better suited for certain situations – like accessing your home equity – than other options. That's why it's important to determine your goals before moving forward in the refinance process.
Below are some of the most common refinance options.
Rate-And-Term Refinance
A rate-and-term refinance, sometimes referred to by lenders as a "regular refinance," is an option that allows you to replace the terms of your mortgage with terms more favorable to your financial situation. This type of refinance can enable you to land a lower interest rate, change your mortgage term and modify your monthly payments. If you want to take advantage of low mortgage rates or pay off your mortgage sooner, a rate-and-term refinance may be a wise choice.
Cash-Out Refinance
A cash-out refinance gives homeowners the opportunity to turn their home equity into cash. This process works by replacing your existing mortgage with a new one featuring a higher principal balance. The new mortgage amount is the remaining mortgage balance plus what you've taken out in home equity. After you close on a cash-out refinance, your lender will send you the cash amount that you want to utilize from your home equity.
A cash-out refinance may be a great option for homeowners who need a lump sum of money, which can be used to pay off debt, support a savings account, fund a home renovation project and more.
Cash-In Refinance
Instead of taking cash out of the home equity you've built over time, you can refinance to increase your home equity by applying more money to your mortgage principal. This refinancing option is called a cash-in refinance, and it lets you replace your mortgage with a smaller one after making a one-time lump-sum payment.
A cash-in refinance can help you secure better loan terms, like a lower interest rate and reduced monthly payments. Plus, it helps reduce the debt you owe on your house.
You don't always have to refinance. If rates are higher and you don't want to touch your current mortgage terms, you may be able to do a mortgage recast – a lump-sum payment in which your mortgage is re-amortized over the remainder of the term so your payment is lower – if your lender allows.
There are also other types of mortgage refinances, which may be more suitable for your situation. These include an FHA Streamline Refinance, a VA Streamline Refinance, a no-closing-cost refinance and a reverse mortgage. Be sure to compare refinance types and lenders before making a decision.
Get approved to refinance.
See expert-recommended refinance options to customize them to fit your budget.
Start My Application
3. Do I Qualify For A Mortgage Refinance?
Each refinance option has a different set of requirements that borrowers must meet to qualify. For instance, some lenders have a minimum refinance credit score of 580 for some loans, but for others – like conventional loans, the requirement can be 620 or higher. In the case of a cash-out refinance, you'll need a sizable amount of home equity to qualify. However, numerous variables can affect whether you qualify for a refinance with a certain lender.
Here are a few of the most common borrower requirements to be mindful of when pursuing a mortgage refinance.
A good credit score:

Depending on the loan type, most lenders require a credit score of 580 – 620 or better, as noted above. Check with your lender about their credit requirement. Remember that if your credit score is higher, you'll likely secure a more attractive interest rate with a refinance.

A considerable amount of home equity:

The more equity you have in your home, the better your odds of a lender giving you the green light on a refinance. Some lenders like to see at least 20% equity in your home if you're taking cash out. The exception is VA loans, which allow you to take out up to the full amount of your equity if your credit score is high enough.

A low debt-to-income ratio (DTI):

Your DTI, which is expressed as a percentage, is a measurement of your minimum monthly debt payments divided by your gross earnings each month. This number helps lenders determine your ability to pay back your mortgage. Most lenders prefer a DTI of 43% or lower.

Verification of your income and assets:

Lenders also need to confirm your income before approving a mortgage refinance. You'll likely need to provide a few financial documents, like W-2s, bank statements, tax returns and recent pay stubs.
Be sure to do your research on the different refinance requirements to determine whether it's an optimal time for you to pursue a refi. If you don't meet certain requirements, you'll need to hold off for a bit and work to improve your standing in one or more areas.
4. What Are The Costs Of Refinancing?
While refinancing can have several benefits, the process comes at a cost. The average cost to refinance is 2% – 6% of the mortgage amount, and several factors will determine the specific percentage you'll pay. These may include the loan amount, the refinance type and term, your credit score and whether you're cashing out your home equity.
When you refinance, you're taking on a new mortgage. This means you're responsible for covering closing costs associated with the new loan. Closing costs you'll pay when refinancing may include:
A loan application fee

A home appraisal fee

Mortgage points

A credit report fee
You may have to pay additional fees depending on your new mortgage type. For example, if you're refinancing to a VA loan, you'll pay the VA funding fee that's 1.25% – 3.3% of the loan amount. If you're refinancing to an FHA loan, you can anticipate an upfront mortgage insurance premium.
5. How Long Does It Take To Refinance?
The time it takes to refinance can vary, but you can usually expect a wait of 30 – 45 days. While unexpected delays may arise, the timeline of events is pretty standard among the different types of mortgage refinances. Here are the basic steps of the refinance process, although not every step will be required in every case.
To speed the process along, it can be helpful to have all of your mortgage documents at the ready. Staying organized can help the process go smoothly and keep you prepared if your lender requires more information.
6. Are There Downsides To Refinancing?
Refinancing can give you an opportunity to pay off your loan faster, tap into your home equity or decrease the amount of your monthly mortgage payments. While there are numerous benefits to refinancing, the process also comes with some drawbacks. Below are a few potential disadvantages of refinancing your mortgage.
Your monthly payment could increase.

If one of your goals is to pay off your mortgage at a faster rate, refinancing could increase your mortgage payment amount. If this is the case, make sure you're financially prepared to shell out this new amount every month.

It could take longer to pay off your mortgage.

On the flipside, you might have trouble making your current monthly payments and want to refinance to make these payments smaller. When your payment amount decreases, it means you're paying off your mortgage over a longer timeframe. Lengthening your loan term will also likely cause you to pay more in interest payments over time.

You might not break even.

As previously mentioned, refinancing involves several costs. You'll want to calculate your long-term savings from refinancing and weigh them with the amount you pay in closing costs on your new mortgage to make sure refinancing is worth it.
7. Is Refinancing The Best Option For Me?
When deciding whether you should refinance, it's important to evaluate your financial situation and your goals. Are you hoping to pay off your mortgage in less time? Do you want to make your monthly payments more affordable? Do you need a lump sum of money to consolidate debt or fund a home project? Knowing your goals can direct you toward the right refinance option and prepare you for the conditions of the new loan.
You'll also want to consider your qualifying factors, like your credit score, DTI and home equity. If you don't meet lender requirements to refinance, you'll need to hold off on refinancing and work to improve these factors. Raising your credit score, for instance, might help you lock in a better interest rate down the road.
Finally, you'll want to make sure refinancing makes sense financially. Weigh the costs of refinancing with your potential future savings. If it doesn't seem like you'll break even in the end, a refinance might not be for you.
The Bottom Line: Get All Of Your Refinancing Questions Answered
Refinancing can be a worthwhile endeavor for borrowers who qualify. Before moving forward with a refinance, it's important to make sure all your questions are answered. That way, you'll know exactly what to expect in every step of the refinance process.
Are you ready to refinance your home loan? Apply for a refinance or talk with one of our Home Loan Experts today at (888) 452-0335.