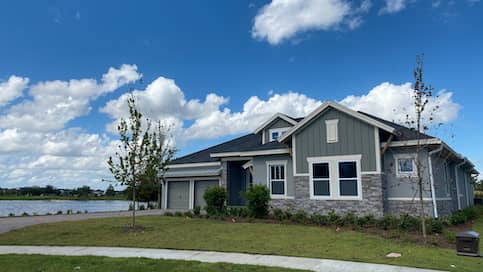 Closing On A Mortgage Refinance: What You Need To Know
Published on July 25, 2022
Typically, refinancing may not be as strenuous as buying a home, but it's still challenging for experienced homeowners to navigate. Obtaining lender approval, getting an appraisal and comparing interest rates can be stressful as you move through the process.
As you head into closing for your refinance, you are likely moving toward increased financial stability and looking forward to many years of homeownership to come. Refinancing your mortgage can save you money on your monthly payment, decrease your repayment period and give you access to the equity in your home.
Since refinancing is a significant financial commitment, understanding the elements of closing day can help you handle it with confidence. Chances are, you have communicated frequently with your lender about the requirements for the refinance and are familiar with the details.
This article will act as a final checklist and guide to give you peace of mind before closing. It will tell you what to expect during your refinance closing and how to make the process as frictionless as possible.
View Your Refinancing Options
See expert-recommended refinance options and customize them to fit your budget.
Start Your Refinance Online
What Is Mortgage Refinancing?
Mortgage refinancing means paying off your existing mortgage by taking out a new one with better terms. When you refinance a mortgage loan, the new mortgage allows you to fully pay the original mortgage balance. Borrowers refinance if they find a more advantageous mortgage loan from a lender.
Mortgage loans with lower interest rates or smaller monthly payments can benefit homeowners looking for a new loan. Typically, borrowers seek to refinance if their financial health has improved (as reflected in a higher credit score or better debt-to-income ratio) or if mortgage interest rates have fallen.
Mortgage refinancing can be an attractive option for a homeowner who plans to stay in their home for several years. However, it may not be the best idea for every homeowner, even if interest rates fall drastically. If you're planning on moving within a year or two, the related fees and closing costs that come with a refinance will more than cancel out the savings a refinance will grant you.
Because the main benefit of a refinance is the lower interest rate and possible decreased monthly payment, homeowners save money over the long haul. Therefore, it usually takes months or years for homeowners to recoup the costs from closing day.
Different Types Of Refinancing
Refinances come in multiple types. As discussed above, homeowners can use a rate-and-term refinance to save money on their mortgage by securing a lower interest rate or eliminating mortgage insurance premiums from their monthly payments.
Besides a traditional rate-and-term refinance, here's some other types of refinancing:
Cash-Out Refinance
One refinance option is a cash-out refinance, which allows homeowners to reduce their equity in return for cash and grants them better rates. After closing, the homeowner receives a check that they can use for anything from paying off debt to improving their home.
Cash-In Refinance
Conversely, a cash-in refinance helps homeowners pay down their mortgage more efficiently. A cash-in refinance allows borrowers to contribute a lump sum toward their principal and adjust their rate and term. Think of it as a combination of a rate-and-term refinance and a mortgage recast.
Streamline Refinance
A streamline refinance allows homeowners with a loan from the Federal Housing Administration (FHA), Department of Veterans Affairs (VA), or U.S. Department of Agriculture (USDA) to lower their monthly payment or compress the repayment period. Generally, streamline refinances have minimal closing costs and occur quicker than a full refinance for those who are eligible.
Reverse Mortgage
A reverse mortgage is a refinance option available to homeowners over the age of 62. A reverse mortgage pays you monthly payments out of the equity in your home. However, if you sell your home or die, you or your heirs must pay the balance due, typically through selling the home.
Loan Refinance Closing Process: What To Expect
Closing is the last stage in the refinance process. After you've received approval from your lender, secured a favorable interest rate, undergone a home appraisal and passed a title search, it's time to close.
The closing process for a mortgage refinance is like closing a home purchase. At closing, you'll bring a set of essential documents, meet with people associated with the refinance and sign the paperwork necessary to obtain the new mortgage loan.
What To Bring When Closing On A Refinance
A refinance closing requires specific documents and materials. These include your driver's license or other government-issued ID, a cashier's check in the amount needed for closing costs and the Closing Disclosure from your lender.
It's recommended to read the Closing Disclosure for errors or mistakes before closing. Additionally, you can use the Closing Disclosure at closing to ensure the paperwork you're signing matches the terms and fees set by your lender. Comparing the final documents to the Closing Disclosure is vital, as everything you sign at closing legally binds you to follow the terms of the new loan.
If a figure doesn't match the Closing Disclosure, or you're anxious about the refinance, you can decide not to go through with closing. Though you won't have to commit to the terms of the new loan, you will owe costs for services already performed, such as a credit report or home appraisal.
Who Attends A Refinance Closing?
A refinance closing doesn't involve a sale or purchase of a home, so it won't involve real estate agents. Instead, the parties responsible for and involved in the refinance attend the closing. Anyone on the loan must be present, as well as an employee of the title company and possibly a witness, depending on your state.
If you cannot attend closing, you can grant someone power of attorney to go in your place. This option allows closing to occur without your presence being an issue.
How Long Does Closing For A Refinance Take?
Most refinances close within 30 – 45 days after you first apply. The process on closing day is not as complex as closing day when you first bought your home, so you should plan for it to take about half an hour. That said, there's no need to rush through closing, and it's a good idea to take the time you need and ask every question you have about the refinance.
After you sign the paperwork at closing, you have a three-business-day grace period to back out of the refinance or request a change. The Truth in Lending Act guarantees that your lender allows you this grace period in case you aren't comfortable with the new loan or if your circumstances change.
Refinance Closing FAQs
How long does it take to sign refinance papers?
It usually takes about half an hour to sign all the necessary documentation when closing on a refinance. Refinancing a mortgage is typically less complex than buying a home, so closing takes less time. However, depending on the questions you might have, closing could take longer.
How long does funding take after closing on your refinance?
Your lender will not fund your refinance for 3 – 5 business days because of the required grace period. The Truth in Lending Act gives you 3 business days to nullify the refinance. Waiting for funding also depends on the type of refinance. For example, if you close a cash-out refinance, it may take up to five business days to receive your money.
How much are closing costs on a refinance?
The closing costs for a refinance are similar to those of a traditional mortgage closing. On average, you will pay around 2% – 6% of the total mortgage loan.
Closing costs for a refinance can include title insurance, escrow fees, appraisal fees, homeowners association fees, loan interest for the days before the new loan goes into effect, lender fees and origination fees.
Most homeowners pay closing costs in one lump sum on closing day. However, some refinances allow you to roll the closing costs into your mortgage and pay nothing on closing day. Unfortunately, this option will likely increase your interest rate and monthly mortgage payment.
The Bottom Line
Mortgage refinances are valuable tools for homeowners looking to get more favorable rates, tap the equity they've built, and lower their monthly payments. Refinancing can help you save money on your mortgage if you plan on staying in your home long-term. However, homeowners who won't stay in their current home for more than a few years will find the closing costs prohibitive.
Refinance closing is usually faster than closing for a home purchase. After closing day, homeowners can expect the refinance to finalize after 3 business days. The exact time frame for closing can depend on the type of refinance you're utilizing.
Refinancing helps homeowners get better mortgages. If you're interested in improving your financial health through a refinance, apply for a refinance.
View Your Refinancing Options
See expert-recommended refinance options and customize them to fit your budget.
Start Your Refinance Online