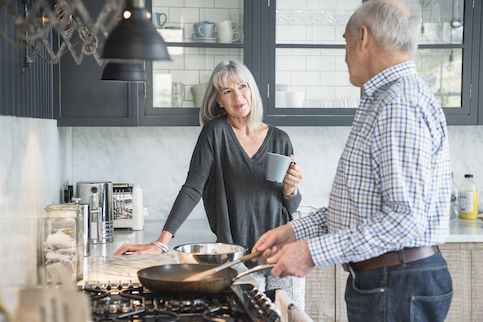 Reverse Mortgage: What Is It And How Does It Work?
Published on June 17, 2023
*Rocket Mortgage® does not offer reverse mortgage loans.
Are you in retirement and worried that you'll run out of funds? If you've built equity in your home, you might consider using it but struggle with the thought of selling your home.
Fortunately, there are ways to use your home equity and remain in the home. A reverse mortgage could be one of them. However, this is a complex loan that may not be right for everyone. Learn how a reverse mortgage loan works and alternative options you may have so you can determine the best way to meet your retirement needs.
What Is A Reverse Mortgage?
A reverse mortgage is a mortgage loan providing access to your home equity by converting a portion into cash. Reverse mortgages are only available to homeowners who are at least 62 years old.
Like a traditional mortgage, such as a home equity loan, you can remain living in the property while using some of the home's equity. However, unlike a traditional loan, homeowners aren't required to make monthly payments on the loan – though they are still responsible for paying their property taxes and homeowners insurance, and for maintaining the home. A reverse mortgage's balance comes due when the borrower either moves away from the home or passes away.
See What You Qualify For
Congratulations! Based on the information you have provided, you are eligible to continue your home loan process online with Rocket Mortgage.
If a sign-in page does not automatically pop up in a new tab, click here
How Does A Reverse Mortgage Work?
A reverse mortgage loan is for senior homeowners, age 62 or older, who either own their homes free and clear or have an existing mortgage. If you have a mortgage, the proceeds from the reverse mortgage will first go toward paying off your current loan. You can then use the remaining funds however you need.
Homeowners can use reverse mortgages for anything, but many use the funds to consolidate debt, supplement retirement income or make home improvements.
Depending on the type of loan they get, borrowers may receive the funds as a lump sum, monthly installments, line of credit or any combination of those options.
Monthly payments aren't required, though the borrower must continue to pay their property taxes and homeowners insurance. Without making payments, interest and fees increase the loan balance, decreasing a borrower's home equity.
The amount of funds available depends on the borrower's age, the home's value, current interest rates and whether money must be set aside to keep up with the property taxes and homeowner's insurance.
Reverse Mortgage Loan Eligibility
Like any mortgage, there are specific eligibility requirements borrowers must meet to secure a reverse mortgage loan, including the following:
Must be at least 62 years of age
The home must be a primary residence
The home must be a single-family residence, approved condo, townhome, 1 – 4 unit or manufactured home built after June 1976 that meets the Federal Housing Administration (FHA) requirements
Must have adequate equity in the home to qualify, usually 50% or higher, with no more than one outstanding lien
The borrower must not have any federal debt, such as federal student loans or income tax debt
Proof of adequate income or savings to cover the property taxes, homeowners insurance and necessary home maintenance/repairs
Receive government-approved counseling and go through a financial assessment for government-backed reverse mortgages
Different Types Of Reverse Mortgages
Reverse mortgages are available in a few different types and may have different qualification requirements, loan purposes and payments. Learn more about each one to determine what is right for you.
Single-Purpose Reverse Mortgage
Single-purpose reverse mortgage loans are provided by either government or nonprofit agencies and are meant for a specific single purpose. Common examples include home improvements or paying property taxes. The purpose must be lender-approved.
Proprietary (Jumbo) Reverse Mortgage
Proprietary reverse mortgages, or jumbo reverse mortgages, are for loan amounts higher than the federal loan limit. A government agency doesn't back them. Instead, they are underwritten and funded by private lenders.
Home Equity Conversion Mortgage (HECM)
A home equity conversion mortgage (HECM) is most commonly used. It's issued and insured by the U.S. Department of Housing and Urban Development (HUD) and doesn't need approval on how you use the funds. However, HECMs have strict loan limits and eligibility requirements set by the FHA – which add more protection for the borrower. When detailing a reverse mortgage in this article, the HECM product is what we refer to.
How Much Does A Reverse Mortgage Cost?
Reverse mortgage closing costs are typically more than a traditional mortgage because of the risk involved. However, the most considerable fees are the upfront MIP and origination fees:
Upfront MIP

- The upfront mortgage insurance allows the FHA to make the loan non-recourse. This means you won't owe more than the home's value, even if your mortgage exceeds the appraised value. Upfront MIP is 2% of the amount borrowed.

Origination fee

- The origination fee covers a lender's costs. The FHA allows up to $2,500 in origination fees on loans up to $125,000 and up to $6,000 on higher loan amounts, with a maximum cost of $6,000. The fee is usually 2% of the first $200,000 and 1% of any amount above $200,000.


In addition, reverse mortgage borrowers may pay fees for an appraisal, credit report, document preparation, courier, title insurance and escrow fees.
Of course, all loans charge interest too. You may choose between a fixed- and adjustable-rate loan. The interest rate you receive depends on market rates when you apply and your qualifying factors.
Pros And Cons Of Reverse Mortgages
Reverse mortgages have pros and cons. Considering both sides can help you determine if it's a good choice.
Pros
Access to equity while living in your home
No credit score requirements
No monthly mortgage payments required
Non-recourse loans mean you won't pay more than the home's value when you sell
Can leave the home to heirs to sell or purchase and live in
Can typically roll loan costs into the loan
Cons
Property taxes and homeowners insurance payments are required
High closing costs and fees
The home's equity decreases instead of increases
The home loan balance increases with accrued interest and fees
Passing the property to heirs may cost them money
Reverse Mortgage FAQs
A reverse mortgage can be helpful in certain situations, but it's a complicated loan. Here are some questions people commonly ask about them.
How do I sell a home with a reverse mortgage?
Having a reverse mortgage doesn't stop you from selling your home, but you must pay the mortgage balance from the proceeds of the sale. If it sells for more than what is owed, you keep the remaining proceeds. If you have a HECM and the home sells for less than you owe, mortgage insurance covers the remaining amount. You do not need to pay the difference out of pocket.
Can I refinance a reverse mortgage?
You can refinance a reverse mortgage, but you must prove you qualify. This means proving you have adequate home equity and can afford the property taxes, home insurance and maintenance costs.
You might consider refinancing a reverse mortgage to get a lower interest rate, switch from an adjustable rate to a fixed rate or get more money if your home's value increases.
What are the alternatives to a reverse mortgage?
A reverse mortgage is one of many options if you need to borrow some of your home's equity. A few other options include:
Cash-out refinance of your first mortgage

Home equity loan or home equity line of credit (HELOC)

Selling your home and downsizing to a more affordable property
Apply for a mortgage today!
Apply online for expert recommendations with real interest rates and payments.
Start Your Application
The Bottom Line
A reverse mortgage is one way to use your home's equity if you're at least 62 years old, have a large amount of equity in the home, live in it as your primary residence and plan to stay there as long as possible.
If you're interested in a reverse mortgage, get started by speaking with a Home Loan Expert to decide if other options, such as a cash-out refinance, are better for your financing needs.