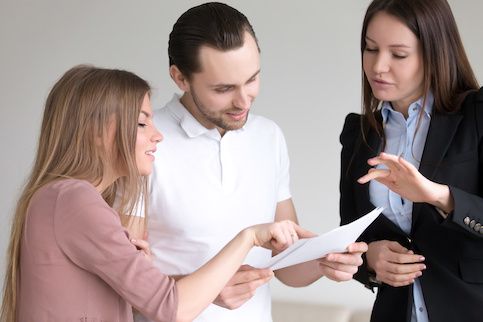 Mortgage Commitment Letter: What Is It And Why Is It Significant?
Published on January 14, 2022
Disclosure: This post contains affiliate links, which means we receive a commission if you click a link and purchase something that we have recommended. Please check out our disclosure policy for more details.
Getting approved for a mortgage is one of the most important steps in buying a home, and a mortgage commitment letter from your lender can make your offer stand out to a seller. It also lays out important information regarding the loan you're approved for, and conditions that may need to be met before the process can move forward.
This article will explain how mortgage commitment letters work, as well as the different types there are and what information they include.
What Is A Mortgage Commitment Letter?
A mortgage commitment letter is a document from a lender to a buyer outlining the agreed upon terms of a mortgage. It signifies that financing is officially approved for a real estate transaction.
Getting a mortgage commitment letter can be an exciting step in the home buying process because it can show sellers that your loan application has been approved and you have the funds to purchase their home.
Mortgage Commitment Letter Vs. Clear To Close
Receiving a mortgage commitment letter doesn't mean you're clear to close, only that you've gone through the underwriting process for the loan you want. Depending on what your commitment letter says, there may be certain conditions you or the property must meet before your lender will fully approve your loan and the transaction can proceed to closing.
See What You Qualify For
Congratulations! Based on the information you have provided, you are eligible to continue your home loan process online with Rocket Mortgage.
If a sign-in page does not automatically pop up in a new tab, click here
Types Of Mortgage Loan Commitment Letters
There are two main types of commitment letters – conditional commitment and final commitment. Here's what makes them different.
Conditional Commitment
Most commitment letters offer conditional approval, which means the lender agrees to fund the mortgage as long as certain conditions are met within a certain time frame. Conditions may vary per lender and borrower, but a few examples of common conditions outlined in a mortgage commitment letter can include the following:
The buyer must provide additional documents.
There cannot be a change to the buyer's credit score or income.
There must be an appraisal done on the property.
The property must pass a home inspection.
There must be proof of a homeowners insurance
The buyer must show they are able to make the required down payment.
Final Commitment
Final commitment means the lender promises to lend you the specified amount without condition. It's important to know there is an end date on this type of approval, and if the loan isn't funded within that period of time, the offer expires and you will need to reapply for the loan.
How Do You Get A Mortgage Commitment?
There are several steps involved in getting approved for a mortgage and getting that mortgage commitment. Once the preliminary steps are taken, the last and most significant sign of approval from the lender is a mortgage commitment letter. But before you get there, you'll have to pass two other types of approval.
Prequalification
This approval is at the beginning stages of your home buying journey and may even happen before you find the home you wish to purchase. This first approval will give you an idea of how much house you can afford. While lender policies will vary, prequalification is usually free, done online or over the phone and is achieved within less than a day.
To get prequalified, you'll need to provide some basic information to the lender, including your income, assets and any debts you have. The lender may also want to look at your credit report to verify your information and review your credit score and history. All this information will help the lender determine an estimate of how much you can afford to borrow.
Preapproval
A preapproval shows sellers you're a serious buyer and proves that you're eligible for a loan – meaning you'll actually have the funds to purchase the home. That's because this type of approval involves a mortgage application and requires the lender to look deeper into your current and past finances.
To get preapproved, you'll fill out a mortgage application and submit a few pieces of information and supporting documents. These can include bank statements, W-2s and asset statements. Your lender may also pull your credit report to view your payment history and credit score. This information will help the lender determine whether to lend to you and help determine the terms of your loan.
Once you submit your mortgage application and provide the necessary documents, you'll need something else to get the mortgage commitment letter – information on the home you wish to purchase.
During this time, your loan will go through underwriting and loan processing. Before the commitment letter, both you and the home you wish to purchase will need to be approved. You will need to have a signed purchase agreement and an appraisal will need to be done on the home.
There will also be a title search conducted to make sure the home doesn't have any other liens on it and that the sellers have the right to sell the home. Once everything checks out and you're officially approved for the loan, you'll receive a mortgage commitment letter.
What's Included In A Mortgage Commitment Letter?
Mortgage commitment letters include specifics about your loan. What's exactly included will depend on the lender. However, most will typically include such information as:
The loan amount
The purpose of the loan
The length of your loan term
If you're getting an FHA or conventional loan or other type of mortgage
Your lender's information
Your loan number
Your commitment letter's expiration date
You'll also find the terms of your loan listed in the letter. These may include the amount of money you'll pay each month and the number of monthly payments you'll make until the loan is paid off. If you're going to have an escrow account, you'll find information on that as well.
Conditional commitment letters will also stipulate what conditions must be met before full approval can be granted.
Mortgage Commitment Letter Sample
While mortgage commitment letters will vary between lenders, they should have similar key information. Most will look something like this:
Mortgage Loan Commitment
Lender: Home Run Lending Borrower: Parker Smith Date: 04/01/2021
1234 Main Street 5678 South Street Loan number: 32145
Detroit, MI 48226 Lansing, MI 48901
Property Address: 12345 State Street, Springfield, IL 62704
Home Run Lending is pleased to inform you that your loan application has been approved subject to the terms and conditions set forth in this letter.
This commitment will expire on 04/08/2020. Your loan must close and fund prior to this date.
Loan Amount: $130,000 Loan Term: 360 Months Loan Type: Conventional Product: Fixed
Loan purpose: Purchase Interest Rate: 4% Interest Rate Lock Expires: 04/08/2020
This is a Standard Fixed Payment Mortgage. It will be repaid in 360 equal monthly payments of $630 including principal and interest. An escrow fund is required for property taxes and insurance. The monthly amount paid to escrow is $340.
Origination charges: $1,500.00
This mortgage has no prepayment penalty.
Each person signing this document acknowledges receipt of this document and understands the information contained within it.
____________________________________ ____________________________________
BORROWER'S SIGNATURE DATE AUTHORIZED SIGNATURE DATE
FAQs About Mortgage Loan Commitment Letters
What happens after you receive a mortgage commitment letter?
If your commitment letter is conditional, the next step would be to meet the conditions stipulated in the letter. Once those are completed, or if your letter grants your final approval, you can go forward with the closing process.
How long does it take to get a mortgage commitment letter?
It can take 20 – 45 days to receive a mortgage commitment letter from the time the paperwork is submitted.
When does a mortgage commitment letter expire?
As mentioned above, mortgage commitment letters have expiration dates specified by the lender, after which your approval and any rate lock you had are rendered void. The length of commitment can vary between lenders, but a mortgage commitment letter typically expires after 30 days.
What if the loan doesn't come through in the specified time frame?
If the funding doesn't go through in the amount of time outlined in the letter, or the commitment letter expires before closing, the entire process may need to be started all over again. Keep in mind that your new loan may look different from the previous one that expired. For example, interest rates fluctuate and you may get a different rate entirely, which can impact the amount you'll pay each month.
The Bottom Line
A mortgage commitment letter lays out important information on your loan, including terms that you and your lender agree to uphold. It can be the final approval you have for getting a loan, showing that you'll be getting the financing you need to purchase a home, assuming you meet any conditions laid out by your lender.
If you're thinking about buying a home, apply online today with Rocket Mortgage® and get the mortgage process started.