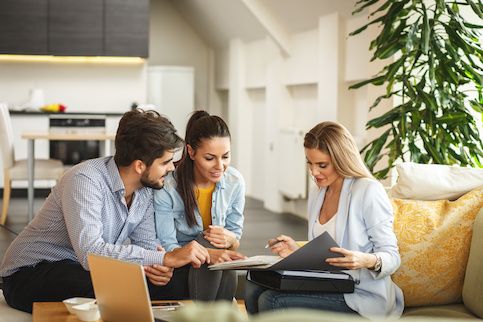 Why You Should Get Your Mortgage Approval Before Finding A House
Published on November 4, 2019
If you're in the market to purchase a home, you probably realize that the inventory of available houses is pretty limited and competition is stiff. If you're looking to buy an already-existing home, it's definitely a sellers' market.
The National Association of REALTORS® releases a monthly report on the number of existing home sales across the country. Homes are only on the market for an average of 32 days, according to the latest data released for September 2019. Moreover, there are only 4.1 months' worth of existing homes on the market if sales continue at the current pace. For context, a market is generally considered in balance if the amount of inventory available is 6 months' worth.
In the market for new homes, things are slightly better, but there's still only 5.5 months' worth of housing inventory available. The seller definitely has the advantage at this point.
Although competition is fierce, there are some things you can do to make your offer stand out when buying a home. One of the best things to do is make sure your financing is lined up. Our Power Buying ProcessSM makes this easy by allowing you to get a Verified ApprovalSM for a mortgage before you even start shopping for a home. It's even possible to lock your rate and protect your mortgage payment while shopping for a home, but we'll get into that later.
For now, let's discuss the advantages of getting your mortgage approval beforeyou go shopping for a home.
Advantages Of An Upfront Mortgage Approval
There are several benefits to getting a Verified ApprovalSMfor your mortgage financing right upfront. Let's run through them.
Make Your Offer Confidently
If you're looking to make an offer on a home, you want to be certain you can afford the monthly payments. There's no sense guessing.
When Quicken Loans® gives you a Verified ApprovalSM, we not only pull your credit to get an idea of your debts but also verify your income and assets through documents like pay stubs, tax returns, W-2s and bank statements. This analysis is completed upfront by our team.
Within 24 hours of receiving all your documentation, you'll be given a Verified ApprovalSM letter that will give you and the seller the absolute confidence that you can afford the offer you're making.
How confident can you be in our Verified ApprovalsSM? If your loan doesn't close through no fault of your own after receiving a Verified ApprovalSM, we'll give you $1,000.1
Have The Strength Of A Cash Buyer
Having a Verified ApprovalSM doesn't just give you confidence. Knowing your qualifications have been checked in advance also gives a seller comfort when dealing with you because your offer isn't likely to fall through if everything has been verified by an underwriting team.
Making sure the deal goes through is one reason that in the past a seller may have chosen to take an offer from someone paying cash. With the backing of a Verified ApprovalSM from Quicken Loans, you and the seller will know that you have the financial credentials to back up the offer you're making. This puts your offer on the same level as someone who comes to the table with cash.
Lock Your Rate While You Shop
A Verified ApprovalSM will allow you to know exactly how much you can afford, but there's another source of anxiety for many home buyers. Should you lock your rate or let it float for a while to see if it goes lower? Even if you have a feeling rates may be going up soon and want to lock, traditional programs require that you find a property before locking your rate.
That's where a RateShieldSM Approval2 enters the picture.
Available on 30-year conventional, FHA and VA loans, a RateShieldSM Approval allows you to lock an interest rate for up to 90 days while shopping for a new home. Once you find a home and sign a purchase agreement, we'll compare your locked interest rate to current market rates. If rates go down, your rate drops. If rates go up, your rate stays the same. Either way, you win!
This also allows you to protect your monthly payment because you know your rate won't be any higher after you lock it initially. This helps give you confidence when you're doing the budget to figure out what you can afford to spend on your new home.
Are you looking to get into a new home? You can get started with our Power Buying ProcessSM online through Rocket Mortgage® by Quicken Loans. If you would rather talk through your options with someone, one of our Home Loan Experts would be happy to help at (800) 785-4788.
Apply Online with Rocket Mortgage
Get approved with Rocket Mortgage® by Quicken Loans – and do it all online. You can get a real, customizable mortgage solution based on your unique financial situation.
Apply Online
1Participation in the Verified Approval program is based on an underwriter's comprehensive analysis of your credit, income, employment status, debt, property, insurance, appraisal and a satisfactory title report/search. If new information materially changes the underwriting decision resulting in a denial of your credit request, if the loan fails to close for a reason outside of Quicken Loans' control, or if you no longer want to proceed with the loan, your participation in the program will be discontinued. If your eligibility in the program does not change and your mortgage loan does not close, you will receive $1,000. This offer does not apply to new purchase loans submitted to Quicken Loans through a mortgage broker. Additional conditions or exclusions may apply.
2RateShieldSM Approval locks your client's initial interest rate for up to 90 days on 30-year conventional, FHA and VA fixed-rate purchase loan products. Your client's exact interest rate will depend on the date they lock their rate. Once your client submits their signed purchase agreement, we'll compare their rate to our published rates for that date and re-lock their interest rate at the lower of the two rates for an additional 40 - 60 days. Quicken Loans reserves the right to cancel this offer at any time. Acceptance of this offer constitutes the acceptance of these terms and conditions, which are subject to change at the sole discretion of Quicken Loans. This is not a commitment to lend. Additional conditions or exclusions may apply.