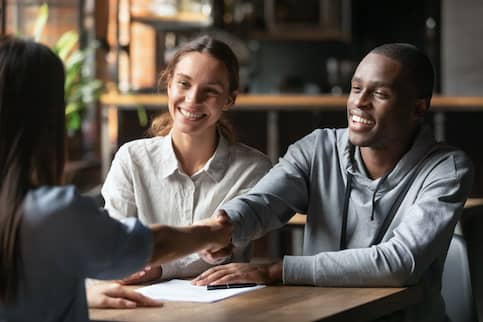 How To Sell A House By Owner
Published on September 24, 2020
While working with a real estate agent to sell your home means you'll get professional assistance in listing, marketing and selling your house, it also means having to forgo a percentage of the profits from your home sale to pay your agent's commission.
Because of these commission costs, some homeowners prefer a more DIY process when it comes to selling their homes, choosing to go the for sale by owner (FSBO) route – but is that wise?
If you're thinking about doing a FSBO sale on your home, here are some things to think about, including some potential pitfalls.
Apply for a Mortgage with Quicken Loans®
Call our Home Loans Experts at (800) 251-9080 to begin your mortgage application, or apply online to review your loan options.
Start Your Application
Why Do Some Homeowners Forgo A Seller's Agent?
One of the main reasons sellers choose to forgo a listing agent is because they think it'll save them some money.
In a typical real estate transaction with a listing agent and a buyer's agent, the seller pays a percentage proceeds of the sale to the real estate agents who helped make the sale happen, usually about 6%: 3% to the listing agent and 3% to the buyer's agent. So, if a home sells for $300,000, both agents make about $9,000 and the seller nets $282,000.
Many FSBO sellers think they can maximize their earnings by eliminating the 3% paid to a listing agent. However, it's important to note that real estate agents are trained to properly price a home and negotiate with buyers.
In fact, the National Association of REALTORS® found that in 2018, FSBO sellers sold their homes at a median of $200,000, while agent-assisted sellers sold their homes for $280,000. Even after paying agent commission, the agent-assisted seller still comes out on top.
Why else might a seller do a FSBO sale? In many cases, FSBO sellers actually know the person they're selling to. In these situations, the home is typically on the market for about a week and sells for 100% of the asking price, according to NAR®.
How Do Owner-Driven Real Estate Transactions Work?
With a FSBO sale, the seller does everything a listing agent would ordinarily do: conducting market research; pricing the home; preparing and staging the home for showings; marketing the home through online listings, yard signs, open houses and other mediums; and managing all the paperwork and closing the deal.
The first step is to figure out how to price your home to sell. This involves doing research on the housing market in your area to find out how much homes like yours are selling for.
You also need to prepare your house to sell. It needs to be cleaned, decluttered and staged in a way that attracts buyers and helps them picture themselves in the home.
Once you're ready to put your home on the market, you'll need to decide how you want to tell potential buyers that it's for sale. Professional real estate agents have the benefit of being able to list on the multiple listing service (MLS), which is the database where agents go to find out about homes for sale in the area.
Many popular online home listing sites allow FSBO sellers to upload their own listings, which can greatly increase the number of people who will be able to view your listing. There are also FSBO-specific online listing sites you can utilize.
Once you've successfully marketed your home and found a buyer, you'll be responsible for negotiating a price, coming to an agreement and making sure the deal closes.
Apply for a Mortgage with Quicken Loans®
Call our Home Loans Experts at (800) 251-9080 to begin your mortgage application, or apply online to review your loan options.
Start Your Application
Risks Accompanying Home Sales By The Owner
It's not impossible to have a successful FSBO sale, but you've got to know what to look out for. Here are some of the biggest risks that you'll take on if you choose to sell without an agent.
Lack Of Experience Leading To Mistakes
Real estate professionals are, well, professionals when it comes to navigating a real estate transaction and knowing how to smooth over potential roadblocks that pop up during the buying and selling processes.
As an amateur, you won't have that same level of knowledge, which opens you up to making mistakes that could potentially cost you money or delay the closing process. Whether you're at the negotiation table or preparing paperwork for closing, sometimes it pays to have a professional in your corner.
Spending Excessive Time And Money On Listing
Being a real estate agent is a full-time job. If you want near-professional results, you'll have to put in near-professional effort.
When you choose to do a FSBO sale, you'll need to work hard to actively market it if you want home shoppers to know its on the market. This may mean maintaining online listings across multiple sites, paying for classified advertisements, distributing fliers and setting up and hosting open houses or showings.
This is time-consuming and stressful work, and you should be certain you're up for the challenge before listing your home as FSBO.
Choosing The Wrong Asking Price
Pricing your home correctly is challenging if you don't what you're doing. The price you list your home at is important: too low and you risk losing money, too high and you'll have trouble selling.
Professional agents know that similar homes in an area tend to sell for similar prices, which is why they use comparative market analyses (CMAs) to help their sellers price their homes.
CMAs are reports that estimate a home's current market value by looking at the sale price of recently-sold homes in the same neighborhood that are similar in square footage, age, condition and number of bedrooms and bathrooms to the home being evaluated.
Not Answering Your Phone
Real estate agents try to make sure they're always available to answer phone calls and emails from potential buyers who have questions about the property.
Because FSBO sellers often have a full-time job and other obligations outside of selling their home, they might not have the time to constantly be fielding inquiries from buyers, which can hurt their ability to find a buyer and make the sale.
Wasting Time On Unqualified Buyers
How would you feel if you spent a ton of time showing your home to a buyer and working with them to come to an agreement on price and other contract details, only to find out that they can't qualify for a mortgage to purchase the home?
Professionals know to screen interested buyers to make sure they're actually serious about purchasing the home and capable of doing so. This means asking buyers for a mortgage preapproval letter or proof of cash in the bank.
Not Thinking About Your Safety
As you go through the process of selling your home, you'll be inviting a lot of strangers into your home. If you aren't careful, this can pose a safety risk to you, your family and your belongings.
Be careful about the information you share with interested buyers. Put away personal belongings, such as medication or jewelry, during showings.
Don't let buyers tour your home without a licensed real estate agent. Verify online that the buyer's agent is a licensed, experienced agent. Don't show homes when you're alone in the house, if possible.
Not Negotiating A Good Deal For Yourself
Being a good negotiator means being flexible and realistic but also knowing when to say "no" or come back with a counteroffer.
Negotiating can be hard for FSBO sellers because not only are they usually not familiar with the negotiating process when it comes to home purchase contracts, but they also often feel emotionally invested in a way that a real estate agent wouldn't, which can cloud their judgement or give them unrealistic expectations.
Making Legal Missteps
A home sale is a legal transaction that is regulated by your state's laws. With that comes paperwork, documentation and required disclosures.
To successfully and legally sell your FSBO home, you'll need to do a little research on the laws governing real estate transactions in your state or consider working with a real estate attorney. If you don't, any missteps you make could end up haunting you later on.
For example, sellers are typically required by law to make certain disclosures to buyers (exactly what type of things you'll need to disclose will depend on your state). If you fail to disclose a major defect and the buyer closes on the house, they could sue you for damages if they discover that defect down the road.
Selling A House By The Owner: Tips And Tricks
So, does all this mean that FSBO sales are doomed from the start? Absolutely not. If you're willing to put in the time to do your research and learn some of the tips and tricks of the pros, you can increase your chances of FSBO success.
Familiarize Yourself With The Local Real Estate Market
You need to become as much of an expert on your area's real estate market as you can. What are the average home values in your neighborhood? What methods do most home shoppers in your city use to find homes for sale? Are you in a buyer's market or a seller's market?
Be Willing To Negotiate, But Know Your Home's Worth
You don't want to be so inflexible that you're unwilling to work with any buyer who offers even a dollar below asking price, but you also don't want to get taken advantage of at the negotiation table.
Walk this line with confidence by coming into the deal armed with knowledge. Know what your home is worth and what you're offering compared to other sellers in your area. It may help to get a home appraisal so you have a professional's opinion of your home's value.
Get Some Professional Help
Speaking of professional opinions, just because you're selling FSBO doesn't mean you have to completely go it alone from start to finish.
For example, you might choose to enlist the help of a real estate agent by paying them a flat fee for a single service, such as placing your listing on the MLS. Since non-agents aren't able to list on the MLS, paying an agent to do it for you can be beneficial in the long run because your home will be more visible to buyer's agents.
Depending on your situation, you may also need to work with a real estate attorney.
Stage Your House
When you open up your home for potential buyers to tour, you want to make sure they're seeing the best possible version of it.
This means repairing anything that needs fixing, big or small. Give the walls a fresh coat of paint. Do a deep clean.
A big part of preparing your home to attract buyers is decluttering and de-personalizing. Clutter distracts the eye and makes the space look overcrowded, while personal objects make it harder for potential buyers to picture themselves in the home.
Pack away family photos for your move to your new house and hide things like toothbrushes or shampoo bottles while you're showing the home.
Once you've repaired, cleaned and decluttered, it's time for staging. Think about the placing of your furniture and whether you could make your rooms more walkable or look more spacious by moving some things around.
Don't forget about the outside of your home; curb appeal is an important factor in what makes homes stand out to buyers.
Take Professional Photos
Including high-quality pictures in your house listing can go a long way in attracting buyers. If you're handy with a camera, you might be able to pull this off on your own. Otherwise, you should seriously consider hiring a professional.
Make sure your photos are well-lit and your home is spotless during your photoshoot.
Market Your House
FSBO homes often have less visibility on the market than agent-represented homes because the sellers don't sufficiently market them.
If you want buyers to find your home, you have to market it where you know they're looking. This usually means listing your home on online listing sites. You may also consider doing an open house, spreading the word through friends and family or on social media sites, or paying a real estate agent to list your home on the MLS.
The Bottom Line
While selling a home FSBO can be tough, it doesn't have to be impossible. By knowing the potential pitfalls and learning as much as you can about the process, you can better navigate the challenges that come with working without a professional agent by your side.
Check out more articles in the Quicken Loans® Learning Center.
Apply for a Mortgage with Quicken Loans®
Call our Home Loans Experts at (800) 251-9080 to begin your mortgage application, or apply online to review your loan options.
Start Your Application