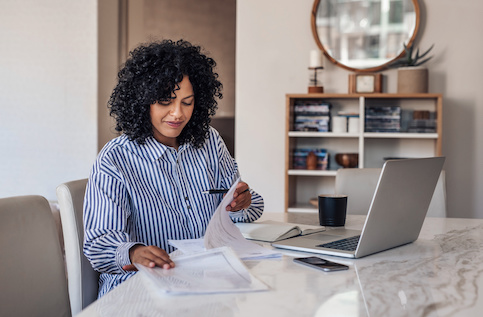 What Paperwork Do You Need To Sell Your House?
Published on August 17, 2023
Real estate transactions come with a lot of paperwork, regardless of whether you're buying or selling a home. For example, if you're selling a house, you must provide your loan documentation, mandatory disclosures, and the deed.
So if you're preparing to list your home on the market, gathering these documents ahead of time will make the process easier and help you stay organized. This article will outline
Documents Before You List Your Home
Providing certain documents to your listing agent before even putting your home on the market is a good idea. The following documents will help potential buyers get a fuller picture of the house they're considering buying.
HOA Documents
Most states require that the seller provide homeowners association (HOA) documents so that the buyer has full disclosure. An HOA is an organization that makes and enforces rules for residents living in a subdivision.
The goal of any HOA is to preserve the residents' property values and keep the neighborhood looking nice. For example, the HOA will usually have rules regarding the condition of the property and any repairs that can be done. In return, the HOA will often provide amenities like a swimming pool, landscaping, or tennis courts.
If you buy a home in a neighborhood with an HOA, membership is usually required and comes with annual fees. And if you don't follow the HOA's rules, they can impose fines and restrictions on you.
These costs can be prohibitive for some prospective buyers, so they need to be notified from the start. You can obtain the necessary HOA documents by contacting your homeowners association directly.
Manuals and Warranties
You may also need to provide potential home buyers with the manuals and warranties for any major appliances or systems in your home. Providing these documents lets buyers know what kind of shape these items are in and gives them an idea of necessary repairs they may need to make.
It's a good idea to share the manuals and warranties for the following appliances and systems:
HVAC

Dishwasher

Stove

Garbage disposal

Alarm system
Mortgage Statement With Payoff Amount
A mortgage payoff statement outlines how much money is needed to satisfy the terms of your loan agreement and pay off your mortgage. The payoff amount is different from your current balance since it includes the interest and any additional fees you've incurred but not paid. This statement helps your REALTOR® come up with an accurate estimate of the proceeds at closing.
Original Appraisal Documents
Before listing your home, you need to track down the original home appraisal documents from when you first purchased the house. This information helps your REALTOR® determine the property value and appropriate listing price.
Proof Of Homeowners Insurance
Homeowners insurance covers losses and damages from a fire, break-in or other unexpected event. As a seller, you're required to carry homeowners insurance until you sell the home to ensure there are no gaps in coverage. It also provides potential buyers with a list of claims you've made on the house since purchasing it.
Original Sales Contract
The original sales contract is the purchase agreement you made with the seller who owned the home before you. It outlines the terms of the sale, like the purchasing price and any disclosures the previous sellers made about the property.
Property Tax Records
Property tax records are public documents, so you aren't required to include them. By including them, you're just giving potential buyers more information about the home and what they can expect to pay.
Records Of Maintenance, Renovations And Repairs
When you're selling a house, you need to be as upfront with potential buyers as possible. That's why you're required to disclose any maintenance, renovations and repairs you've made to the property. These records let home buyers know what improvements you've made and what needs to be done after they move in.
See What You Qualify For
Congratulations! Based on the information you have provided, you are eligible to continue your home loan process online with Rocket Mortgage.
If a sign-in page does not automatically pop up in a new tab, click here
Documents To List Your Home
Once you've done the prep work and compiled the initial documents you need, it's time to start thinking about what's needed to list the home. Here's the paperwork necessary to successfully put your home on the market.
Comparative Market Analysis (CMA)
A comparative market analysis (CMA) estimates the value of your home compared to similar properties in the area. It helps your listing agent determine an appropriate price for the house, and it helps buyers make competitive offers.
You don't want to skip on a CMA because, without it, you'll have a hard time determining how to price your home. If you list your home at the wrong price, it'll be much harder to sell. Fortunately, your agent or broker will generate a CMA for you.
Listing Agreement
A listing agreement is also referred to as a seller's agent agreement. It's a contract between you and your real estate broker, giving your broker permission to sell your house for you. In return, you'll pay the brokerage a commission for selling your home on your behalf.
Preliminary Title Report
You'll want to do a preliminary title search before listing your home on the market. A title search will reveal whether there are any problems with the property that could prevent you from selling it.
Documents While Your Home Is On The Market
Once your home is listed on the market, you need to prepare for a new round of paperwork. At this stage, the documents needed will help you prepare for closing and selling your home.
Mandatory Disclosures
Every seller is required to fill out mandatory disclosure forms, but the requirements will vary from state to state. This form outlines any issues or problems related to the home. Your real estate agent can inform you about the specific requirements in your state.
Pre-Inspection Report
In most real estate transactions, the buyer orders a home inspection. But in a pre-listing inspection, the seller orders an inspection to get ahead of any potential issues with the home.
A pre-inspection report can help you understand any problems with the house and make preventative repairs. However, you should check with your real estate agent to see if they recommend getting a pre-inspection report first.
Documents For Closing
Once you've accepted an offer on your home and have scheduled a closing date, you may think you're home free. But there's a lot of work that needs to be done to prepare for closing, and a lot of paperwork that needs to be gathered. The following documents will make closing on your home an easier process.
Closing Statement
The title company will provide a closing statement which is a list of all the debits and credits to the buyer and seller. For the buyer, it'll outline any costs associated with the loan, closing costs and a payment schedule for the mortgage.
The seller will receive a list of all the commissions and fees that must be paid. And if you're selling your home at a profit, you'll need the closing statement when you file any necessary taxes.
Home Appraisal Documents
Before closing, the buyer will order a home appraisal report which estimates the fair market value of the property. This is estimated based on the current condition of the home, recent sales in the same area and the overall condition of the neighborhood.
A home appraisal report ensures that the home isn't worth less than what the buyer is paying for it. If the home appraises below the asking price, the seller will either need to reduce the price or the buyer can pay the difference in cash.
Home Inspection Documents
A home inspection helps the home buyer uncover any hidden problems with the property. During the inspection, a qualified inspector will do a thorough inspection of the home, including the foundation, attic, plumbing, electrical system and appliances. Lenders don't require a home inspection, but most buyers want one to ensure they know what they're getting into.
Property Deed
The property deed is a legal document transferring ownership from the seller to the buyer. A real estate attorney typically draws up these deeds after the title search is completed.
Paperwork For Selling A House By Owner
Gathering paperwork for a house that is for sale by owner (FSBO) will be more challenging since you won't have a real estate agent to guide you through this process. The following is required paperwork for selling a house by owner:
Sales disclosure form

Property disclosure

Title review

HOA documents

Sales agreement

Inspection paperwork
Home Selling Paperwork Checklist
Listed below is a complete checklist of the documents needed at each stage of the home sale process.
Documents before you list your home:
HOA documents

Manuals and warranties

Mortgage payoff statement

Original appraisal documents

Proof of homeowners insurance

Original sales contract

Property tax records

Records of maintenance, renovations and repairs
Documents to list your home:
Comparative Market Analysis (CMA)

Listing agreement

Preliminary title report
Documents while your home is on the market:
Mandatory disclosures

Pre-inspection report
Documents for closing:
Closing statement

Home appraisal documents

Home inspection documents

Property deed
Take the first step toward buying a house.
Get approved to see what you qualify for.
Start My Approval
State-Specific Paperwork
The documents needed to sell your home can vary slightly by county and state. For example, Washington state requires that sellers fill out a Washington Disclosure Statement, which outlines any water sources for your home.
New York requires sellers to fill out a Property Condition Disclosure Act, which outlines any possible claims to the property or environmental issues affecting the home. Failing to provide this document to potential buyers could end up costing you $500. So it's important to check on any specific paperwork required in your state.
House Paperwork FAQS
Here's some additional information about the paperwork needed to sell your home.
What legal documents are required to sell a house?
Here are the legal documents required to sell a home:
Original sales contract

Property survey

Property tax records

The home's deed

HOA agreements

Disclosure statement

Sales contract
What financial documents are needed to buy a house?
You'll need the following financial documents to sell your home:
Loan payoff statement

Disclosures

The home's deed

Property tax documents

Homeowners insurance records

Original sales contract

Final sales agreement
Do I need the original deed to sell my house?
Yes, you'll need the original deed to sell your house and transfer property rights over to the new owner. If you cannot find a copy, you may be able to obtain a replacement from the property recorder's office.
The Bottom Line
Selling a home is no small feat, and a lot of paperwork is required to complete the transaction. You can streamline this process by working with a qualified real estate agent. An experienced agent will let you know what paperwork you need and ensure you're prepared to list and sell your home. If you're ready to sell your home, you can connect with a real estate agent today.