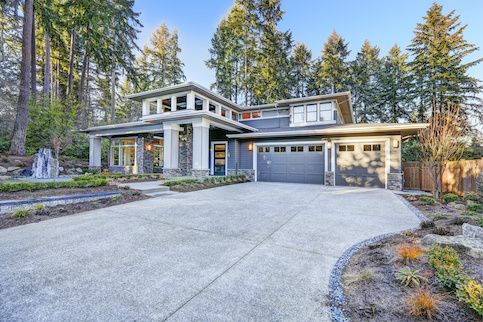 Jumbo Loans Mean Big New Improvements
Published on September 30, 2019
We've made some big-time changes to our jumbo loan requirements that we think you're going to love. Let's run through some of the wins.
If you're buying a primary property, you can now have a down payment of as little as 10%. If you're purchasing or refinancing a property with many acres of land, you can now have more of it. You'll also be able to get an investment property with a jumbo loan now. In addition, we've increased the amount of equity you can access with a cash-out refinance. In certain cases, you'll also be able to take more cash out.
Whether you're looking to purchase or refinance, it's good news all around, but before we go over some of these changes in more detail, let's touch on the basics.
What's a Jumbo Loan?
A jumbo loan is any mortgage where the loan amount is higher than the conforming loan limits set by the Federal Housing Finance Agency. As of this writing, in general, for a one-unit property, that limit is $484,350. It might be higher if you live in a high-cost area, but it will never be higher than $726,525 for one unit in 2018. These numbers do increase when you're financing more units.
Jumbo loans have slightly stricter qualification requirements than typical conforming loans with lower limits, but one cool thing is that there's no mortgage insurance requirement.
Big Loans Get Big Changes
Now that we've got the basics out of the way, let's go over what's changing. We think you'll like what you see!
Lower Down Payments on Purchase
Let's start with the purchase side of things. If you're getting a one-unit primary property, you can now get a jumbo loan with a loan amount of up to $1 million with as little as 10% down.
In addition to the property and loan amount requirements, you're also going to need a minimum median FICO® score of 760 to qualify for this loan option. The maximum debt-to-income (DTI) ratio – which compares your minimum monthly installment and revolving debt payments to monthly income – must be no higher than 36%.
If the primary residence has more than one unit or you have slightly different credit metrics, you still may be able to purchase with a higher down payment. Feel free to speak with one of our Home Loan Experts.
Jumbo Investment Properties
If you're looking to purchase or do a rate-term refinance on an investment property, you can now do so with a jumbo loan. Here are the details:
The property must be one or two units.
You need to have a 40% down payment or equity stake in the property.
The loan amount can be up to $1 million.
Your DTI should be no greater than 43% with a minimum median FICO score of 760 or better.
Cash-Out Refinance Changes
If you have a primary property that's one unit, you can take cash out with a jumbo loan. In this area, we made two changes recently that represent major wins for our clients.
For loan amounts up to $1 million, you're now able to take cash out of your home while leaving as little as 20% equity in the home.
There are limits to how much cash you can take out depending on how much equity you have in your home. They are as follows:
Less than 40% equity: $350,000
Between 40% and 50% equity: $500,000
50% equity or more: $750,000
You can take cash out on loan amounts up to $2 million, but you'll need to leave more equity in the home to make that happen.
Expanded Acreage for Jumbo Loans
Whether you're purchasing or refinancing, you can now buy homes on up to 40 acres of land. This is double the previous limit of 20 acres.
There are certain requirements you should be aware of if you're getting a property with more than 20 acres of land.
First, your down payment or equity amount must be 10% more than it would be for properties with 20 acres or fewer. For example, if you were purchasing a one-unit primary jumbo property with a loan amount of $1 million or less like the one referenced above, your down payment would have to be 20% instead of 10%.
Second, the appraiser must be able to find at least two comparable properties in the area with land amounts that are no less than five acres below the acreage you're financing. So if you were getting a mortgage on a home with 35 acres, two comparable homes would have to be found with at least 30 acres of land.
Also, the value of the land itself cannot make up more than 35% of the overall appraised value of the land and the home.
For the sake of convenient math for this example, let's say you were financing a home with an overall appraised value of $1 million. No more than $350,000 of that appraised value can be based on the value of the site itself.
Finally, the land can't be zoned for agricultural use, and there can't be any farming or income-producing activity on the property. The exception to this is rent for investment properties.
Are you interested in any of these purchase or refinance options for jumbo loans? You can go ahead and start the process online or give one of our Home Loan Experts a call at (800) 785-4788.
Apply for a Mortgage with Quicken Loans®
Call our Home Loans Experts at (800) 251-9080 to begin your mortgage application, or apply online to review your loan options.
Start Your Application