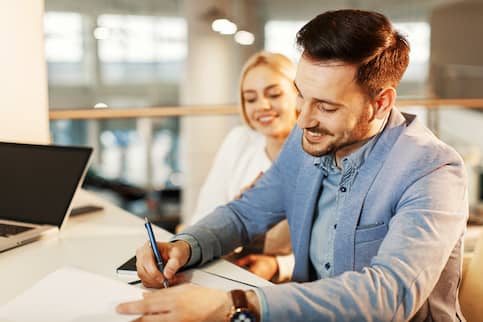 What You Need To Know About FHA Jumbo Loans
Published on February 3, 2023
If you've ever bought a house, you know the excitement of finding your dream home – and the sticker shock that may come when looking at the price tag. Steep housing costs can be an obstacle for many would-be home buyers across America. Fortunately, an FHA loan that exceeds certain limiting amounts is available without imposing stringent financial requirements.
Often referred to as an "FHA jumbo loan," these mortgages come from the Federal Housing Administration (FHA) and can help you purchase a high-priced home.
It's important to note that the FHA doesn't offer a specific product called an "FHA jumbo loan," nor do lenders have a specific product named this. However, since they're commonly called and known as "FHA jumbo loans," that's what we'll refer to them as in this article.
What Is An FHA Jumbo Loan?
An FHA jumbo loan is what people consider any FHA loan that is between the loan limit floor (the most you can borrow on a normal FHA loan) and the ceiling (the most you can borrow on any FHA loan, period).
In 2023, the loan limit for a one-unit home in most areas of the U.S. is $472,030. The ceiling is $1,089,300. In special areas, including Alaska and Hawaii, the ceiling is $1,633,950.
So, with an FHA jumbo loan, you can borrow between $472,300 and $1,089,300 in most areas of the U.S.
An FHA loan is a mortgage that's insured by the federal government. It's considered a non-conforming loan because it doesn't follow the guidelines set by Fannie Mae and Freddie Mac. Just like FHA loans, conforming loans also have a limit, which is set by these two government-sponsored enterprises (GSEs). In most areas of the U.S., these limits are higher than the FHA limit. When a person wishes to borrow more than the limit, they get a jumbo loan, which may have stricter requirements.
Because the government backs an FHA loan, borrowers have less-stringent financial standards to fulfill to qualify. As a result, an FHA jumbo loan combines the relaxed financial requirements of an FHA loan and the increased loan capacity of jumbo loans.
FHA Jumbo Loan Limits
Unlike conforming loans, the Department of Housing and Urban Development (HUD) sets FHA loan limits each year. In addition, location and units within the home influence limits. The following table outlines the FHA loan limits for 2023.
| | | | |
| --- | --- | --- | --- |
| Property Size | Loan Limit Floor | Loan Limit Ceiling | Ceiling for Alaska, Hawaii, Guam and U.S. Virgin Islands |
| One unit | $472,030 | $1,089,300 | $1,633,950 |
| Two units | $604,400 | $1,394,775 | $2,092,150 |
| Three units | $730,525 | $1,685,850 | $2,528,775 |
| Four units | $907,900 | $2,095,200 | $3,142,800 |
As the table demonstrates, borrowers can access an FHA jumbo loan of at least $472,030. However, certain areas have higher limits to account for regional housing expenses.
Jumbo Loan FHA Requirements
Home buyers who want an FHA jumbo loan must fulfill conditions like those of a typical FHA loan, including:
Debt-to-income ratio (DTI): Your DTI requirement will depend on your lender, but the highest DTI max for an FHA loan is 57%, where the lowest is around 40%.
Credit score: Lenders providing FHA loans typically require a minimum credit score of 580. Depending on the lender, you may need a high credit score to borrow over the limit.
Minimum down payment: The down payment for home buyers with a credit score of 580 or higher is 3.5% of the loan. Homebuyers with a score under 580 must put down 10%.
Multiple appraisals: An FHA-approved appraiser must appraise the home. However, two home appraisals may be rquired if the loan amount surpasses $484,350 and the loan-to-value ratio (LTV) is at least 95%.
Primary residence: Your FHA jumbo loan can only finance the purchase of your primary residence, not a second home.
Inspection: The house must pass an inspection and fulfill minimum property standards.
Mortgage insurance premium (MIP): The FHA charges MIPs to protect itself from borrowers defaulting on mortgages. MIP comes in two forms: a charge of 1.75% of the loan amount at closing and annual charges ranging from 0.15% – .075% of the original loan amount. If you make a down payment of at least 10%, MIP goes away after 11 years.
FHA Jumbo Loans Vs. Standard FHA Loans
FHA jumbo loans and standard FHA loans both come with government backing. However, because they provide different-sized mortgages, they have several contrasting characteristics:
Down Payment Assistance
Various nonprofits and state government agencies provide down payment assistance for FHA loans. First-time home buyers may have an easier time qualifying for assistance. However, borrowers receiving an FHA jumbo loan of $484,350 or higher are ineligible for down payment assistance.
Credit Score
Standard FHA mortgage loans and FHA jumbo loans may have the same credit score requirements, though it depends on the lender. Because FHA jumbo loans are usually for higher amounts, it's helpful (and may be required) to have a higher credit score. With a higher score may come better terms, including a better interest rate.
Jumbo FHA Loan Rates
FHA jumbo loans generally have better interest rates than conventional jumbo loans. However, because of the higher loan amounts, they may have higher rates than typical FHA loans.
Is An FHA Jumbo Loan Right For You?
An FHA jumbo loan is an excellent way to get a larger loan without having to fulfill stricter financial requirements of traditional jumbo loans. As a result, these loans are helpful when you anticipate expensive housing costs but may not have excellent credit. For example, an FHA jumbo loan can provide you with a hefty mortgage and a low interest rate if you live in Alaska, Hawaii or another region with high housing costs. These loans make purchases and home builds possible where other loans aren't big enough.
However, MIPs can make FHA jumbo loans expensive because you'll likely pay a percentage of the base loan amount for the life of the loan. In addition, your local lender might have tighter borrower requirements than those included in this article. This can make obtaining an FHA loan more challenging. Therefore, your local housing market and FHA lender can help you determine whether an FHA jumbo loan fits your situation.
The Bottom Line
An FHA jumbo loan is a government-backed loan that allows borrowers with lower credit scores and smaller down payments to obtain larger mortgages that are over the FHA floor limit. This loan can be beneficial in locations with high housing costs but can also help borrowers looking at more expensive homes across the country. However, home buyers considering the FHA jumbo loan will need to remember they'll pay MIPs and higher closing costs, so it might not be the best option.
Whether you want to access an FHA loan or other mortgage product, you can start the mortgage application process today.
Apply Online with Rocket Mortgage
Get approved with Rocket Mortgage® – and do it all online. You can get a real, customizable mortgage solution based on your unique financial situation.
Apply Online