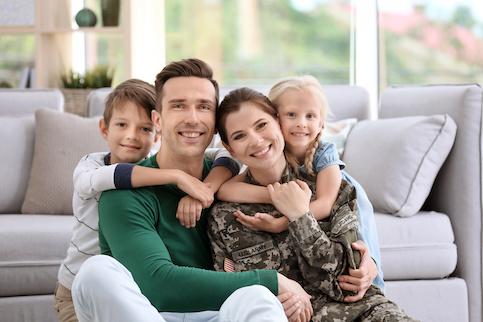 VA Jumbo Loan: Higher Mortgage Loan Amounts For Veterans
Published on November 12, 2019
Are you a veteran or a member of the U.S. military who needs a very large loan amount for your home? Good news! Quicken Loans® is proud to offer the VA jumbo loan for amounts over $510,400– up to $1.5 million.
VA jumbo loans are a top benefit for veterans and military personnel because they have more flexible requirements and higher loan amounts than conventional loans. Contrary to popular belief, the Department of Veterans Affairs (VA) actually doesn't write the mortgages. Instead, the VA insures the loans that are written by banks and mortgage companies. Financing (or refinancing) with VA loans is only available for veterans and active members of the U.S. military or eligible reservists and surviving spouses. A surviving spouse is defined as being the spouse of someone who passed in action or as a result of a service-connected disability. In general, surviving spouses can't be remarried (with limited exceptions).
Let's go over VA jumbo loans as well as the benefits of VA loans in general.
Does The VA Offer Jumbo Loans?
Many people know about the VA loan, but the VA jumbo loan is a lesser-known offering intended to help people who are looking at houses with prices higher than conforming loan limits. We'll get into a bit more detail on those loan limits below, but in general, the conforming loan limit is $510,400.
These jumbo offerings also have all of the benefits of a standard VA loan. We'll dig into those a bit later on.
Why Is The Loan Limit Different In My Area?
In most areas of the country, the general conforming loan limits apply. If you live in a county that's considered a high-cost area, there may be higher loan limits before you have to go with a jumbo loan.
VA loans follow conventional loan limits. We can help you find the conventional loan limit in your area.
The Benefits Of VA Jumbo Loans
The VA jumbo loan offers higher mortgage amounts than conventional loans. These flexible guidelines often allow more homeowners to refinance in difficult housing and financial markets. Here are some of the benefits of refinancing with a VA jumbo loan:
If you're purchasing a home, you have the option of doing so with a down payment of as little as 10%. Typical jumbo loans require a 20% down payment. You'll need a 640 median FICO® Score. Although this is Quicken Loans® policy regarding VA jumbo down payments, it's important to note that other lenders may have different requirements. Down payments also work a little bit differently if you've got an impacted entitlement, meaning you only have a partial entitlement left after using another VA loan without selling or paying off the property.

If you're doing a refinance to lower your rate or change your term, you have to have at least 5% equity and a median 680 credit score.
VA loans allow up to 100% loan-to-value ratio on cash-out refinances with a median FICO® Score of 740 or higher. This is subject to local loan limits in your county.
There's no mortgage insurance with a VA loan.
There are no prepayment penalties on VA loans.
VA assistance is available for veteran borrowers in default due to temporary financial difficulty.
You have the ability to roll the VA funding fee into the loan amount in many cases, and there's no funding fee for disabled veterans or surviving spouses. If you're a Purple Heart recipient serving in an active-duty capacity, you're also exempt from the funding fee.
Jumbo VA Loan Requirements
VA jumbo loans require a higher credit score than the usual VA loans due to the high loan amounts. The minimum median credit score is 620 for regular VA loans, but for jumbo loans, it's 640.
Regardless of whether you're purchasing a new home or you're refinancing, now is a great time to take advantage of the benefits you earned. Give us a call today at (800) 785-4788 to find out more about which loan option best suits you and your family.
Let Our Experts Do the Work
Quicken Loans is a VA-approved lender. Our Home Loan Experts do most of the work so you don't have to when it comes to getting your Certificate of Eligibility.
Speak with a Home Loan Expert