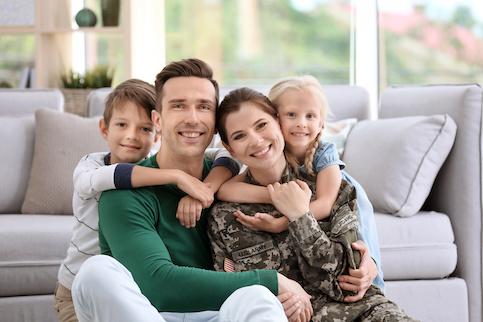 VA Jumbo Loan: Higher Mortgage Loan Amounts For Veterans
Published on January 12, 2022
If you're an eligible veteran of the U.S. Armed Forces, or the surviving spouse of a veteran, one important benefit that's earned through service is a Department of Veterans Affairs (VA) loan. These loans offer lower down payment and credit score requirements compared to other loans. Most VA loans allow you to borrow up to the federal conforming loan limits for your area. But what if you need to borrow more money?
That's where VA jumbo loans come in. They offer many of the same benefits of a conforming VA loan, but with more buying power. Let's go over VA jumbo loan requirements and their benefits.
What Is A VA Jumbo Loan?
A VA jumbo loan is defined as a VA loan that exceeds the conforming loan limits for your area. These limits are set annually by the Federal Housing Finance Agency (FHFA). As of 2023, these limits range from $726,200 – $1,089,300 for a single-family home.
If you need to borrow more, lenders can extend a non-conforming or jumbo loan that is still backed by the VA. While the lender has more discretion on lending limits and requirements with a VA jumbo loan, compared to a conventional VA loan, a VA jumbo loan still offers many of the benefits of a VA loan.
See What You Qualify For
Congratulations! Based on the information you have provided, you are eligible to continue your home loan process online with Rocket Mortgage.
If a sign-in page does not automatically pop up in a new tab, click here
What Are The VA Jumbo Loan Limits For My Area?
Technically, a jumbo loan doesn't have an upper limit, except those set by the lender. Whether you need a VA jumbo loan or not will depend on the conforming loan limits for your part of the country. If you live in a county that's considered a high-cost area, there may be higher loan limits before you have to go with a jumbo loan.
Because VA loans follow the same conventional loan limits as other loans, looking at the Federal Housing Finance Agency can help you in your area.
What Are The Benefits Of VA Jumbo Loans?
The VA jumbo loan offers higher mortgage amounts than conventional loans. These flexible guidelines often allow more homeowners to refinance in difficult housing and financial markets. Below are some of the benefits of refinancing or buying with a VA jumbo loan.
No Down Payment Requirement
If you're purchasing a home, you may have the option of the lender waiving the down payment requirement depending on how much you borrow. This is different from typical jumbo loans, which most often require a 20% down payment.
No Mortgage Insurance Required
There's no mortgage insurance with a VA loan, compared to other types of home loans, which may require a private mortgage insurance for down payments less than 20% or Federal Housing Administration (FHA) mortgage insurance premiums (MIP) which can last for the life of the loan.
No Prepayment Penalties
Unlike some conventional loans, there are no prepayment penalties on VA home loans if you decide to pay off the mortgage early.
VA Financial Assistance
If you are having trouble making your payments, VA assistance is available for veteran borrowers in default due to temporary financial difficulty.
Funding Fee Flexibility
Like most VA loans, VA jumbo loans require an upfront funding fee ranging from 1.25% of the loan amount for a first-time purchase to 3.3% for subsequent home purchases. The good news is that you have the ability to roll the VA funding fee into the loan amount if you can't pay it upfront. Also, the funding fee is waived for disabled veterans or surviving spouses or if you're a Purple Heart recipient serving in an active-duty capacity.
VA Loan Entitlements
Another factor that may affect how much you can borrow is your VA loan entitlement. As long as you have your full entitlement available the government will guarantee up to 25% of the total amount that you borrow.
What Kind Of Mortgage Rates Can You Get With A VA Jumbo Loan?
Because you're borrowing more money, the interest rate for a VA jumbo loan may be higher than those offered for a comparable traditional VA loan. However, the interest rates for a VA loan will likely be competitive with the interest rates for non-VA jumbo loans.
What Are
Jumbo VA Loan Requirements?
In addition to being an eligible veteran or the surviving spouse of a veteran, there are other requirements to qualify for a VA jumbo loan.
Credit Score Requirements
VA jumbo loans require a higher credit score than typical VA loan requirements due to the high loan amounts. While the VA has no minimum credit score requirements, lenders do set their own. For example, a lender may accept a minimum median credit score of 580 to qualify for a conventional VA loan. However, jumbo loan requirements for the same lender may be stricter, with a minimum median FICO® Score of 680. These credit score requirements may also increase depending on the amount that you plan to borrow.
Down Payment Requirements
Down payments also work a little bit differently if you've got an impacted entitlement, meaning you only have a partial entitlement left after using another VA loan without selling or paying off the property. It's also important to note that there may be different interest rates offered between lenders.
VA Inspection Requirements
Most lenders will require a home appraisal to qualify for a mortgage, and while a home inspection is advisable, it isn't always a requirement. However, to qualify for a VA loan, the home that you plan to buy must also meet the VA loan inspection requirements. This usually involves a thorough home inspection by a VA certified inspector and may also include a VA loan pest inspection.
Apply Online with Rocket Mortgage
Get approved with Rocket Mortgage® – and do it all online. You can get a real, customizable mortgage solution based on your unique financial situation.
Apply Online
The Bottom Line: A VA Jumbo Loan May Be The Right Option For You
A VA jumbo loan may be the right option for you if you're looking to take advantage of VA benefits – such as no down payment or mortgage insurance required – while purchasing or refinancing your home.
Ready to take the next step? Get started and apply online to see what you may qualify for.