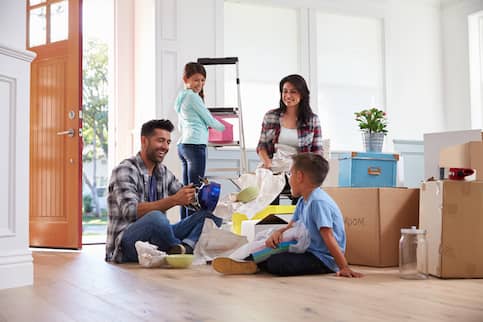 How To Get Down Payment Assistance: A Home Buyer's Guide
Published on October 12, 2023
Down payment assistance makes buying a home more affordable for those who can afford a monthly mortgage payment, but not necessarily the significant upfront investment involved. Although it can seem complicated, there's no reason that the question of how to get down payment assistance has to be a stumper.
How Does Down Payment Assistance Work?
Down payment assistance (DPA) is meant to help offset the down payment and/or closing costs associated with purchasing a home for eligible homeowners. Depending on the loan option you qualify for, the minimum down payment for a single-unit primary residence is 3% – 5%. Closing costs associated with your loan are often in the range of 3% – 6% of the purchase price.
Down payment assistance programs take different forms. Eligibility requirements may vary as well based on the standards of the individual organization you're working with and who they're trying to serve.
Types Of Down Payment Assistance Programs And Loans
There are various forms of funding that can be used to help with the upfront costs of purchasing a home. Some of them take the form of what we would traditionally think of as down payment assistance. Others represent common alternatives, but here's a list to get you started:
Grants:

Grants are down payment assistance that doesn't need to be paid back under any circumstances. Because it's free money, this is often the most desirable form of assistance for people to look at when they're first considering DPA.

Deferred payment loans:

Deferred payment loans are a type of down payment assistance with payments that begin immediately after you close on your home. This is one program among the next several that often take the form of a second mortgage, where the DPA is tied to a second lien that's subordinate to your primary mortgage. It's important to note that with this type of loan, you'll have this periodic payment in addition to your mortgage payment.

Loans with timed repayment:

Another form of DPA involves loans that have repayments tied to specific events happening. For example, it's common that your down payment assistance must be repaid upon refinancing, selling your home or otherwise paying off your primary mortgage.

Forgivable loans:

Forgivable loans are set up as such that you don't have to pay them back if certain conditions are met. For example, an employer might offer assistance to employees who agree they'll remain with the organization for a given period of time. In other situations, you may not end up paying the loan back as long as you remain in the home as your primary residence for a specified timeframe.

Individual Development Accounts (IDAs)

:

Individual Development Accounts started as a vehicle for low-income families to reach goals that would help them build financial independence. One of the biggest goals of such programs is to help people achieve affordable homeownership. These programs are often administered by states and you might have to be within a certain percentage of the poverty level. Functionally, these accounts act as matched savings programs, with states matching your savings with participating financial institutions up to a certain level. Even if you don't qualify for an IDA, there may be other matched savings programs you can look into.

Low-interest loans:

You may be able to get a loan through a traditional financial institution to help fund your down payment and closing costs. It's just important to be aware that your lender may include that in your debt-to-income ratio (DTI) for qualification purposes.

Closing costs credits:

Another alternative to traditional DPA involves getting credits from your lender toward your closing costs. In exchange for these lender credits, your lender charges a slightly higher rate. In effect, instead of paying for your closing costs upfront, you pay for them over the life of the loan.

Tax credits: Although there is no national tax credit available for home buyers at this time, qualifying homeowners may receive tax credits relating to purchasing a home on their state or local taxes. These credits are a dollar-for-dollar discount on the taxes you owe. They can also result in a bigger refund.
How To Qualify For Down Payment Assistance
Requirements to qualify for down payment assistance vary from program to program. Here's a non-exhaustive list of the most common qualification factors:
Take A Home Buyer Education Course
Programs that are targeted at people new to homeownership may require you to take a first-time home buyers class. These courses go over everything from how to get ready for homeownership and the steps in the home buying process to homeowner responsibilities like maintenance and property taxes.
Sometimes the program requires you to take a specific course. In other cases, a specific certification may be required. For example, you may have to attend a class certified by the Department of Housing and Urban Development (HUD).
Meet Income Limits
Many times, DPA programs are targeted at low-to-moderate-income households, so you can expect to have to be at or below a certain dollar amount. This is often expressed as a percentage of the federal poverty level.
Buy In An Approved Location
Programs supported by cities, local or state housing finance agencies may require you to live in an approved location in order to qualify for the assistance. The same is true for special-purpose credit programs supported by participating lenders or mortgage investors.
Spend Below The Maximum Purchase Price
In some cases, there may be a requirement that the price of the house fall below a limit. Often, this figure is set based on a percentage of the median home price where you're buying.
Contribute Your Own Money
Some programs require that home buyers contribute some of their own money toward the down payment and closing costs in order to qualify for the assistance they receive. Depending on the terms of the assistance, this could be a flat amount or a percentage of the purchase price.
Be A First-Time Home Buyer
A common down payment assistance requirement is that someone has to be a first-time home buyer. The rationale here is that first-time buyers are likely to have a harder time coming up with the down payment and closing costs because they aren't applying funds from the sale of their previous home to the purchase of a new one.
However, there are some ways in which you can qualify as a first-time home buyer even if you're not technically purchasing your first home. We'll get into that a little more in a minute.
Buy A Primary Residence
Down payment assistance programs are likely to require that you buy a primary residence in order to purchase the home with their assistance. This means you probably won't be able to get DPA on a vacation home or investment property. Your primary residence is the one that you live in for the majority of the year.
Work With An Approved Mortgage Lender
There are some DPA programs that likely need to work with an approved mortgage lender. If that's the case, beware that you may be limited in your ability to shop around.
As an alternative, you may choose to search for a program that lenders are likely to accept. While every lender has different requirements, you're generally safe with grants. When it comes to liens, you'll want to make sure the DPA is subordinate to the mortgage lien because your mortgage lender will want to be paid first in the event you default on your payments.
Be sure to speak with your mortgage lender and your down payment assistance provider to go over your options.
Who Is Considered A First-Time Home Buyer?
The definition of first-time home buyer might seem self-evident, but it's actually a little more complicated than it initially appears. While certain programs may have their own standards, the following criteria are used by mortgage lenders and you may find many of the same commonalities across programs:
Ownership interest:

You're considered a first-time home buyer if you haven't had any ownership interest in a residential property in the 3 years prior to your closing date.

Single parents:

If you're a single parent with full or joint custody of your children, you can be considered a first-time home buyer without any waiting period if your only previous ownership had been jointly with a spouse.

Displaced homemaker:

People who had previously owned jointly with a spouse may be considered first-time home buyers if they were unemployed, had inconsistent employment or were employed part-time prior to their separation or divorce.

Prior residence lacked permanent foundation:

Some programs may incorporate timing exceptions put in place by the FHA. First, FHA considers you a first-time home buyer if your previous primary residence wasn't attached to a permanent foundation.

Building code violations:

Finally, under FHA regulations, anyone who has only owned a home that didn't meet state, local or model building codes can be considered a first-time home buyer if the cost to bring the home up to code is higher than it would be to construct a new residence.
See What You Qualify For
You can get a real, customizable mortgage solution based on your unique financial situation.
Get Started
How To Apply For Down Payment Assistance
If you're applying for down payment assistance, some of the documentation required may be similar to what you would use to apply for your mortgage application including pay stubs, W-2s, 1099s, tax returns and bank statements. Additionally, some programs may do a credit check, particularly if there's a loan involved.
The good news here is that you'll likely be gathering this documentation already as part of your mortgage process. You may be more focused on finding home buying resources:
City and county governments:

City and county governments may offer down payment assistance to qualifying home buyers looking to purchase in the area as a way of boosting local economic development.

Housing finance agencies:

Local and state governments may also maintain housing finance agencies aimed at providing resources including DPA to home buyers living in the area.

The U.S. Department of Housing and Urban Development (HUD):

HUD keeps track of state-level local home buying programs. This may help you find DPA and other resources available to you in the state you're looking to buy.

Housing counselors:

HUD also maintains a directory of department-approved housing counselors. This could be particularly useful if the down payment assistance you're applying for requires homeownership counseling or a first-time home buyer class.
How To Get Down Payment Assistance: FAQs
Now that we've gone over down payment assistance basics, let's touch on some of the questions you still may have.
How long does it take to get down payment assistance?
The turn time to get down payment assistance is going to vary based on the provider, so giving a timeline isn't really useful. One thing you can do to speed up the process is make sure you promptly respond to any request for information or documentation related to your application.
What credit score do I need for down payment assistance?
The minimum credit score required (if any) to get down payment assistance is going to vary from program to program. However, we can give you some general guidance based on what mortgage lenders look for. Depending on the type of loan you're getting, the minimum FICO® Score to qualify is typically going to be 580 or 620.
Can I get down payment assistance with an FHA loan?
FHA loans are popular options for those with shorter credit histories or who may have had blemishes in the past. They also allow you to qualify with a slightly higher DTI, which may give you some flexibility on the purchase price.
Although the FHA itself doesn't fund DPA, you can use down payment assistance with an FHA loan. FHA's down payment requirements depend on your credit score. If your qualifying score is 500 – 579, the minimum down payment is 10%. It's 3.5% if your score is 580 or higher.
How much down payment assistance can I get?
This is going to vary based on the DPA program and the type of assistance you're applying for. We can tell you that mortgage lenders don't limit the amount of DPA that can be used for your down payment or closing costs. In some cases, the mortgage lender or down payment assistance provider may require you to make a minimum contribution.
Can I use multiple sources of down payment assistance?
In general, you can use multiple sources of down payment assistance. The exception would be if the terms of any DPA prohibit getting assistance from any other entity.
The Bottom Line
When it comes to getting down payment assistance, applying involves much of the same documentation you would use to apply for a mortgage. It can come in many forms including grants, deferred payment and forgivable loans. Common sources of down payment assistance include nonprofits, state and local housing finance agencies and employers.
Every DPA program has different requirements. Frequent criteria include being a first-time home buyer, meeting income limits and taking a first-time home buyer class.
Are you feeling confident about down payment assistance? You can go ahead and start the mortgage application process today.