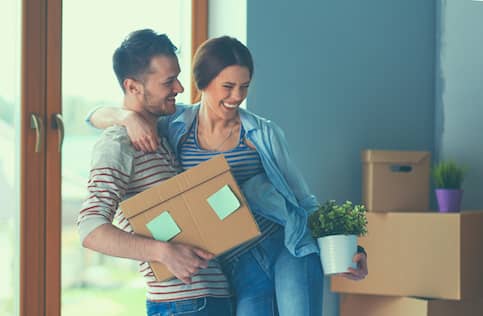 The Average Down Payment On A House, Explained
Published on December 9, 2022
The average down payment on a house may be much lower than anticipated. Contrary to what most people believe, 20% down isn't the only way to buy a house. Many loan programs are available today, some even allowing you to buy a house with little to no down payment.
What Is The Average Down Payment On A House?
Though many believe you need to save 20% for a down payment on a mortgage, the average down payment in the USA is 7% for first-time home buyers and 17% for repeat buyers, according to the National Association of REALTORS® (NAR).
NAR's research also found that the highest the average down payment for first-time home buyers ever reached was 10%. However, the average down payment for repeat buyers has steadily increased. This is due to the increasing amount of equity most homeowners have today. In 2014, repeat buyers put down an average of 13%, so repeat buyers today put down 4% more.
With steadily increasing home prices, repeat home buyers may be able to increase their average down payment, making it easier to secure attractive loan terms.
What Is The Average Down Payment On A House For A First-Time Buyer?
The average down payment on a house for first-time home buyers was just 7%, with many first-time buyers, especially millennials, citing difficulties saving for a down payment. In a 2020 study, NAR found the most common obstacles to savings for a down payment are other expenses, which include student debt, credit card debt and car loans.
First-time homebuyers not only face the obstacle of not having a house to sell, but many millennials and other first-time homebuyers also face the following challenges:
Limited incomes

Rising rents

Health and medical costs
Minimum Down Payment Requirements By Loan Type
A home loan isn't a one-size-fits-all solution, and some government-backed loans, like USDA and VA loans, require zero down. There are also loans that require down payments as low as 3% – 3.5%. No two borrowers have the same financing needs, and no two loan products have the same requirements.
Each loan type has a different down payment requirement and should play a role in your decision for mortgage financing. Before choosing a loan, make sure it fits your budget and that you aren't strapping yourself for cash to meet the down payment requirements.
| | |
| --- | --- |
| Loan Type | Down Payment Amount |
| | 3% for first-time buyers and 5% for repeat buyers |
| | 3.5% with a 580+ credit score and 10% for credit scores 500 – 579 |
| | No down payment required |
| | No down payment required |
| | 10% – 25%, depending on loan amount |
Why Do Home Buyers Put A 20% Down Payment On A Home?
Looking at the minimum down payment requirements, you might wonder why anyone would make a 20% down payment.
There are several reasons, but the largest is to avoid private mortgage insurance (PMI), which protects the lender if you default.
PMI is a temporary insurance that a conventional borrower must pay until they owe less than 80% of the home's value. However, avoiding PMI isn't the only reason buyers put 20% or more down on a house.
Some choose to make a larger down payment because it reduces the amount of money they have to borrow, which can provide them a lower monthly payment and help them save in total interest paid.
Whether putting 20% down is a good or bad idea is a personal decision, but there are some factors to consider.
Let's look at two examples.
John is ready to buy a house. He has $60,000 in his savings account and has his eye on a $200,000 house. He knows he can put down 20% ($40,000) and still have money for the closing costs, which are usually 3% – 6% of the purchase price.
But John's thinking about his future. If he takes that much from his savings, he knows it will take a long time to build it again. Knowing that he's taking on a new large mortgage payment, he isn't willing to drain his savings and end up in financial trouble if he loses his job or can't work for some reason.
John decides to put 10% down and keep some of his savings in his account for emergencies.
Paul is also ready to buy a house. He has $100,000 in his savings account and wants to buy a $200,000 home. Paul confidently puts down 20% on the home and has enough money left in his savings to keep for an emergency, even after paying the closing costs.
Paul can secure a lower interest rate and avoid PMI because he has more money saved. For John, it didn't make sense to put a most of his money in his house and cause more financial stress than necessary. The PMI won't last forever, and the reassurance of having money in savings was worth more to him.
Pros Of Putting 20% Down
There are advantages to putting 20% down on a home, including the following.
Your mortgage payments will be smaller because you paid more upfront. The less you borrow, the less you have to pay back.

You're likely to qualify for a better interest rate. The less money you borrow, the less risk you pose to a lender. This can allow you to get better rates and terms.

You won't have to pay PMI. With a 20% down payment, you don't have to worry about paying PMI. This makes your payment even lower.

You'll start with higher equity in your home. The money you put down on your home gives you instant equity. This increases your net worth and means you'll get more money in your pocket when you sell the home.
Cons Of Putting 20% Down
There are downsides to putting 20% down too, which is why it's not for everyone. Here's what to consider.
You may end up paying more in rent while you save toward a down payment. It can take time to save 20% for a home. This could mean you spend more money on rent for longer than you anticipated.

You could deplete your emergency fund. If you use all your savings, you won't have money put aside for emergencies, which can cause financial issues.

You'll have less money to pay toward closing costs. If you only have 20% saved, you may have to ask your lender or seller to cover your closing costs.
Deciding What Down Payment Is Right For You
Choosing the right down payment is a personal decision. However, you should consider your budget, financial situation and what you're comfortable with financially.
If you can't put 20% down, you may still qualify for a loan, but will most likely pay PMI. If you can't qualify, there are other options, including down payment assistance programs.
The key is not to stress yourself out financially just to make the illustrious 20% down payment, because it's unnecessary. There are plenty of other ways to make your dream of homeownership happen.
The Bottom Line
Find the down payment that works best for you. Buying a house is one of the most significant investments you'll make in your lifetime, so you want it to be something that makes you feel good.
If you've decided on your down payment and are ready to purchase a home, start the mortgage approval process with Rocket Mortgage® today.
Apply for a mortgage today!
Apply online for expert recommendations with real interest rates and payments.
Start Your Application