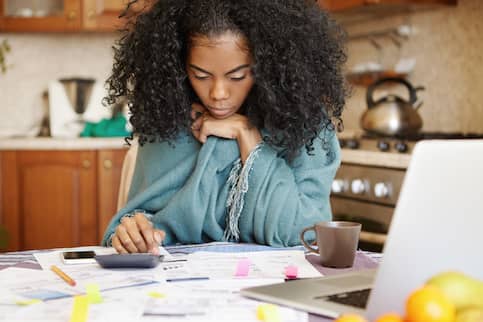 A Guide To Buying A House With Low Income
Published on June 15, 2022
Have you been wondering, "Can I buy a house with low income?" or "Is buying a house with low income even possible?"
The short answer: Yes!
It's a good idea to consider all your options before you embark on your home buying journey, especially when you have a low income. We'll walk through several options in this article so you can narrow down which opportunity makes the most sense for your needs.
Can I Buy A House With Low Income?
Buying a house with low income is possible, but it can also be challenging. There are some aspects of buying a home, such as having a good credit score and lowering your debt-to-income (DTI) ratio, which thrust your financial picture into the limelight.
Other options, such as the availability of low-income home options (like FHA and USDA loans), require you to compare and contrast programs side by side.
See What You Qualify For
Congratulations! Based on the information you have provided, you are eligible to continue your home loan process online with Rocket Mortgage.
If a sign-in page does not automatically pop up in a new tab, click here
How To Buy A House With Low Income
We'll walk through how to improve your credit score, lower your DTI ratio, make a large down payment, use a co-signer and research first-time home buyer programs in the next few paragraphs.
Here's how to buy a house with low income.
Improve Your Credit Score
Having a high credit score may make it easier for you to be approved for a mortgage if you have a low income.
But first, what exactly is a credit score? Your credit score is a three-digit number that shows how well you pay back debt. Credit scores range from 300 (poor) to 850 (excellent). If you need to raise your credit score, you can do so in several ways. Let's take a look:
Don't miss payments: Your payment history affects your credit score. From now on, do your best to stick to a steady habit of making every payment on time. Setting up automatic payments can help ensure that you never miss a payment, whether they go to your property owner or your utility company.
Get ahead of past-due accounts: If you're a tad bit behind on making payments to a particular creditor, get caught up in order to improve your credit score. Talk with your creditor to come up with a payment plan to get you caught up and avoid further late fees, if necessary. You may want to talk to a credit counselor to get all your past accounts in line.
Limit applications for new credit: Every time you apply for new credit, your credit gets dinged a little bit. Applications for credit are hard inquiries, which affect your credit the most.
Lower Your DTI Ratio
Lowering your debt-to-income ratio may make it easier for low-income home buyers to get approved for a mortgage. DTI refers to a comparison of your monthly debt payments against your monthly gross income, expressed as a percentage. You can calculate it by adding up your minimum monthly payments and divide this amount by your monthly gross income. Then, multiply this amount by 100.
You'll want to shoot for the lowest DTI ratio possible. Certain types of loans require a certain DTI. (We'll go over more information about these types of loans more in depth later on in the article.)
FHA loans: Maximum of 57% DTI
USDA loans: Less than 41% DTI
VA loans: Up to 60% in some cases
Conventional loans: Generally, a 50% DTI or less
Make A Large Down Payment
Making a large down payment may make it easier for a home buyer with low income to be approved for a mortgage. However, you may be thinking that making a large down payment may seem downright impossible.
Keep this in mind: Very few lenders require a 20% down payment for a mortgage. But, the larger your down payment, the more likely you are to come away with a lower interest rate, lower monthly payments and have a competitive advantage over other borrowers.
There are no-money-down payments available for government-backed lenders such as for VA or USDA loans. For these, you must find a lender that offers them and you'll need to meet the other requirements outlined by the Department of Veteran Affairs and the U.S. Department of Agriculture.
Use A Co-Signer
A co-signer is an individual who promises to assume financial responsibility if you happen to default on your loan. They can use their good credit standing to help you have a better chance of getting approved for a mortgage.
It's important for a co-signer to understand what they're signing up for. They take on the financial responsibility if you default, with no access to the deed of the home. Becoming a co-signer may harbor more risk than they're willing to take on.
Research First-Time Home Buyer Programs
First-time home buyer programs can help first-time buyers purchase a home. If you're purchasing a home for the first time, it's a good idea to take a look at the options available in your state. For example, there are first-time home buyer grants or loans and generally at the state and local level or through private sector and nonprofits in your area.
Low Income Home Loan Options
You may also be able to achieve homeownership through FHA, USDA, VA and other home loan options. We'll go over the details and eligibility requirements for each type of loan.
FHA Loans
Federal Housing Administration (FHA) loans are federally backed by the Federal Housing Administration and the Department of Housing and Urban Development (HUD). In other words, the FHA's mortgage insurance program offers low-income home buyers, or those with bad credit, the ability to qualify for FHA loans, which are secured by the government. They're also a great option for certain categories of low-income borrowers.
FHA loans can be a good option for those with low income because they offer lower credit requirements and income limits compared to conventional loans. You can qualify for an FHA loan with a 580 credit score and 3.5% down payment. Some lenders will allow a credit score as low as 500 with a 10% down payment.
You must prove that you have steady employment but no specific income level requirement. Furthermore, you will have to pay closing costs, the final fees to close on your loan, but they can be reduced.
Note that you must also adhere to the FHA mortgage limits based on location and property type and meet some other guidelines in order to qualify.
USDA Loans
United States Department of Agriculture (USDA) loans are government-backed loans and are also a good option if you want to get approved for a home loan with low income. They require no down payment and are for people who are looking into purchasing a single-family home in a rural or suburban home market.
You must qualify based on your ZIP code on the USDA eligibility map. In addition, the adults in the household cannot have an income of more than 115% of the greater of the U.S. median family income or the median income in your area for a family of your size.
You can use an income calculator to figure out where you stand. Although there are some loan limits based on your area, this could be a great option for adults with disabilities that have a lower income.
In addition, your debt-to-income ratio shouldn't exceed 50% and there is no specific credit score requirement to qualify.
VA Loans
Department of Veterans Affairs (VA) loans are federal loans designed to help veterans, active-duty service members and qualifying spouses achieve affordable homeownership. VA loans are backed by the Department of Veterans Affairs. They work well for eligible service members who need down payment flexibility and lower interest rates than conventional loans.
In order to qualify, you'll need to meet certain guidelines, both from the lender and the VA. You must have served for one of these time periods:
A minimum of 181 days of active service during peacetime
At least 90 consecutive days of active service during wartime
6 years of service with the National Guard or Reserves or 90 days under Title 32
You must also prove your eligibility by having a certificate of eligibility (COE) from the military.
The VA doesn't require a specific credit score to qualify, but you do have to prove that you have a stable income and a low DTI – the lower, the better. You also do not have to have a specific down payment amount handy.
HomeReady And Home Possible Mortgages
HomeReady and Home Possible mortgages are home loans financed through the Federal National Mortgage Association (Fannie Mae) and the Federal Home Loan Mortgage Corporation (Freddie Mac). They reduce the standard down payment, mortgage insurance for low to moderate-income home buyers.
They require lower down payments, a minimum credit score of 620 and you must not own any additional homes in the U.S. In addition, you must also attend homeownership education courses to qualify.
Good Neighbor Next Door Program
Individuals who "give back" to the community can become homeowners through the Good Neighbor Next Door Program. For example, law enforcement officers, teachers and firefighters can realize homeownership through this program. It can be a great option for those with low income as long as you choose an eligible single-family home located in a revitalization area.
Homeownership Voucher Program
The Homeownership Voucher Program (sometimes referred to as Section 8) helps ensure that low-income, disabled and elderly individuals can achieve homeownership as long as your income sits below 50% compared to the income in your local area.
You may also not have a criminal record or a public housing eviction history. The home you plan to live in must also meet HUD's Housing Quality Standards (HQS).
Mortgage Credit Certificate
A mortgage credit certificate is a homebuyer assistance program designed to help lower-income families afford a home. You can claim a tax credit for a portion of mortgage interest paid per year, up to $2,000.
To qualify, you must be a first-time buyer, meet specific income and purchase price restrictions and plan to use the home as your primary residence. Check with your state and local housing finance authority for more information.
The Bottom Line
Now that we've walked through how to buy a house with low income, you may feel more comfortable with the process.
It can be difficult for a person with low income to buy a home, but there are loans and assistance programs designed to help low-income buyers achieve their goal of homeownership. You may consider improving your credit score, lowering your DTI ratio, making a larger down payment, using a co-signer and researching first-time home buyer programs and/or low-income home loan options.
Ready to begin finding your home? Start your application online today.
Take the first step toward buying a house.
Get approved to see what you qualify for.
Start My Approval