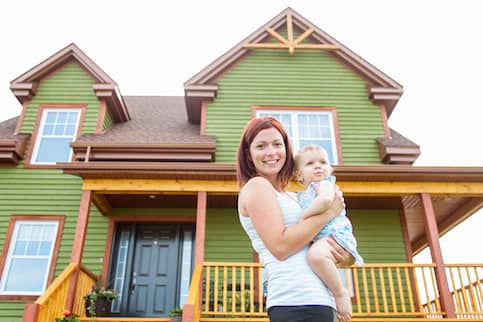 First-Time Home Buyers Class Guide: How To Use This Educational Resource
Published on May 16, 2022.
Buying a home is one of the largest investments you'll make in your lifetime, so you want to do it right. It's a great idea to take a class for first-time buyers before shopping so you're equipped to handle the situation you're about to face.
Apply for a Mortgage with Quicken Loans®
Apply online for expert recommendations with real interest rates and payments.
Start Your Application
What Is A First-Time Home Buyers Class?
If you're in the market to buy your first home, a first-time home buyer's class can help you become an informed buyer. You'll learn about buying a house and getting a mortgage, so the process is less overwhelming for you as you decide.
Most courses cover the pros and cons of owning a home, what can go right and what can go wrong. In addition, they go into detail about the mortgage process, what to expect and how to get around obstacles.
You can usually find classes both online and in person. Choose the one that suits your learning style and availability the most.
While each class differs, here are some of the most common topics covered in home buyer education courses:
The steps of the home buying process:

The home buying process has many steps. Understanding what's expected at each step and what comes next can help alleviate some of the stress of buying your first home.

The benefits of becoming a homeowner:

At first glance, owning a home may feel expensive and burdensome, but a class for first time home buyers can show you the benefits and how they may affect you in other areas of your life, such as tax benefits or growing your net worth.

Average closing costs: It's important to understand the full cost of buying a home. Unfortunately, many first-time buyers focus only on the down payment, only to be let down when you realize you need 3% – 5% of the loan amount for closing costs too. A first-time home buyer's class can help you understand everything that goes into buying a home.

Different types of home loans and loan programs:

Most first-time buyers don't realize how many loan programs are available. You may think you need a 20% down payment and perfect credit, and if you don't have those, you can't buy a home. That's not the case. A class for first time home buyers can help you see your options.

Learn the minimum credit score needed to buy a home:

You don't need perfect credit, but you will need a certain credit score to buy a home. Learn what credit score you need and even how you can get it if your current credit score falls short.

Learn about mortgage insurance, who pays it and how it works:

Too many first-time buyers are afraid of mortgage insurance when they don't truly understand what it is or how it works. A class for first time buyers can debunk the myths about mortgage insurance and show you how it can help you rather than hurt you.
A first-time home buyer course may be required for you if you are using a down payment assistance program or other financing program. Read the fine print or ask your servicer to help you understand the requirements before you look at homes.
Apply Online with Rocket Mortgage
Get approved with Rocket Mortgage® – and do it all online. You can get a real, customizable mortgage solution based on your unique financial situation.
Apply Online
The Pros And Cons Of Taking A Class For First-Time Home Buyers
A first-time home buyer's class has its pros and cons. Understanding both sides can help you determine if the class is right for you.
Pros
The advantages below are just a sampling of what you might enjoy when taking a class for first-time buyers. Of course, these benefits are what most first-time buyers appreciate and get out of a course, but you may find others as well.
Access to expert knowledge and advice for first-time buyers

Learn how to improve your credit score, so you get the best rate and terms available

Learn important terms like debt-to-income ratio, loan-to-value ratio, inspection, appraisal and title work

Understand eligibility for down payment or closing cost assistance programs

Learn the difference between preapproval and prequalification and when you should get either

Know how to understand the full cost of homeownership, not just the cost of your mortgage payment each month
Cons
There are only a few downsides to taking a class for first-time home buyers that you should consider.
The cost of the class (most aren't free)

You'll need time to dedicate to your class either in-person or online

It can be overwhelming to hear all the information at once

It can be required by certain assistance programs even if you know everything already
Where Can You Find A First Time Home Buyer Course?
There are many ways to find a first-time home buyer class, both in-person and online. For example, you may find courses through the United States Department of Housing and Urban Development (HUD) or organizations like Fannie Mae or Freddie Mac.
Many nonprofit organizations offer first-time buyer courses, as do credit counselors helping their clients find affordable housing.
If you're having trouble finding a class for first-time home buyers, consider asking your real estate agent or mortgage lender for referrals.
First-Time Home Buyers Class FAQs
Choosing the right first time home buyer's class can feel just as overwhelming as finding the perfect house. Find the answers to some of the most asked questions about first-time buyer classes below.
How long does a first-time home buyer program take to complete?
The good news is that most first-time buyer classes are brief. They take place over a day or two in 2- to 4-hour sessions. So, you don't need a lot of time to complete a course and yet can walk away with a lot of valuable information.
How much does a home buyers education course cost?
Home buyer education course costs can vary. Nonprofit organizations and credit agencies offer courses for less money to help low-income families buy their first home. In contrast, the more expensive courses are for average-income families looking for support before buying their first home.
No matter where you take your course, make sure you receive a certificate of completion to prove to your lender or the down payment assistance program that you completed it.
Should I take a free first-time home buyers class online?
It's always best to only attend first-time buyer courses approved by the U.S. Department of Housing and Urban Development (HUD). This ensures the course content covers everything first-time buyers should know, and that the class isn't a scam.
Beware of free or even low-cost online classes that promise to teach you "everything you need to know." If it's not approved by HUD, look elsewhere.
Do I have to take a first-time home buyers education course?
Most lenders don't require first-time home buyers to take an educational course. However, if you're securing down payment assistance or financial assistance, it may be required. Always follow the instructions provided to you to make sure you satisfy the requirement the first time.
The Bottom Line
First-time home buyers can often benefit from a class to learn everything they must know about the mortgage process, the total costs, and the ins and outs of homeownership.
Enrolling in a first-time buyers course can only benefit you as you'll come out more informed and ready to make the right decisions when buying your first home. If you'd like to learn more about first-time buyer programs and how you can benefit, click here.
Apply for a Mortgage with Quicken Loans®
Apply online for expert recommendations with real interest rates and payments.
Start Your Application