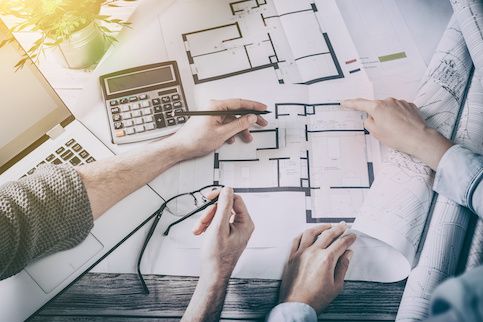 What's A Variance In Real Estate And How Can I Get One?
Published on July 27, 2020
To understand what a variance is in real estate, first you need to understand the concept of zoning. Without knowing what zoning means and why there are certain laws surrounding it, you won't be able to fully understand how a variance works in real estate and why you might need to get one.
Apply Online with Rocket Mortgage
Get approved with Rocket Mortgage® – and do it all online. You can get a real, customizable mortgage solution based on your unique financial situation.
Apply Online
Zoning Definition
You may notice as you drive around your town that similar buildings tend to be grouped together. Perhaps a certain section is dedicated to factories while another is primarily restaurants, stores and other businesses. You probably aren't likely to find a strip mall in the middle of a residential neighborhood or a factory squeezed between a coffee shop and a bakery. This is a result of zoning, the laws that allow local governments to regulate which areas of your city may have real estate and what kind of real estate they can have.
You may ask, "What are the categories of zoning?" Well, a few of the most common classifications are residential, commercial, agricultural and industrial zones. It can get more specific from there, but these are the broad categories most commonly used to define the types of real estate that can exist in various parts of a city or town.
The Benefits Of Zoning Laws
It's easy to see the benefit of zoning, with perks like keeping residential neighborhoods full of homes instead of plopping a noisy or smelly factory in the middle of your quiet and peaceful cul-de-sac. Heading out to do some shopping? Having commercial businesses all grouped in one place adds to the convenience.
In addition to convenience and preference, zoning helps protect home values. Having your neighboring buildings as houses is more likely to keep the price of homes in the area strong. Living next to a factory? Not so much. Knowing this, it becomes clear how limiting what can, and more importantly can't, be built in an area and deciding how private property can be used through zoning can make a huge difference regarding the overall desirability of a municipality.
Sometimes, though, property owners may want to deviate from zoning laws for a variety of reasons. If they want to go this route, they need to seek a variance.
What's A Variance In Real Estate?
While the benefits of zoning laws are pretty apparent, they are, in truth, an encumbrance on private property rights. This means property owners are bound to follow these local laws while enjoying the use of their property.
Looking to put up a fence in the front yard? Zoning laws may restrict how tall or private it can be. Hoping to add to your backyard by building a chicken coop? Zoning laws may become a bit of an obstacle if that's not something allowed in your specific part of town. These laws dictate what can and can't be built on your property, with restrictions related to size, location, use and more.
This doesn't only apply to things you're contemplating adding to your house, but also the actual house itself. How far the home is set back from the road in front and on the side is just one example.
Keep in mind that even if these laws were followed during initial construction of your home, they may come into play again if you're looking to add an addition. If the house is already near the imaginary line that marks how close to the road you can be, your addition will need to go in a different direction, unless you get a variance.
Beyond the physical aspects of your home, zoning can also regulate what it can be used for. Looking to set up a home office or business? Zoning might become a serious obstacle to fulfilling that dream.
If your vision for your property and zoning laws don't quite see eye to eye, there's still hope. This requires an application for a variance or a special permit from your municipality's zoning authority. Essentially, a property owner requests a variance when their planned use of their property deviates from local zoning laws designed to protect property values. If granted, a variance acts as a waiver to some aspect of the zoning law or regulations.
Apply Online with Rocket Mortgage
Get approved with Rocket Mortgage® – and do it all online. You can get a real, customizable mortgage solution based on your unique financial situation.
Apply Online
How Do I Get A Variance?
As with most bureaucratic endeavors, local rules will vary from municipality to municipality, but generally, the process of getting a variance begins with a variance letter. This can be written by you as the property owner or by your attorney. When undertaking a process like this, it's always a good idea to talk to an attorney about strategy and local rules and regulations.
The letter should explain exactly what you want to do on the property and why a variance to the zoning laws is needed to complete your project. For example, if you're interested in building a new home on your property but zoning laws regarding how far from the road you can build (setback laws) are messing with your plans, you might write something like this letter:
"This is a request for a variance on the side yard setback requirement for an existing nonconforming lot. The intention is to tear down and rebuild a new single family residence with a one car garage. The proposed new home is 40 feet wide. Under the current code, the side yard setback requirement for my particular noncomplying lot is 5 feet. However, in an effort to provide a greater setback between the house on the north side of the proposed new house, which would be a benefit to both houses, I'm requesting a variance to permit the relocation of the house on the site plan 5 feet to the south."
Pretty simple, right? Just figure out how your needs differ from the zoning laws and then ask for a slight adjustment. Once the letter is received by the local zoning authority, they'll notify neighbors or other community stakeholders who might be affected by the grant of a variance. Once that's complete, a hearing is scheduled where the homeowner can present evidence on behalf of the variance request.
Anyone who opposes the zoning change will be heard at the hearing as well, and then the zoning authority votes on the question of whether a variance should be granted, taking into account not only testimony but the effects the variance might have on home values, the neighborhood's appeal, traffic, noise and a slew of other possible factors.
If they deny the request, there's usually an appeals process the homeowner can begin to undertake. This all can vary greatly depending on the municipality, so be sure to find the exact process for submitting a variance in your neck of the woods.
Variance Request Process Example
As a random example, here is the variance request process for Columbia County in Georgia:
An application for a rezoning is submitted to the Planning Department.

The request for rezoning is advertised via a legal ad in the newspaper, rezoning signs on the property in question and listed on the county website.

The Planning Commission holds a public hearing and hears arguments for and against the rezoning. The applicant will be allowed to address the Commission first and may be invited back up to answer questions or concerns raised during the hearing. The Planning Commission will then vote on the application.

The application is heard by the Board of Commissioners, which has the final authority over all rezoning and variance requests. The Planning Commission's vote acts as a recommendation to this body. The Board of Commissioners votes on the application; their decision is final. If your rezoning request is denied, no new applications can be submitted for 6 months.
Variance FAQs
Hopefully you're gaining a general understanding of how a variance works at this point. However, with any process involving local governments and rules that vary by municipality, questions are sure to arise. Let's take a look at a few of the most common ones.
Does the property variance run with the land?
In other words, is the variance granted to a person or a place? Does the variance expire when it's sold to a new owner? How does this vary (no pun intended) depending on the use of the variance? Let's dive in and answer a few of these questions.
If a variance has been vested, meaning it's been acted upon, it'll stay with the property to prevent a future charge against the new owner of violating a zoning regulation. However, if the variance hasn't been acted on, there's no guarantee that a new homeowner will be granted the same variance.
For example, if a homeowner successfully seeks a variance for a project but then decides to sell the property before acting on the variance that was granted, the new homeowner can't rely on the previous owner's variance. They may be subject to a charge of violating zoning ordinances if they complete the work that was dependent on the previous owner's approved variance. However, if the variance holder makes the change to the property, the variance has vested, and that variance will run with the property to all the subsequent owners.
If I get the variance, am I obligated to make the change?
No, unless you want to make sure it's vested with the property. Getting a variance in no way obligates you to make the change you requested, it just means you are allowed to if you want to.
For example, let's say your family is growing and you decide you want to add an addition to your home. During the planning phase you realize that to do the work you want done, you're going to need a variance to the setback zoning rule. You go through the process outlined above and your variance gets approved.
Now that you have the green light from the city to build your addition the way you want it, you start the process of getting approved for financing the project. Unfortunately, the financing falls through and you're stuck with a variance that you can't afford to use. While it is disappointing that you cannot go through with your plan, the silver lining here is that there's no penalty for not exercising the variance.
Does a variance expire?
While you aren't obligated to make the changes you ask for when you receive a variance, the amount of time you have the option to do them may vary. Essentially, when your variance gets approved, there may or may not be an expiration date. This requires the change you've been granted to be made within a year or some other specified time period.
The reason variances often have an expiration date is simply that zoning decisions are time sensitive and apply to the current state of the area indicated. After all, a land use that's acceptable in a community one year might not be in the next. That said, remember that once a variance is vested it remains, even if the zoning preferences and laws of the community change over time. To avoid letting your variance expire, make sure you're ready – from both financial and emotional perspectives – to undertake the project before you ask for permission to get things going.
The Bottom Line
: Variances Can Help Soften Zoning Regulations
Zoning laws can feel like tough restrictions to private landowners, but hopefully this article illuminated the important role they play in creating great communities. That said, if the zoning rules in your specific town or city don't mesh with what you have planned for your home, there's still hope for a resolution.
Variances provide an avenue for you to explore that may allow you to reach your goals for the land you own without changing or defying the zoning of an entire area. Now that you understand the key concepts and the process for variances, you're ready to think about how you want your home to evolve in relation to the community around it.
As always, the more you know the better off you'll be, so be sure to explore this and other topics in the Learning Center.
Apply for a mortgage today!
Apply online for expert recommendations with real interest rates and payments.
Start Your Application