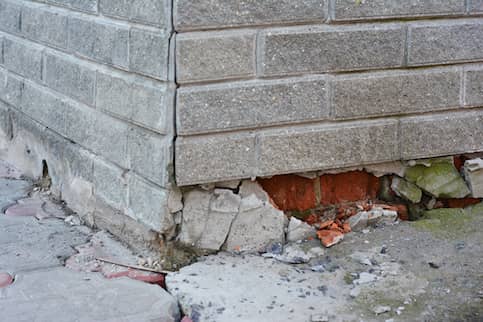 When To Walk Away From Foundation Issues When Buying A House
Published on June 22, 2023
Finding the right place to call home can be difficult. On top of finding a home that meets all of your space needs and aesthetic preferences, the structural integrity of the building is critical. If you uncover foundation issues in a house, it could spell disaster for the deal. As you navigate the home purchase process, learning when to walk away from foundation issues is essential.
What Is A Foundation?
The foundation of a house serves as the lowest load-bearing portion of the structure. Since the foundation supports the house, issues with this key component can lead to significant structural problems.
But not all foundations look the same. Here's a closer look at some of the most common types of foundations:
Slab: A slab foundation consists of a single slab of concrete, usually 4 – 6 inches thick. The house is built directly on top of the slab. Although there is no storage space, this type of foundation is less susceptible to insect infestations.
Basement: A basement foundation is built below ground level and is often large enough for someone to stand in. With that, many homeowners turn basement foundations into extra living space.
Crawl space: A crawl space foundation elevates your house from the ground. Typically, this is approximately 1 – 4 feet of space to hold home systems, like electrical or plumbing equipment.
Pier and beam: Piers and beams made of concrete and steel poles elevate homes several feet off the ground, which could protect a house from flooding. However, these are often expensive to build, and flooring issues are common.
Stone: A mix of large stones and concrete come together to form a stone foundation. The aesthetics may be appealing, but the high labor costs and cracking issues make this an unpopular option.
See What You Qualify For
Congratulations! Based on the information you have provided, you are eligible to continue your home loan process online with Rocket Mortgage.
If a sign-in page does not automatically pop up in a new tab, click here
Common Signs A House Has Foundation Problems
If a house has foundation problems, you'll likely be able to spot some signs of a deeper issue. While you can look for these signs yourself, an experienced inspector should be able to highlight any signs of a foundation issue.
Below are some of the warning signs to look for:
Uneven floors
Cracks in walls or floors
A wet basement
Gaps between windows and walls
Leaning chimney
Warped ceilings
Mildew in the basement
What Causes Foundation Problems?
Foundation problems can stem from many different sources. But some of the most common sources of foundation problems include:
Poor drainage around the foundation: When water doesn't drain properly, over time it can diminish the integrity of your foundation. Generally, routing water away from the house is required to resolve this issue. Professionals may recommend grading your yard, installing a French drain or installing extended downspouts.
Expansive soil: Changing water volume around the foundation can cause the soil to expand and contract, which can lead to cracks. When cracks happen, water can get into the foundation and cause more issues.
Improper construction: If the foundation was built incorrectly, it may require a significant construction project to make things right.
Termite damage: Termites can cause large amounts of damage, specifically to houses with a crawl space or pier and beam foundation. The first step is to eliminate the infestation. From there, the damaged wood may need to be replaced.
How Are Foundation Problems Repaired?
Like most other home issues, many foundation problems can be repaired. Here's a look at some of the most common repair strategies.
Structural Damage
If foundation issues lead to structural damage, the first step is to find the root of the problem.
When a professional determines the cause of the foundational issues, they will advise the best course of action. For example, you may need to install concrete piers to provide more support to damaged areas of the foundation.
Once the foundation issue is stabilized, the contractor can move on to repairing any damage caused in the rest of the home.
Water Damage
Water damage can come in the form of a big flood or a small leak. In either case, water damage can lead to mold and indicate an underlying foundation issue.
Once a professional finds the source of the leak, they can help you build a strategy to eliminate the issue. In general, you'll need to consider rerouting water patterns away from your house. For example, you might need to install a French drain or grade your yard.
Home System Damage
Some home systems may be embedded in your basement. For example, many crawl space basements include space to store electrical and plumbing systems. If the foundation has issues, it's possible these key systems will be damaged.
Typically, you'll need to work with a specialized company to fix home system damage. For example, you can hire a plumber to inspect and fix any issues in your home's plumbing system, even if some of the pipes are in your foundation.
Cost Of Repairing Foundation Issues
Foundation issues are fixable. But you won't be able to resolve these issues for free. Below is a closer look at what you should plan to budget for based on HomeAdvisor's average ranges as of June 2023.
| | |
| --- | --- |
| Type Of Repair | Average Estimated Cost To Repair |
| House Leveling Or Raising | $1,000 – $3,000+ |
| Cracking | $250 – $800 |
| Leaking | $2,300 – $7,300+ |
| Bowing Wall Stabilization | $4,000 – $12,000 |
Of course, you'll need to get an estimate from contractors in your area for an exact cost. The severity of the issue, the cause of the issue and the repair method will all factor into your final cost.
Tips For Buying A House With Foundation Problems
If you're considering buying a house with foundation problems, take advantage of the following tips.
Get A Foundation Inspection
If you suspect foundation issues, it's essential to pay for a foundation inspection. Through the inspection, you can find out the cause of the issues and determine if the issues can be fixed for the long term.
Without a clear understanding of the issue, it's impossible to move forward with confidence. But if you know the extent of the issue, and estimated repair costs, you can make an informed decision about buying the house.
Negotiate Price With The Seller
When you find any issues with the house, including foundation issues, you have an opportunity to try to negotiate the house price with the seller over repair costs. Use the issues found in the home inspection to justify a lower price point.
In general, sellers might be willing to work with you. However, you might have more trouble getting a seller to budge on the price if you're buying in a seller's market.
Obtain A Mortgage For Distressed Properties
Most lenders require the home to be structurally sound. But some government-backed mortgages are designed to help home buyers fix up the property.
Your options include the FHA 203(k) rehabilitation loan, the USDA rehab loan, Fannie Mae's HomeStyle Renovation loans and Freddie Mac's CHOICERenovation loans. With access to the funds you need to cover major repairs upfront, moving forward with a house that has foundation issues can make sense. Rocket Mortgage® does not offer any of these or other renovation loans.
Your Remodel Is Waiting.
Explore personal loan options to finance your home improvements.
Get Started Today
When To Walk Away From Foundation Issues
It may make a lot of sense to walk away from foundation issues in a home if the cost of repairing the issues is more than what the seller is willing to compensate by lowering the home's price, or if the scope of damage and repairs is over your budget and time-consuming.
Here's when you might want to walk away from the deal:
When the cost of repairs is more than the seller is willing to take off the price of the home
When the area has unstable soil, making the issue likely to occur again
When the property has drainage issues that you might not be able to resolve
The Bottom Line: Don't Sink Under The Weight Of Foundation Issues In A House
If you spot major cracks or uneven floors, the house might have foundation issues. In some cases, minor foundation issues don't have to be a deal-breaker. However, it's important to run the numbers to make sure buying a house with foundation issues fits in your budget.
As you move forward with your homeownership goals, take time to start the mortgage application process today.