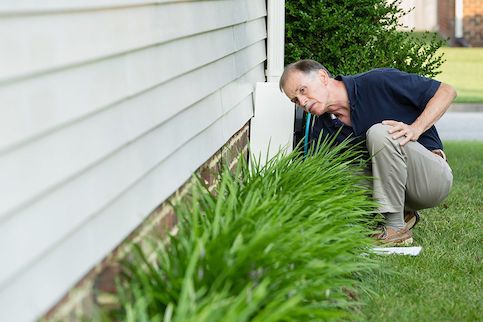 Appraisal Vs. Inspection: How Are They Different?
Published on October 29, 2021
Contrary to what you may have heard, appraisals and inspections aren't the same. While both services include assessing the property, they serve different purposes and benefit the prospective homeowner in different ways. Appraisals help you understand a home's value, while inspections help you understand the details of a home's condition.
Want to learn more? Let's take a deeper dive into how appraisals and inspections differ and how each can help you as a home buyer.
What Is A Real Estate Appraisal?
A process required for many mortgage loans, an appraisal provides an estimated value of a home. By law, appraisals are done by licensed third parties not connected with a mortgage company. To determine the value, an appraiser factors in the home's location, its condition and the value of similar recently sold houses in the area. These are also known as comparables, or comps.
Appraisers may gather information online, by walking through the home, getting information from a third party who collected information on site or with a drive-by appraisal.
After collecting and analyzing comp data, an appraiser creates a final report of the home's market value. This report helps lenders make a final decision on whether to approve a loan. The lender typically can't lend more than 97% of the appraised value of the home depending on the structure and type of loan you're getting.
If the appraisal comes back lower than the offer price, you'll have to pay the difference out of pocket, renegotiate with the seller or walk away from the deal. If the appraisal comes back higher than the offer price, you'll automatically have more equity in the home.
See What You Qualify For
Congratulations! Based on the information you have provided, you are eligible to continue your home loan process online with Rocket Mortgage.
If a sign-in page does not automatically pop up in a new tab, click here
The Home Appraisal Process
The appraisal process most often includes walking through the home, researching comparables and creating a final appraisal report. Typically, this process begins after an offer is accepted. Since lenders stand to lose the most if a home is inaccurately priced, they'll usually order the appraisal. However, buyers customarily foot the bill.
After your lender orders the appraisal, a neutral third party examines the home's interior and exterior, analyzes comparables and forms a professional opinion on the home's value. Appraisers present this information in a report given to both the lender and borrower. These reports follow formats set forth by the Uniform Standards of Professional Appraisal Practice to maintain ethics. As long as the appraisal doesn't conflict with any offer contingencies, the lender will begin finalizing your loan terms. You'll receive closing documents and close on your loan knowing the selling price is fair.
When Is An Appraisal Required?
Most lenders require an appraisal before you can close on your loan. However, in some rare conditions, an appraisal may not be necessary.
In October 2019, federal regulators effectively changed the threshold for appraisals from $250,000 to $400,000. This doesn't mean all home sales under $400,000 are exempt from appraisals. And, this new regulation doesn't apply to mortgages held or backed by the Federal Housing Administration, Department of Housing and Urban Development, Department of Veterans Affairs, Fannie Mae or Freddie Mac.
Essentially, this change affects privately held mortgages that aren't federally backed, and even these lenders may still choose to require appraisals. With about 70% of single-family homes financed through federally backed mortgages and lenders looking to protect their financial interests, it's likely you'll need an appraisal. In fact, if you're using an FHA or VA loan, you'll be required to have a VA or FHA-approved appraisal before closing.
Fannie Mae and Freddie Mac have their own guidelines regarding when you can get an appraisal waiver. The rules can vary depending on whether you're looking to purchase or refinance and can be a little complicated, so we recommend speaking with one of our Home Loan Experts. It often comes down to factors including the number of units in the home you're purchasing and your down payment or equity amount.
What Are The
Benefits Of An Appraisal?
Just because an appraisal is required doesn't mean you can't take advantage of this service. Here's how an appraisal will benefit you:
It helps you get approved for a mortgage.
It ensures you're not paying more for the home than it's worth.
It provides a reason to renegotiate the sale price of the home if the appraisal comes in low.
It ensures you pay the right amount of property taxes.
What If The Appraisal Is Low?
Having the appraisal come in low can be stressful for both the buyer and seller. Low appraisals aren't common, but they do happen – especially in a seller's market. If enough homes aren't on the market to satisfy buyer demand, home prices can skyrocket. Some buyers may even be willing to pay over appraised prices to be competitive.
The problem is that what people want to pay may rise faster than appraisal data for sales even in the very recent past if the market is really hot. As a seller, you can take a few steps to possibly prevent the deal from falling through if the appraisal comes in low. For example:
Lower your asking price.
Ask the buyer to pay cash over appraisal.
Dispute the appraisal.
A low appraisal may work in your favor if you're a home buyer, because the seller may be willing to lower the asking price. This means you can walk away confidently knowing you paid a fair price. However, the seller may be willing to hold off on the sale in hopes of receiving a better – or cash – offer down the road. Having a real estate agent who knows the market can help you make informed, competitive decisions during your transaction.
What Is A Real Estate Inspection?
A real estate inspection is a thorough examination of a home to determine its present condition and uncover any potential red flags. During the inspection process, a home inspector will examine the structure, roof, attic, basement, electrical system, plumbing, exterior and other items on their inspection checklist. If you're present during the inspection, the inspector will take you through the process, point out issues and reveal anything that could be a problem in the future.
After the inspection, you'll receive a report of the findings. This report will describe what was inspected and list anything that requires repair. Based on these findings, you may want to negotiate with the seller to have them complete the repairs or pay part (or all) of the repair costs.
Apply for a mortgage today!
Apply online for expert recommendations with real interest rates and payments.
Start Your Application
The Home Inspection Process
The real estate inspection process involves checking the condition of a home. Typically, this process begins when requested by the buyer as a contingency in the offer. If the offer is accepted, the buyer can then hire an inspector of their choice to examine the home's structural integrity.
An inspector looks for major safety issues or damage in a home, such as:
Exterior (Is the home structurally sound?)
Roof (Is the roof old or damaged?)
Electrical system (Are there safety issues? Does the electricity work?)
Plumbing (Are there water leaks or sewer line clogs?)
Water (Is there water damage? Is water pressure at a safe level?)
HVAC systems (Does the heater or AC system work?)
Inspections can help you catch many problems or potential problems before buying a home, but your inspector may not find them all. Some potential issues require special equipment or may need to be ordered separately. These include:
Radon testing
Pests or termites
Chimney inspections
Mold inspections
After an inspector examines the home, they'll report findings to the buyer. You may even be able to request a walkthrough to have issues pointed out directly. After an inspection report is available, the buyer and seller can negotiate repairs or other contingencies. If the two parties reach an agreement, the home sale moves forward.
When Is A Home Inspection Required?
While an appraisal is almost always required, inspections generally aren't. Most of the time, the buyer can decide whether to request an inspection. However, an appraiser is required to do a basic check of the health and safety considerations surrounding a property. If they have concerns, they may require that you get certain things inspected.
In a competitive market, some buyers consider waiving inspection contingencies to appeal to sellers. However, it's important to remember inspections can help protect you from financial risks. If you aren't sure whether you should have an inspection done, consider consulting your real estate agent or another real estate professional.
What Are The
Benefits Of An Inspection?
An appraisal is generally a requirement for a mortgage because it helps protect the lender and prevents the borrower from paying too much for a property. An inspection should arguably also be a requirement because it's in the buyer's best interests. Here's how you can benefit from this service:
It can help you protect your investment and reduce potential risks.
It will help you determine whether you should buy the home and then help you feel confident in your decision.
It will help you feel safe and comfortable living in the home.
It will provide a better understanding of your home's condition.
You'll learn more about the intricacies of your home.
If you're building your home, it will ensure proper construction was completed.
It can provide you leverage when negotiating with the seller.
Home Inspection Vs. Appraisal: What's The Difference?
Plain and simple, a home appraisal determines the value of the home while a home inspection determines the condition. And since the two processes serve a different purpose, a few other differences exist between a home appraisal versus an inspection:
Home appraisals are almost always required by a lender, while home inspections typically aren't.

You must set up an inspection yourself, while the lender will order an appraisal for you.

An appraisal may impact your ability to get the loan amount you need, but an inspection typically won't.

Appraisers typically only spot items visible to the naked eye, whereas inspectors use special devices and training to uncover deeper issues.

Home buyers are allowed and encouraged to walk through the home with the inspector during the inspection. Typically, an appraiser will go through the appraisal process alone.

An inspector will explain and educate during the interactive process. An appraiser won't tell you their findings until they complete their report.

A home inspection only examines the condition of the home when making the assessment. A home appraisal considers the condition of the home, comparable home prices, lot size, home features, area crime rates and school zones.

The inspector and appraiser have a different set of skills, are trained and certified in different processes and have different areas of expertise.
The Similarities Between An Inspection And An Appraisal
While they have different processes and serve a different purpose, appraisals and inspections do have the following features in common:
They both benefit the homeowner, as an appraisal ensures the home is worth what you've agreed to pay for it, while an inspection guarantees it's safe to live in.

Both will uncover issues that may affect the sale as well as help you feel secure in your decision to purchase the home or walk away from the deal.

Both services are completed by a third-party professional who has nothing to gain or lose from the results, so you can feel confident in their findings.

Usually, the prospective homeowner pays for both the appraisal and the inspection.

While it may be more expensive to get an inspection along with an appraisal, both are very important.
Apply for a mortgage today!
Apply online for expert recommendations with real interest rates and payments.
Start Your Application
Why Should You Get A Home Appraisal And An Inspection?
The home assessment that happens during the appraisal should never be used in place of a home inspection. An appraiser seeks to find the value of the home, so their inspection, of sorts, will be different from that of an inspector who seeks to find issues with the home. The appraiser and inspector will be focused on different aspects of the home as they walk through it.
The inspection that happens during the appraisal process won't be nearly as in-depth as a separate home inspection. As the potential homeowner, you will be best served to get a formal inspection along with your appraisal.
Wondering whether you should get an appraisal or inspection first? Usually, it's best to put the inspection first. If expensive repairs or deal breakers come up during the inspection, the appraisal becomes a moot point. This means planning the appraisal after inspection may wind up saving you time and money.
Choosing The Right Inspector
A home inspection won't be as great of a benefit to you if you hire the wrong person for the job. When choosing an inspector, seek recommendations from your real estate agent, family members or friends.
Once you get a name, do your research on the inspector and their company by asking for references and reading online reviews. You'll want to work with someone who's certified and insured and won't be influenced in their examination. That means not hiring someone who also does repairs and renovations, because they may make recommendations based on future business they could get from you.
If possible, attend the inspection so you can ensure you're getting a thorough assessment, learn more about the home and ask the inspector questions as you walk through the house.
Appraisal And Inspection Costs
While inspections and appraisals are invaluable for home buyers, they do come with a cost. According to HomeAdvisor, as of late February 2023, you could expect to pay $313 – $421 for an appraisal and $281 – $402 for an inspection. Of course, the price for either service may go up if you have a larger home, a multi-unit home or a complex property. With a larger home in a high-cost area, you could pay upward of $600 or even as much as $2,000 for an appraisal, so it's important to remember costs do vary.
The Bottom Line
The title of this article is "Appraisals Vs. Inspections: How Are They Different?" Though it may sound like it here, appraisals and inspections actually aren't in competition. Both services work together to protect you and ensure the large investment you're making is a good one. That's why it's widely recommended you have both completed when you're going through the home buying process.
Ready to get started on your home buying journey? Talk with one of our Home Loan Experts today at (888) 452-0335!
Apply for a mortgage today!
Apply online for expert recommendations with real interest rates and payments.
Start Your Application