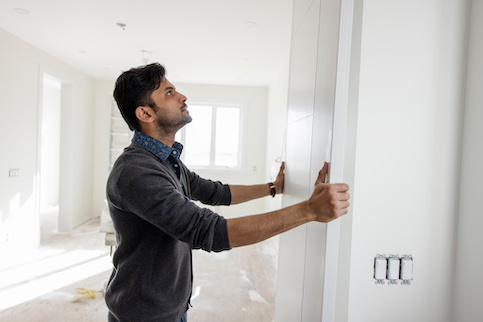 Pre-Inspection: What Is It And Should You Get One?
Published on August 23, 2022
Did you know that you can order a pre-inspection for your home before you put it on the market? You might consider getting a pre-inspection as a way to eliminate surprises before you launch into the home sale process.
Let's take a look at the prevailing question, "What is a pre-inspection?" and walk through some details you should know before you decide whether to add a pre-inspection to your to-do list.
Find A Mortgage Today and Lock In Your Rate!
Get matched with a lender that will work for your financial situation.
Get Started
What Is A Pre-Inspection?
When selling a house, a seller can order a pre-inspection before they put their home on the market so that they're aware of any potential issues with the home. They can then use this information to get a jump start on any repairs that buyers may want resolved before the home is sold.
Some examples of home issues that could reveal themselves in a pre-inspection include:
Faulty wiring
Roof deficiencies
Inadequate ventilation/insulation in attic
HVAC system defects
Plumbing problems
Other deficiencies and problems
What To Expect During A Pre-Inspection
Pre-inspections differ from regular home inspections that occur during the home buying process. The biggest difference between a regular home inspection and a pre-inspection is that the home seller pays for a pre-inspection, whereas with a regular inspection, the home buyer pays for that.
Let's take a quick look at the pre-inspection process below:
1. Hire a professional home inspector to go through a checklist of items to inspect in your home. Take a look at the list available on the American Society of Home Inspectors (ASHI) and the International Association of Certified Home Inspectors (InterNACHI) to find a reputable home inspector in your area.
2. You may choose to limit an inspector's search to specific items you have concerns about or you may want to have them check the whole home. The inspector can investigate the following:
The structure of the home
Appliances
Plumbing
Electrical systems
Basement areas
Garage
Rooms in the home
Roof
Yard
Deck and porch
3. Once the pre-inspection is finished and you have the inspection report, you can decide whether to make the repairs. You may want to consult a real estate agent or REALTOR® to find out how potential issues will affect the sale of your home. Some states require you to sign a disclosure report acknowledging that you know about potential problems with the home. This report also makes buyers aware of these issues.
How Much Does A Pre-Inspection Cost?
A home inspection typically ranges from $280 – $400, but the total will depend on general costs in your area. If you live in a high-cost area, you may pay more. If you live in a lower-cost area, you may pay less.
Pros Of Getting A Pre-Inspection
There are some pros and cons of getting a pre-inspection. Let's take a look at some of the benefits of getting one.
You'll Know Of Any Issues Ahead Of Time
Ordering a pre-inspection allows you to know about any issues with the home ahead of time. If you unknowingly have some cracks in the foundation of your home, a pre-inspection will make you aware of them and possibly preempt some action on your part before you sell. Knowing ahead of time also helps you consult with a real estate agent so you're aware of the impacts of having that issue on your property and how it may impact the home's sale price.
You Can Start Making Repairs
One of the major benefits of a pre-inspection is that you can make repairs before you sell. If you know ahead of time that you'll have to replace the HVAC system or find out before you sell that you need a new roof, you can make those repairs, especially if it's likely that a buyer will need to have them done prior to moving in.
Buyers May Feel More Confident
Nobody, especially buyers, wants to hear about a major problem with the inspection when a home is under contract. One headache in real estate occurs when a home inspection contingency must be acted upon. The home inspection contingency gives the buyer the right to have the home inspected during a specified amount of time and could even cancel the contract if the inspection uncovers problems with the home. In most home sales, the buyer agent will likely write it into the contract.
Communicating to the buyer that you've already done the hard work of getting a pre-inspection (and have already made the subsequent repairs) can help buyers feel that the home is up to par with their expectations.
Buyers Won't Have As Much Room To Negotiate
Buyers won't be able to negotiate a purchase price quite as easily when repairs have been made after problems have presented themselves after a pre-inspection. If everything in the house is sound, it's likely that the buyer will have less room to negotiate the listed sale price of the home.
See What You Qualify For
You can get a real, customizable mortgage solution based on your unique financial situation.
Get Started
Cons Of Getting A Pre-Inspection
What about the cons of getting a pre-inspection? Let's take a look at a few reasons why you may want to consider forgoing a pre-inspection altogether.
You'll Have To Pay For It Yourself
If you're the seller and you want a pre-inspection, you must hire the home inspector and pay for these services yourself. On the other hand, if you choose to wait for the regular home inspection, the buyer will pay for it.
You'll Have To Disclose Major Issues
In many cases, you will complete documentation in the form of a Seller's Disclosure form, also called a Seller's Disclosure statement. This means that you share information with the buyer about any issues with the home that you already know about (with the information gained during your pre-inspection during the closing process). The downside is that you can't keep any information under wraps (though the inspection would likely turn up issues anyway).
Buyer's Inspection Could Reveal Issues That The Pre-Inspection Doesn't
Ordering a pre-inspection might be a moot point because you could just wait for the formal inspection to reveal issues. If you are confident that you won't face any issues with the home, you may just want to wait until the buyer chooses to have a home inspection done. (Remember that some buyers choose not to have the home undergo an inspection.)
Should You Get A Pre-Inspection Before Listing Your Home?
There's no right or wrong answer as to whether you should get a pre-inspection. However, it's a good idea to carefully consider the pros and cons of getting a pre-inspection before listing your home so you make an informed decision about what's right for your situation. Consider asking a real estate agent for their opinion.
The Bottom Line
There are several reasons you may want to get a home inspection, including that you'll know about issues ahead of time and can make repairs. Buyers may also feel more confident and won't have much wiggle room in negotiating the home price – a major benefit if you're the seller!
However, the downsides include the fact that as a seller, you'll pay for the home inspection yourself and will have to disclose any major issues. Furthermore, the buyer's inspection could reveal issues that the pre-inspection doesn't.
Looking to buy a new home? The first step is to get approved for a mortgage.
Find A Mortgage Today and Lock In Your Rate!
Get matched with a lender that will work for your financial situation.
Get Started