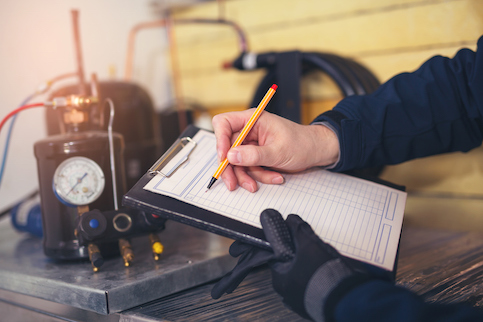 What You Need To Know Before Hiring A Home Inspector
Published on September 9, 2019
Congratulations! You put in an offer to buy a home, and it's been accepted! Now it's time to get a home inspection to make sure you are willing to move forward with the purchase.
Most potential home buyers choose to include an inspection as a contingency in the purchase agreement. It's a wise move. The last thing you want is to buy a home without realizing that there's a significant foundation or roof problem.
If this is your first time buying a home, you're probably not familiar with what to look for in an inspector or even know how to pick the right one. Here are a few things you need to look for and be aware of before hiring a home inspector.
Ask For Referrals And Check Reviews
Who do you trust the most? Most likely, it's your friends and family. When researching home inspectors in your community, you want to reach out to inspectors whom your friends and family would recommend and trust.
If you have a friend and family member who recently bought a home and were impressed with their inspector, they may be a good candidate. Keep in mind that you may have to speak with several inspectors before deciding to go with the one you feel comfortable with.
Next, check their reviews. Browse reviews on sites such as Angie's List, Yelp and Google. You should be able to determine if the inspector is a good fit for your home by the types of reviews you see.
Interview Your Potential Candidates
Once you have a reputable inspector in mind, reach out to them. There are several questions you will want to verify before moving forward. Here are a few questions to ask your inspector before hiring them.
Are you certified and licensed? Some states don't require a certification or a license. However, most new home buyers seek to find a certified inspector. If your home inspector has a certification or license, you will know that they have been professionally trained and had to complete course work.
Are you insured and bonded? By having insurance, the home inspector is covered in the case that there's a mistake in their inspection report and the new homeowner decides to take legal action. For example, if the inspector misses something that ends up costing thousands of dollars in repairs and the inspector doesn't carry error and omissions insurance, the buyer is liable and will have to pay for correcting the mistake.
Are you a full-time home inspector? If they are, then you know that the demand for their services is high enough to make a living out of it, possibly indicating that they are good at what they do.
How long will the inspection take? If it takes less than two hours, the home inspector may not be spending enough time to do a thorough inspection.
Will you provide a full report of the inspection? What will this report include? Does it include pictures? Do you have a sample? How long will it take for me to receive it? By asking to see a sample, you can determine if you'll be able to understand the reporting style. Also, you should be able to receive a report within 24 hours of the inspection (pending any home tests that need longer to be completed).
Are you a member of a professional home inspector association? Some of the largest associations include the National Institute of Building Inspectors (NIBI), the American Home Inspectors Training (AHIT), the American Society of Home Inspectors (ASHI) and National Association of Home Inspectors (NAHI). If they are members of any of these organizations, ask for their membership ID.
How do you keep your expertise up to date? What training do you have? This will give you an idea of how serious and professional the home inspector is. A good inspector will stay up to date on their training.
Can I get names and contact information of your last three references? You're really interviewing this person for a job. It makes sense that you do your due diligence before trusting them with such a large purchase.
Watch Out For Red Flags
You need to be there while the inspection is underway. If the inspector insists that you don't need to be there, this may be a red flag. You should be with them walking through your soon-to-be home and observing anything they may see as a problem or potential issue.
There is a chance that you will need some home repairs. When conducting your interview with your potential inspector, ask if they can do repairs based on the inspection. If they say yes, you may want to question their motives for the inspection, as this is seen as a conflict of interest.
Understand What Your Home Inspection Will And Won't Cover
Before your home inspection, it may be a good idea to understand what your home inspection will and won't cover. You can read the Standard of Practice as well as the Code of Ethics for home inspectors, made available by American Society of Home Inspectors. Both publications give you guidelines for what you should expect from your home inspection.
Most of the items you can expect to be covered by a home inspection are visual. Most of the time home inspectors do not take a deep dive in the structure of the home. Some items your home inspection should cover are:
Central heating
Cooling systems
Attic and visible insulation
Plumbing and electrical systems
Roof
Walls
Some features your home inspection may not cover are:
Warped floors
Permanent pet or cigarette odors
Septic tank systems
Landscape
It's easy to become jaded when buying your new home, but make sure you check every inch of your house for issues you may not be able to live with. You never know what you will find.
Most likely, your home will need some sort of work or repairs. Some of these repairs may cost you a lot of money if you aren't careful. Some of the most expensive repairs include:
Issues with the foundation of your home
Mold
Any type of water damage
Roofing problems
Faulty wiring
Pest and insect control
Evaluate The Cost Of The Inspection
The cost of a home inspection can vary. Factors such as location, size of the home and inspections being done can determine how much you'll pay. Don't necessarily go for the cheapest option: Buying a home is probably the largest investment you'll ever make, and you don't want to jeopardize it by choosing an inexperienced inspector because they have the lowest price. Your inspection will cost hundreds or thousands up front, but it could save you a lot of money in the long run.
When looking for a home inspector, ask for referrals and do your own research. By preparing and educating yourself, you can make an informed decision.