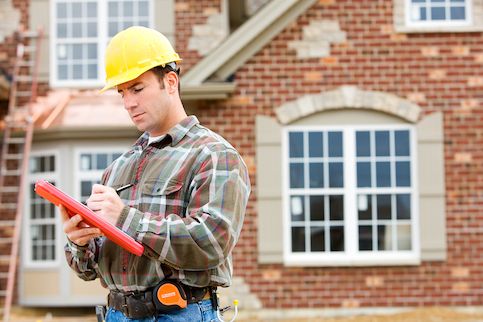 Home Inspection Checklist: What Buyers Can Expect
Published on December 30, 2020
You deserve to have confidence as a home buyer. When purchasing a home, you will need to have it inspected. It's helpful to come armed with what to expect in your home inspection and a home inspection checklist to ensure you don't forget anything the day-of.
What Is A Home Inspection?
A home inspection is a third-party assessment of your future home's structure and systems. For example, your inspector will look at your physical structure, including walls, roof and windows. Additionally, they will inspect your systems, such as your heating and air-conditioning systems.
Apply for a Mortgage with Quicken Loans®
Call our Home Loans Experts at (800) 251-9080 to begin your mortgage application, or apply online to review your loan options.
Start Your Application
A Step-By-Step Home Inspection Process For Buyers
As your inspection date approaches, it's essential to know what to include in your inspection and what to expect from your inspector. Remember, your inspection is meant to protect you from purchasing a house with significant structural issues that could be costly in the future.
1. Include A Home Inspection Contingency In Your Offer
A home inspection contingency is language in an offer that states that the buyer has the right to have the home inspected. Additionally, it states a specific period, such as within 1 week of the offer being made. It says that the buyer can rescind their offer or negotiate repairs based on the home inspector's findings.
2. Hire The Best Home Inspector
Whether it's your first time purchasing a home or your 10th, it's crucial to hire a trusted home inspector. Your REALTOR® likely has a few inspectors that they trust and like to work with. Therefore, you should ask your REALTOR® or other trusted home buying professional who they recommend working with.
3. Understand What Home Inspectors Look For
Let's go over items included in a typical home inspection and the problems an inspector might be looking for in each case.
Structure
When inspecting the initial structure, the inspector is looking for things like damage or cracks in walls, ceilings, floors and the foundation. This is an essential once-over of the sturdiness of the entire structure.
Roof And Attic
When it comes to this part of the house, the inspector is looking for any signs of roof damage like missing or loose shingles. They also inspect your gutters and rain guards to make sure everything will flow properly off the roof. They'll also check your insulation and ventilation to ensure any airflow problems won't damage the roof.
If you have a fireplace, it may be worth getting the chimney inspected. This may or may not be included in a general inspection. If it isn't, you can pay for various levels of chimney inspection.
Basement
Here, the inspector is looking for anything that could compromise the structure of your basement. Typically, indications of water damage are a bad sign. Since basements are underground and more vulnerable to water in the area, it's essential to look at the drainage systems. They'll also check out beams and support posts.
Miscellaneous Systems
An improperly installed furnace is a fire hazard. You also want to make sure the ductwork is done correctly, and everything is ventilated correctly. The air conditioning is inspected as well.
Any sprinklers and the fireplace are also checked.
Plumbing
One of the last things anyone wants in their home is a water leak. A trained inspector will check the water shut-off, toilets, waste and vent pipes, showers, sinks, and anywhere else leakage can become an issue.
As part of this inspection, you should also have your water heater checked. You don't want that not working or overheating.
Electrical
In this part of the evaluation, the inspector checks the electrical system's capacity, looks for any defects in the wiring, and makes sure everything is properly grounded. They'll also check your main panel and circuit breakers. Finally, miscellaneous items like ceiling fans and light fixtures are looked at.
Appliances
Devices like smoke detectors, the washer and dryer, dishwasher, stove, and garbage disposal need to be checked to make sure they're installed and operating properly.
Garage
In the garage, the walls, ceilings, firewall and roof are all inspected. This is in addition to the lights and the garage door opener.
Exterior
It's important for the inspector to look for anything around the home that could create a potential hazard. This could include changes in grading or elevation or cracks in driveways or sidewalks that might create a tripping hazard. They're also looking at decks, your porch, trim and siding. They may check window insulation and the drainage around your home.
Interior
The interior of the house is probably the broadest category for inspection. Floors are inspected, as well as walls, ceilings, the kitchen, cabinets and bathroom. Staircases are also evaluated, as are insulation and ventilation. Every room is given a thorough look.
4. Voice Any Concerns To Your Home Inspector
You should voice any specific concerns about a given home in advance of the inspection. This way, your inspector knows what to look out for, and they can advise you on how to proceed.
5. Attend The Home Inspection Yourself
It's essential to attend the home inspection to know what the inspector looked at and their recommendations. You can ask them specific questions as a third-party resource. Additionally, your real estate agent might attend the inspection and help you ask relevant questions about the house.
There are several questions that you should ask at the inspection. For example, if your inspector says something might be an issue, you can ask how big of a problem it is or if an expert should look at the problem. You can ask if a problem is typical and ask them what things should be fixed before moving into the home.
6. Read The Home Inspection Report
When the inspection is completed, the home inspector will give you a home inspection report. It will have a list of everything in your home and will give a detailed report of any issues they found. It will also include images of any issues that need attention and details on the impact of those issues. You can use the information in the home inspection report to negotiate your offer.
7. Consider Negotiating For Repairs
Depending on what your inspector finds in your home, you may want to consider negotiating for repairs with the seller. However, it is not always appropriate to negotiate.
Your real estate agent can help you discern when something is negotiable and what you may want to ask for. For example, you may want to ask for a lower selling price so that you can allocate more funds to doing the repairs yourself. Otherwise, you may be able to negotiate that something is fixed before you close on the home.
A Printable Home Inspection Checklist
There are several things that every home buyer should consider when having their home inspected. Most inspectors will break down their inspection into several areas. This includes rooms as well as structural or functional areas.
The following is a printable list to help you understand what your inspector should be evaluating when they inspect your home.
Appliances
Smoke detectors
Washer and dryer
Dishwasher
Stovetop
Garbage disposal
Exhaust fans
Refrigerator
Attic
No water stains
Sufficient insulation installed and clean
Adequate ventilation
No exhaust vents terminating in attic
Check electrical splices
Basement, Cellar Or Mechanical Room
No standing water or evidence of moisture
Walls are sturdy
No major cracks or flaking in foundation
No visible sagging in wood
Insulation where needed
Bathrooms
Working exhaust fan
Adequate water flow in all faucets
All fixtures drain properly
No signs of rust or decay
Toilet is stable
Tile and caulking are in good condition
Electrical
All visible wiring in good condition
Service panel has adequate capacity
Service panel is not overheating or other issues
No aluminum cable for branch circuits
Exterior Surfaces, Spaces and Structures
Proper draining
No standing water
No leaks from the septic tank
Yard, sidewalks, etc. in good condition
Branches touching house or roof
Fences, sheds, decks and other structures are in good condition
All railings secure
Driveways, sidewalks and other walkways are pitched away from the house
Downspouts in good condition
House appears straight, not sagging or bowed walls
Siding or other masonry in good condition
Flaking or blisters in paint
Stains from water damage
Heating, Ventilation And Cooling
Good air flow throughout home
No open seams or issues in flues
No rust around cooling unit
Air filters clean
Ducts in good condition
No asbestos on pipes or ducts
Interior Rooms
All walls in good condition
No stains on walls, floors or ceiling
All materials in good condition
No significant damage
Number of electrical outlets and if they work
Adequate insulation
Each room has heating or cooling source
No evidence of fireplace back drafting and that it works properly
Kitchen
Exhaust fan
Ground Fault Circuit Interrupter protection within 6 feet of the sink
All sinks, dishwashers and other appliances work and drain properly
No leaks
No stains or decay
Cabinets and doors operate properly and can bear a load
Plumbing
No damage or leaks on visible pipes
No water stains or signs of rust
All pipes are properly vented
No restricted water flows
Well water test
Water quality test
Roof
Shingles are in good condition
No mold, rot or decay
Repairs have been made if needed
Exterior venting
Gutters and water removal in good condition
Chimneys are in good condition
Windows, Doors And Trim
Doorframes secure
Joints around doorframes are caulked
No broken pieces including glass
Storm or thermal windows
All doors and windows latch properly
Apply for a Mortgage with Quicken Loans®
Call our Home Loans Experts at (800) 251-9080 to begin your mortgage application, or apply online to review your loan options.
Start Your Application