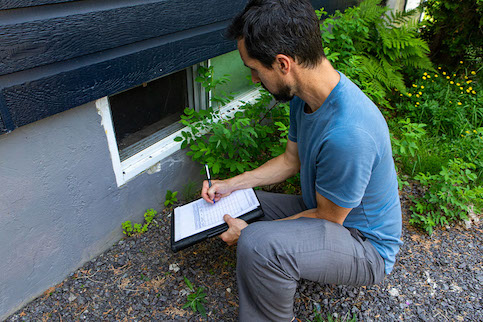 Home Inspection Checklist: A Guide For Buyers
Published on February 23, 2023
Buying a home is one of the largest financial actions of your life, so you don't want to sign the dotted line until you know everything about the house. If you don't want your dream home to turn into a nightmare, you'll want to get a home inspection before closing. A home inspection is critical to ensure that there are no unknown issues and that the home is a good investment.
A certified home inspector will complete the process. However, it's important to know what they're looking for and how the process is completed. Follow the home inspection checklist below to understand what to expect.
Why Should You Get A Home Inspection?
A home inspection is your last chance to uncover any issues with a property that may affect its value or even your desire to live there.
During an inspection, a licensed home inspector walks through the property to examine its condition. They make detailed notes about the state of the home's physical structures and systems, including the foundation, plumbing, electrical and heating/cooling systems, windows, roof and flooring.
After the inspection, you receive a full report describing its findings. If the inspection uncovers any issues with safety or the structure, or even minor issues, buyers can use the inspection report to negotiate with the seller for a better deal or ask them to make repairs on the property before the sale is complete.
According to the U.S. Department of Housing and Urban Development (HUD), inspections typically cost between $300 and $500, but prices vary by location, home size and other scoping factors.
An inspection is not the same as an appraisal. The purpose of an appraisal is to determine the home's market value. An inspection thoroughly examines the home's condition.
What Do House Inspectors Look For?
What a home inspector is required to review varies by state, but they generally check an array of things throughout the home during an inspection. One of the basics that an inspector covers is the structural system, including the foundation and structure of the floors, walls, ceiling and roof to ensure they are sound and up to code. They check the electrical system to ensure everything is wired correctly, the smoke alarm and monoxide detector are connected and there are enough lighting fixtures. They also check the exterior, plumbing, heating and air conditioning, insulation and ventilation and the fireplace and chimney.
Keep in mind that other important things may not necessarily be included in a home inspection. Home inspectors are not required to check for pests, like termites, if they are not clearly visible during an inspection. A pest inspection is a separate, specialized process that focuses on searching for harmful bugs and other creatures. Home inspectors are also only required to check for asbestos if it is clearly visible.
How To Prepare For A Home Inspection As A Buyer
Before inspection day, ask your inspector how long the procedure will take. Most inspections usually run about 2 to 3 hours. Clear enough time on your calendar to be available for the inspection. While you don't have to be present during the inspection, it's a good idea and always recommended.
On inspection day, consider bringing a notebook and pen to write down potential repairs, issues or other information you want to remember as you walk through the home.
Don't be afraid to ask your inspector any questions you may have. It's essential that you understand the home's condition in detail before you decide to purchase it. But remember, an inspector may not be able to answer all of your questions, and they cannot recommend whether you should buy a home. They are legally only allowed to report the home's condition, not make any recommendations. This includes suggestions for who should make the repairs and how much they would cost.
Home Inspection Checklist For Buyers: What To Look For With Each Loan
The type and extent of the home inspection you receive depends on the loan you use to buy your home. While conventional loans generally don't require home inspections, VA Loans and FHA Loans require specific aspects of a home to meet certain guidelines. Here are some additional resources to guide you through what you may need.
House Inspection Checklist For A Conventional Loan
Lenders do not usually require home inspections for conventional loans, so it's up to the buyer to pay for a trusted third-party home inspection. While not required, home inspections are highly recommended before buying any home to ensure that you get what you pay for. A home inspection for a conventional loan should look over the following aspects of a home:
The HVAC: This is the heating, ventilation and air conditioning systems, including all air distribution systems and their energy sources.
The plumbing system: This includes the water supply systems as well as their distribution systems (like faucets). It also includes water heating elements and draining and sewage piping systems.
The home's foundation: This is part of the home's structural system. Inspectors will also look at the structure of the floors, walls, ceiling and roof.
The electrical system: This includes ensuring that the house has appropriate electrical service and equipment through conductors, cables and raceways. The inspector also ensures the home has an adequate number of internal lighting fixtures and switches installed.
Exterior structures: This includes walls, doors and adjacent decks and railings.
Exterior driveway and walkway: While they may not be part of the primary structure of your home, exterior walkways leading to your home and driveways are included in the inspection.
The roof: In addition to the roof's structure, an inspector will review the flashing and drainage system of the roof, including the gutters.
The interior: This includes the stairwell, cabinets, countertops and installed ovens.
The fireplace: This includes the chimney and vent systems, as well as any fuel-burning stoves or fireplace inserts.
While this list may sound extensive, it doesn't cover everything. Check out the American Society of Home Inspectors' Standard of Practice for an exhaustive list of everything included and not included in a home inspection. Home inspection requirements vary by state, so it's essential to research your state's specific requirements to ensure a home inspector reviews all of the necessary aspects of your home.
House Inspection Checklist For A VA Loan
If you're financing your home with a VA loan, a VA appraisal is required, as well as a pest inspection and a well-water inspection (if applicable). VA appraisals include a limited inspection that confirms the home is in good condition and meets the VA's minimum property requirements. It will also check for dangers some conventional appraisals do not, such as:
Dry rot
Radon
Safe drinking water
In addition, a VA appraisal includes some unique requirements for the home, listed below.
VA Appraisal Checklist
The home must have year-round street access.
If there is a homeowners association (HOA), it must manage private roads and have a permanent easement.
The home cannot encroach on any surrounding properties.
The property must not have any natural hazards, like flood zones, sinkholes or environmental contamination.
The property must be free of harmful radon gas, asbestos and lead-based paint.
The home must have year-round access to safe drinking water and water for sanitary uses like showering or bathing.
The home must have a hot water supply and safe sewage disposal.
The home must have working utilities, including an HVAC system that can cool the home down in the summer and warm it up in the winter.
The roof must protect the home from moisture and have at least 3 years of life left on it.
VA appraisals include a limited home inspection, even covering some aspects that are not included in a traditional home inspection, but traditional home inspections are more in-depth than VA appraisals.
House Inspection Checklist For An FHA Loan
You must get an FHA inspection and appraisal to buy a home with an FHA loan. An FHA inspection and appraisal ensures the home is in livable condition and meets certain minimum property standards set by the Federal Housing Administration (FHA). It also establishes the home's market value. Both the inspection and appraisal must be carried out by a qualified appraiser approved by HUD.
FHA inspections look at many of the same items as conventional inspections. Some other things FHA appraisal inspections check for include:
A roof in good condition with a maximum of three layers
Lead paint – on both the home's interior and exterior
Windows or doors in bedrooms – every bedroom must have one or the other that can be used as a fire escape
Emergency access – the home must have a passage for police, fire or ambulance vehicles in case of emergency
Pest infestations
Property encroachment – either from your property to a neighboring property or the other way around
The Bottom Line
Home inspections are a crucial step in the home-buying process to ensure you know what you're getting. A licensed third-party inspector can review all the most important components of your future home and give you the peace of mind you need to complete the process.
While it is not required that you be present for the home inspection, it's highly recommended that you attend to understand the home inspection report when it's completed fully.
With different home inspection requirements for various loans, it's essential to follow a home inspection checklist for buyers to ensure you're getting the correct home inspection for your loan. If you're ready to take the next step in the home buying journey, visit get started online.