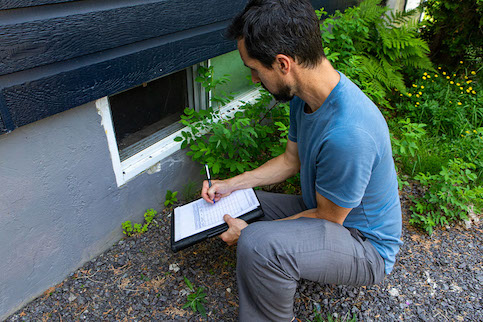 The Buyer's Foolproof Home Inspection Checklist [ + Printable]
Published on January 18, 2023
Buying a home is probably the largest financial decision you'll make in your lifetime – which is why getting a thorough home inspection before buying is so important. An inspection can help uncover potential problems with the home so you can be confident you'll be buying a property in good condition.
But what exactly makes for a thorough inspection, and how should you be involved in the process? Keep reading to learn everything you need to know about inspections and snag a copy of our free printable home inspection checklist.
Free Home Inspection Checklist Printable
Use this checklist in tandem with your professional home inspector's report to make sure your potential home is in good condition before you buy. Here's what to look for in a home inspection.
What Is A Buyer's Home Inspection?
A home inspection is the professional examination of a property's condition.
During an inspection, a licensed home inspector walks through the property, making detailed notes about the state of the home's physical structures and systems. This includes things like the foundation, plumbing, electrical and heating/cooling systems, windows, roof and flooring.
If the inspection uncovers any safety, structural or even minor issues, buyers can use the inspection report to negotiate a better deal (or repairs) with the seller. This could mean asking for a lower sales price or making the sales contract contingent upon the seller completing repairs.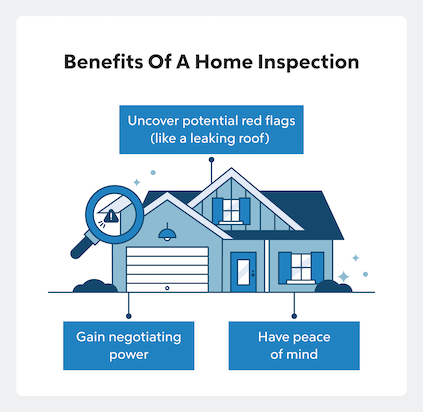 Inspections typically cost between $300 and $500, but prices vary by location, home size and other scoping factors.1
An inspection is not the same as an appraisal. The purpose of an appraisal is to determine the home's market value. An inspection thoroughly examines the home's condition.
What Does An Inspection Cover?
Inspection requirements vary by state, but in general, you can expect an inspection to report on the condition of a home's:
Structural elements: This includes floors, floor framing, walls, ceilings, stairs, windows, patios, visible foundation, the roof, garage and basement.
Safety: This involves checking fire alarms, carbon monoxide alarms and fire sprinklers. It also includes checking the condition of all hand and guard rails.
Lot: This includes checking that proper grading and drainage exist, as well as the state of the driveway, walkways or fencing.
Exterior: This includes siding, masonry, paint and lighting.
Plumbing: The inspector will inspect toilets, showers and tubs. This also includes checking for broken or leaking pipes and appropriate hot water temperature.
Electrical system: This includes circuit breakers, outlets, light switches and fans. Inspectors will also check that all electrical wiring is up to code.
HVAC systems: This includes the furnace, air conditioning, water heater, ventilation systems, ventilation fans, fireplace and chimney.
What Is Not Included In An Inspection?
Again, what an inspection will or won't cover varies by state – or even by inspector. However, some of the most common exclusions include:
Checking for pests, like termites (unless clearly visible)
Checking the swimming pool
Checking for asbestos (unless clearly visible)
Testing radon gas levels
Testing the home's indoor air quality
Checking for lead paint
Checking for toxic mold (unless clearly visible)
Some inspectors will alert you to the above problems if they notice them. However, these issues may not be on their docket and can easily slip by unnoticed.
If you're worried about any of these problems in a prospective home, let your inspector know. You may need to pay extra for certain tests or add-on services, but it will likely be worth it to give you peace of mind.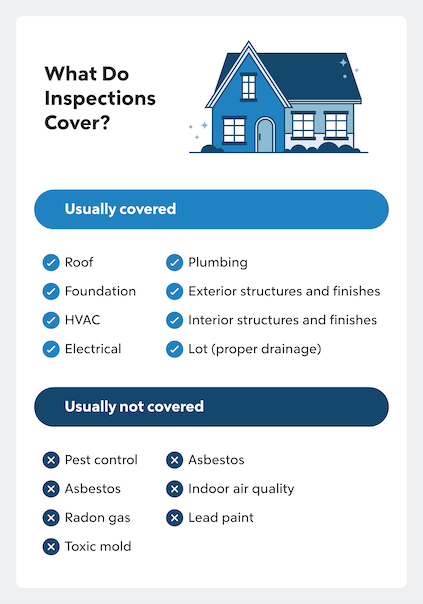 How Do You Hire An Inspector?
It's common for buyers to find their inspector through their real estate agent's recommendation. Occasionally, the lender will require using a certain inspector if it's required for the loan you're getting (such as a VA loan). However, if you'd like to find your own inspector – or you just want to check your agent's recommendation – you usually can.
If you want more options than your agent has recommended, you can ask your friends or family for additional recommendations. Once you have a few inspectors to look into, check their credentials. Before hiring an inspector, make sure they:
Are bonded. This ensures they will take financial responsibility for any damages caused by illegal or unethical behavior.
Are insured. This provides the inspector with a financial safety net should any accidents occur on the property.
Are licensed in your state. You can check with the Better Business Bureau2 to confirm this is the case.
Only do inspections. Some inspection companies also offer repair or renovation services, but this can be a conflict of interest. If your inspector recommends repairs to the home, you want to be confident it's because the repair is needed – not because the inspector wants more company business.
Try to find your inspector early on in the home buying process. This can prevent headaches down the road. For example, many offers include an inspection contingency. Having a home inspector lined up ahead of time can help the home sale go more smoothly and reduce the likelihood of any holdups based on the contract's stated timeline.
How Can Buyers Prepare For Inspection Day?
Before inspection day comes, ask your inspector how long the inspection will take. Most inspections usually run about 2 – 3 hours. Clear enough time on your calendar to be available for the inspection. While you don't have to be present during the inspection, it's a good idea and always recommended.
On inspection day, consider bringing a notebook and pencil to write down potential repairs, issues or other information you want to remember as you walk through the home. You can also do this with a note application on your cell phone, or simply take photos of problem areas.
Don't be afraid to ask your inspector any questions you may have. It's important you understand the home's condition in detail before you decide to purchase it. But remember an inspector cannot recommend whether you should buy a home.
They are legally only allowed to report the home's condition, not make any recommendations.
What Should You Do With The Inspection Report?
You should use the inspection report to guide your buying decisions. If there are any major structural or safety issues with the home, you may want to reconsider buying the property at all. If there are issues that can be reasonably repaired, you can try and negotiate these repairs into your sales contract. You could also try asking for a lower sales price to offset the cost of you making the repairs yourself.
Inspectors don't usually provide estimates for needed repairs. So, if you're considering taking on repairs yourself, get a few bids before trying to negotiate a lower sales price. This will help ensure you make a financially sound decision.
Additional Resources
Some homes have special considerations involved in their inspections. If you're looking to buy a home using a VA or FHA loan, or if you'll be moving into a mobile home or new construction, here are some additional resources that may help you.
VA Appraisal and Home Inspection Checklist
If you're financing your home with a VA loan, a VA appraisal is required, as well as a pest inspection and a well-water inspection (if applicable). VA appraisals include a limited inspection that confirms the home is in good condition and meets the VA's minimum property requirements. It will check for dangers some conventional appraisals do not, such as:
In addition, a VA appraisal does include some unique requirements for the home, listed below.
VA Appraisal Checklist
The home must have year-round street access.
Any private roads must be managed by a homeowners association (HOA) and have a permanent easement.
The home cannot encroach on any surrounding properties.
The property must not have any natural hazards, like flood zones, sinkholes or environmental contamination.
The property must be free of harmful radon gas, asbestos and lead-based paint.
The home must have year-round access to safe drinking water, as well as water for sanitary uses like showering or bathing.
The home must have a hot water supply and safe sewage disposal.
The home must have working utilities, including an HVAC system that can cool the home down in the summer and warm it up in the winter.
The roof must protect the home from moisture and have at least 3 years of life left on it.
FHA Home Inspection Checklist
If you're buying your home with an FHA loan, you will be required to get an FHA inspection. An FHA inspection makes sure the home is in livable condition and that it meets certain minimum property standards set by the FHA. It also establishes the home's market value.
FHA inspections look at many of the same items as conventional inspections. Some additional things FHA appraisal inspections check for include:
Lead paint – on both the home's interior and exterior
A roof in good condition with a maximum of three layers
Pest infestations
Property encroachment – either from your property to a neighboring property or the other way around
Windows or doors in bedrooms – every bedroom must have one or the other that can be used as a fire escape
Emergency access – the home must have a passage for police, fire or ambulance vehicles in case of emergency
Mobile Home Inspection Checklist
While mobile home inspections check for many similar items as conventional inspections – like water leaks, structural damage or unsafe electrical wiring – there are a few differences. In addition to the items listed in our printable checklist, the inspector will also check the:
Vapor barrier's (skirting's) condition – no sagging, rips or delamination
Location of the utility meter
Piers' condition – no bends or improper shims
Presence and condition of hurricane strap-downs
Presence of oversized or improper wood-burning appliances, stoves or furnaces
Structural support of additions – all additions should have independent support structures
Download the mobile home inspection checklist with these additional items.
New Construction Home Inspection Checklist
Just because your home is brand-new doesn't mean you should forgo an inspection. While builders may perform their own inspection, they often only look for structural and safety issues, like electrical problems. They may miss smaller details like:
Sticking doors
Cracks in the drywall
Incorrect materials used (like if laminate countertops were installed rather than marble)
Incorrect landscaping (like the wrong flowers were planted or in the wrong location)
Uneven paint tones, bubbling or peeling paint, or sloppy paint lines along trims and edges
Missing items (like if you paid for custom shelving, but it was not installed)
Waves or wrinkles in carpeting (could indicate poor installation)
That's why it's a good idea to scrutinize every detail during your final walk-through. If you find anything that's not up to par, immediately request that your building team fix it. After closing, you have no guarantee that any repairs will be made.
Download our new construction final home inspection checklist that covers these smaller details listed above.