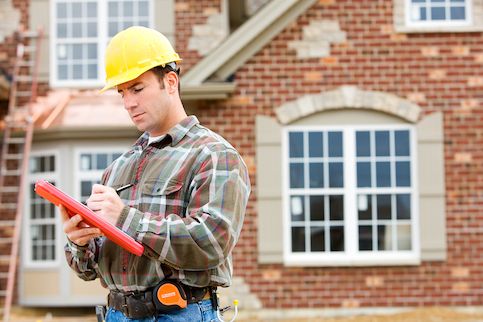 Home Inspection Checklist
Published on November 13, 2019
Before you move into a new home, whether it's truly new or new to you, it's probably worth your while to have a home inspection done. After all, if you're spending hundreds of thousands of dollars on the home, you should really know what problems exist or might come up down the line.
Even if there are no problems down the line, a home inspector can go through the house and point out the types of things you need to look for as the home ages. This post will take you through what's typically inspected and what isn't.
Things That Are Typically Inspected
Let's go over items included in a typical home inspection and the problems an inspector might be looking for in each case.
Structure
When inspecting the initial structure of a home, the inspector is looking for things like damage or cracks in walls, ceilings, floors and foundation. This is a basic once-over of the sturdiness of the entire structure.
Roof and Attic
When it comes to this part of the house, the inspector is looking for any sign of roof damage like missing or loose shingles. They also inspect your gutters and rain guards to make sure everything will flow properly off the roof. They'll also check your insulation and ventilation to make sure any airflow problems won't damage the roof.
If you have a fireplace, it may be worth getting the chimney inspected. This may or may not be included in a general inspection. If it isn't, you can pay for various levels of chimney inspection.
Basement
Here, the inspector is looking for anything that could compromise the structure of your basement. Typically, indications of water damage are a bad sign. Since basements are underground and more vulnerable to water in the area, it's important to look at the drainage systems in place. They'll also check out beams and support posts.
Miscellaneous Systems
An improperly installed furnace can cause serious possibility of a fire hazard. You also want to make sure the duct work is done properly and everything is ventilated correctly. The air conditioning is inspected as well.
Any sprinklers and the fireplace are also checked.
Plumbing
One of the last things anyone wants in their home is a water leak. A trained inspector will check the water shut-off, toilets, waste and vent pipes, showers, sinks and anywhere else leakage can become an issue.
As part of this inspection, you should also have your water heater checked. You don't want that not working or overheating.
Electrical
In this part of the evaluation, the inspector checks the capacity of the electrical system, looks for any defects in the wiring and makes sure everything is properly grounded. They'll also check your main panel and circuit breakers. Finally, miscellaneous items like ceiling fans and light fixtures are looked at.
Appliances
Devices like smoke detectors, the washer and dryer, dishwasher, stove and garbage disposal need to be checked to make sure they are installed and operating properly.
Garage
In the garage, the walls, ceilings, firewall and roof, are all inspected. This is in addition to the lights and the garage door opener.
Exterior
It's important for the inspector to look for anything around the home that could create a potential hazard. This could include changes in grading or elevation or cracks in driveways or sidewalks that might create a tripping hazard. They're also looking at decks, your porch, trim and siding. They may check window insulation and the drainage around your home.
Interior
The interior of the house is probably the broadest category for inspection. Floors are inspected, as well as walls, ceilings, the kitchen, cabinets and bathroom. Staircases are inspected, as are insulation and ventilation. Basically, every room is given a thorough look.
If you know that you definitely want to have one of these things above inspected, make sure you ask your potential home inspector if he's qualified for such types of inspections before you hiring.
Extra Inspection Items
If your home was built prior to 1979, it's important to have it checked for lead-based paint. In newer houses, you may only have to correct chipping paint if it affects the soundness of the home's structure.
A pest inspection may or may not be required depending on the type of loan you're getting and pest conditions in the area.
Radon, the toxic underground gas, is typically not included in a general inspection. Asbestos is an extra inspection item you may choose to take a look at depending on the age of the house.
As noted above, the interior of the chimney needs to be inspected by a chimney sweep and that may be a separate charge.
Questions To Ask Your Inspector
When you go through your new home, there are several questions that may come to mind. You should feel free to ask your inspector anything as you walk through the home with them. This is your opportunity to know about anything that currently needs to be fixed. That will help you negotiate the sales price as well.
You'll also know about what to watch for in the future if you ask the right questions.
In addition to the questions on the home itself, you should also feel free to ask about the inspector's credentials. Do they have construction or contracting experience? How long have they been in the business? Do they have any professional accreditations (American Society of Home Inspectors, International Association of Certified Home Inspectors, etc.)?
Apply for a Mortgage with Quicken Loans®
Call our Home Loans Experts at (800) 251-9080 to begin your mortgage application, or apply online to review your loan options.
Start Your Application