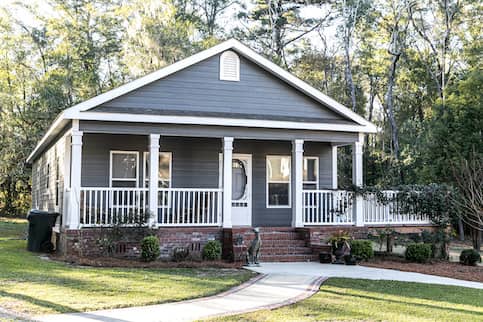 How An FHA Manufactured Home Loan Works
Published on June 21, 2023
If you're looking for a unique, cost-effective alternative to a traditional single-family home, a manufactured home can be a compelling option. However, obtaining a Federal Housing Administration (FHA) manufactured home loan can be challenging for home buyers due to various factors, such as the age of the property and whether it is permanently attached to the land beneath it.
What Is Considered A 'Manufactured Home'?
The primary difference between a manufactured home and a traditional single-family home is how they are built. Traditional homes are typically built on the land where they reside, while manufactured homes are built off-site in a factory.
These homes are then delivered to the plot of land where they will be situated. Some manufactured homes are permanently affixed to this property, while others are movable.
Relatedly, a modular home is a property that's manufactured off-site and then assembled in pieces at the final location, while a mobile home is simply a manufactured home that was built before 1976, according to the Department of Housing and Urban Development.
See What You Qualify For
Congratulations! Based on the information you have provided, you are eligible to continue your home loan process online with Rocket Mortgage.
If a sign-in page does not automatically pop up in a new tab, click here
Can You Buy A Manufactured Home With An FHA Loan?
The Federal Housing Administration's manufactured home loan program helps lower- and moderate-wage earners become homeowners. FHA loans have lower credit requirements and income limits compared to conventional loans, and these funds can be used by borrowers to purchase a manufactured home.
How FHA Manufactured Home Loans Work
FHA loans can be attractive for both home buyers and lenders. For the former, they can qualify for an FHA loan with a down payment as low as 3.5% of the home's final purchase price if their FICO® credit score is at least 580.
For the latter, government insurance incentivizes private lenders to make FHA loans in cases where they would be unable to offer a conventional loan.
You can use two types of FHA loans to finance the purchase of a manufactured home: Title I and Title II loans.
Types Of FHA Home Loans
There are two types of FHA loans that can be used for manufactured homes:
Title I FHA Loans
In the FHA Title I program, you can apply for a loan insured by the FHA to purchase or refinance a manufactured home. You can use these loans to buy a home, a property lot – or both at the same time.
Notably, you don't have to own the land on which your home sits to qualify for one of these loans. Instead, you can lease a lot, such as a plot of land in a manufactured home community. There is one key requirement, though: Your initial lease term for the property must be at least 3 years.
Title II FHA Loans
Like the Title 1 program, the FHA Title II loan program allows borrowers to take out FHA-insured loans to purchase a manufactured home. The difference? Title II loans can only be used for manufactured homes that are permanently attached to a piece of land. In other words, you can't use this program to purchase a manufactured home that is mobile.
Also, the home's foundation must be inspected and found to meet the Permanent Foundations Guide for Manufactured Homes. If additions have been made to the home, the home also needs to be inspected to make sure it meets HUD standards for the load on the foundation. If you've had prior inspections of the foundation or home conditions, you may use these documents.
The benefit of a Title II loan is that you will generally find more lenders who offer them, which means you can shop around for better loan terms. Also, terms are more flexible than with Title I loans.
Also, the home must be 8 feet or more in width and 40 feet or more in length. It must also have a floor area of at least 400 square feet and be built after June 15, 1976.
Title II loan limits will vary depending on where you live. You can use this HUD search tool to find the limit in your area.
How To Get An FHA Manufactured Home Loan
Purchasing a home is a complicated process – as is obtaining a home loan. But owning your own property can be highly rewarding, financially and otherwise. So here are the steps you'll need to take to begin the FHA Manufactured Home Loan process.
1. Find The Right Lender For You
It's critical to find the right lender for your mortgage. There are several factors to take into account, including working with a lender who:
Offers the lowest rates
Has a compatible communication style
Offers a consumer-friendly approach to service
Has good reviews from past clients
2. Review Your Finances
Then, determine how much of a loan you can afford. This requires a budget listing your monthly expenses and monthly income. When listing expenses, include your fixed expenses and the minimum payment for debts. Use an average for costs that fluctuate each month, such as utilities, groceries and transportation costs, and include an estimate of how much you spend on discretionary purchases such as dining out.
The difference between your monthly expenses and income will tell you how much money you have left for a monthly mortgage payment. But don't apply for a mortgage at that exact rate – that will consume all of your extra money. It's best to leave some wiggle room in your budget.
3. Research The Manufactured Home That's Right For You
Next, it's time to locate the manufactured home that you want to buy. You'll need to determine how large a home you want and how many add-ons you desire. The larger your home and the more upgrades you order – such as higher-end appliances, energy efficient windows and more powerful air-conditioning systems – the more you'll pay.
You'll also need to research the location of your manufactured home. Do you want to live in a manufactured home community where you lease the land on which your home will sit? That might be less expensive, but your mortgage loan options will be limited. You might spend more to purchase both land and a home, but this choice could leave you with the greatest number of financing options.
4. Review Your Mortgage And Loan Options
Depending on the age of your manufactured home, and whether it is permanently attached to the land, you may have several options for financing its purchase. The loans available to you will depend on your credit score and your amount of monthly debt. Lenders will also look at these factors when determining the interest rate they'll charge you. Make sure to shop around for the best deal, and remember, not all lenders will originate mortgages for manufactured homes.
5. Apply For A Loan
To start the loan application process, you'll first fill out an application that will ask for your basic personal and financial information. Your lender's underwriting team will review your application and finances to determine the mortgage you can afford. Underwriters will also review your credit reports and credit score before approving you for a mortgage and assigning an interest rate to your loan.
FHA Manufactured Home Loan Requirements
Loan limits: The FHA uses two main factors to determine lending limits: the area you live in and the number of units you're purchasing. If you live in a low-cost area, the "floor" is going to be lower, whereas high-cost areas have a higher "ceiling."
The FHA determines high-cost areas by the average income level, the average cost to purchase property and the market demand. So houses in heavily populated cities will come with a higher ceiling than rural or suburban areas.
Down payment: FHA loans require a down payment, but the minimum amount will be determined by your credit score. If you have a credit score of 580 or higher, your lender will only require 3.5% for the down payment. If your credit score is lower than 580, some lenders will approve your loan with a down payment of 10%.
Credit score: The credit score requirement for an FHA manufactured home loan typically varies, but a minimum score of around 580 is often sought by lenders.
Debt-to-income ratio: Your debt-to-income ratio, or DTI, measures how much of your gross monthly income is eaten up by your monthly debts. Your DTI can be as high as 45% if your credit score is at least 580 and you meet additional qualifications. Some lenders will issue FHA loans to borrowers with DTIs higher than 45%, but options tend to be limited.
Property requirements: To qualify for an FHA loan, the property in question must be safe, secure and structurally sound.

Safe: The property should provide a safe structure without any health or safety hazards present.
Sound:The home must be structurally sturdy and provide a livable environment for its inhabitants. This means the foundation needs to be properly graded, the roof can't be caving in, etc.
Secure:The property must provide a secure environment for its inhabitants. Entrances to the home should be properly secured and in working order, as should windows.
Common issues that can affect this requirement include electrical problems, roof flaws, unventilated attics and insect or pest infestations. Similarly, properties cannot have adverse conditions that might imperil the homeowner, and they must meet relevant building codes.
Occupancy: To qualify for an FHA manufactured home loan, a property must meet occupancy requirements, which include the borrower intending to use the home as their primary residence and the home being situated on a permanent foundation.
Mortgage insurance: FHA loans may come with a lower down payment, but you'll be required to pay a mortgage insurance premium (MIP) both up front, and with your payments.
Is Getting An FHA Manufactured Home Loan A Good Idea?
Taking out a Manufactured Home Loan has its pluses and minuses. On the positive side, they offer lower down payment requirements, more lenient credit score qualifications, potentially lower interest rates and the opportunity for individuals with limited financial resources or lower credit scores to become homeowners.
Negatives include the requirement to pay a mortgage insurance premium, and there may be limitations on the types of manufactured homes that qualify for FHA financing.
The Bottom Line
Owning a manufactured home – and taking out an FHA Manufactured Home Loan – isn't for everyone. But if you have lower credit and are looking for a different way of living, it's something you might want to consider.
If you're inclined, you can start the mortgage process today to finance a manufactured home.
Apply for a mortgage today!
Apply online for expert recommendations with real interest rates and payments.
Start Your Application