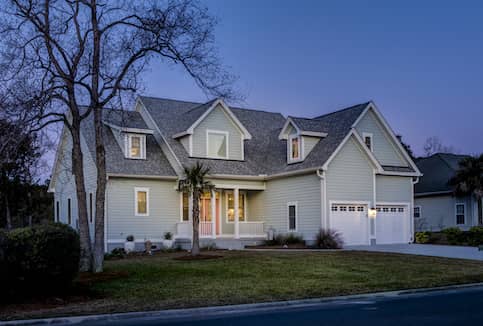 FHA Loan Credit Score Requirements For 2023
Published on November 19, 2021
If you are a home buyer with a minimal credit history, traditional loan options can be difficult to obtain. But relatively low FHA loan credit score requirements open the door to homeownership for many.
Here's what you need to know about FHA loan credit score requirements for 2022.
What's An FHA Loan?
An FHA is a mortgage product insured by the Federal Housing Administration (FHA). That means that the FHA will protect lenders in case of a borrower default. So, lenders can offer loans to borrowers with lower credit scores and small down payment funds.
See What You Qualify For
Congratulations! Based on the information you have provided, you are eligible to continue your home loan process online with Rocket Mortgage.
If a sign-in page does not automatically pop up in a new tab, click here
How FHA Credit Score Requirements To Buy A House Are Determined
Before we get into the credit requirements for FHA loans, it's useful to understand how FHA lenders determine your credit score.
First, it's likely that you have more than one credit score floating around. That's because there is more than one credit bureau and scoring model out there. Although your FICO® Score is a popular option, another common credit score is your VantageScore®.
If the lender finds three different credit scores for one borrower, it will use the middle value when determining your loan eligibility. If the lender finds only two credit scores, it will use the lower of the two options.
View Your Refinancing Options
See expert-recommended refinance options and customize them to fit your budget.
Start Your Refinance Online
FHA Minimum Credit Score Requirements
Technically, you can get approved for an FHA loan with a median FICO® Score of as low as 500, but there are some serious drawbacks to an FHA loan with a score that low.
The first is that you'll need a down payment of at least 10%. Secondly, when qualifying with a score that low, it's considered a subprime loan. What that means from a practical perspective is that even if you can get the loan, you won't get the best terms and could end up with a much higher annual percentage rate (APR).
Also, most lenders, including Rocket Mortgage®, won't do the loan if your median score is below 580. We'll get into this below.
Finally, you have to have some very low qualifying ratios. To qualify with a median FICO® Score of below 580, you need to pay close attention to two ratios: your housing expense ratio and your overall debt-to-income ratio (DTI).
Understanding Your Housing Expense Ratio
Your housing expense ratio is the percentage of your gross monthly income that's used for housing expenses. It's calculated as follows:
(Installment debt + Revolving debt payments) / Gross monthly income
The amount being spent monthly on housing expenses can't exceed 31% of your gross income.
Understanding Your Debt-To-Income Ratio
Your DTI takes into account your debts, or fixed monthly expenses. It includes your mortgage, minimum credit card payment, student loan, auto loan and other debts. It doesn't include variable expenses like groceries, utilities, gas, health insurance and car insurance.
DTI is calculated with the following formula:
Monthly expenses / Gross monthly income
With a median FICO® Score below 580, your DTI can't go over 45% of your gross monthly income. Housing expense and DTI have a major impact on how much house you can afford.
In addition to the restrictions laid out above, it's important to note that very few lenders offer these subprime FHA loans and they may have stricter requirements than what the FHA sets. At Rocket Mortgage, you have to have a median FICO® Score of at least 580 to qualify and may need to have a DTI as low as 38%.
FHA Credit Score Requirements May Vary
The credit scores and qualifying ratios we've mentioned in this article so far are either the minimums required by Rocket Mortgage or the FHA itself. Other lenders may have their own requirements, such as a higher FICO® Score or a larger down payment.
Read More: Mortgage Payment Breakdown: What's Included In Your Payments
The Benefits Of A Higher Credit Score
If you have a median FICO® Score of 580 or higher, the first benefit is that you'll have more lenders competing for your business, including Rocket Mortgage. Options mean better loan terms, including more competitive interest rates.
Beyond simple qualification, your median FICO® Score plays a major role along with your down payment in the interest rate you receive. The higher your score and the higher your down payment, the better interest rate you can expect.
If your score is better than 580, you'll only have to make a down payment of 3.5%. This could significantly open up your housing options. It's worth noting that you'll have mortgage insurance premiums for the life of the loan if you make an initial down payment of less than 10%. On the other hand, you'll pay for mortgage insurance for 11 years with a down payment of 10% or more. However, one of the options you may have down the line to get rid of mortgage insurance is to refinance into a conventional loan once you reach 20% equity as long as you qualify.
If you have a FICO® Score above 580 but below 620, you'll need to maintain a housing expense ratio of no more than 38% of your gross income and a DTI of no more than 45%, after including the new mortgage payment, to get an FHA loan through Rocket Mortgage.
If you have a median FICO® Score of 620 or better, higher DTIs are allowed than what otherwise might be allowed on many other loans. While there's no hard maximum that applies to everyone, the DTI for borrowers with higher credit scores is based on your credit score range as well as the size of your down payment, among other factors. In no event will the FHA approve a DTI above 57%, but this could offer more budget flexibility than many
FHA Loans For Bad Credit Or No Credit History
If you're applying for any kind of mortgage, including FHA, it's a good idea to have at least two or three accounts open and reporting on your credit – whether those are revolving accounts, like credit cards, or monthly loan payments to a personal loan. However, it's possible to get an FHA loan with a bad or nonexistent traditional credit history. Before moving forward, there are some things you should know.
First, Rocket Mortgage requires that at least one client must have a median FICO® Score of 640 or better for another client on the loan to have no credit score. This means you can't apply for a loan without credit, but your income can be used if you're applying with a spouse or other co-applicant.
These loans are manually underwritten. That means your mortgage process can take longer. To get an FHA loan with no credit history from Rocket Mortgage, you need to have a minimum of three nontraditional credit references.
Those references have to include at least one of the following:
Utilities not reporting on the credit report (gas, electricity, water, cable or internet)
Telephone service
Rental housing payments
The other two references may come from any of the following:
Insurance premium that's not payroll deducted (medical, auto, life and homeowners/renters)
Childcare payments
School tuition
Retail store credit cards (department, furniture, appliance, etc.)
Rent-to-own (furniture, appliances, etc.)
Portion of medical bills not covered by insurance
Car leases
Personal loans from an individual with repayment terms in writing that can be supported by canceled checks
A documented 12-month history of savings by regular deposits resulting in an increasing balance to the account. The account has to show at least quarterly deposits, which aren't payroll deducted. There should be no fees for insufficient funds.
A year's worth of payments you made to an account on which you're an authorized user
Finally, because you have no credit history, you'll have to keep your DTI low. Rocket Mortgage requires a housing expense ratio no higher than 31% and a total DTI of less than or equal to 45%.
FHA Loan Credit Score FAQs
Let's take a look at some of the most common questions borrowers have when they look at their credit score and FHA requirements.
What if I don't meet the FHA's credit requirements?
One of the first actions you can take if you aren't eligible for an FHA loan is to raise your credit score and reduce your debt. If that isn't an option or might take longer than anticipated, try putting down a larger down payment or getting a co-borrower. You could also ask your lender if there are any compensating factors they could take into consideration.
You can also consider buying a more affordable home, which will lower the amount of money you'll need to borrow and your monthly payments.
What are the FHA loan limits?
When it comes to FHA mortgage loan limits, they vary by county and housing units. Depending on where you live or where you're looking to buy a house, your mortgage lender can help you determine what your maximum limit will be for the current year.
What documents do I need for an FHA loan?
If you're applying for an FHA loan, you'll need documentation. These documents include a state-issued identification, proof of a Social Security number and 2 years' worth of pay stubs, W-2 forms or tax returns. FHA lenders can provide you with a specific list of what you'll need, and they can walk you through the process.
Home Affordability Calculator
Calculate the home price you can afford using your income and the amount of debt you have.
Calculate Now
The Bottom Line: Know The FHA Credit Score Requirements
When it comes to the credit score requirements for an FHA loan, it's best to speak with your mortgage lender. They can help guide you through the process and figure out options that will fit your financial situation and needs.
If you'd like to see how FHA or another mortgage option could work for you, you can apply online with Rocket Mortgage or you can contact us to speak with one of our Home Loan Experts.