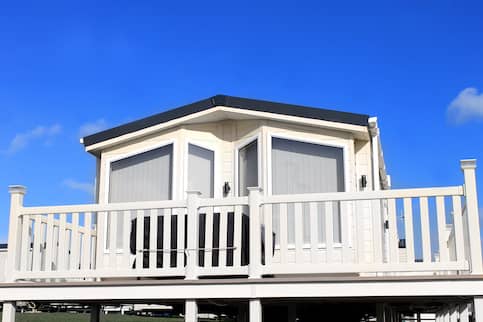 Modular Vs. Manufactured Homes: What's The Difference?
Published on December 1, 2021
Both modular homes and manufactured homes (also known as mobile homes) are prefabricated structures, meaning they are either partially or fully constructed in an off-site factory.
From a legal standpoint, the primary difference between modular and manufactured homes is that modular homes are held to the same local, state and regional building codes required for on-site homes, while manufactured homes are held to a federal code set by the Department of Housing and Urban Development (HUD).
Admittedly, this legal distinction doesn't tell us much in and of itself. So, what are the discernible differences between modular and manufactured homes? Let's have a look.
Apply for a mortgage today!
Apply online for expert recommendations with real interest rates and payments.
Start Your Application
What Is A Modular Home?
A modular home is a house that's partially constructed in a factory and shipped to the homeowner's lot, where it's pieced together, put on a foundation and then completed. Like traditional homes, modular homes are placed on a permanent foundation and often have full basements. The construction of a modular home must comply with local building codes and standards in the area where the home will be placed.
While the building process differs quite a bit from that of traditional homes, you'd be hard-pressed to identify a modular home just by looking at it. They can come in all sorts of floor plans and designs, from a sprawling ranch or Cape Cod to a two-story colonial.
Like traditional, site-built homes, modular homes have values that tend to go up or down right along with the rest of the housing market. Also, most banks and lenders offer financing on modular homes, meaning buyers will typically have a good range of mortgage options when it comes time to make a purchase. Rocket Mortgage® finances modular homes.
See What You Qualify For
Congratulations! Based on the information you have provided, you are eligible to continue your home loan process online with Rocket Mortgage.
If a sign-in page does not automatically pop up in a new tab, click here
What Is A Manufactured Home?
Manufactured homes, sometimes referred to as mobile homes or trailers, are houses completely constructed in a factory and built on a fixed, steel chassis (rather than a permanent foundation). These homes are also usually built with wheels, which are detached after towing to the home site, which is either privately owned or leased to the homeowner. Construction on a manufactured home must comply with building codes set up by HUD. One of the primary ways to identify a manufactured home is by its HUD tag.
Newer manufactured homes don't always look like the double-wide trailer you might be picturing. While they might not be as customizable as site-built or modular homes, manufactured homes can be built with a variety of architectural styles, floor plans and add-ons, such as decks and porches.
Another misconception about manufactured homes is that they are unsafe or poorly built. With the passing of the National Manufactured Housing Construction and Safety Standards Act of 1974, HUD began requiring stringent construction and safety standards for all HUD-certified manufactured homes. It's important to note that manufactured homes built before June 15, 1976 – when the law went into effect – are not considered compliant with HUD code.
One disadvantage of buying a manufactured home is that it can be more complicated for home buyers to get a mortgage. Some dealers and local lenders may offer financing, but only a few lenders offer mortgages on this type of housing. While Fannie Mae and Freddie Mac do offer conventional loans for manufactured housing, government-backed loans (such as FHA and VA loans) are a more common choice because of different underwriting standards.
Rocket Mortgage® offers financing on manufactured homes built on or after June 15, 1976 that are permanently affixed to the land (real property) and have a HUD tag. FHA loans for manufactured homes require a foundation inspection according to the standards set by the Permanent Foundations Guide for Manufactured Housing. If you've had a prior inspection, that can be used to qualify.
Apply Online with Rocket Mortgage
Get approved with Rocket Mortgage® – and do it all online. You can get a real, customizable mortgage solution based on your unique financial situation.
Apply Online
Considerations Between Modular And Manufactured Homes
The differences between modular and manufactured homes have serious implications when it comes to affordability, financing, long-term value, and a variety of other factors. Here's a chart that breaks down some of the important differences between modular and manufactured homes:
| | | |
| --- | --- | --- |
| | Modular Homes | Manufactured Homes |
| Construction | Multiple factory-made pieces assembled at home site | Built-in sections, can be single or multi-width |
| Mobility | No | Can be transferred to property then permanently affixed |
| Financing options | Standard | Limited (more options may be available if the home is permanently affixed to the land) |
| Code requirements | Local, state and regional codes | Federal HUD code |
| Relative home cost | Higher | Lower |
Some home buyers opt for a manufactured home over a modular home based on affordability alone. It's true that manufactured homes tend to be less expensive overall, but the broader range of mortgage options for a modular home might offer qualified borrowers the ability to get into a modular home more quickly and easily, with more lending options and more simplified loan processing.
The Bottom Line: Know What Both Modular And Manufactured Homes Bring To The Table
While these types of homes may be similar in construction, they have different implications for home buyers, like you. Modular homes may be difficult to differentiate from other homes and they must comply with local building codes and standards, while manufactured homes are built on a fixed chassis and must comply with building codes established by HUD. With other considerations like customization and mortgage options, knowing the difference between modular and manufactured homes will help guide you to make the right decision.
If you have questions about financing a manufactured or modular home, apply online or give us a call at (888) 452-0335.
Apply for a mortgage today!
Apply online for expert recommendations with real interest rates and payments.
Start Your Application