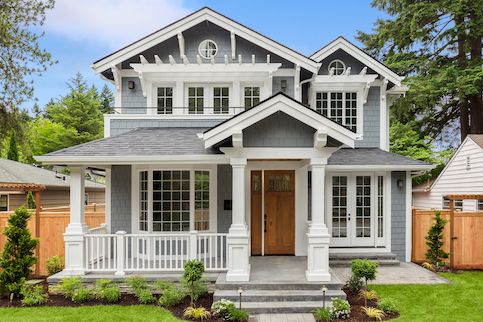 CC&R: Covenants, Conditions & Restrictions Explained
Published on April 21, 2020
If you're considering buying a house that's part of a planned community, there are things you need to be aware of beyond just the homeowner's association (HOA) fees, including the declaration of covenants, conditions and restrictions (CC&R). CC&Rs are legal terms that refer to rules of a certain planned community that you must live by in order to reside in that community. It's important to know what CC&Rs are and how they can impact your day-to-day life before you move into a place that has them. Not knowing the requirement and limitations could negatively impact your lifestyle and also your wallet. Read on to learn whether living in a place with CC&Rs is right for you.
What Are CC&Rs In Real Estate?
Covenants, Conditions & Restrictions (CC&Rs), sometimes referred to as bylaws, are rules and property limitations of a planned community neighborhood. Typically imposed by builders, developers, neighborhood associations or HOAs, they're designed to protect property values in the community and tell you what you can and can't do while living in your home.
A Declaration of CC&R is the legal document that lists all of the rules and guidelines for the community that you must agree to live by in exchange for living there. It's critical to find out if the property you're considering buying has a declaration of CC&R and that you understand all the provisions you'll be required to uphold before moving in. When you close on your home, you'll sign a document stating you read the CC&Rs and agree to uphold them.
Apply Online with Rocket Mortgage
Get approved with Rocket Mortgage® – and do it all online. You can get a real, customizable mortgage solution based on your unique financial situation.
Apply Online
When Is A Declaration Of CC&R Used?
Planned, covenanted communities, especially if they have a homeowners association (HOA), often have a declaration of CC&R in place. In addition to helping to maintain the property value in the community, they are also imposed to help protect against annoyances that would impede the quality of life for other residents in the community.
Common CC&R Provisions
Not to be confused with zoning ordinances, which are dictated by government entities, CC&R provisions are agreements between private parties and are entered into voluntarily. Because of this, they can be more restrictive. Here are a few common ones you may come across – and yes, some may seem a tad controversial.
Exterior aesthetics. You may be required to use certain shingles, paint colors and trim on the exterior of your house. This may be to keep the overall aesthetic of the neighborhood cohesive and consistent.
Interior aesthetics. You may need to get approval on interior decorations before installing them. That could be a bigger design change, like new tile or hardwood flooring to something as seemingly trivial as a new paint color, wallpaper or window treatment.
Landscaping. You may be required to keep your lawn well-manicured, weed-free and at a certain height. You might not be permitted to plant certain bushes or trees because of their height or type.
Fencing. You may not be allowed to fence in your yard or may be required to use a certain type of fencing at a certain height.
Vehicle parking. The community may have designated parking for residents and guests. Residents may be required to park their cars in their garages or only allowed a certain number of cars.
Pets. The community may have breed, size or weight restrictions on dogs and cats and may not allow certain types of animals in general.
Business. You may not be allowed to conduct certain business in your home if it is seen as a disruption to your neighborhood or nuisance to your neighbors.
Parties. The community may have restrictions on parties, including where and when you can have them.
Remember, too, that your neighbors have also agreed to abide by these rules. So if you're particularly concerned about noise levels or parking or even the look of your neighborhood, living in a planned community with CC&Rs may work out well for you.
Penalties For Violating CC&Rs
CC&Rs are legal, binding documents – providing that all covenants are legal. There can be restrictions that are against the law (for example, ones that violate the Fair Housing Act) that may exist that are typically invalidated by state or federal laws. In most cases, the CC&R is legal and binding. As stated before, upon closing on your home, you'll be asked to sign a document stating that you've read the CC&R and you agree to it. Once you sign that document, you're bound to the contract and can face penalties for violating the agreement.
Who enforces CC&Rs?
How CC&Rs are enforced and who can enforce them will be spelled out in the Declaration of CC&R. This governing document typically allows the homeowners association or neighborhood association to enforce CC&Rs and dole out the penalties.
What Are Some Examples Of CC&R Penalties?
There are a few ways someone could be penalized for not abiding by their community's CC&Rs. Here are some examples:
Verbal or written notices. One of the first steps is usually a verbal or written notice from the association stating you have violated a CC&R and requesting you fix the problem immediately.
Fines. You could be subject to a fine for not abiding by the CC&R. This could be a one-time fine, a charge for each day the issue is not resolved or a charge for the cost of labor and materials for the association to come and fix the problem itself.
Loss of community privileges. Many associations have common areas and amenities that all residents may use, such as pools, gyms and clubhouses. If you do not comply with the association's CC&Rs, it could punish you by suspending your privileges to use such facilities for a certain amount of time or until the issue is resolved.
Lawsuits. If you refuse to act, the association could file a lawsuit and request the court to require you to take the necessary steps to resolve the issue. If this happens, you could be on the hook for any legal fees incurred by the HOA.
Liens or foreclosure. If the issue is unpaid dues or fines, the association could put a lien on your property. This could eventually give the association the ability to foreclose on the home.
Know What You're Signing Up For
Buying a home is a big decision, and buying a home in a planned community may require a bit more due diligence. Before closing, you should request a copy of the Declaration of CC&R (you'll be signing a document saying you read them, after all). You may be able to get these from your real estate agent, title company or from the association directly. Make sure you review each rule to make sure you can live under it. For example, if the association doesn't allow you to rent out a room in your home and you were planning on making extra money by doing so, that particular home may not be the best choice for you. You may want to review the declaration with a real estate attorney and make sure you get your questions answered. It may also help to speak with a mortgage expert.
Apply Online with Rocket Mortgage
Get approved with Rocket Mortgage® – and do it all online. You can get a real, customizable mortgage solution based on your unique financial situation.
Apply Online