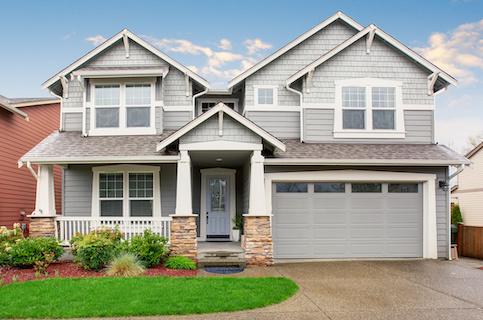 Fair Housing Act: What You Need To Know About Your Rights Under Federal Law
Published on December 29, 2021
When you rent or purchase a home, a landlord, seller, real estate agent or lender can require a minimum credit score, verification of income and other proof you'll be able to pay your rent or mortgage.
What they should never require is that you be a certain "type" of person. Unfortunately, in the past, this type of requirement was common and openly practiced, making it difficult for different minority groups to access housing. Today, this type of discrimination is illegal, thanks to the Fair Housing Act.
What Is The Fair Housing Act?
The Fair Housing Act is a federal law that prohibits discrimination against home buyers, renters and anyone involved in a housing activity like applying for a mortgage. It also authorizes meaningful enforcement and penalties against those who discriminate against a protected class.
History Of The Federal Fair Housing Act
Prior to the passage of the Civil Rights Act of 1968 with the signature of President Lyndon Johnson, home sellers and landlords could refuse to sell or rent to people of color for any reason or no reason at all. Notices about houses for sale or rent often freely specified what nationalities, or races, were free to apply and which ones were not.
Signed into law just one week after the assassination of Martin Luther King, Jr., the Fair Housing Act of 1968 is one of the biggest legislative acts to come out of the Civil Rights movement, building on earlier laws like the Rumford Act of 1963 and the Civil Rights Act of 1964.
Who Does The Equal Housing Act Protect?
The following classes are protected by the Fair Housing Act:
Race

Color

Disability

Religion

Sex

Familial status

National origin
Unprotected Classes
Currently, federal law doesn't prohibit discrimination based on:
Marital status

Receipt of public assistance
However, many state and local Fair Housing laws do protect those listed above, and a person facing discrimination for one of these characteristics may still be able to file a complaint with the U.S. Department of Housing and Urban Development (HUD) if they feel the discrimination also falls under other protected classes. In some cases, courts have also extended the protections.
While the topics of gender identity and sexual orientation aren't touched on in the original text of the Fair Housing Act, a recent decision from the Supreme Court held that the prohibitions on discrimination based on sex extended to gender identity and sexual orientation. A memo from the Assistant Secretary for Fair Housing and Equal Opportunity Jeanine M. Worden directed staff to enforce the law as such.
For example, consider the following situation: A landlord is willing to rent to a woman when communicating with her over email. However, after meeting with the potential tenant in person and finding out she is transgender, the landlord then refuses to rent to the woman.
Discrimination based on gender identity isn't explicitly mentioned in the Fair Housing Act, but the high court has ruled that this falls under sex-based discrimination. In this scenario, the transgender woman could file a complaint based on sex discrimination, since the landlord may be discriminating against the tenant for not conforming to gender stereotypes.
Exemptions
Some circumstances exempt sellers and landlords from some provisions of the Fair Housing Act. These include:
Single-family homeowners who sell their home without the assistance of a broker representing either the seller or buyer

Rentals within an owner-occupied home that has no more than four units

Private clubs that are members-only

Religious organizations
While these individuals are exempt, they cannot discriminate based on race, no matter what. That's because the Civil Rights Act of 1866 prohibits racial discrimination.
Apply for a mortgage today!
Apply online for expert recommendations with real interest rates and payments.
Start Your Application
Discriminatory Acts Prevented By Fair Housing Laws
The Fair Housing Act makes it unlawful to discriminate against protected classes, but what exactly does that mean? Here are a few examples of discriminatory actions at different stages of the home buying process.
Home Sales And Rentals
The law prohibits landlords, homeowners and agents from the following actions based solely on characteristics of a protected class:
Refusing to rent, sell or negotiate housing rentals or sales

Making housing unavailable or lying about its availability

Denying housing outright

Changing terms and conditions for members of protected groups

Providing different, and less appealing, housing or amenities to members of protected groups

Blockbusting, or panic peddling, which is the act of manipulating homeowners to sell or rent their homes at a lower price by promoting fear and panic that minorities will be moving into the neighborhood and causing values to drop

Steering potential buyers toward a certain neighborhood on the basis of their protected class or ideas of where the buyer should live, not where they want to live

Denying participation in housing-related services like the multiple listing service

Evicting tenants

Failing to provide or delaying maintenance or repairs
Mortgage Lending
The following discriminatory lending practices toward a loan applicant or person associated with the loan applicant are prohibited under fair housing laws:
Denying a mortgage to an otherwise eligible applicant because they're a member of a protected class

Redlining, which is the act of denying a loan to an otherwise eligible applicant because they live in a certain neighborhood

Making it more difficult for certain people to qualify by setting excessively high standards and making the loan process more burdensome

Setting higher interest rates and more difficult terms and conditions on minority applicants

Steering applicants away from certain types of loans

Setting up different standards and procedures for late payments, penalties, foreclosures and other collections

Not disclosing all information about the loan

Lowballing, which is the act of making an extremely low property appraisal based on the property's neighborhood (redlining), owners or potential buyers
Keep in mind, this list is not a complete list of illegal practices in mortgage lending, as any discriminatory practice violates the Fair Housing Act and the Equal Credit Opportunity Act.
Discriminatory Communications
Advertising for lenders, real estate agents, landlords and home sellers also falls under the Fair Housing Act, which prohibits the following advertising practices:
Using racially exclusive images

Using ads that show an aversion toward members of a protected group

Indicating a preference for individuals outside of a protected group

Requesting tenants who speak certain languages

Advertising that housing is available to a specific type of buyer and not to others
These prohibitions also apply to sellers and landlords whose buildings are considered exempt.
Finally, it's also illegal to threaten a member of a protected group, interfere with their fair housing rights or retaliate against an individual for filing a fair housing complaint.
Who Enforces Fair Housing Laws?
HUD has jurisdiction over Fair Housing Act enforcement and has an agency, the Office of Fair Housing and Equal Opportunity (FHEO), dedicated to enforcing the provisions of the law, promoting civil rights in housing and eliminating housing discrimination.
The FHEO enforces these fair housing laws and policies in the following ways:
Investigating fair housing complaints

Hiring undercover individuals to apply for housing

Performing compliance reviews

Overseeing fair housing grants
What To Do If You've Been Discriminated Against
If you believe you've been the victim of housing discrimination, there are steps you can take to seek justice.
File A Complaint
The first step is to file a complaint with HUD. When filing, be sure to include the following information:
Your name and address

The name and address of those you are filing against

The address of the property involved

A brief description of the event in which the alleged violation took place

The date the violation happened
You can also file a civil lawsuit instead of or in addition to filing a complaint with HUD.
Remember, retaliating against any person for filing a complaint or assisting in the investigation is illegal. If you experience retaliation in this manner, you can file a complaint.
Allow HUD To Investigate
Once you file a complaint, HUD will notify you and those you are filing against that they received the complaint. The alleged violator will be allowed to submit a written response. HUD will also investigate the complaint by:
Gathering evidence

Conducting interviews

Inspecting properties

Accessing specific documents
Once HUD completes the investigation, the FHEO will send a written report of its findings. From there, the case could be tried before a HUD administrative law judge or a federal judge, depending on what the parties decide.
Research State And Local Laws
Remember, there are state and local fair housing laws that may cover other protected classes that the Fair Housing Act does not. Make sure you also look up fair housing laws in your state and see how to take action if your situation falls under those instead.
Consult An Advocacy Group
For further assistance, you can also search for local fair housing advocacy groups that can advise how best to proceed where you live. These groups can provide advice whether you're just starting to look into your options or navigating the investigation process with HUD.
Best Practices For Landlords And Home Sellers
If you're a home seller or landlord and want to make sure you're avoiding any inclination of discrimination, follow these best practices to screen applicants fairly:
Have a standard, transparent application and screening process that's the same for all tenants.

Check your state and local fair housing laws to ensure you are also complying with those in addition to the federal laws.

Make decisions on who to rent or sell to based strictly on factors that determine an applicant's ability to pay their rent or mortgage. These factors may include credit score, credit history, referrals and income documentation.
The Bottom Line: Know Your Rights To Fair Housing
Whether you're renting, selling or buying a home, it's important to know who the Fair Housing Act protects and what practices it prohibits. As a buyer or tenant, you need to know your rights so you can recognize discrimination and act on it. As a lender, agent, seller or landlord, you need to know the rights of your potential clients, so you can ensure you don't violate them and wind up with a lawsuit or complaint against you.
When it comes to home buying or selling, there's a lot to learn. Check out our Home Buying Guide for more resources on both topics.
Apply for a mortgage today!
Apply online for expert recommendations with real interest rates and payments.
Start Your Application