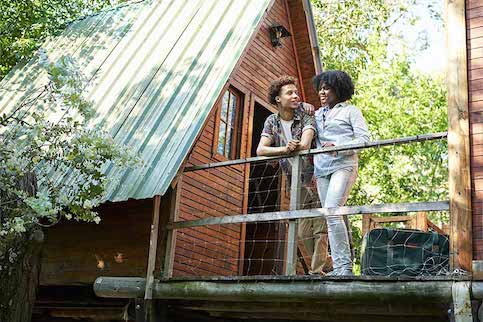 What Is A Timeshare And Is It Worth Buying?
Published on October 25, 2022
A timeshare can be an enjoyable and reliable vacation spot for you and your family to create memories year after year. But what are the costs associated with a timeshare, and is a timeshare worth buying?
If you're a creature of habit and want the same vacation spot every year, buying a timeshare might make sense.
Let's unpack everything you need to know about purchasing a timeshare, the different types of timeshare contracts and the costs that come along with owning a timeshare.
Timeshare Definition
A timeshare is a shared piece of vacation real estate that allows multiple owners to share the same property in different time increments. Typically, timeshare owners will stay at a property for a 1-week interval each year. You can find a timeshare for purchase through resorts, real estate agents and developers.
If you're unable to buy a vacation home due to financial restrictions, a timeshare may be a cost-effective solution. These properties can give you the feeling of ownership while sharing the exclusive use of a property with others during their allotted time.
While the most popular timeshares are condos or apartments located on resort properties, the shared ownership model may also apply to other properties, including:
How Do Timeshares Work?
Since timeshares are a shared ownership property, you enter a contractual agreement to share the property with other owners throughout the year. However, you'll only have exclusive access to the property for a specific period of time each year.
See What You Qualify For
Congratulations! Based on the information you have provided, you are eligible to continue your home loan process online with Rocket Mortgage.
If a sign-in page does not automatically pop up in a new tab, click here
Types Of Timeshare Ownership
Before registering for a timeshare agreement, it's crucial you understand the two types of timeshares: shared deeded timeshares and shared leased timeshares.
Shared Deeded Timeshares
When you obtain a deeded timeshare ownership, you'll own a portion or percentage of the timeshare property, meaning there's no contractual expiration date. Keep in mind: When you buy a timeshare, you aren't building equity in the home. Although the timeshare has no expiration date, you won't see a return on investment like you would with a vacation home.
In addition, you'll have voting rights on important topics such as maintenance fees. However, deeded timeshare owners are responsible for the upkeep of the shared space. This can include housekeeping, landscaping, repairs and improvements to the property.
Another perk of deeded timeshares is that they're transferable, so you can sell them, include them in your will or give them away.
Shared Leased Timeshares
A leased timeshare, also known as a right-to-use timeshare, indicates you don't own the property but have the right to physically stay at the property for some time.
Unlike deeded timeshares, the person who sells you the right-to-use agreement owns the property. Leased timeshare contracts define how long you can use the timeshare – usually these are long-term contracts. Leased timeshare agreements can expire after upward of 20 years.
Since you don't own property in this type of ownership, you won't have any say in annual timeshare fees and whether the property owner decides to raise them. The rules of the property and the maintenance and operations are all completely up to the developer. Additionally, if the developer ever goes bankrupt, you will lose your ability to stay at the property.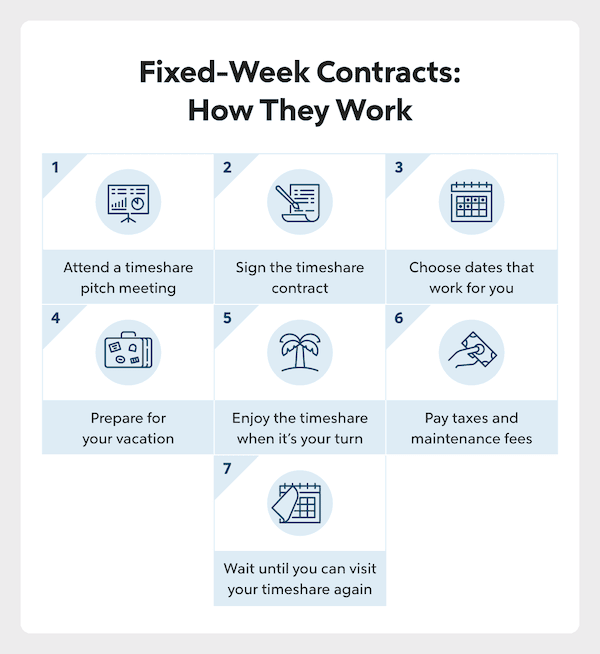 Types Of Timeshare Contracts
Whether you enter into a timeshare contract or a purchase agreement, it's always important to read the fine print whenever you acquire property. Several types of timeshares exist, and your decision should come down to the best fit for you. Your flexibility in planning and your desire to stay at different locations will likely be a factor.
Fixed-Week Contracts
A fixed-week timeshare gives you the ability to exclusively use the property for a specified week every single year. You might consider a fixed-week timeshare contract if you like structure in planning your annual vacations since you'll have a dedicated annual vacation spot.
However, fixed-week contracts also bring some challenges. If you want to change your fixed week, for example, you might face difficulties. With this in mind, if you want more flexibility in scheduling your timeshare vacation, this contract might not be the best fit.
Floating Week Contracts
A floating week timeshare contract allows you to select the week you prefer to stay at the property during a predetermined time. Despite this type of agreement being more flexible than the fixed week, it's more competitive.
For example, if you want to reserve a timeshare in a busy week out of the year, you'll face the possibility of losing that week to another timeshare owner.
It's also important to know that timeshare contracts for high-demand seasons cost more – affecting the price of your floating week contract.
Points-Based Contracts
Timeshare companies may offer a points-based system where you receive a certain number of points. You will use these points toward vacationing at the home resort or other resorts within the brand's network. This is the most popular timeshare contract system today.
The number of points you pay for a destination relies on several factors, including the timeshare location and its availability, so expect to use most of your points if you prefer to stay at a popular vacation home location.
This type of timeshare agreement appeals to those who like variety instead of staying at the same vacation property every year.
Fractional Contracts
Fractional timeshare ownership is a lot like signing up for a fixed-week contract, but instead of choosing to stay at the property for only 1 week out of the year, a fractional timeshare lets you stay at the property for long periods of time.
This type of timeshare contract is a lot like owning a rental property since you're responsible for maintaining the property and ensuring that everything runs smoothly for the other owners.
Third-Party Timeshare Exchange
For many people who purchase a timeshare, one benefit is getting to vacation in the same spot every year. However, those who are more adventurous can enter timeshare vacation exchange programs to swap timeshares with other qualified owners.
Although this typically requires a fixed-week timeshare contract, you may enter a third-party timeshare sharing program to make this exchange and vacation somewhere new every year.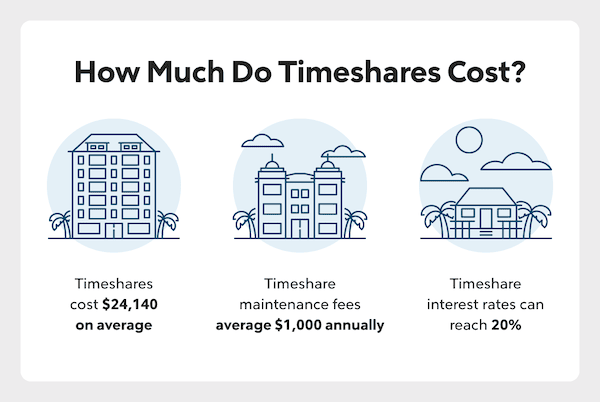 How Much Is A Timeshare?
A lot of fees come with timeshare ownership. Use our guide below to see the costs typically associated with buying a timeshare. According to the American Resort Development Association (ARDA), the average cost for a timeshare interval was $23,940 in 2022. This number is the upfront cost for a timeshare and doesn't include associated fees you'll pay each year.
Upfront Timeshare Fees
The more desirable a timeshare's location and time of year, the more costly it will be. That means upfront timeshare costs will vary.
You may choose to pay for the entire timeshare interval upfront or choose financing options to pay off your contract in monthly installments. This option is convenient for timeshare owners who aren't prepared to pay the upfront cost all in one go.
Timeshare Maintenance Fees
When you enter a contract for a timeshare, you'll owe the managing property an annual maintenance fee to help maintain the property. These fees typically cost timeshare owners up to $1,000 and increase every year, and you might have to pay an additional assessment for unexpected repairs.
Timeshare maintenance fees cover:
Regular upkeep and maintenance

Yard work services

Gym upkeep

Pool repair and maintenance

Sprinkler repair

Landscaping work

Golf course care
Timeshare Interest Rates
Much like when you buy a new home, you'll need to consider interest rates – which typically depend on the state of the market at the time you sign your contract.
Typically, interest rates for timeshares are steep: They may reach up to 20%. On the same note, keep a close eye on your timeshare loan calculations. The upfront fees and down payment are the only items to finance – you should never finance maintenance fees.
Timeshare Property Taxes
Depending on your contract, your timeshare may hit you with annual property taxes. Most of the time, however, property taxes will be lumped together with your upfront fees or bundled with your maintenance costs.
Pros And Cons Of Timeshares
It's important to do your research on timeshares to determine if they're worth it to you.
While you're deciding, just be aware that timeshares are only vacation destinations and not a source for investments. Therefore, don't expect a financial return on your purchase.
Pros Of Timeshares
Timeshares ensure that you own your vacation spot instead of renting it, and this guarantees your stay and helps you save on future trips.
Most timeshares have a floor plan like two-bedroom condominiums or apartments. The advantages of timeshares include:
Guaranteed vacations

Long-term savings

Dedicated space and amenities

No year-round maintenance

Luxurious accommodations

The ability to r

ent to others
Cons Of Timeshares
Timeshare maintenance fees will increase yearly.
Other disadvantages of timeshares include:
Annual maintenance fees and dues

High upfront cost

Difficulty selling

Misinformation from third-party sellers
How To Buy A Timeshare
You can go about purchasing a timeshare in one of the following ways:
Attending timeshare presentations: You may attend a timeshare meeting while vacationing at a resort. In this meeting, you'll hear a sales pitch, which will include all the benefits and details of the timeshare contract. You'll also have the option to take a tour of the property.
Visiting timeshare reseller websites: With this method of buying a timeshare, you'll purchase somebody else out of their contract. This is a reliable method, but you won't be able to see the timeshare in person before purchasing it.
Timeshare FAQs
Below are a few frequently asked questions about timeshares.
Should I rent or buy a timeshare?
Timeshares are bought, not rented. If a timeshare sounds like a great idea, do your research and consult with a timeshare agent before buying. You may prefer another option, like renting a vacation home or purchasing a second house.
If you're just starting to dip your toes into the idea of buying a timeshare, it might be best to try renting out a few vacation properties on third-party websites. Then, if you really want to return to the same destination year after year, opt for purchasing a timeshare and entering a timeshare contract.
Do I have to pay for a timeshare upfront?
Yes, you typically have to purchase a timeshare upfront, but financing options are available for most purchasers.
Can I get out of a timeshare contract?
You can get out of a timeshare contract, or at least avoid the costs associated with it, by:
Selling

to an interested buyer

Giving the timeshare

to a friend or family member

Renting

your timeshare on vacation rental websites to cover the cost
What are the most popular timeshare destinations?
According to Timeshare Broker Associates, the top timeshare destinations in the United States are:
Disney resorts

Myrtle Beach

Hawaii

Lake Tahoe

Branson, Missouri

Williamsburg, Virginia

Las Vegas
Are timeshares worth it?
When deciding if a timeshare is financially worth it, you'll need to factor in the upfront cost and yearly maintenance fees and determine the number of years you plan on vacationing at that destination.
The Bottom Line: Timeshares Can Be Worth It For Some Buyers
Now that you know how to buy a timeshare, as well as the pros and cons of timeshare ownership, you undoubtedly have a better idea of whether a timeshare is the right fit for you.
If you decide to finance a timeshare, you can choose from a few options. If you opt for a loan, a personal loan or home equity loan might be the right choice for you. You could also consider a cash-out refinance on your home. Want to know more? Get started by contacting us today.
Take the first step towards buying a house.
Get approved with Rocket Mortgage® to see what you qualify for.
Start My Approval