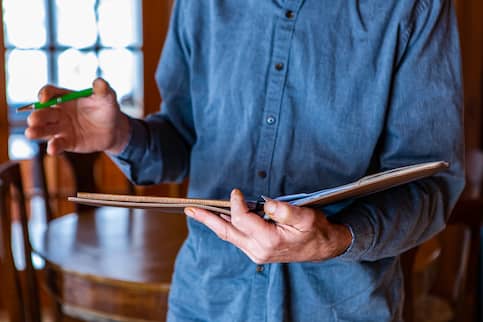 What Is An Appraisal Waiver And How Do You Get One?
Published on May 24, 2022
The real estate appraisal can be one of the most nerve-wracking parts of the home buying process. That's because a low appraisal can end a home sale, sending the buyers looking for a new property and the sellers back on the hunt for new offers. However, you might be able to skip this part of the process if your lender grants you an appraisal waiver.
Unfortunately, not all lenders will let you skip the in-person appraisal process when you're buying a home. And without an appraisal to guide you on its market value, you might overpay for that home you're buying.
Let's take a closer look at what a home appraisal waiver is, why a lender might grant one and the pros and cons of skipping this step of a real estate transaction.
What Is An Appraisal Waiver?
An appraisal waiver occurs when a lender allows qualified buyers to forgo an in-person home appraisal on the property they're financing. That means the lender won't hire a certified appraiser to visit the home to make an assessment. Instead, underwriters might rely on a comparative market analysis (CMA) to determine the market value of the property.
In-Personal Appraisal Vs. Desktop Or Drive-By Appraisal
Without a waiver, the traditional home appraisal process typically begins after the seller accepts your offer. Your lender will reach out to an appraiser to schedule their visit to the property.
During the in-person appraisal, a professional appraiser will assess the home and determine how much it is worth in today's housing market. They will decide the home's value by studying similar houses in the neighborhood, factoring in the age and upkeep, measuring the size of the property and counting the number of rooms and amenities.
Without this in-person assessment, the lender may choose another method to estimate the valuation of the property being financed. Your mortgage lender may complete a desktop or hybrid appraisal if they waive the in-person one. These options use market research and local sales data from an automated underwriting system or a previous appraisal report to determine a market value, instead of having an appraiser visit the property in person.
A mortgage lender may also use a drive-by appraisal if they choose to waive an in-person appraisal. While an appraiser may still visit the property, they'll only look at the exterior of the home, usually from a public road. The appraiser may also collect information from previous home sales in the neighborhood and local real estate market trends.
Why Would Home Buyers Want To Waive An Appraisal?
There are a few reasons why a home buyer might ask for an appraisal waiver. If you have one of the following concerns, asking for this allowance may be in your best interest:
Avoid A Low Appraised Amount
The most common reason a buyer requests a waiver is that they're concerned the property won't appraise for a high enough dollar amount. And if an appraisal comes in too low, the real estate sale might fall through.
For instance, if you offered $250,000 for a home and the appraiser determines that the property is worth only $200,000, your lender won't loan you the $250,000 that the sellers have already accepted. To keep the deal alive, you might have to pay the additional $50,000 out of your own pocket or convince the sellers to lower their sales price to $200,000. If neither of these happens, the deal will fall through.
As mentioned above, a home appraisal waiver means that you can skip the in-person appraisal. While a waiver may take away some of the uncertainty that comes with an in-person visit, other forms of property appraisals can also lead to low valuations. Put simply, a waiver may reduce the likelihood of a low appraisal but won't remove this risk altogether.
Save On Closing Costs
Another reason you may want to waive an appraisal is to save money, as buyers usually pay the appraiser's fee. Desktop, hybrid and drive-by appraisals tend to cost less than an in-person visit. One of these options could lead to lower closing costs.
Why Would A Mortgage Lender Waive An Appraisal?
It's rare that a lender will waive your appraisal when buying a home. That's because many lenders don't want to give you a mortgage for a higher dollar amount than what the home is worth. But just because appraisal waivers aren't common doesn't mean that you can't get one.
Depending on your financial situation and the lender's requirements, you might be able to qualify for a waiver in one of the following scenarios:
There's Plenty Of Local Sales Data
The odds of gaining an appraisal waiver are higher if you're buying in a neighborhood where there have been several other recent sales. This gives your lender multiple real estate comps that they can study to make sure they aren't loaning you too much.
The Property Was Recently Appraised
You might also qualify for a waiver if an in-person appraisal was conducted within the last year on a property you want to buy. This might have happened if the sellers of the home ordered an appraisal to help them determine its value before listing the property. Or, if the sellers purchased the home 3 – 12 months ago, your lender might accept the results of the appraisal that was done at that time.
The Lender Wants To Expedite Underwriting
Another reason lenders might approve an appraisal waiver is if they want to speed up the underwriting process. Issuing a waiver could save lenders both money and time. For example, during the increase of home sales during the COVID-19 pandemic, many lenders chose to waive in-person appraisals in favor of desktop or drive-by appraisals to help save time.
How To Get An Appraisal Waiver
You'll need to qualify for an appraisal waiver if you want to skip this step of the process.
Mortgage Appraisal Waiver Requirements
Lenders are more likely to approve a waiver if the property you're purchasing is a single-family home and the loan type is a conventional loan – in other words, a mortgage loan not backed by a government agency such as the Department of Veterans Affairs (VA) or the Federal Housing Administration (FHA). That's because the purchase appraisal requirements for government loans tend to be stricter than those for conventional mortgages.
If you want to boost your odds of qualifying for an appraisal waiver, it helps to have solid financials in place. Your lender may require the following before waiving your appraisal:
A high

credit score: There is no set score that will automatically convince your lender to waive an in-person appraisal, but the higher your score, the better. Most lenders consider a FICO® Score of 740 or higher to be an excellent one.

An appropriate

loan-to-value (LTV) ratio: The LTV ratio compares the size of your mortgage to the value of your home. You're more likely to qualify for an appraisal waiver if your loan-to-value ratio is no higher than 80%.

A larger

down payment: The larger your down payment, the lower your loan-to-value ratio will be. That means you'll need to save up down payment dollars if you want a chance at an appraisal waiver.
Refinance Appraisal Waiver Requirements
Besides home sales, lenders may also require appraisals for homeowners looking to refinance their current mortgage loan. In this case, a lender would be more likely to waive a refinance appraisal if you're using a government-backed loan. That's because government refinance loans offer an expedited closing process, which makes it easier for lenders to use other forms of property valuations.
For instance, if you're using an FHA Streamline refinance, the lender will likely opt for a waiver since these types of refinances have minimal paperwork.
The type of refinance you choose will also affect the likelihood of getting an appraisal waiver. If you want to use a cash-out refinance, for example, a lender probably won't grant a waiver as they'll need to know the exact amount of home equity you have to borrow against.
In-Person Appraisal Waiver Pros And Cons
As with all decisions during the home buying process, waiving an in-person appraisal comes with both positives and negatives. Let's take a look at both.
Pros Of Waiving An Appraisal
Getting an appraisal waiver can come with these benefits:
No In-Person Visit Required
The biggest benefit of an appraisal waiver is that you won't have to worry about a visit from an in-person appraiser. This could help prevent the home you're buying from being assessed at too low of a cost, something that could complicate your purchase. Remember that lenders will use other data to determine the value of your home, though, and this information might also result in an appraised value that is too low.
Lower Appraisal Costs
A waiver can save you money. Buyers typically pay for the costs of an appraisal, which can run as little as $600 or as high as $2,000 or more, depending on your home's size, location and age. Skipping the appraisal means skipping that fee. However, you still might have to pay for a drive-by, hybrid or desktop appraisal, though that will likely cost significantly less than an in-person one.
Shorter Closing Process
A waiver can also save time. Instead of waiting for an in-person appraisal, your lender can determine the value of your home using other information, perhaps shaving a few days off the closing process.
Cons Of An Appraisal Waiver
On the flip side, waiving a home appraisal can also come with these drawbacks:
Potential To Overpay For The Home
The biggest negative of an appraisal waiver is that you might overpay for your home. An in-person appraisal is designed to give buyers an accurate idea of how much the home they're buying should cost. If you skip it, the odds increase that you might pay more than what your home is worth.
Possible Inaccurate Evaluation
Even if the sellers have had their home appraised recently, you're still missing out on a second chance at gaining an accurate picture of your home's value. Specifically, if your lender relies on a desktop or hybrid appraisal, your home may be inaccurately appraised. You could also end up buying a home with unforeseen issues, since an appraiser may find problems inside the home that would otherwise be missed with another type of assessment.
The Bottom Line
While appraisals can create stress for buyers and sellers alike, it usually makes sense for borrowers to schedule an in-person appraisal of the home they're purchasing. Those who use an appraisal waiver may run the risk of overpaying for what might be the largest purchase they ever make.
If you're ready to begin your home buying journey, get started on your initial mortgage approval today and find out what rate and terms you could qualify for.
Find A Mortgage Today and Lock In Your Rate!
Get matched with a lender that will work for your financial situation.
Get Started