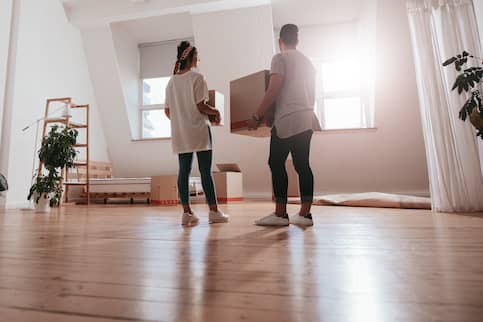 Selling Homes To Gen Z: What You Should Know
Published on January 28, 2021
Millennials can breathe a sigh of relief.
While so much has been said about millennials' complicated relationship with the housing market that it's achieved meme status, the spotlight is finally moving to our newest cohort of young adults – Generation Z.
The oldest members of this generation –born between 1997 and 2012 – are now approaching the age where they're beginning to think seriously about homeownership. This means that real estate professionals who want to know how to market to and work with them need to start getting familiar with what makes Gen Z so unique.
Gen Z At A Glance
Generation Z is on track to be the most diverse and best-educated generation we've seen, according to Pew. This is reflected in the things they want out of homeownership; for them, homogeneous neighborhoods and communities are a no-go. And while they have plenty of student loan debt to spare, they don't seem to be as sure it'll keep them from their homeownership goals as millennials were.
Gen Z doesn't know a world without computers or the internet. They spent much of their adolescence with smartphones capable of accessing the internet anytime, anywhere. While mobile devices are increasingly becoming the primary means of accessing the internet for people of all ages, Gen Z was and is at the forefront of this. Their phones, likely both for better and for worse, hold a huge chunk of their lives.
They're also smart, good at self-educating and don't want to be talked down to. They do a lot of their own research before making big purchases, so don't be surprised if your Gen Z clients tend to come into the process already more educated than other first-time homebuyers typically would be.
According to Realtor.com's Q1 2020 Generational Propensity Report, Gen Z homebuyers purchased homes at a median price of $164,000 in the first 3 months of 2020, more than $100,000 below the national median price of $265,900. Of course, the impact COVID-19 had on the market in the following months is likely to change these numbers as a dip in mortgage rates and higher demand for housing caused home prices to rise in the second half of 2020.
With a preference for lower home prices, it's no surprise that Gen Z buyers are purchasing in more affordable areas. A recent study by Lending Tree looked at mortgage purchase requests from the nation's 50 largest metropolitan areas from January to October 2020 and found that Gen Z buyers are purchasing homes in more affordable cities, including Salt Lake City, Oklahoma City, Indianapolis and Cincinnati.
Apply for a Mortgage with Quicken Loans®
Call our Home Loans Experts at (800) 251-9080 to begin your mortgage application, or apply online to review your loan options.
Start Your Application
How Gen Z Views Home Ownership
This generation, like the ones that have preceded it, considers homeownership to be an important goal. While this generation faces similar financial hurdles as millennials did while coming of age, industry experts are wondering if Gen Z will be able to realistically achieve homeownership. Will Gen Z be able to bridge this gap?
Though it's still early, the numbers are looking promising. A 2018 REALTOR.com® study found that this cohort is serious about planning for homeownership.
Gen Zers also seem to be much less interested in the so-called American dream as a motivator for homeownership. While 37% of millennials and 35% of Gen Xers listed wanting to live the American dream as a reason for wanting to become a homeowner, only 29% of Gen Zers did. What they seem to be most interested in is having the ability to customize their space, with 61% of Gen Zers listing this as a reason for wanting to be a homeowner, compared to 54% of millennials and 47% of Gen Xers.
The Ideal Gen Z Home
According to a study by Homes.com, Gen Z home buyers are most interested in detached, single-family homes with open concept layouts and outdoor amenities, like a patio or deck.
The youngest of home buyers, Gen Zers don't typically need large homes to hold a family of multiple kids. As they may be just starting families – or not even at that stage yet – and with affordability in mind, most Gen Zers are interested in smaller homes. They also prefer to live within close proximity to work and to friends and family.
How Real Estate Agents Should Market Homes To Gen Z
What does all this mean for you when it comes to marketing to Generation Z? Let's take a look at what real estate agents should be thinking about when coming up with their business strategies around this group.
Create A Credible Online Access Point
Make sure your overall online presence is good, and address any negative reviews that may be out there, responding to apologize or offer a resolution if necessary. Rest assured, your Gen Z clients will Google you, and if they don't like what they find, they'll go somewhere else.
It's also important that your professional website is streamlined. As we already mentioned, the main way people in this generation access the internet tends to be through their mobile devices. This means savvy real estate professionals who want to stay up to date with what their clients are looking for should be sure that their internet presence is optimized for mobile browsing. In fact, according to research from the National Retail Federation, over 60% of Gen Zers they surveyed said they wouldn't use an app or website that loads slowly or is difficult to navigate.
Prioritize Informational Content Marketing
Gen Zers eschew traditional marketing tactics. Traditional advertising feels inauthentic to them and can make them want to look elsewhere. Instead, look for ways to provide them value through content marketing.
A survey by Freddie Mac found that 65% of Gen Zers don't feel confident about their knowledge of the mortgage process and that 58% would turn to a real estate agent to learn more. In addition, 54% would turn to the internet. Adding educational content can help you reach even more Gen Z homebuyers because it provides them with two of their most preferred sources of information – the internet and a real estate agent.
Incorporating informational content into your marketing strategy could include things like commissioning well-designed infographics detailing the homebuying process or creating an "Ask A Real Estate Agent"-type video series that answers common questions home shoppers have, and featuring these elements on your website and promoting them on social media. Or, if you're a good writer, you could write the occasional blog post or house hunting guide.
Use Technology (The Right Way)
While technology is a big part of Gen Zers' lives and should be part of your business strategy, they tend not to be too impressed with technology for technology's sake. They want tech that's going to make their lives, and in this case, the homebuying process, easier. This could be as simple as helping your clients utilize online listings to prescreen so they can spend less time physically going from house to house, upping your social media game to reach younger potential clients where they spend a lot of their time, or adding a chat function to your website that can answer their questions in real time.
You should also be sure to dedicate some technology to making sure that all the personal information they share with you is safe, as data security is important to this generation, and they want to know they can trust you with their information. The National Association of REALTORS® has a helpful toolkit for this.
Be Available
Gen Z appreciates good customer service and swift communication. Though it can be difficult to manage getting out quick responses for everything when you're working with several different clients at a time, making sure you're getting back to all your clients' queries in a timely manner is of the utmost importance.
Text is a great way to stay in frequent contact with your clients if you just have quick updates or simple questions for them. And make sure to keep the lines of communication open both ways. Let them know that you're always available to answer a text if they have questions of their own.
While text is great for one-off conversations, when it comes to carrying out the process of buying a new home, this digital generation surprisingly prefers face-to-face interaction. In fact, according to the Freddie Mac survey mentioned above, 79% prefer conducting the homebuying process face-to-face with professionals instead of online through an app.
Be Inclusive
Gen Zers are incredibly diverse, and they value diversity in their communities. Social consciousness is a big deal for this generation, so they tend to prefer working with businesses and brands that reflect their values. Make sure you're being inclusive to people of all races, ethnicities, identities and backgrounds, not just in your marketing, but in the way you do business and interact with your clients.
Remember that with every client, you're working with an individual, not an entire generation. While the advice listed here can help you understand where they're coming from, the most important thing you can do for your Gen Z clients is to build a rapport and understand them on an individual level.
Low rates were a big story in 2020. It was a great year to refinance!
Great news about 2021 so far: Rates are still relatively low.
Start My Application
How Homeowners Should Market To Gen Z
For homeowners looking to sell, there are several home improvement projects that increase value. Here are a few they should consider that may especially appeal to Gen Z.
Spotlight Outdoor Spaces
Many Gen Zers prefer amenities for outdoor entertaining, especially since COVID-19 has made outdoor activities practically necessary for safe social engagements. Putting a spotlight on outdoor spaces could mean installing a patio, fencing in a yard, installing outdoor lighting or building a fire pit.
Improve Energy Efficiency
Many Gen Zers see climate change as one of the major challenges the world faces today and many are willing to pay more for eco-friendly products. This interest spills over into what they prefer in a home. Sellers can make homes more energy-efficient by installing two– or three-pane windows, sealing off drafts or installing Energy Star appliances.
Open Your Layout
Open layouts are optimal for entertaining. They can also make smaller homes look bigger, and with Gen Zers preferring smaller houses, open floorplans can be a plus. While this type of renovation may be more expensive as it requires structural changes to the home – like knocking down a wall or two – it can pay off in the long run, as Gen Zers aren't the only homebuyers seeking this type of design in a new home.
The Bottom Line
Generation Z is just starting to enter the housing market, with the oldest group members turning 24 this year. And while this digital generation may be reliant on technology and heavily tech-savvy, their home preferences and their desire for face-to-face interaction during the homebuying process can be surprising.
Apply for a Mortgage with Quicken Loans®
Call our Home Loans Experts at (800) 251-9080 to begin your mortgage application, or apply online to review your loan options.
Start Your Application