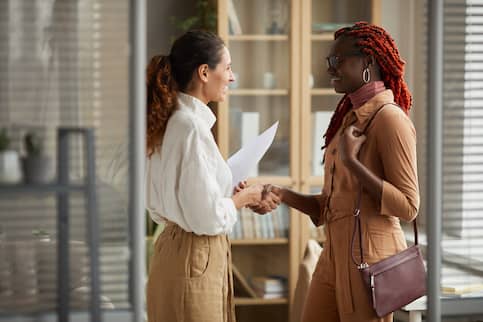 When Does A Seller Get Money After Closing? A Guide
Published on August 16, 2023
You've done it. You've finally sold your house and are ready for the closing meeting. Your next question might be, "When does seller get money after closing?" After all, you have plans of your own and need those funds to move forward.
Closing Process Overview For Sellers
Selling your house can be a longer, more complicated process than many people expect. Even once you've accepted an offer, there are several hurdles that must be cleared before you can set a closing date, receive payment and move on with your life.
The time it takes from an accepted offer to closing varies, but it's typically about 30 to 45 days. During that time, the buyer will have a home inspection and their lender will require a home appraisal.
Depending on the outcome of these examinations, the buyer may ask you to do some repairs or make a concession on price. Worst case, the house appraises for less than the sale price, leaving you to lower the price or the buyer to pay the difference out of pocket or pull out of the deal altogether.
Closing Day Documents
Hopefully, the deal stays on track and you've set the date for closing. At closing, a number of documents will be provided by both you and the buyer, and several more will be signed and exchanged. This legal financial transaction looks a little different in each state, but the typical real estate closing includes several key documents.
What You'll Sign
The property

deed. By signing over this legal document as the "grantor" to the "grantee" (the buyer), you transfer the title, or ownership of the property, over to them.

The house

title. The title is as much a concept as it is a document—it denotes the ownership of the real estate property. The title stays with the property, and at closing you are transferring the title to the seller.

Bill of sale

. This is a legal document that confirms the sale and purchase of the real estate and identifies the buyer, the seller and the property being sold.

Closing disclosure:

A document that outlines the terms of the sale, such as the sale price, closing costs, final mortgage payment and what the seller is paid.
What You'll Bring
Photo ID

Receipts and descriptions detailing any work/repairs requested by the buyer as negotiated with the accepted offer.

Any and all keys to various entries on the property including spares.
See What You Qualify For
Congratulations! Based on the information you have provided, you are eligible to continue your home loan process online with Rocket Mortgage.
If a sign-in page does not automatically pop up in a new tab, click here
When Does The Seller Get Money After Closing?
A seller typically receives their money from the home sale 24 – 48 hours after closing. This timeline can be different depending on your state and whether the seller chooses to receive their money by cashier's check or wire transfer.
If you opt for a cashier's check, you can receive it in person or have it delivered via mail or through your real estate agent. When you deposit the check at your bank, it could take several days for the bank to process the check. If you request proceeds to be wired to your bank account, it can take 24 – 48 hours to process, but it's typically available by the next business day.
Note: You will receive payment for the full purchase price of the property, minus fees, closing costs, taxes and real estate commissions. These charges can add up to a significant amount of money for sellers, typically 6 of your home's purchase price. Traditionally, the seller pays the commissions of both the buyer's and seller's agents, for instance. If you have plans for what you're going to do with the sale proceeds of your home, such as a down payment on another house, you should have a good idea of what your net sale price is after closing costs.
Closing Payment Process
The legal and financial steps required to complete a home sale vary from state to state. This includes the actual payment of funds. The two main types of payment are known as dry funding and wet funding and you should be aware of what kind will take place at your closing.
Dry Funding
A dry closing is a type of closing where funds are disbursed a few business days (typically 2 – 4) after the documents are completed and all requirements of the mortgage lender are satisfied. For this to happen, all parties involved in the transaction must agree that the closing can take place and that the documentation will be signed with the understanding that funds will be forthcoming. Within a few days of a dry closing, the lender funds the loan and ownership of the home transfers to the buyer. By this point, the ink on the closing is dry, which is how this type of closing got its name.
Currently, there are only nine U.S. states that allow for dry funding:
Alaska

Arizona

California

Hawaii

Idaho

Nevada

New Mexico

Oregon

Washington
Note: While these states allow for dry closings, wet closings are still legal and are the norm.
Wet Funding
Wet funding is by far the most common type of closing transaction and, in most states, it's mandated. A wet closing occurs when all paperwork required to officially close on a real estate transaction, including payment of funds to the seller, is completed at the same time. Because there are so many documents and procedures required and they all must come together in one day, wet closings can be less flexible.
FAQs: When Does The Seller Get Money After Closing?
How does the money get transferred to me after closing?
The most common ways are by cashier's check or wire transfer. You can take payment by check in person at the closing or have it mailed to you or your REALTOR®. It may take your bank a few days to process the check and make the funds available. For a wire transfer, you'll provide information about your account and funds will typically be available by the next business day.
How are taxes paid when I sell my home?
When you sell your house for more than you paid for it, you may be subject to pay capital gains taxes on the profit. However, in the U.S. you may be allowed to exclude capital gains on the sale of your primary home up to $250,000 if you're single and up to $500,000 if you're married and filing jointly.
How much can I expect to receive after selling my home?
The payment you'll receive at closing will be for the agreed-upon final sale price, minus your closing costs, payments to agents and any other fees. A seller's closing costs are typically about 6 of the sale price.
The Bottom Line
When the seller gets their money after closing on the sale of their house depends on how payment is made. The two most common payment methods are by cashier's check or by wire transfer. Even if you receive a check at the closing, you may not have access to those funds for a few days, since it will take your bank a few days to process it. With a wire transfer direct to your account, you'll likely have the funds by the next business day.
Buying and selling a house can be intimidating. A professional real estate agent can be invaluable in helping you negotiate the house closing process as well as every other stage of the home sale process. If you're ready to sell your home, let a Rocket HomesSM Verified Partner Agent be your best ally in the journey.
Take the first step toward buying a house.
Get approved to see what you qualify for.
Start My Approval