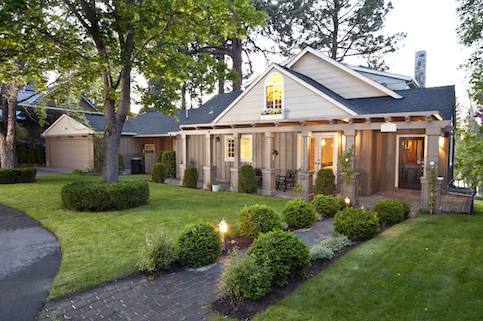 Mortgage Fraud: What It Is And How To Avoid It
Published on January 3, 2020
As much as the FBI works to combat it, mortgage fraud is still one way that unscrupulous individuals can make a fast – and illegal – buck. It can put you at risk of losing thousands of dollars if you don't know what to watch out for. Though it may be impossible to know exactly how rampant this problem is, statistics show it's growing.
CoreLogic is a property analysis company that releases an annual mortgage fraud report. According to the most recently available data, Quarter 2 of 2019, .81% of all mortgage applications were found to have the characteristics of potential fraud. While that doesn't sound like a lot, when looked at in the context of all mortgage applications in the quarter, it represents 1 in 123 applications.
There are several third parties involved in getting a mortgage, which means there's a propensity for individuals involved in the transaction to commit conspiracy.
What Is Mortgage Fraud?
Mortgage fraud is the act of lying or omitting details on a mortgage application in order to get a loan approval or obtain more favorable terms.
We'll get into the types of fraud below, but they fall into two categories: fraud for propertyand fraud for profit. Let's briefly go over both.
Fraud For Property
The FBI defines fraud for property – also known as fraud for housing – as instances in which borrowers misrepresent or omit information about their financial circumstances to ensure they qualify for loans. Perpetrators of this type of fraud may exaggerate incomes, borrow assets from others or manipulate appraisers into inflating property values in order to obtain or maintain ownership of homes.
Fraud For Profit
The FBI defines fraud for profit as situations in which professionals within the industry, such as mortgage brokers, lenders, appraisers, attorneys, etc., use their positions to commit fraud for their own financial gain. Perpetrators of this type of fraud may work independently but can also collude with others working on a transaction to increase commissions and embezzle from lenders and/or borrowers.
Apply for a Mortgage with Quicken Loans®
Call our Home Loans Experts at (800) 251-9080 to begin your mortgage application, or apply online to review your loan options.
Start Your Application
Types Of Mortgage Fraud
The FBI has a list of the most common types of mortgage fraud committed in the United States. Some of the major ones include inflated appraisals, foreclosure scams, using a false identity, asset rental, equity skimmingand property flipping.
Inflated Appraisals
Lenders rely on appraisals to determine loan limits because they want to ensure that they don't lend more money than homes are actually worth. In certain cases of mortgage fraud, the appraisal can be artificially inflated to make the home seem like it's worth more than it actually is. Appraisers can become implicit in this type of fraud when borrowers twist their arms to ensure that their loans are high enough to purchase properties in overinflated markets.
Foreclosure Scams
Homeowners who are at risk of defaulting on their loans or whose homes are in foreclosure are sometimes led to believe that someone can save their home in exchange for a deed transfer and upfront fees. The perpetrator will re-mortgage the property without actually saving the property from foreclosure.
Using A False Identity
A person's identity and/or credit history can be falsely used to apply for a loan. This may be done with the knowledge of the person (who's then known as a "straw buyer"), or it may be a case of identity theft.
Asset Rental
This type of fraud occurs when people borrow the assets of others in order to make themselves appear more qualified for financing. In these cases, the money is paid back to whomever it came from after the mortgage closes.
Equity Skimming
In situations of equity skimming, an investor uses a straw buyer along with a false credit history and false income information to apply for a loan. After the loan closes, the straw buyer signs the property over to the investor, who then rents out the property (without making mortgage payments) until the property is foreclosed.
Property Flipping
The act of buying a property, fixing it up and selling it at a profit is classified as property flipping. However, it's not an illegal act unless the acquisition of the property involves falsifying loan documents, such as income information, appraisals, etc.
Mortgage Fraud Risk Factors
The risk for mortgage fraud increases when consumers have more difficulty obtaining loans. Therefore, high property values and interest rates, competition within the market and low loan volumes are all factors that tend to escalate mortgage fraud risk. For these reasons, home buyers are more at risk than refinancers. In addition, the FBI's classification of mortgage fraud as a white collar crime, as well as the crime rates and socioeconomic statuses of specific regions, can play into the likelihood that a consumer will be made a victim of mortgage fraud.
How To Avoid Mortgage Fraud
If you're getting a mortgage, the best thing to do is just be honest on your application. Every mortgage lender wants to be able to put people into a house they can afford. Mortgage fraud is also a serious federal crime. You could face fines and jail time.
On the other hand, a mortgage is a big financial transaction involving several people. There are bad actors out there who might wish to take advantage of you. That said, there are several things you can do to protect yourself from becoming a victim of mortgage fraud:
Make sure you get referrals for real estate and mortgage professionals from trusted friends and family.

Find out what other homes in the area have sold for in comparison to the property you are looking at and review tax assessments to verify the property's actual value.

Make sure you understand everything you're signing. Don't sign anything you aren't comfortable with. If there's something you don't understand, be sure to consult an attorney. And be wary of any documents that contain blanks, as this can leave you vulnerable to fraud.

Review all the loan documents to ensure all the information – including your name – is accurate and true.

Check the title history to find out how often the property has been sold and re-sold. It could be an indication the property's value has been falsely inflated and the property illegally flipped.

Don't be pressured into borrowing more than you can afford to repay.
Buying a home is a large investment – for most of us, it's our biggest. So it's important to look out for signs of fraud to avoid becoming a victim. To find out more about how to avoid mortgage fraud, visit StopFraud.gov. And always choose a real estate agent and mortgage banker you can trust.
Apply for a Mortgage with Quicken Loans®
Call our Home Loans Experts at (800) 251-9080 to begin your mortgage application, or apply online to review your loan options.
Start Your Application