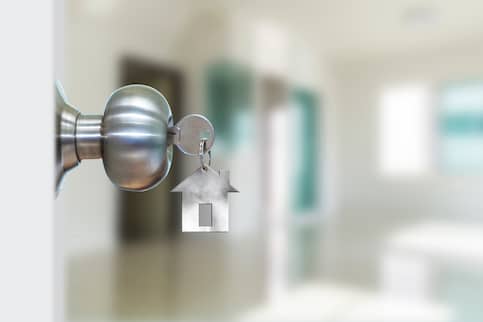 What Does Turnkey Mean? A Complete Guide
If you've heard the term "turnkey," you may associate it with a home that's essentially move-in ready – and that is indeed the meaning. Turnkey homes typically require little to no effort for the buyer and are ready to move into immediately.
These types of homes can include single-family homes, duplexes, condos and apartments.
Are turnkey homes worth the investment for everyone, though? Let's take a look at who can benefit the most from buying a turnkey house – along with advantages and disadvantages of making this purchase.
What Is A Turnkey Home?
Since a turnkey property in real estate is a home that should be for all practical purposes ready for someone to move in almost immediately, "turnkey" can refer to an existing house that's been fully renovated or a new house that doesn't need any work completed.
Turnkey homes are attractive to many potential buyers simply because they typically don't need repairs or renovations. Instead of worrying about items that need fixing as soon as you move in, you can usually enjoy the home and all it has to offer once you walk in the door.
However, it's important to note that the term "turnkey" can be subjective. Just because a home is listed as turnkey doesn't mean an inspection won't uncover any underlying issues. For this reason, home buyers and investors should still do their due diligence before purchasing a turnkey home.
See What You Qualify For
Congratulations! Based on the information you have provided, you are eligible to continue your home loan process online with Rocket Mortgage.
If a sign-in page does not automatically pop up in a new tab, click here
Who Should Purchase A Turnkey Property?
Are you searching for a home that doesn't require you to put in any effort? Whether you are looking to start real estate investing, already have a real estate portfolio or want to buy something move-in ready, purchasing a turnkey house might be the way to go.
Let's dive deeper into why a turnkey property can be a good purchase if you're a real estate investor or a home buyer who's eager to move in.
Real Estate Investors
Turnkey properties provide more of a hands-off approach to real estate investing. Knowing that the renovations are in all likelihood already completed, investors can get tenants in the rental property quickly to generate rental income.
Real estate investors might consider a turnkey home over a fixer-upper that needs extensive upgrades all costing money. If it's more expensive for you to DIY and repair the property, it could be worth putting more cash upfront on a turnkey investment property.
Move-In Ready Buyers
Turnkey properties aren't just for real estate investing. Many potential buyers also have an interest in these homes. Although personally renovating and fixing up a home has become increasingly popular, a move-in ready home can be just as attractive.
Imagine after closing, instead of worrying about repairs you'll have to soon make, you could immediately move in. Then, you could start decorating and enjoying all the benefits and perks your new home has to offer.
The Pros And Cons Of Buying A Turnkey House
Still unsure whether purchasing a turnkey home is the right choice for you as a real estate investor or a traditional buyer? Let's consider some of the advantages and disadvantages of buying this type of home.
Pros
Here are a few advantages of buying a turnkey house:
Quick cash flow and ROI for real estate investors
Few, if any, repairs or renovations necessary in most cases
Higher demand for up-to-date appliances and fixtures
Cons
Now for some disadvantages of buying a turnkey house:
Likely fewer unique features than more traditional properties
Typically more expensive than a similar home that needs minor renovations or repairs
"Turnkey" condition can be subjective, based on the seller
Turnkey Property FAQs
Here are answers to some frequently asked questions about turnkey properties.
What should I look for in a turnkey house?
Turnkey homes should essentially be ready for you to move in the next day if you're ready. But while these types of properties shouldn't require you to do any leg work, this isn't always the case.
Make sure to check the plumbing, appliances and quality of paint before buying a turnkey house to live in, rent or sell. Hiring a professional to assess the property through a home inspection is especially important.
Is buying a turnkey property a good idea?
If you're not looking for a fixer-upper and don't want to do any renovations, a turnkey home is perhaps the right option for you. This kind property should be move-in ready, with you barely having to lift a finger.
How do I find turnkey homes?
With the help of a real estate agent, you can access the MLS to see these types of properties.
Our friends at Rocket HomesSM can likewise help you find the turnkey home you're looking for.
The Bottom Line
Turnkey properties provide potential buyers and investors a chance to take advantage of a quick, move-in ready house. With few if any renovations typically being necessary, turnkey homes are an attractive option for those who don't want to worry about fixing any issues or want to capitalize on their investment right away and by renting to tenants.
Does a turnkey property sound like the right fit for you? Get started on the initial approval process and talk with one of our Home Loan Experts today.