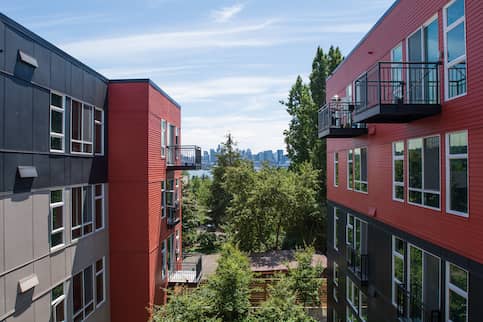 Should I Sell Or Rent My House? A Homeowner's Guide
Published on August 9, 2022
After months of house hunting, you've finally found a beautiful home that's right for you. No doubt, you're thrilled at the prospect of moving into your new place. But there's still the question of what to do with your current property.
Many homeowners find themselves in a similar situation, leading them to wonder: "should I sell or rent my house?"
This will depend on your unique financial situation. In this homeowner's guide, we will discuss useful information that can help you decide whether to sell or rent your home.
Take the first step toward the right mortgage.
Apply online for expert recommendations with real interest rates and payments.
Get Started
Did You Buy Your Home During A Buyer's Or Seller's Market?
First, it'll be helpful to know whether you bought your home during a buyer's or seller's market. What exactly does this mean?
A buyer's market is one that favors home buyers rather than sellers. Since there are more homes for sale than there are prospective buyers, buyers are normally able to get a home for a lower price.
A seller's market, on the other hand, is when there are more buyers than homes for sale. Sellers are often able to sell their homes easily and at a higher price.
Since the market's state at the time of purchase affects its cost, it will also play a role in determining whether you should now sell or rent. For example, if you bought your current home in a seller's market, you may want to also sell it during one to make some money back. If it's currently a buyer's market, you may not make much money off of the sale and renting might make more sense.
What's The Market Like Now?
Determining the current condition of your local can also help you decide whether or not it's a good time for . If your current market is slow, you might rent your house until you're able to sell it for a higher price in the coming years.
On the other hand, if it's a seller's market, you may want to sell your home for its maximum selling price.
You may consider hiring a real estate agent to help you determine the sales of , commonly known as "comps." This can allow you to realistically gauge what your home is worth, and if it's better to rent or sell.
It's also important to determine if you need the equity from your current home or not. Equity is the difference between what your home is worth and what you owe on your mortgage. If you have enough equity in your current home, selling it could be a good choice. The profit you make can be used for a large down payment on your next home.
However, if you're able to make a down payment on your new home without selling your current one, renting it out may make sense.
Consider Your Home And Neighborhood
When deciding whether to rent or sell your house, it may help to consider the qualities of your home and neighborhood. Maybe there's a strong rental market in your area. Or perhaps you live in a location that's close to a local university or company. This may attract renters who are relocating to the area for school or work.
You'll also do well to consider your home's curb appeal. Renters may be more attracted to a home that has all the bells and whistles. If your home has luxurious landscaping, top-notch safety features or an exquisite entryway, you may have an easier time finding well-paying tenants to stay in your property.
Solid Reasons To Rent Your House Out
There are several reasons homeowners may choose to rent their current home rather than selling it.
Having a rental property can help you:
Continue to build equity in your old home with rental income
Diversify your assets
Maintain positive cash flow
Build wealth with extra income
Qualify you for additional tax deductions
Smart Reasons To Sell Your Home Instead Of Renting It Out
From avoiding a capital gains tax to saving on maintenance costs, selling your home instead of renting it out could be advantageous.
You might also decide to sell instead of rent in order to:
Gain assets for a down payment
Avoid the responsibilities of being a property owner
Turn your property into liquid assets
Take advantage of a seller's market and get more for your house
Be Sure To Understand Landlord Responsibilities
Before committing to the job, it's crucial to understand the many responsibilities that come with being a landlord. As a property owner, you are responsible for:
Finding potential tenants and screening them fairly: There are legal and ethical obligations that you must follow when screening prospective tenants. For example, the Fair Housing Act makes it illegal for you to discriminate against a tenant based on their race, color, sex, religion, disability, national origin or familial status. You'll also need to uphold your local and state laws, so be sure to look into those.
Providing habitable living: A property owner must keep their rental property in a healthy condition for their tenants by conducting regular maintenance checks and making any necessary repairs.
Drawing up a lease: The contract between you and a tenant should be thorough, covering every possible situation that could arise. Consider setting conditions for pet policies, application and late fees, maintenance and repair, breaking the lease, illegal activities and more.
Keeping up with taxes when renting the home out: As the owner of a rental property, you are required to report all of the rental income you make. This includes monthly rent, tenant-paid expenses, security deposits and any services your tenant offers in exchange for rent. However, you'll also be able to deduct expenses related to buying, operating and maintaining your property.
Should You Get A Property Manager?
If the responsibilities that come with being a landlord seem a bit overwhelming, you might consider hiring a property management company to help you out.
A property management company handles the day-to-day management of your rental property so that you don't have to. A good property manager can help to maintain the value of your property while generating income. Hiring a third-party contractor might especially be a smart idea if you'll be living far away from your rental property or you simply don't have the time to manage it.
Generally speaking, a property manager:
Sources and screens tenants
Collects rent
Performs routine maintenance
Handles tenant complaints
Manages invoices and bookkeeping
This list is by no means exhaustive. A qualified property manager can be an asset to your rental property by taking care of any issue that may arise. While you can expect to pay your property manager around 8% – 12% of your total monthly rent, this investment could be well worth it to keep your property running smoothly.
Pros Of Professional Property Management
Before deciding whether or not to enlist the services of a property management company, it's important to weigh the pros and cons. Hiring a property manager may benefit you by:
Reducing your personal stress: Property managers handle many taxing tasks that come with being a landlord. From overseeing daily management to emergency repairs, you're bound to save yourself time and energy.
Screening for reliable tenants: Property managers ensure that tenants will be able to pay rent on time and keep the unit in good condition.
Helping you save money: A good property manager can help to address maintenance issues as they arise, which can save you quite a bit on costly repairs. They can also help you maintain positive cash flow – the movement of money in and out of your rental property – by enforcing rent payments and filling vacant units.
Filling vacant units: Property management companies can keep tenants in your rental property by marketing to new tenants and filling vacant units.
Cons Of Property Management Professionals
Some potential disadvantages of using a property management professional include:
High costs: As mentioned earlier, the cost to hire a property management can be costly. Most management companies charge anywhere from 8% – 12% of your monthly rent. So, it's important to make sure that a property manager will help you to reach your desired profit margins.
Reduced control and oversight: If you prefer to keep a tight rein on your property, hiring a property manager might not be the right choice for you. You'll be expected to hand over daily oversight to them, trusting that they'll do what's best for your rental property.
Complex contacts: Before signing a contract to hire a property manager, make sure you read it closely. You'll want to be clear on the details of your agreement. Failure to do so could result in a host of hidden fees and complicated conditions.
The Bottom Line: Before You Rent Or Sell Your House, Consider The Market And Your Goals
After reading this homeowner's guide, hopefully you're better able to answer the pressing question of "should I rent or sell my house?" By carefully exploring current market conditions and the pros and cons associated with each option, you'll be more equipped to decide what's right for you.
If you're considering selling your home or renting it out, you may want to start by researching loan options for your new home. Connect with Quicken LoansⓇ today to explore your options.
Apply Online with Rocket Mortgage
Get approved with Rocket Mortgage® – and do it all online. You can get a real, customizable mortgage solution based on your unique financial situation.
Apply Online