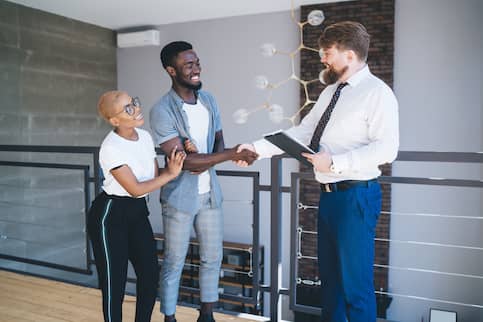 How To Screen Tenants Fairly For Rental Properties
Published on November 4, 2023
Owning a rental property can be a wise investment – but it requires some work, including vetting the people who will eventually live in the home. It's an important decision. Choose wrong, and it may even cost you money.
To make sure you're choosing the right tenants for your rental property – and choosing them fairly – you'll need to know what to look for and what legal obligations you have. Use our 8-step guide to help you screen tenants fairly.
What To Look For When Screening Tenants For A Rental Property
The screening process is meant to assess risk. The factors that reduce risk are similar to those your lender used to qualify you for a mortgage. We recommend establishing nonnegotiable minimum requirements that protect your financial health before you meet with any prospective tenants.
Potential Tenant Screening Process Criteria
Establishing qualifying criteria can help lower the risk of running into problems like late or missed payments, neighbor complaints, criminal activity or eviction. Here are some examples:
Minimum credit score

Healthy credit history

Proof of employment

Payment of security deposit and first month's rent

Clean background check
You may be able to allow for some flexibility around certain criteria. For example, if a prospective tenant has no credit, a low credit score or red flags on their credit report, you may still be able to rent to them as long as they have a co-signer.
Rental Screening Application:
Red Flags To Watch Out For
When checking whether a tenant meets your criteria, a few signs may indicate that they don't. These events or scenarios may signal potential problems in the future:
Unstable employment history

Evictions

Bankruptcies

Late or missed payments

Criminal history
If you discover any of these red flags, consider asking the prospective tenant to explain what happened. There are likely many possible reasons for any red flags, including an unknown error on their credit report, identity theft, thenegative impact of the COVID-19 pandemic or an economic downturn. Whatever the reason, you'll need to decidewhether you want to trust their explanation and rent to them.
Find A Mortgage Today and Lock In Your Rate!
Get matched with a lender that will work for your financial situation.
Get Started
What To Consider During The Tenant Vetting Process
As a landlord, you have legal and ethical obligations to follow during the vetting process. Here are a few to consider:
State And Local Laws
As a landlord, you should be aware of local and state landlord-tenant laws and renters' rights, including fair housing protections. For example, in several states, landlords are prohibited from refusing to rent to victims of domestic violence.
Local laws may also enforce limits on security deposits, which are often used to prove a tenant can afford to cover their rent.
The Fair Housing Act
The Fair Housing Act makes it illegal for landlords to discriminate against renters based on race, color, sex, religion, disability, national origin or familial status. It is against the law for landlords to refuse to rent to anyone within theseprotected classes. The Act prohibits landlords from acting based on discrimination, including:
Lying about a property's availability
Changing rental terms and conditions
Providing less-appealing amenities
Delaying maintenance repairs
Evicting a tenant based on any protected characteristics
If you're renting in a home you occupy and the property has a maximum of four units, you'll be exempt from some Fair Housing Act rules. But even if you qualify for an exemption, you can never discriminate based on race. There are no exemptions for racial discrimination, which was prohibited by the Civil Rights Act of 1866.
How To Screen Tenants For A Rental Property
When you're ready to make a strong tenant match, follow these steps to set yourself up for success and find the right tenant for your rental:
Step 1: Determine Minimum Tenant Criteria
Before you start screening applications, it's a good idea to set your expectations.
Credit score:

You may want to stay around the average credit score requirement for leasing an apartment, which is around 650. Of course, if the property is a luxury property or is located in an expensive area, you may consider requesting a higher score.

Security deposit:

You'll need to determine the financial requirements of signing the lease. Will you require a security deposit? It may be a good A security deposit can act as a qualifying requirement, and it can also protect you if the property is damaged or your tenant misses a payment. The average security deposit is typically 1 month's rent.

Upfront rent:

Some landlords ask for the first and last month's rent and a security deposit, while others require the first month's rent and a security deposit or the first month's rent and no security deposit. Whatever you choose, make sure it follows local laws.

Lifestyle considerations:

Considering the criteria that meet your credit and financial requirements is key,but you should also consider a tenant's lifestyle. For example, will you allow smoking in or around the property? Will you allow pets? If so, what types of pets and how many? Remember, pets and smoking can cause odors and damage to the home.
To help decide what to require, review other rental listings in the area.
Step 2: Prescreen Tenants In Your Rental Listing
Creating a detailed listing will help potential tenants determine whether they're interested in the property and meet your qualifications. It sets the expectations before you ever meet them.
Besides describing the property, including the number of rooms, bathrooms and amenities, you should also consider disclosing:
Monthly rent

Security deposit amount

Rental application and credit report fee

Background check

References from previous landlords

Pet or smoking policies
Remember, a well-written listing can help attract quality applicants.
Step 3: Collect And Review Applications And Get Consent For Screening
Request applications from prospective tenants to learn more about them and collect the correct information to run credit and background checks. The rental application should include information such as:
Applicant's name, contact information, date of birth, driver's license number and Social Security number

Applicant's previous addresses

Names of other occupants who would reside in the home (roommates, children, etc.)

Employment and income information

Contact information for personal references

Additional screening questions about pets, past evictions, reasons for moving, etc.
Select which applicants you'd like to screen for further consideration. And get their consent before you pull a prospective tenant's credit or run a background check. Get it in writing so you have a record of it.
Step 4: Run A Credit Check
When running a credit check, look at more than the credit score. You can also use the credit report to confirm that:
The applicant gave you the correct name, date of birth, past addresses and employers.

They don't have past or present financial problems, including late or missed payments, bankruptcy or too much debt.
Depending on what you find in the credit report, you can move forward with the tenant, consider leasing to them for a higher deposit amount and co-signer or deny the application. It may help to ask the tenant to explain any discrepancies you uncover.
Step 5: Run A Criminal Background Check
A criminal background check can help you assess a potential tenant's risk of engaging in criminal activity or endangering property. It can also protect you from liability and may help with tenant retention. A criminal background check will disclose criminal records, including sex offender registration, and may include an eviction record if a landlord won a judgment in civil court.
You'll need to decide whether to move forward with a tenant who has a criminal record. Make sure to make yourconsiderations on a case-by-case basis. You may want to ask the tenant to explain anything you discover and factor in the type of crime they committed and how long ago it happened.
Step 6: Verify Other Tenant Information
Besides checking their credit and background, you'll need to verify other information the tenant submits.
You can verify employment and income by reviewing a tenant's recent pay stub or W-2 and contacting their

You can contact their current or previous landlord to learn more about their tenant history.

You can contact their personal references to learn more about the tenant.
Step 7. Conduct An Interview
If you want to learn even more, conduct an interview. Ask questions such as:
Why are you moving?

When would you like to move in?

How long do you plan to live here?

How many people will be living with you?

Do you, or anyone you'll live with, smoke?
Do you, or anyone you'll live with, own a pet?

How many parking spaces would you need?

Have you had any prior evictions?
Be mindful of protected classes when conducting your interview. Avoid questions such as:
Do you have any medical conditions?
What's your sexual orientation or gender identity?
Are you married or single or plan to start a family?
Do you have any disabilities?
Step 8: Decide On Tenants And Sign The Lease
Once you narrow your list of potential tenants, run background checks and verify their information, you'll have enough details to choose the best tenant match for your rental property.
Once you decide on the tenant, inform them right away and set a time to have them sign the lease. If you don't havea lease agreement drafted, we recommend you consult local laws or a lawyer to draft a lease.
You may want to choose a first and second (and maybe even a third) choice in case your first choice decides they no longer want to make your rental their new home.
The Bottom Line
Choosing the right tenant can help reduce the risk of late or missed payments, unhappy neighbors and other issues that may arise when leasing a rental property. Whatever criteria and process you choose, document the screening process, be consistent and consult a lawyer for any legal questions.
If you're a prospective landlord and need a mortgage to purchase a rental property, start the mortgage application process today.

Find A Mortgage Today and Lock In Your Rate!
Get matched with a lender that will work for your financial situation.
Get Started