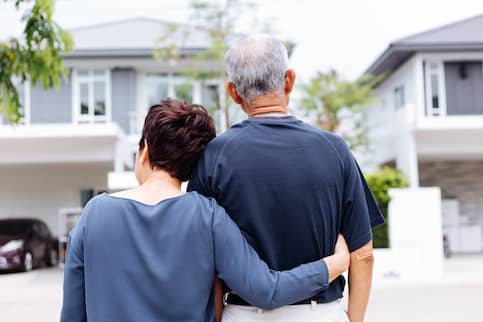 How To Find And Buy Off-Market Properties: A Guide
Published on December 16, 2022
You've searched all the home listings you can find online. You've toured every property with a "For Sale" sign sticking in its front yard. The problem? You can't find your dream home in your favorite neighborhood.
You do have another option, though: You can work with your real estate agent to find off-market properties that might boast that large backyard, primary bedroom suite and ideal location that you seek. The key is finding these hidden gems.
What Is An Off-Market Property?
An off-market property, commonly called a pocket listing, is one not listed in the multiple listing service (MLS) serving the markets in which you want to buy.
Most homes for sale are listed on their local MLS, an online database that real estate professionals use to list and find homes for their clients. Public home listing sites, such as our sister company Rocket HomesSM, pull information from the MLS – with permission – so that home buyers can search online listings of homes for sale.
Some sellers, though, want more privacy, so they don't list their homes on any MLS and instead rely on their real estate agents to market their properties directly with other agents. Often, buyers selling higher-priced homes will skip the MLS and sell their residences off-market to protect their privacy.
Because these homes don't show up on any public home-listing sites, it's more difficult for buyers to find these properties. The only way they can learn about off-market properties is if the real estate agent with whom they are working knows about them.
Why The National Association of REALTORS® Wants Agents To List Their Properties ASAP
These pocket listings can cause some controversy in the home-selling profession, especially among officials with the National Association of REALTORS® (NAR), a trade group representing real estate agents across the country.
A real estate agent is anyone who has a license to help clients buy and sell real estate. A REALTOR®, though, is a real estate agent who has joined NAR.
This association encourages real estate agents to list their properties on their local MLS as soon as possible unless their clients request that they keep their home listings private. The Clear Cooperation Policy passed by NAR in 2019 requires listing agents who are participants in an MLS to enter their listings on the service within 1 day of making it available to the public for sale. Agents aren't required to do this if their clients request that their homes not be listed on the MLS.
Why, though, does the association want homes listed as quickly as possible on the MLS?
To Limit Market Distortions
By keeping certain home listings private, real estate agents could negatively impact prices in their markets. If too many higher-priced homes are not listed on the MLS, home sellers might put their own homes on the market for lower prices because they're not aware of how many higher-priced homes are actually selling.
To Discourage Dual Agency
Some agents might use off-market listings to promote their listings to their own buyer clients. By doing this, these agents would receive both halves of a commission, the 3% of a home's final sales price that normally goes to the listing agent and the 3% that would typically be given to the buyer's agent. This is known as dual agency, and is something that NAR discourages. Why? The association says that an agent can't effectively represent the interests of both a buyer and a seller in the same transaction. If an agent gets the seller the highest possible price, that same agent can't get his or her buyer client the lowest possible price.
To Prevent Housing Discrimination
Pocket listings have been used in the past to hide homes for sale from minorities. NAR says that a transparent housing market, one in which all homes for sale are listed on the MLS, makes it easier for buyers of all kinds to find properties.
How To Find Off-Market Properties: For Home Buyers
Most home buyers aren't looking for the same benefits from a home that investors are. Investors are primarily concerned about finding properties that will increase in value so they can sell them for a profit. Homeowners want their residences to rise in value, too, but they also want homes that provide a welcoming environment for their families, are located in safe neighborhoods near good public schools and boast features – such as large backyards, finished basements and primary bedrooms – that they desire.
One way to find such a home is to explore any off-market listings that might be available in the neighborhoods you want to live. But how to find these pocket listings?
Find The Right Real Estate Agent
The first step is finding the right real estate agent. You want to work with agents who know the local markets and who have built strong relationships with their fellow real estate professionals. These agents are more likely to know of any off-market listings.
Talk To Your Real Estate Agent
You should work with a buyer's agent when searching for a new home. This type of agent is dedicated to helping buyers find homes at the best possible price. A buyer's agent can also be a source of leads for off-market properties, drawing on their connections with other agents to find properties that are listed as "temporarily off-market" or "coming soon."
A home that is listed as temporarily off-market is one in which the owners have decided to put a pause on showings. Your buyer's agent, though, might work out an arrangement with the listing agent to show you the property anyway. A home listed as coming soon is one that is not available for showings until a later date. However, your buyer's agent might be able to get you a showing before such a property is made available to the rest of the public, giving you an edge in buying it.
A buyer's agent might also know of expired listings, homes that were on the MLS but are no longer listed, that might fit your needs.
Work Your Contacts
Know family members, friends or work colleagues who live in the neighborhoods in which you want to buy? Consider asking for their help. They might know of nearby homeowners who plan to sell their homes. With an advance tip, you might be able to make an offer on a home before it hits the market.
Target Your Dream Neighborhood
If you are focused on a particular neighborhood, spend time there. Get to know the people already living in the area, whether by chatting with them at the local coffeehouse or engaging in quick conversation while they're walking their dogs. Tell them you are interested in moving to the community. You never know who might be aware of owners who are planning to sell their homes.
How To Find Off-Market Properties: For Investors
Investors are continually on the hunt for homes that they can buy, fix up and sell for a profit. Off-market properties can boost the bottom lines of these real estate investors.
Work Closely With A Specialist Real Estate Agent
It's important for investors to establish strong relationships with real estate agents who specialize in foreclosures, real estate owned (REO) or distressed property. This is especially true for house flippers who buy homes in need of repairs and then sell them quickly after renovating them. Agents who work in these markets look for homes that have fallen into foreclosure and are being sold by banks. They also might come with extensive maintenance and repair issues. These maintenance issues may scare off most home buyers, but investors who are looking to flip the properties may be attracted to potentially lower price tags.
Develop A Network Of Builders And Contractors
Investors can also benefit from forging close relationships with builders and contractors. These pros might know of homeowners in the community who failed to qualify for the home equity loans or other financing they needed to complete necessary repairs or renovations on their homes. This could be a sign that a home is in distress and the owners might not be able to sell it before the property falls into foreclosure. A savvy investor might be able to step in, purchase the home, renovate it and sell it for a profit.
Ask Other Real Estate Investors For Referrals
Finally, investors can find off-market properties by building relationships with other investors. Not all real estate investors are looking for the same type of property. Some might be looking for homes that need minimal repairs, while others are looking for those that need more extensive renovations. Investors might know of homes that need thousands of dollars of repairs. If they aren't willing to sink that many dollars into these properties, they might tell other investors who specialize in renovating and selling. These insider tips can give investors an edge in locating the right off-market properties.
Benefits Of Selling Your Property Off-Market
Why would you choose to sell your property off-market and miss out on the exposure provided by your local MLS? There are several reasons.
You Won't Have To Stage Your Property
When owners sell off-market, they might not have to worry about cleaning, decluttering and staging their homes. That's because off-market listings typically attract buyers who are interested enough in a specific home to overlook the clutter or personal items of their owners.
You Can Preserve Your Privacy
The most common reason for off-market listings is that their owners want to preserve their privacy by making sure their homes don't show up on public listing sites. This is often a concern of owners who are selling expensive homes and want to keep the sales price private.
You'll Keep Your Listing Fresh
Homes that stay on their local MLS for more than 30 days are often viewed as suspect by buyers. They wonder what problems are keeping these properties from selling. Expensive homes tend to take longer to sell and might remain on an MLS for more than 30 days. By selling these homes in off-market transactions, their owners avoid the stigma of stale listings.
You Can Get A Feel For Your Home's Current Market Value
With an off-market listing, sellers can gauge the market value for their home without actually listing it on their local MLS. This gives owners the chance to determine how much their homes might be worth without having to display this information to the public.
You Might Negotiate A Lower Commission
When selling a home, owners typically pay the real estate agents representing them and the property's buyers a commission of 6% of whatever the residence sells for. The money for this commission comes from the profits of the home sale. When selling an off-market property, though, homeowners might be able to negotiate a lower commission because both agents aren't doing as much work: The seller's agent doesn't have to list the property on the MLS and arrange several showings. The buyer's agent doesn't have to show the buyer as many homes.
Benefits Of Buying An Off-Market Listing
There are benefits to buying a home that isn't listed on the MLS, too. Here are some of the biggest.
You'll Have Less Competition For The Property
If a home isn't listed on the MLS and public real estate portals, fewer potential buyers will be looking at it. This lowers the competition for the property and increases your odds of nabbing it for yourself.
You'll Avoid Bidding Wars In Hot Markets
Homes that attract several buyers sometimes result in bidding wars, as buyers constantly raise their offers to win the home. These bidding wars can cause the final sales prices of these homes to soar, often above their original listing prices. With an off-market listing, though, the chances of a bidding war erupting are far lower. Buyers, then, might be able to purchase the home for a lower price.
The Bottom Line: Off-Market Properties Can Provide New Opportunities
Whether you're a seller hoping to maintain privacy or a buyer looking to buy a home without competing with dozens of other house hunters, the off-market option can help you meet your goals. If you're selling, the key is to work with an agent who has enough connections to get your home in front of the right buyers. And if you're buying, you need to work with a buyer's agent who also has the right connections to find off-market properties in your targeted neighborhoods. And it always helps to get preapproved for a mortgage loan before you start shopping for any home – whether an off-market property or one listed on your local MLS. Start the approval process and apply online today.