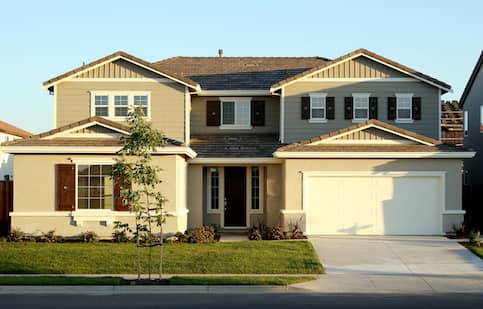 What Are 'Coming Soon' Real Estate Listings?
Published on November 29, 2022
On your journey to buy a house, you've possibly sifted through hundreds of online listings and toured dozens of homes. As time goes on, you'll notice the status of online listings goes from "for sale" to "contingent," and you'll see signs in front yards that say "under contract," "pending" or "sold." You might think you've encountered all the real estate lingo – until you come across a "coming soon" real estate sign.
A "coming soon" real estate listing is treated differently than the typical listing, and it's important for house hunters who run into this type of listing to understand what it is and how it works. So what actually is a "coming soon" real estate listing and how will it impact your home buying or home selling experience? Let's take a look.
What Does 'Coming Soon' Mean In Real Estate?
According to the National Association of REALTORSⓇ (NAR), a house with a "coming soon" real estate sign isn't for sale but should be on the market within 30 days. Ideally, the property shouldn't be shown or accessible to buyers during this time period. Listing agents might use "coming soon" real estate listings for a number of reasons – which include accelerating the selling process and supporting their clients as they prepare their homes for sale.
"Coming soon" real estate listings can be confused with pocket listings, which are never added to a listing platform like Rocket HomesSM or a multiple listing service (MLS).1,2 Pocket listings are marketed through word of mouth or private networks. "Coming soon" listings, on the other hand, can be listed on an MLS and a commercial listing platform.
Why Do Agents Use 'Coming Soon' Real Estate Listings?
Selling agents might advertise a "coming soon" real estate listing to generate awareness of and interest in a property before it hits the market.
During this time period, agents can advertise an open house and schedule tours with potential buyers. In a perfect world, there will be many potential buyers lined up at the end of the period, and the house will be on the market for the least amount of time possible. Along with the reasons already mentioned, agents may assign a house "coming soon" status to grant the sellers more time to get a house ready for sale or find a new home.
However, "coming soon" real estate has been known to contribute to some unethical behavior on behalf of sellers. In the past, some real estate agents have used this tactic to encourage dual agency – where the selling agent represents both buyer and seller. The NAR says real estate agents have also used this tactic to unfairly market to an exclusive group of investors or buyers instead of the general public.
Both practices, among others we'll discuss below, present potential issues for the buyer and the seller and they've forced local real estate commissions around the U.S. to create regulations surrounding the use of "coming soon" real estate. But when the system is used properly, it has plenty of upsides, too.
The Pros And Cons Of 'Coming Soon' Real Estate
By now, you can probably sense that there are both advantages and disadvantages to real estate that's coming soon. Here are the pros and cons of buying or listing a "coming soon" property.
Pros
Additional time for sellers:

A "coming soon" listing can provide the owners more time to prepare their home for sale, stage the home or complete any home improvements that add value or increase the asking price.

More interest:

A "coming soon" real estate sign in the front yard can create buzz around a house that will be for sale in the near future. The more people interested in the property during this period, the greater the likelihood of plentiful offers and less time on the market after the "coming soon" period expires.

More privacy:

Owners opting to avoid public listings and advertise the property to a smaller group of people can enjoy more privacy, especially if the property is in rough shape or they want fewer people doing walkthroughs of their house.

Time to create a strong offer:

Especially for buyers who already know they love the house or who've dreamed of owning your house, "coming soon" listings provide plenty of time for them to create an offer that will get accepted.
Cons
Dual agency:

When real estate is coming soon, the selling agent is the primary contact for interested buyers, making it more likely they'll become a dual agent. It's typically more complicated for dual agents to maintain the best interests of both the buyer and seller.

Limited exposure: Because these listings have limited exposure when they're marketed by word of mouth, sellers may receive fewer offers or offers that are lower than anticipated.
Tips For Selling 'Coming Soon' Real Estate
In addition to weighing the pros and cons, keep these best practices in mind when selling a house that's coming soon.
Determine Your Best Interests
To comply with the NAR Code of Ethics, REALTORS® must always operate in the best interests of their clients. If your selling agent is working in your best interests, they'll comply with MLS regulations, have your written consent to list your house as "coming soon" and provide a signed listing agreement.
Maintain clear communication with your REALTOR® or real estate agent before listing your property to make sure a "coming soon" listing is for you. Also stay in touch throughout the process to guarantee no unethical behaviors are taking place.
Familiarize Yourself With Local Regulations
To be 100% certain you're properly listing a "coming soon" property, research your local licensing laws. If an agent goes against their client's best interests, they can face disciplinary action from their local real estate commission. There are also consumer protection laws focused on wrongly advertising a "coming soon" listing.
Evaluate Feedback From Potential Buyers
If your real estate agent lists your house as a "coming soon" property on an MLS, you can use this time to get a feel for the open market and receive feedback from potential buyers. For example, if some buyers disapprove of any visible damage to the property, like a broken window or a cracked driveway, the owners can use this time to make the necessary repairs. This will give them the best chance at getting a sufficient number of offers on the house, and for the desired price.
Tips For Buying 'Coming Soon' Real Estate
On the other hand, here are some tips you should consider if you're planning on buying a "coming soon" property.
Work With A Buyer's Agent
Working with a buyer's agent is the best way to know you're covering all your bases when purchasing a "coming soon" property. A buyer's agent will represent you throughout the home buying process by communicating with listing agents, handling negotiations and trying to land you the best deal possible. Their job is to keep your best interests in mind, which is especially important when preparing to make an offer on a "coming soon" listing.
Make The Right Offer
If you're ready to bid on a "coming soon" property, it's pivotal to know how to make an offer that will get accepted. Work with your buyer's agent to decide how much to offer on the house and which contingencies you'll include. To strengthen your offer, get a mortgage preapproval to prove your ability to finance the home. Also plan on making an earnest money deposit if you and your agent conclude this will make your offer significantly more appealing. A strong offer right out of the gate can show your seriousness about the property.
Where Can You Find 'Coming Soon' Real Estate Listings?
While you can always search your ideal neighborhood for a "coming soon" real estate sign, you may also be able to find "coming soon" listings online. Just be sure the property is accurately depicted before you make an offer, and work with a buyer's agent who can guide you through the process.
The Bottom Line
"Coming soon" real estate listings have their pros and cons for buyers and sellers. To be assured that a "coming soon" property is right for you, work with a real estate agent, get to know the licensing laws in your area and weigh the benefits and the downsides. If you're ready to make an offer on real estate that's coming soon, get an initial approval to enhance your offer and make it more likely to be accepted. You can also give one of our Home Loan Experts a call at (888) 452-0335.
1 Rocket Mortgage, LLC and Rocket Homes Real Estate LLC are separate operating subsidiaries of Rocket Companies, Inc. (NYSE: RKT). Each company is a separate legal entity operated and managed through its own management and governance structure as required by its state of incorporation and applicable legal and regulatory requirements.
2 Rocket Homes® is a registered trademark licensed to Rocket Homes Real Estate LLC. The Rocket HomesSM Logo is a service mark licensed to Rocket Homes Real Estate LLC. Rocket Homes Real Estate LLC fully supports the principles of the Fair Housing Act. For Rocket Homes Real Estate LLC license numbers, visit  RocketHomes.com/license-numbers. California DRE #01804478. Hawaii License # RB-23371. TREC: Information about brokerage services, Consumer protection notice.