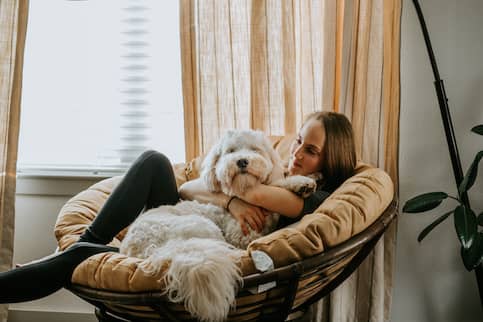 Renters Insurance: A Complete Guide
Published on February 8, 2023
Disclosure: This post contains affiliate links, which means we receive a commission if you click a link and purchase something that we have recommended. Please check out our disclosure policy for more details.
Homeowners across America typically understand the significance of having homeowners insurance. Renters, on the other hand, may not understand the importance and benefits of renters insurance.
Some might view renters insurance as just another unnecessary expense each month. However, the added coverage you obtain from renters liability insurance and personal property coverage can save you a headache in the event of a theft, accident or environmental damage.
Let's take a look at what renters insurance is, what it does and doesn't cover, plus how to get renters insurance coverage.
What Is Renters Insurance?
"Renters insurance" is kind of a confusing name. As a renter, you don't own the space you live in, so you don't have the same responsibility or financial investment that a homeowner does.
However, renters insurance doesn't exactly cover the residence you live in; it covers you in the case of an emergency.
A renters insurance policy provides insurance for your personal belongings (sometimes referred to as "contents insurance") and liability coverage for any damage or injury you're found legally liable for. This protects you financially in a variety of different scenarios.
Renters insurance pays for your possessions that have been damaged or stolen, like if a fire destroys your furniture or someone steals your laptop. Liability coverage protects you from having to pay if you're found liable for something that could cost quite a bit to remedy.
Examples of this could include a flood in your apartment causing water damage to your downstairs neighbor's personal property, or if someone is injured in your home and you're held responsible for their medical costs.
Is Renters Insurance Required?
No, renters insurance is not required. However, there are probably quite a few things in your rental that you would have a hard time living without. What would you do if a burst pipe flooded your apartment and destroyed all your furniture? Can you afford to replace everything, or would it take you months or even years to save enough to refurnish your place? What happens if the laptop that your livelihood depends on is destroyed in a fire?
Even if you feel comfortable that you could replace the contents of your apartment if you needed to, basic liability insurance can potentially prevent financial disaster. While you may be able to recoup the cost of your couch on your own, if you end up being responsible for major damage or injury, you could face bankruptcy-level costs.
See What You Qualify For
Congratulations! Based on the information you have provided, you are eligible to continue your home loan process online with Rocket Mortgage.
If a sign-in page does not automatically pop up in a new tab, click here
What Does Renters Insurance Cover?
The extent of the coverage you get will depend on your policy. However, let's go over the things that are commonly covered by renters insurance policies.
Protection From Theft
Say you have a beloved collection of rare bobbleheads that has cost you quite a bit of money over the years. One day, your apartment is broken into and the thief nabs your entire collection right out of its lighted display case. If you have personal property coverage for your collection, your renters insurance will give you some (or all) of the money you'd need to replace those bobbleheads. Plus, renters insurance can also protect you in the event of theft outside your home.
For example, you're traveling for the annual bobblehead collectors conference and the travel bag you carry your collectibles in is swiped from your hotel room. Your renters insurance would kick in in this instance as well, helping you to replace your stolen valuables even when you're away from home. This policy also covers vandalism.
Protection From Property Damage
It's possible that the place you rent could experience property damage. This could potentially destroy many of your possessions and put you out of your home while the damage is repaired and the space is restored. Not only will your renters insurance help you replace your personal belongings that were damaged, but if you have what's called "loss of use" coverage, your insurance company will pay for you to stay somewhere else, such as a hotel, until your apartment is deemed habitable again. You may even receive money for any costs related to being put out of your home, like excess food costs from having to eat at restaurants or the cost of boarding your pets.
Protection from property damage applies to any of the following events:
Fire and smoke damage

Severe storms, such as hurricanes, lightning, windstorms, ice, snow and hail

Explosions or volcanic eruption

Falling objects

Certain damaged household appliances or systems

Damage caused by aircraft or vehicles
Protection From Damage You Cause
This is where the liability coverage portion of your insurance policy comes in. Let's say you're visiting your neighbor to check out their expensive collection of rare, delicate teapots. You pick one up to get a closer look, but you drop it and it shatters. Luckily, your renters insurance will help you pay your neighbor so they can replace their teapot.
Liability coverage also covers damage caused by members of your family or family pets. Essentially, renters liability insurance is comparable to full coverage car insurance, as renters insurance protects you financially from most of the damages that you may cause.
Protection For Visitors' Injuries
If you have renters liability insurance and a guest in your home falls and gets injured, your policy may cover the cost of the medical and legal bills. Though it may seem like an unlikely scenario, if someone ends up needing extensive medical care that you're found liable for, these costs could easily bankrupt you if you don't have insurance to help you pay for these costs.
What Does Renters Insurance Not Cover?
Though renters insurance is fairly expansive in its scope of coverage, there are some things you may be surprised to find that most renters insurance policies don't cover. Let's go over what those things might be:
Floods And Earthquakes
While renters insurance covers many types of natural disasters, the two that typically aren't included in renters coverage are floods and earthquakes. If you live in an area that's at risk for either of these, you'll want to pay for a policy that specifically covers what you need.
Auto Theft
Renters insurance generally covers the theft of personal belongings in your car. However, if the actual car is stolen, your car insurance will be responsible for that.
Highly Valuable Items
While you can insure any valuables you own using your renters insurance policy, your insurance provider may have a coverage limit for these types of items, such as only covering a maximum of $1,500 for stolen jewelry. However, you can purchase supplementary coverage for these items or get a specialized policy that specifically insures a particular type of valuable, such as artwork or jewelry. And if you have a lot of expensive electronics, be sure to check out what your policy's coverage limits are for those items, as the limit for electronics may be much lower than your overall coverage limit.
Your Roommate's Stuff
The only other people who will be protected by your renters insurance policy are your spouse and your children who live with you. Your policy may even cover your young adult offspring while they're away at college. But if your nonimmediate family roommate wants personal property and liability renters insurance, they'll have to get their own policy.
Costs Covered By Your Landlord's Insurance
To protect the things they own (i.e., the building or residence you live in), your landlord will have their own homeowners insurance that covers damage to the units as well as liability insurance for injuries that happen on the rental property. So, if your apartment catches on fire, your renters insurance will help you replace personal property that was damaged in the fire, while your landlord's insurance will pay for fire damage restoration to make the apartment habitable again.
Policy-Specific Exemptions
To learn more of the specifics of what renters insurance doesn't cover, you'll need to refer to your individual policy. You'll want to know what your specific coverage limits are, how much your deductible is (this tells you how much you'll pay out-of-pocket before your insurance kicks in) and what type of property coverage you have.
How Much Is Renters Insurance?
The average renters insurance premium costs $125 (or about $10 per month), but obviously, this amount will vary by location and the amount and type of coverage you need.
How much you pay will be decided by the value of the items you want to insure, how extensive your coverage for both personal property and liability is and how much your deductible is (a larger deductible means less risk for the insurance company, which translates to a lower premium for you).
How Can I Save On Renters Insurance?
In general, the less risk you present to an insurer, the less your costs are going to be. See if your insurance company offers any discounts for having certain safety equipment or fixtures in your home, such as a home security system or smoke detectors.
You may also be able to get a discount if you bundle your renters insurance with the company that already provides an insurance policy for you, such as for your car.
How To Get Renters Insurance
Once you've decided that renters insurance is right for you, it's time to sign up. Here's what you should consider before getting started on the process.
1. Decide
How Much Renters Insurance You Need
The amount of renters insurance you will need depends on how much you need coverage for (based on the number of personal belongings you have) and how much you can afford on top of your monthly rent and additional living expenses.
If you have any high-value possessions, you will also need to factor these into additional extended policy options. Going through your rental space and making a list of your belongings will not only help you in getting the right amount of coverage, but can also be helpful to have on hand if you need to file a claim.
2. Determine
What Coverage Option Is Right For You
There are two types of coverage options for personal property: replacement cost and actual cash value.
Replacement cost coverage.

With replacement cost type coverage, your insurance company will pay you the cost to replace the damaged or stolen item with a comparable model.

Actual cash value coverage.

With actual cash value coverage, your insurance company will take depreciation into account. They will determine the condition the item is in for its age and give you what they believe is its Actual cash value doesn't apply to collectables or investment purchases, only items that depreciate.
3.
Research Insurance Companies
When choosing an insurance company, you don't have to settle for the first offer. It's smart to shop around for different policies to see what coverage options each offers, what the best rates are and what their current customers have to say about them.
The Bottom Line: Renters Insurance Can Protect You Financially In An Emergency
When deciding whether you need renters insurance, you should think seriously about your ability to cover certain unexpected costs that may come up. If your only reason for not having renters insurance is that the likelihood of these scenarios playing out is slim to none, you might want to reconsider.
Nobody really likes having to spend money on a service that they might not end up ever even needing. The point of insurance is to protect yourself from financial ruin if the unexpected happens. Having renters insurance can help give you peace of mind that the bad stuff won't cause you to lose everything if and when it does happen.
Looking to make the jump from renting to homeownership? Get started with us today.
Take the first step toward buying a house.
Get approved to see what you qualify for.
Start My Approval