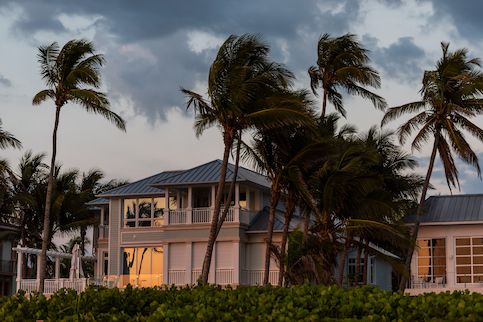 Hurricane Insurance: Cost, Coverage And Claims
Published on April 15, 2021
Our home is our refuge, so we take every precaution to make sure it's protected and that we can always feel safe. While we do as much as we can to prepare for the unexpected when a natural disaster like a hurricane hits, such an event has the potential to throw our carefully constructed lives into disarray.
In order to be better equipped for whatever comes at us and put our best foot forward after an emergency, one of the assets everyone should take periodic stock of is their insurance, including homeowners and hazard insurance. Homeowners insurance is meant to protect you from many costs related to property damage, weather-related or otherwise, in addition to covering you in case there's an accident on your property and providing protection for your personal belongings. Meanwhile, hazard insurance covers certain special circumstances that regular homeowners insurance wouldn't, like the types of damage caused by hurricanes and certain other natural disasters.
As part of your hurricane season preparation, it's important to look at specialized hazard insurance to make sure you're able to safeguard your physical and financial interests by protecting your home from some of the special risks a hurricane poses.
What Is Hurricane Insurance?
The first thing to understand when insuring your property against hurricane damage is that there's actually no such thing as "hurricane insurance." Protection against hurricanes really comes from two different forms of insurance: flood insurance and windstorm insurance.
Although special hurricane coverage is only required for people who live in areas affected by these hazards, it benefits everyone. The government doesn't need to spend as much money in order to provide assistance in the actual rebuild of these areas.
Coverage for these special types of risks related to hurricanes and other natural disasters like forest fires are covered by hazard insurance. This is either a rider (contract speak for a specially inserted clause) or a separate policy altogether. As an example, the National Flood Insurance Program is a government-regulated marketplace for private insurers to offer flood insurance coverage to consumers.
If you live in an area prone to hurricane activity, having this type of flooding and wind hazard coverage is crucial to cover you in the event that you have to rebuild your home or replace belongings, or if you experience financial hardship related to a hurricane.
What Coverage Does Hurricane Insurance Provide?
Hurricane coverage involves many different pieces. Here's what you should consider when evaluating coverage.
The first rule to be aware of is that coverage varies quite a bit by state both because of the types of damage sustained during these events in a typical instance and due to state regulations. State legislatures often put insurance laws in place mandating minimum coverage or the types of coverage that must be included for a specific class of insurance.
Homeowners Insurance
Homeowners insurance typically protects your home against most forms of damage except for flooding, but it's important to note that if you live in an area that's especially prone to flooding and excessive wind (the two ways that hurricanes cause damage), you'll more often than not be required to get separate coverage for these problem causers.
Renters Insurance
Most renters policies will not cover flood damage, and your landlord's insurance would only cover the structure of the building and not your personal belongings. Renters insurance can typically cover wind damage, though in high-risk areas this coverage is often excluded.
Windstorm And Flood Insurance
Windstorm insurance will cover wind damage and wind-blown rain. Meanwhile, flood insurance covers water damage from water levels that have risen beyond the local shores, banks or levees.
If you just have windstorm insurance, or even if you have both types, you should know what the limitations are for wind and water damage. In some cases, it may be worthwhile to buy a flood policy in order to cover yourself in the event of water damage. If you live in an area that's designated as a flood zone, major mortgage investors will require you to have flood insurance as a condition of getting a mortgage.
It's important to understand what your insurance covers and doesn't cover. If you have both windstorm and flood insurance, be sure to carefully read both policies to know what to submit to which company. You should also know whether the policy covers the value of your home or the cost of rebuilding it. Because construction costs tend to go up over time, it's often going to be more expensive to rebuild than the value of the home when you bought it.
How Much Is Hurricane Insurance?
By adding up averages across states for wind and flood coverage, it's possible to come up with an average cost for hurricane coverage. All states have been included in our flood coverage estimate, whereas wind coverage is only shown in states where hurricanes and windstorms have caused the most issues. The average cost of wind coverage in 2021 is $1,200, while flood insurance costs are around $900 across the nation.
With that said, the cost of hurricane insurance varies quite a bit based on several factors.
To begin with, if you're in a state that's typically harder hit by hurricanes, coverage for wind and flood insurance will be much more expensive. It all comes down to risk factors. States like Florida and Texas, for instance, really drive up the averages.
Then there's what the insurance policy actually covers. A policy that covers more, whether based on the breadth of the coverage or the limits, is going to come with a higher price tag.
Deductibles For Hurricane Damage
Another consideration for the total price of hurricane insurance is the deductible. Policies that have a lower deductible will generally cost more from a premium standpoint and vice versa.
One factor to note is that in states where hurricanes are more commonplace, there may be two separate deductibles in the policy: one for hurricane damage and one for everything else. There will typically be conditions listed in your policy as to when the special hurricane deductible is triggered (for example, the naming of the storm).
The following states currently charge hurricane deductibles:
Alabama
Connecticut
Delaware
Florida
Georgia
Hawaii
Louisiana
Maine
Maryland
Massachusetts
Mississippi
New Jersey
New York
North Carolina
Pennsylvania
Rhode Island
South Carolina
Texas
Virginia
If you've taken certain steps to mitigate storm damage in the future, your carrier could give you a cheaper rate. What's that look like? It could mean having storm shutters and a home that's up to your state's modern hurricane codes.
Your home value also plays an important role in determining your rate. The more your home is worth, the more expensive that'll be to repair. That, in turn, leads to higher premiums.
Finally, the last huge factor to consider is your actual proximity to the water. The closer you are to the beachfront, the more possibility there is for damage.
Filing A Hurricane Insurance Claim
In the event that the unfortunate happens and one of these big storms hits your house, you'll have to file an insurance claim. There are some steps you should take to make sure this process goes smoothly.
Before the big day comes, you're going to want to catalog your possessions and take pictures of what your house looks like. This will make it easier to document what you lost in the storm so you can file a claim for it. There are inventorying apps compatible with smartphones that can be helpful for this process.
When it comes time to file a claim, proceed with the following steps:
Contact your insurance company: The first thing to do is to get in touch with your insurance carrier. They'll be able to give you instructions on how the process works for them. Don't attempt permanent repairs yourself at this point. Doing so could damage your claim case, because it would be tough to get an accurate comparison of what your home looked like before the damage was done. Also, your insurance company may have certain standards for contractors, among other requirements.
Mitigate damage: While you shouldn't attempt permanent repairs at this stage, the insurance company will want you to take steps to try to limit future damage to the property. For example, you may secure a tarp over a hole in a roof or put up temporary fencing to secure the property or prevent people from hurting themselves around debris.
Damage evaluation: Your insurance company will send out an adjuster to look at the damage and come up with a number to either compensate you for the damage or repair the property, depending on what your policy calls for. You can get a public adjuster to evaluate the damage if you disagree with the amount you were given under your claim. However, you should be aware that a public adjuster gets paid by taking a percentage of your insurance settlement, so you have to weigh the amount you feel you're owed against the fee charged by the adjuster and determine whether you would actually be getting more money.
Repairs are made: Once your settlement is finalized, repairs can be made. You should do this through a contractor, because in most cases, major mortgage investors don't want you doing the work yourself. The lone exception may be if you are a licensed contractor. Your mortgage servicer will be able to walk you through this process.
Repair inspection: Because your home serves as collateral for your mortgage, someone has to come out and make sure that your property is in the same or better condition as it was before the storm after all repairs are completed.
It's important to note that after your claim is closed and repairs are completed, it's very possible that your insurance costs may go up. Unfortunately, insurance is all about calculated risk. If you've had a claim in the past, it's an indicator to the insurance company that another storm could hit and you could have a claim in the future. If you need property repairs, making a claim is still worth it much of the time, but it's definitely something to be prepared for.
The Bottom Line
In the end, having insurance policies in place in the event of a hurricane can set your mind at ease if you live in a high-risk area. If you think that this protection outweighs the costs, then hurricane insurance may be the right choice for you.
If you're still looking for a home to have insured, get preapproved today with Rocket Mortgage®.